June 12/13 0:00 am - Veilleux Confirms TdF Participation, Ontario Youth Series, BC Provincial Youth Road Championships, West Coast Cardiac Classic Revived, Club news

Posted by Editoress on 06/12/13

Veilleux Confirms TdF Participation

David Veilleux has confirmed through his blog that he will ride the Tour de France for the first time this year with his Europcar squad. Veilleux was thought to be a sure thing for the Tour after winning the first stage of the Criterium du Dauphine, but stated that the decision had not been made, and would not be made until after that raced finished. Now, it has been confirmed on his blog:

I'll be at the Tour de France!
It is now official. My team chose me to participate in the Tour de France 2013. I am extremely pleased with this news. This is a childhood dream come true and all my years of perseverance and discipline are rewarded. The Tour is the ultimate cycling event, but it is also seen as one of the world's most demanding sporting events. At the same time, I would like to thank my family and all those who helped me over the years to achieve my dream, especially my fiancé, who has always been there to support me. By the start, [on] June 29, I will get well and gain strength to get ready to support my teammates Thomas Voeckler and Pierre Rolland on the roads of France.
Ontario Youth Series Comes to London

It's time to mark your calendars, a new road race in Ontario is being promoted in August.

For the first time in the four year history of the Ontario Youth Cup Cycling Series a race will be held in the City of London.

Sunday, August 18th, is the date for local London youth to come out and see what bicycle racing is all about. Over the years the Ontario youth series has added races and this year will make a stop at Sovereign and Admiral roads in the east end of London.

The race is organized by the Forest City Velodrome (FCV) and Tourism London. Over 250 participants will be taking to a closed to traffic circuit that is 1.35 kilometres in length. Four wide open corners will challenge the 8 divisions of youth racers who will compete during the day bicycle racing. The ages of the Youth series participants range in age from 8 - 16 years old. Many young racers will be travelling from as far away as Windsor, Toronto and Ottawa. Registration will begin in a few days at the Ontario Cycling website

The name of the youth event is Tourism London Youth Grand Prix and it will be the sixth race in the Ontario Youth Cup Road Series. The event will have two stages for the racers. Stage #1 will be a very fast 1.25 kilometre Time Trial for all ages. Stage #2 is the endurance race and will be a timed event plus 1 lap on the wide open 1.35 kilometre course on Sovereign Road. The race course will test the speed and endurance of all the young athletes.

In addition to the Youth racing, the Tourism London Challenge will see licensed racers from all categories take to the 1.35 kilometre course, where speeds in excess of 60 kph will be achieved. The field will be limited to 150 racers. The flat and wide corners will make for some very exciting racing.

The length of the Tourism London Challenge will be 75 minutes plus 1 lap, $750.00 in prizes will go five deep, with a $100.00 bonus going to the top finishers in Elite women, Junior Women, Cadet Women, Cadet & Junior men. To claim the bonus each category must finish on the lead lap.

The Tourism London Youth Grand Prix begins at 9am, the Tourism London Challenge will start at 1:45pm.

Free admission to all spectators. The organizing committee hopes to see everyone at this event on Sunday August 18th.

See you at the races.
FCV Youth race committee.
www.ForestCityVelodrome.ca
BC Provincial Youth Road Cycling Championships Huge Success

Youth road cycling in British Columbia took a giant step forward this past weekend (June 8-9th) in the Comox Valley, where the first ever BC Provincial Youth Road Cycling Championships with full U19/U17/U15/U13 male and female categories were held. The race, which was organized by the VIPYRS (Vancouver Island Performance Youth Racing Squad) and sanctioned by Cycling BC, attracted 65 registrants from across BC as well as riders from U Kon Echelon, a youth club from Whitehorse, Yukon.

The weekend started Saturday morning with the Road Race on a 16.6 kilometre course along meandering country roads in the pastoral Dove Creek area of the Comox Valley. Following the Road Race, athletes had a few hours to prepare themselves for the grueling Hill Climb Race - really a misnomer as it took place on the Mt. Washington Parkway - truly a mountain climb with an elevation change of 600 metres over the 10 kilometre course, with grades reaching 14%. To make the challenge even more difficult, Mother Nature enveloped the upper portion of the course in thick cloud, which gave the race a surreal feeling as shadowy riders could be glimpsed climbing through the mist.

Immediately following the Hill Climb Race more than 100 athletes and families alike were treated to a delicious lasagne dinner at the newly constructed Vancouver Island Mountain Sports Centre, located in the Nordic ski portion of the Mt Washington recreation area adjacent to Strathcona Provincial Park. It provided a welcome opportunity to escape the cloud and relive the day chatting with friends both old and new.

The following morning BC's best young riders were at it again - this time taking on the challenging Criterium course located in the heart of downtown Courtenay. The closed course featured multiple right and left turns of varying types and a challenging hill section in which the start and finish was located. Following the Criterium everyone made their way to the Centennial Pavilion at Simms Park in Courtenay - an award winning open air timber structure of unique design. There the Provincial Championship medals were awarded, followed by an omnium style prize podium for the top finishers of the weekend in each classification, complete with champag ... er ... fizzy sparking apple juice for a rather wet but fun conclusion to the event!

Two of the obvious standout performances of the weekend were turned in by dEVo's Tessa Pinckston (U19 Girls) and Jess Reynolds (U15 Girls), riding for the host VIPYRS, both of whom swept their divisions, laying claim to a very special trifecta - the BC Provincial Road Race, Hill Climb and Criterium Championships in the same year. Also turning in top performances were Mark Grant (U15 Boys) VIPYRS who won the Criterium championship while sharing the Road Race Championship in a dead heat with teammate Josiah Ney, as well as claiming a bronze in the Hill Climb. Josiah Ney also went on to lay claim to the Provincial Hill Climb Championship, before leaving for Victoria to win his division in the Victoria Youth Triathlon the next day. Another strong performance was turned in by U19 rider Jordan Duncan (Russ Hay's), who won the Criterium Championship as well as taking bronze in the Road Race. Other Provincial Road Race Champions crowned on the day included Keifer Livingstone (dEVo) (U19 Boys), Rachel Carey (Russ Hay's) (U17 Girls), Conor Martin (U13 Boys) and Sarah Van Dam (Tripleshot) (U13 Girls).
Full race results are available online at www.vipyrsracing.com.

The significance of the weekend for the future of road cycling in BC is found in the purpose of the race weekend. In his opening remarks at the podium ceremony VIPYRS co-founder Larry Reynolds stated "The purpose of this first-ever youth all-category road championship is two-fold. First, it is intended to provide young BC riders of all ages from across the Province, who are the future of the sport, the opportunity to race against each other and to get to know each other. Second, and of equal importance - it provides the Province's young road riders with their own championship - a tangible goal to work hard and ride hard for. They deserve it."

"While this race was made possible through the vision and hard work of the host VIPYRS team who organized the event, it also required the dedication of many volunteers who worked tirelessly through the weekend from a variety of cycling clubs and organizations from across the Comox Valley and Vancouver Island. Finally, it was also made possible by the generous contributions of many sponsors, by the Comox Valley business community who came together in many ways to support the event, and the support of Hosting BC, the Province of BC and viaSport."

Report courtesy organizer
West Coast Cardiac Classic Revived

Easter weekend is typically about three things for us at West Coast Cycling: 1) The beginning of decent weather, which means shredding prime BC single-track. 2) Massive chocolate over-consumption. 3) Resurrection.

So, in the spirit of Easter, we at West Coast Cycling decided that we too should get into the game of bringing stuff back from the dead, so we're bringing the Cardiac Classic back to life.

With a brand new course layout and a Marathon format, it should prove nothing short of a revelation. We're putting the 'fun' back in 'funeral': where the old Cardiac was a killer, Cardiac 2.0 is going to be a miraculously good time, with race options to suit everyone, from angelic to evil.

For those who just didn't enjoy the self-flagellation of racing up the steepest trails on Burnaby Mountain repeatedly over the span of a race, we're going to have a short course option. For the rest who still like the taste of blood, you can still enjoy the downright religious experience of grinding up those climbs as many times as you like.

Sunday, July 14th 2013: grass-roots racing returns to Burnaby Mountain. It's going to be biblical.

Visit HERE for more information.
MIVA news from the latest events in Nanaimo BC

Boxwood Criterium, June 11th

The skies were overcast, with lots of rain to the north and south but tonight's race was fortunately dry. Sixteen men and one woman participated, with the men doing forty laps and the woman, sprint runner Laurie Ritchie, competing in her first criterium.
Right from the start, the pace was faster than usual, with Chris Cameron making an early break and comfortably won first of the eight sprints with John Lam and Mark Wieler. Taking the rest of the points fifteen seconds down.

Chris continued his solo attack for another four laps but was finally caught by the pack just before the second prime. Ian Smith won this, with Mark taking second and Chris hanging on for the two points. Then it was CVCC's Ray Wagner attempting another lone break but he too was soon reeled in.

Now, fast man Ian Smith came to the front to take the third sprint from Chris and Aaron Milan. He also took the double points prime at the half way point, with Aaron and Chris in second and third.

A lap later Mike Sevcov, Cowichan Valley, rode of the front of the pack and stayed ten seconds up until the bell for sprint number five but he too was caught just before the line, coming in fourth behind Ray Wagner, John Lam and the ever-present Ian Smith.

Now, Ray turned on the gas and quickly established the winning break, with only Ian, John and Mark staying with him. As the pace rose, first John and then Mark lost contact and returned to the pack which was not working together. The two escapees gradually pulled ahead, gaining about five seconds per lap and took the first two places for sprint number six, with Chris Cameron at the front of the pack taking third. They also shared the seventh sprint and continued to the finish, with Ian Smith winning in one hour and six minutes for the forty-two and a half kilometres. Ray Wagner finished second in the same time and Chris Cameron led the pack in forty seconds later.

Lone woman Laurie Ritchie rode a solo event, taking the opportunity to try some bunch riding when she was lapped.
This was the fastest event on the Boxwood circuit to date

Volunteers
Rose Houle did bell and lap board
Kyle Waring, Brodie Hay and Debbie? covered the corners.
Iain Hay and Brodie set up and took down the course.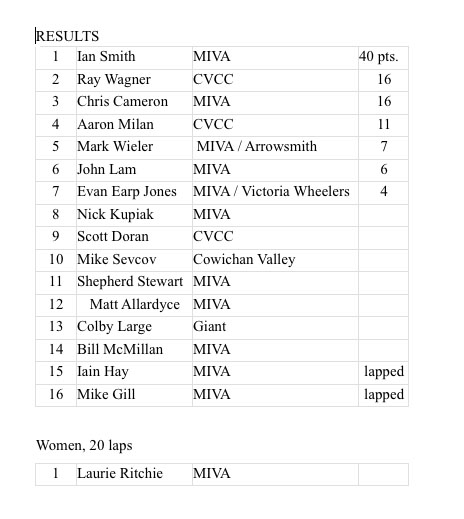 40 km Time Trial., on Nanaimo River Road , June 6th

Thursday evening we were graced with great weather and with a good turnout of sixteen participants six riders from Russ Hays club in Victoria. However, only five of them rode the time trial as trip coordinator Emile de Rosnay' s bike had been damaged in transit. The visitors showed MIVA riders how it's done, taking the top five places , with three of them beating one hour for the distance and winner Curtis Deardon establishing a new course record of 53' 16". MIVA's fast man Don Gillmore was doing a great ride and set to place highly when he flatted just after a rough gravcel break and didn't finish.Top female rider Haley Warkenton, also with Russ Hays, posted a women's record of 1h 06' 50".

The top MIVA finisher was Gareth Slocombe in sixth place, with a time of 1h 08' 59". Mike Gill, riding in his first season did a personal best time of 1h 11' 44".

In the youth event, Abigail Hare won , with brother Aiden just under two minutes behind and eight year old Ian Gillmore finishing the twenty kilometers in just under an hour..

Thanks to Katy Wallington, starter, Corey Friesen for timing, Mike Mann, turn marshal, and Glen Gordon, holder.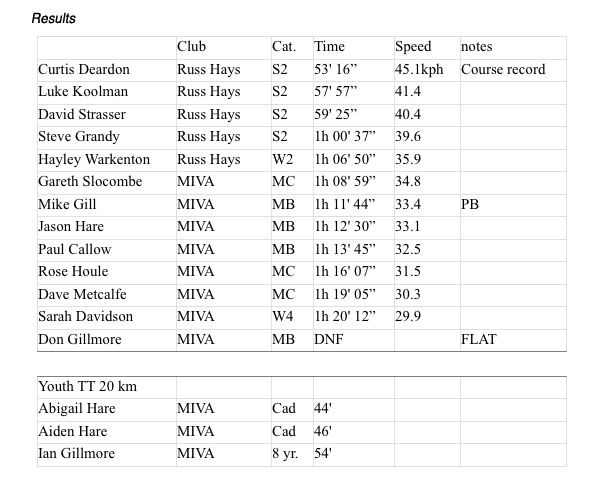 Tuesday Criterium at Arbutus Meadows Equestrian Centre, Nanaoose, June 5th

50 laps points criterium with sprints every 5 laps.
Top three get 5, 3, 2 points. Double on 15th. And final lap.

All categories started together. The top twelve riders stayed together through the first of 10 sprints, which was won by Ian Smith, from Menno Jongsma with Mark Wieler third . These twelve stayed intact through the second prime, won by Menno, with Rob Russell second and Jessica Reynolds, (lapped) third.

Over the next fifteen laps, the weaker riders in the bunch were shed one by one until there were just four left: Ian, Menno, Rob and Ray, with Chris Cameron just ten seconds back in fifth.Soon afterwards, Rob Russell retired leaving thee lead trio taking time and laps out of most of the rest of the field Chris soldiered on, losing a little each lap but steadily catching the stragglers. The sixth sprint at thirty laps was won by the classy Mr. Smith, with Ray in second and Nick Kupiak (lapped) taking third, the two points eventually giving him third place overall in front of the other riders at two laps down.

Ian gave the ninth sprint to Ray and then easily left him to finish alone with over fifty points total and having completed the race in 47' 41" with Ray seventeen seconds down and Chris Cameron taking third a lap down.

There were nineteen riders out tonight to enjoy one of the best evenings this year.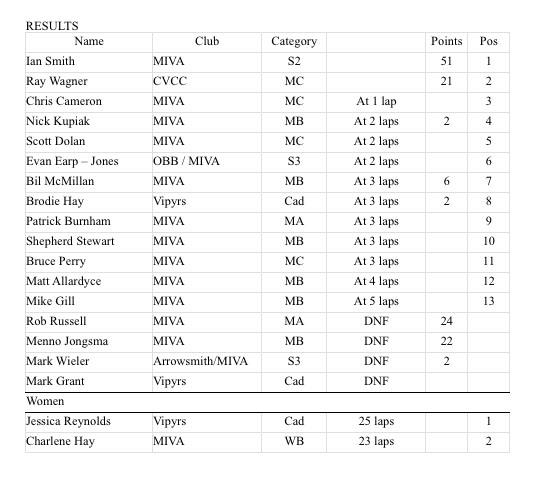 News from the Blizzard Bike Club, Fort St. John, BC

Club Road Race Championships: June 9th

Kevin Shaw was the repeat winner of Sunday's Club Road Championship race on the Beatton Triangle circuit. He edged out Chris Haugan by a wheel in an exciting sprint finish for the 50 km distance in 1:35:39 hours. George Gamble was third at 1:39:43, Roger St. Jean fourth at 1:41:14, Gary Hilderman 5th at 1:49:32. Davide Loro edged out Richard Wood for 6th at 1:51:13, Celeste Pakstas 8th at 1:56:34 and one rider did not finish.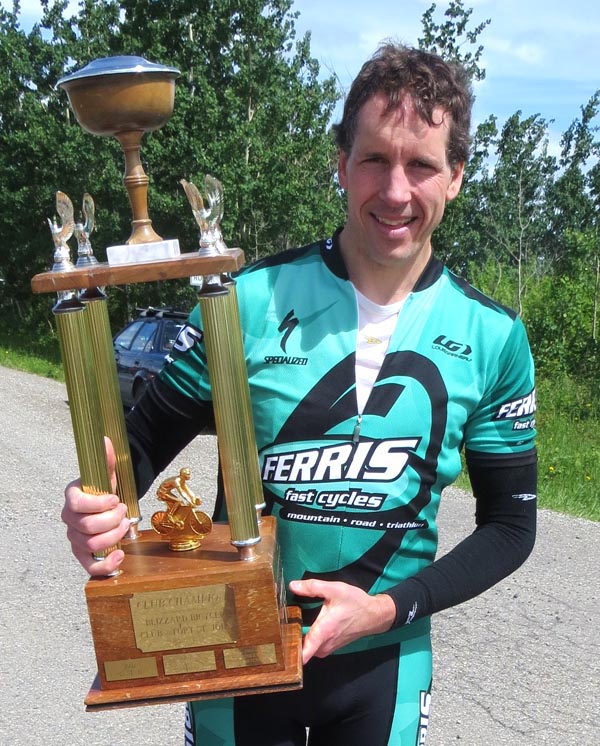 Matt Gilmore won the 1 lap, 25 km distance with 51:42 minutes. Sam Keats was second at 56:30 and Nicole Winstanley third at 1:14:45. Dian Loro was 4th at 1:14:45.

Thank you Jamie Gamble for timing for us!

Thirteen riders came out on a cool but windy day. The pack was down to defending Champion Kevin Shaw, Chris Haugan and Pat Ferris by the start of lap 2. Pat Ferris was dropped on the 246 hill leaving Chris Haugan and Kevin Shaw to sprint it out for the trophy.

Coming up:

• Wednesday: Cactus Mountain bike race at 7 pm.
• Thursday: Baldonnel time trial at 7 pm.
• Sunday: Cactus Death 4 hour mountain bike race at 10 am. All you need for it is a Blizzard club membership at the shop for $50. 'Solo' and two rider relay divisions are available.

Check Blizzard Bike Club for Ferris Fast Cycles Face Book pages for details.


Baldonnel Time Trial: June 7th

Twenty three riders came out for the 'Aurora Engineering Personal Best time trial' at Baldonnel, Thursday night, and it all ended with a thrilling, close finish. Chris Haugan edged out Kevin Shaw by a mere five seconds for the fastest time of the night at 25:12. Roger St. Jean was third at 26:14, Richard Wood 4th at 27:06 and Davide Loro making it into the top five with 28:07.

Dirk Finkensiep was 6th at 28:13, Gord Harris 28:18, Dan Webster 28:25, Dawit Feyissa 28:52 and Barb Polehoykie 29:24 for the top ten times.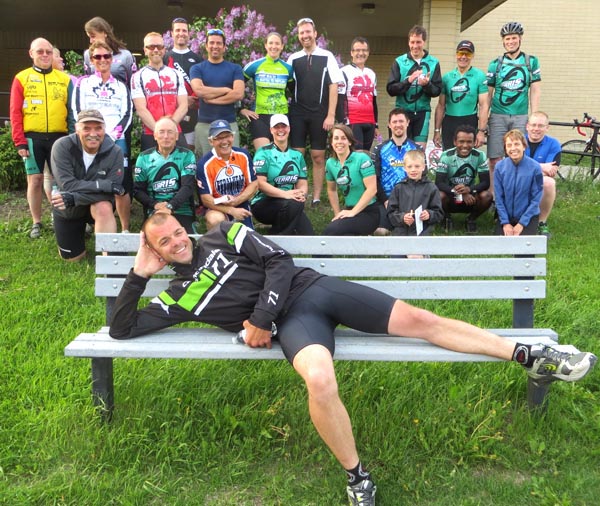 Heather McCracken was 11th at 29:25, Pat Egan 29:32, Sam Keats 29:52, Kevin Sparling 30:38, Pat Ferris 30:41, Matt Gilmore 30:45, Mary Egan 33:45, Clint Warkenton 35:05, Elena Schmidt 35:43, Ben Denison 35:45, Dian Loro 38:40 and Colin Chadwick 36:30.

Tanner McCracken had 17:13 for the 8 km.

Most improved time of the night was Colin Chadwick with a time improvement of 5:57.

Thank you Sandy McDonald for timing and sponsoring the night and Bob Andrews for being the bike holder!


MTB Race: June 8th

Chris Haugen won the Wednesday night Cactus Mountain bike race in a time of 29:36 minutes. 2012 Champion Matt Gilmore was second at 32:27 and George Gamble third at 34:52. Pat Ferris was 4th at 37:35 and Roger St. Jean 5th at 40:52. Dan Webster was 6th at 45:14 and Adam Currie 49:15. Gord Harris had 22:15 for the short course.

Thanks Ken Nix for timing!