The powerhouse Ottawa-based Stevens Racing presented by The Cyclery team took five out of six podium spots in the elite men's and womens' Preston Street Criterium on a cool and wet Father's Day.

The racing got under way at under heavy rain, but the weather did little to dampen the riders' enthusiasm: Each race, starting with the juniors, cadets and senior 3-4 event at 11 a.m. and finishing with the elite/master's men's event at 3 p.m., was packed with action from start to finish.

Full results are available on the Ontario Cycling Association website. Bike Race Ottawa would like to thank all of the volunteers, riders, spectators, sponsors and media for another successful year in the Preston Street bike racing tradition.

Elite women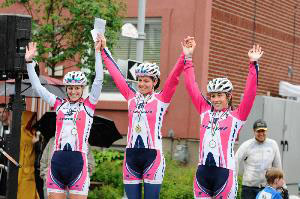 With 2011 and 2012 winner Florence Laplante-Lamarche not on the start line, the women's Preston Street Criterium was wide open. The strongest team on the start line was Stevens Racing p/b The Cyclery and they wasted no time in forcing the pace, quickly whittling the field down to just seven contenders: Audrey Bernard, Catherine Dessureault, Annie Foreman-Mackey and Evelyne Gagnon from the Stevens team, against Karol-Ann Canuel (Vienne-Futuroscope), Stephanie Skoreyko (Infinit Nutrition) and Chantal Thompson (Madonna Wheelers Cycling Club).

The Stevens riders exploited their strength in numbers to send Foreman-Mackey up the road at about the half-way point. As Foreman-Mackey soloed to the win, Skoreyko and Canuel were forced to spend all their energy chasing, opening the door to a Stevens podium sweep as Bernard and Dessureault finished second and third respectively.


Elite men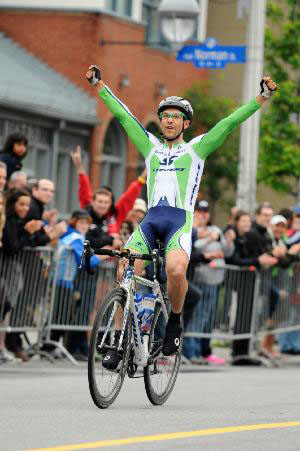 The men's race was fast from the start, with four former winners vying for victory. They included 2012 winner Ken Ng (RealDeal/Gears p/b Fieldgate), 2011 winner Matteo Dal-Cin (Stevens Racing p/b The Cyclery), 2009 winner Derrick St. John (Stevens Racing p/b The Cyclery) and 2008 winner Osmond Bakker (OCTTO/Cervelo). Also among the 63-rider field were strong teams from Ride With Rendall, Jet Fuel Coffee/Norco Bicycles, Opus Bikes/OGC and NIne2FivePro.com.

After a series of early attacks, 18-year-old Travis Samuel (Jet Fuel Coffee/Norco Bicycles) found himself alone off the front of the race, and St. John quickly bridged across. The two riders worked well together -- despite Samuel being half St. John's age -- and gradually eked out a 30-second gap as the rain stopped and the roads began to dry out. With Jet Fuel and Stevens patrolling the front of the pack, none of the other teams were able to organize an effective chase. Finally, Simon Lambert-Lemay (Garneau/Quebecor), Warren MacDonald (Nine2FivePro.com), Bakker and Peter Morse (OCTTO/Cervelo) clawed the gap back to just 15 seconds with eight laps to go. But the chase fell to pieces as St. John and Samuel found their second wind, and the gap grew back up to 30 seconds.

St. John left nothing to chance, attacking Samuel with two laps to go and soloing in for his second Preston Street victory. Samuel hung on for second, and JS Perron (Stevens Racing p/b The Cyclery) rounded out the podium with a last-lap attack.
Elite 3/4/Junior/U17 Men, 34 km (avg. speed 38.1 kph)

1 Jeremie Lacasse (Ottawa Bicycle Club)
0:53:29
2 Derek Gee (Ottawa Bicycle Club)
at s.t.
3 Rhys Penalagan (Peterborough Cycling Club)
1:30
4 Christian Bernard (Euro-sports)
5 Jesse Jarjour (Team IFG by Cyclelogik/Endurosport)
6 Marc-Antoine Brassard (Les Rouleurs de l'Outaouais)
7 Ben Reid (Waterloo Cycling Club)
all s.t.
8 Marc Hunt (Euro-sports)
1:50
9 Walid El-Sayed (Team TDI Zuck Bikes)
2:12
10 Derek O'farrell (Ind.)
11 Dustin King (Ottawa Bicycle Club)
both s.t.
12 Connor Byway (Ottawa Bicycle Club)
3:02
DNF Adam Eikenberry (Euro-sports)
DNF Yuhji Kuronuma (Ottawa Bicycle Club)
DNF Keith Murray (Ind.)
DNF James Keezer (Midweek Cycling Club)
DNF Liam Irwin (Ottawa Bicycle Club)
Master 2/3 Men, 35 km (avg. speed 40.8 kph)
1 Robert Orange (Ride with Rendall)
0:51:30
2 Kevin Lockhart (Ind.)
3 Patrick Pelda (West of Quebec Wheelers)
4 Mike Reeves (Euro-sports)
5 Brent Atkins (West of Quebec Wheelers)
6 Jeff Ker (Ind.)
7 Marc Grenier (Euro-sports)
8 Edgars Apse (Blacksmith Cycle)
9 Chris Olson (Nine2FivePro.com Cycling Team)
10 Steve Grundy (Team CHCH - NCC Hamilton)
11 Michael Woodford (Cyclelogik Racing)
12 Gregory Marshall (Euro-sports)
13 Martin Charron (Les Rouleurs de l'Outaouis)
14 Marco Salvati (Tower/Cipollini Racing)
15 Malcolm Saravanamutto (Ottawa Bicycle Club)
all s.t.
16 Bryan Gormley (The Cyclery)
0 :20
DNF Steve Irwin (Cyclelogik Racing)
DNF David Hendrycks (Euro-sports)
DNF Andrew Olive (Euro-sports)
DNF David Wright (Euro-sports)
DNF Rick Bulmann (Forest City Velodrome)
DNF Michael Longfield (Midweek Cycling Club)
DNF Mark Buckaway (Morning Glory Cycling Club)
DNF Adam Freed (Nine2FivePro.com Cycling Team)
DNF Richard Janecky (Nine2FivePro.com Cycling Team)
DNF James Brooks (Ottawa Bicycle Club)
DNF Robert Bemrose (Ride with Rendall)
DNF Marcel Brugger (Ride with Rendall)
DNF Anthony West (The Cyclery)
DNF Rick J. Bourgeault (West of Quebec Wheelers)
DNF Stefan Czaban (West of Quebec Wheelers)
DNF Dave Rudnicki (West of Quebec Wheelers)
DNF Darren Hobson (Oakville Cycling Club)
DNF Adrian Leggett (Synergy Cycle)
DNF George Lowe (Ind.)
DNF James Brooks (The Cyclery)
DNS Daniel Diotte (DMD Velocity )
DNS Bruce Camacho (D'Ornellas Cycling Club)
DNS Martin Champoux (Euro-sports)
DNS Rodrigo Diaz (Euro-sports)
DNS Steven Thomas (Euro-sports)
DNS Christian Voyer (Full Cycle)
DNS Ben De Groote (Ottawa Bicycle Club)
DNS Sean Buchanan (Ride with Rendall)
DNS Peter Metuzals (Stevens Racing p/b The Cyclery)
DNS John Hewie (The Cyclery)
DNS Andre Sincennes (The Cyclery)
DNS Patrick Bouchard (Ind.)
DNS Jeffrey Martin (Ind.)
DNS Tim O'connor (Ind.)
Elite/Master Women, 32 km (avg. speed 39.6 kph)
1 Annie Foreman-Mackey (Stevens Racing p/b The Cyclery) - RWE.1
0:48:32
2 Audrey Bernard (Stevens Racing p/b The Cyclery) - RWE.1
at 0:26
3 Catherine Dessureault (Stevens Racing p/b The Cyclery) - RWE.1
s.t.
4 Karol-Ann Canuel (Vienne Futuroscope) - RWE.1
0:30
5 Chantal Thompson (Madonna Wheelers Cycling Club) - RWE.2
6 Stephanie Skoreyko (Infinit Canada/Cyclepower) - RWE.1
both s.t.
7 Evelyne Gagnon (Stevens Racing p/b The Cyclery) - RWE.1
0:42
8 Adriane Provost (Stevens Racing p/b The Cyclery) - RWE.1
3:40
9 Marie-Soleil Blais (Infinit Canada/Cyclepower) - RWE.1
10 Carrie Cartmill (Stevens Racing p/b The Cyclery) - RWE.1
both s.t.
11 Catherine Couture (GSD Gestion Kallisto) - RWE.1
4:04
12 Lisa Meyer (Euro-sports) - RWMB
13 Anaïs Courteille (Les Rouleurs de l'Outaouais) - RWMA
both s.t.
14 Robyn Angeles (Ind.) - RWE.2
5:34
15 Carol Deavy (Les Rouleurs de l'Outaouais) - RWMB
7:04
DNF Heather Shearer (Infinit Canada/Cyclepower) - RWE.2
DNF Chantal Gosselin (Les Rouleurs de l'Outaouais) - RWMA
DNS Chloe Black (Sabino Cycles Racing) - RWE.1
DNS Veronique Fortin (Ind.) - RWE.1
DNS Casey Humphrey (Flirtees Cycle) - RWE.2
DNS Myriam Burton (Ottawa Bicycle Club) - RWJ
DNS Ariane Bonhomme (Ind.) - RWJ
DNS Christiane Gagne (Ind.) - RWMA
DNS Katherine Maine (Ottawa Bicycle Club) - RWU17
DNS Taylor Saravanamuttoo (Ind.) - RWU17
DNS Hélène Pilote Fortin (Stevens Racing p/b The Cyclery) - RWE.1
Elite Men, 61 km (avg. speed 44.1 kph)
1 Derrick St John (Stevens Racing p/b The Cyclery)
1:21:57
2 Travis Samuel (Jet Fuel Coffee/Norco Bicycles)
at 10
3 Jean Sébastien Perron (Stevens Racing p/b The Cyclery)
0:17
4 Stephen Keeping (Stevens Racing p/b The Cyclery)
0:22
5 Simon Lambert-Lemay (Garneau Quebecor)
6 Erik Lyman (Equipe Veloselect)
7 Hugues Lapointe (Opus Bikes / OGC)
8 Peter Morse (OCTTO-Cervelo)
9 Osmond Bakker (OCTTO-Cervelo)
10 Chris Freeland (Jet Fuel Coffee/Norco Bicycles)
11 Aaron Fillion (Ride with Rendall)
12 Conor O'brien (Stevens Racing p/b The Cyclery)
13 Yohan Patry (Equipe Cycliste EKOI Devinci)
14 Braydon Bourne (Stevens Racing p/b The Cyclery)
15 Shawn Clarke (The Cyclery)
16 Yuri Hrycaj (Jet Fuel Coffee/Norco Bicycles)
17 Ben Andrew (Euro-sports)
18 Justin Purificati (Martin Swiss)
19 Mason Hanrahan (Ride with Rendall)
20 Marc Boudreau (Stevens Racing p/b The Cyclery)
21 Jason Cheney (Ride with Rendall)
22 Andrew House (CoachChris.ca/Ted Velikonja)
23 David Byer (OCTTO-Cervelo)
24 Bill Hurley (The Cyclery)
25 Ian Dalling (The Cyclery)
26 Lucas Bent (Jet Fuel Coffee/Norco Bicycles)
27 Mathieu Fradet (Suarez - ACQ.)
28 Steve Proulx (Stevens Racing p/b The Cyclery)
29 Warren Macdonald (Nine2FivePro.com Cycling Team)
all s.t.
30 Sean Wakefield (Ride with Rendall)
0:32
31 Brian Trafford (OCTTO-Cervelo)
0:52
32 Kevin Massicotte (Ride with Rendall)
0:53
33 Kenneth Ng (RealDeal/Gears p/b Fieldgate)
1:22
34 Hans Loeffelholz (Nine2FivePro.com Cycling Team)
1:42
DQ Matteo Dal-Cin (Stevens Racing p/b The Cyclery)
DNF Jacques Cormier (Bikes On Wheels)
DNF Kiernan Orange (Ride with Rendall)
DNF Peter Tregunno (Tea & Coffee Racing)
DNF Brent Aquino (Team TDI Zuck Bikes)
DNF Vincent Courcy (Suarez - ACQ.)
DNF Niles Vaivars (Ind.)
DNF Stanislav Blazek (Kurzawinski Coach/PBNJ.ca)
DNF Mike Nash (Ride with Rendall)
DNF Jake Cleofas (Nine2FivePro.com Cycling Team)
DNF John Fee (The Cyclery)
DNF Craig Hawkes (The Cyclery)
DNF Marc-Wayne Addison (Opus Bikes / OGC)
DNF David Dulude (Opus Bikes / OGC)
DNF Philippe Raymond (Opus Bikes / OGC)
DNF Patrick Russell (Synergy Cycle)
DNF Andrew Lees (Nine2FivePro.com Cycling Team)
DNF Casey Roth (Ride with Rendall)
DNS Glen Rendall (Ride with Rendall)
DNS Frédéric Cossette (Equipe Cycliste EKOI Devinci)
DNS Ryan Phelps (Nine2FivePro.com Cycling Team)
DNS Robert Chiocca (Blacksmith Cycle)
DNS Laurent Dallaire (Team H&R Block)
DNS Marc Polsinelli (Team TDI Zuck Bikes)
DNS Jon Gee (Ind.)
DNS Joel Pelletier (Ind.)