June 17/13 0:00 am - OCTTO-Cervelo Race Report - Preston Street Bicycle Races (Ontario)

Posted by Editoress on 06/17/13

The Ottawa 1-2 Punch: The Race from Two Views - Osmond vs. Brian

Part 1 - The view from front of the Elite Men's race by Ottawa stalwart, Octto-Cervélo's masters-aged rider, Osmond "The Machine" Bakker:

Preston St is a long standing event in Ottawa. This year was it's 41st edition. The Bike Race Ottawa crew of Doug Corner, Carlo Dal Cin, David Bilenkey, Peter Conn and Jon Gee put on an amazing event as usual.

Anyone whom lives in and around Ottawa wants to win this event for bragging rights, while other teams show up lured by the $1000 first place prize. Put these two together and the competition is always fierce.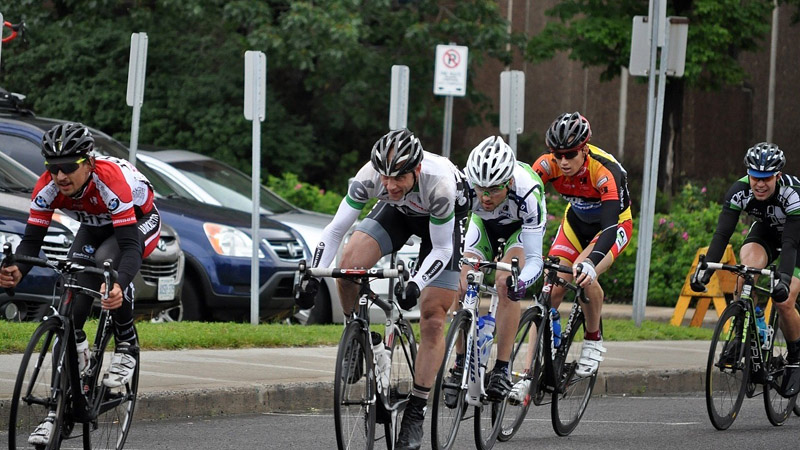 Osmond Bakker
Photo gallery by Brian Trafford Family
Every year Preston St weekend is a marathon for me. I organize the kids' races, which entails gathering up trophies, numbers, tent, chairs and table. Taking registration for the younger kids and then shepherding the first two waves of kids without any accidents. Right after finishing those two waves, I then have to roll up to the line to start my race.

This year was a little more encompassing, as I had to do a Sparton race the day before with our clinic. This involved running five kilometres up and down a ski hill while performing obstacles. Needless to say, I was sore from it on Sunday.

The day of the race was pouring rain so I was soaked from doing the kids race and had a chill down to my bone. My attitude is to always think positive and just go into the race and be smart.

The race started in pouring rain and, as always, the field was strung out over the first 10 laps. A move went with a Jet Fuel Coffee / Norco rider (Travis Samuel) and Derrick St. John (Stevens Racing p/b The Cyclery). Seeing that move, I thought to myself that there is no way only two riders leaving so early could make it. Well, that turned out to be a big mistake as they did make it and Derrick won solo.

I did some significant work to bring the break back as did Simon Lambert-Lemay and Warren MacDonald. Despite our efforts, we only could reduce the gap down to 18 seconds. The Stevens Racing and Jet Fuel Coffee/Norco teams rode smart and would sit on any moves that tried to get away and would slow the pace down when they could to ensure their riders would survive.

As what usually happens in the last five laps of a race, a whole lot of racers you have not seen all day long come to the front and fight for the remaining positions. I ended up ninth while my Octto-Cervélo teammate Pete Morse was eighth after doing some hard chasing near the end. Kudos go out to my younger teammate Brain Trafford for coming to the fore and drilling the pace on a number of occasions. I always like to be a part of the race rather than sitting in and that is exactly what Brian did.

It is nice to have the weekend behind me and I look forward to the rest of the year.

Part 2 - The view from back of the Elite Men's race by Ottawa young gub, Octto-Cervélo's Espoir-aged, Brian Trafford:

Title: Life From the Back and Front of a Crit... A Bad Day on the Bike

The Ottawa Italian Festival, the time of year when anybody can claim to be Italian for a day, even me! Despite being a middle class Caucasian male of mostly British ancestry, I firmly believe there are two parts of me that are most definitively Italian, my stomach and my taste buds. I cannot start the day without my 2-4oz of espresso.

Don't even get me started on the food! Even as I sit here writing this I have a double espresso by my side reminding me and inspiring me with every sip of what it means to be "Italian". Bike racing, of course, is a mainstay of Italian culture and no Italian festival would be complete without one.

After arriving at the race site and getting all the pre-race malarkey out of the way, I went in search of my Octto-Cervélo team mates and quickly found them: Peter "Ace of Spades" Morse, Dave "Mickey Mouse" Byer and Osmond "The Machine" Bakker. We wasted no time in conjuring up a race plan.

The Stevens Racing p/b The Cyclery team had strength in numbers and were the team to watch and so we couldn't let more than one of them get up the road. We headed out and started to warm up...as much as you can in 15 degrees Celsius and pouring rain. After a few efforts, I could immediately tell my legs and body weren't recovered from the cold I had come down with after the Ride With Rendall Stage Race the weekend before.

At the start line, it was obvious a lot of riders just wanted to get the wet and rainy race done with. After getting sent on our merry way I quickly tried my best to get as far up as I could as fast as I could, despite the bad legs. However, I was unsuccessful, only making it halfway up the pack by the time it was strung out single file. I looked ahead and could only see Osmond "The Machine" in the top ten riders pulling huge efforts jumping from one attack to the next (every time I race with him I'm always left with a sense of amazement, eight times out of ten he makes it into the breakaway, he has that sxth sense that only comes with age and wisdom), and Dave 'Mickey Mouse' Byer about 15 positions behind.

See the pack straining with every attack, I thought to myself 'I have to get up there!' and promptly tried in the next lull, with legs in protest, only gaining a modest five positions. After that a break was finally let up the road containing the extremely dangerous Derrick St John (Stevens) and Travis Samuel (Jet Fuel Coffee / Norco).

After about 20 minutes I finally saw Peter 'Ace of Spaces' Morse pass me and we promptly went our separate ways, he continued forward and I continued backwards. It was going to be one of those races for me, losing more positions than I gained as the race wore on, legs protesting more and attempting to clear my lungs with the cough only a track cyclist could appreciate.

Life at the back of the pack in a crit is not a fun one; you are either going too hard or too slow in an elastic band effect that is hard to rebound out of. I thought to myself "well at least I can't be any further behind" to which my legs replied with a cruel "oh yes you can". I was losing ground in the corners and having trouble accelerating back up to speed. It wasn't long before I was dangling between five and ten bike lengths off the back.

Meanwhile, at the head of the race, I could see Osmond "The Machine" and Peter "The Ace of Spades" taking turns trying to bring the break back for our fast man Dave "Mickey Mouse" Byer.

I couldn't help but feel guilty for not being there. I had to make a choice; either sit at the back and continue suffering and struggling for survival or suffer while doing something productive. There were ten minutes +5 laps remaining in the race and the break was hovering between 30-40 seconds.

With the next lull I went for it, going from the back to fifth wheel with legs screaming the entire way. I saw an opening between riders at the front and I heard a voice behind me say "Brian". I knew that meant my favourite word: "Go" so off I went burying myself in an attempt to close the gap to the break as much as possible to give my team mates a chance to either bridge across or start the process of catching the break before it was too late.

As I hammered my legs into forceful submission, I heard the same voice coming from behind me encouraging me to keep going. With body screaming in a way only a track cyclist could appreciate, I heard the voice again: "okay that's good". I swung off and saw Osmond look over at me and say "good job" as he started his own dig to keep the pressure on and try and close the final 17 seconds.

I continued to bury myself on the front for my team mates a few more times before blowing up with four laps to go. The rest is history. We finished the race with a sense of accomplishment with Peter and Osmond taking eighth and ninth respectively. Derrick St.John pulled off a well deserved win and Travis Samuel finished a strong second.

Report courtesy Octto-Cervélo team