June 21/13 12:56 pm - Women's Road Race- Live updates

Posted by Editoress on 06/21/13

Seems the Cover it Live is not working properly
So I will do it here - scroll down
Course is 110 km, an out and back with a 3 lap circuit at the 'top' of the course.

Start is in the parking lot of ProCycle (Rocky Mountain Bicycles).

Weather is good, sunny and warm with gusting wind, not strong. Some high cloud, that occasionally covers the sun and drops temp a couple degrees. The wind will not be a significant factor - will be slight headwind in some sections and slight tailwind in others.

Major factor could be finish line. Riders come back to town, make a 90 degree turn then hit an uphill for 250 m and then the finish. If it is a bunch finish, it will be who still has anything left in the legs.

The race is neutral until 6 km. There is a gravel section just before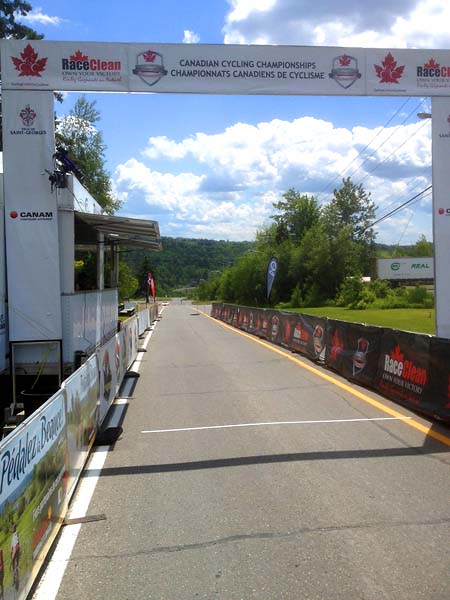 Finish straight is uphill
There were 2 flats so the race came to a complete stop so the riders who flatted could get back on. took ~ 5 min.
1:26 pm - Race came to a stop until those that had flats caught back on - official start now after 5 min delay
1:45 pm - 10 km done: Peloton is just rolling along, all together through the countryside
1:49 pm - Denise Ramsden is the defending champion. She has 2 teammates today: Joelle Numainville and Leah Kirchman
2:09 Race leader has NOT reached circuit yet, but will soon. At 27 km Dessureault has 35s gap . Allyson Gillard had chased but was caught
Thanks to Chris Komar of P-K Express / HNZ Stategie for loaning the editor his BELL phone - Rogers does not work in this part of QC

2:16 pm:
32 km done and the leaders are now on the 3 lap circuit
2:21 pm:
Dessureault has 45s on the 2 chasers as she heads up the climb for first time. Peloton at 1:45
2:28 pm:
2 chasers have now caught Dessureault
2:29 pm:
Gap to peloton is approaching 2min with Stephanie Roorda (GSD Gestion-Kallisto) now attempting to bridge up
2:30pm:
Denise Ramsden (Optum p/b Kelly Benefits Strategies) attacked from peloton, but quickly brought back
- Roorda at 1:30
2:38pm
Roorda at 1:15, Peloton at 1:50
2:39 pm
Startling lap 2
2:45pm
Thru feed zone - Roorda at 1 min. Julia Bradley at 1:25. Pel at 1:50. all 3 Optum at front of peloton driving the pace, shedding riders
2:50 pm
A group of 4 off the front of the peloton. They have caught Roorda and are making ground on leaders at 1:20 back

Joelle Numainville (Optum p/b Kelly Benefits Strategies), Karol- Ann Canuel (Équipe du Québec), Anika Todd (Tripleshot Cycling Club) and Veronqiue Fortin
2:55 pm
Leaders have 40s on chase group of 5. Remainder of peloton ~20 riders are at 25 s and trying to get organized
2:57 pm
half way thu the 2nd lap - 2 more have joined the chase group - gap 45s to leaders
3:01 pm

Chase group and peloton all together again, ~ 19 riders are 1min behind lead 3. Starting 3rd lap soon
Martin Gilbert is providing neutral service today
3:09pm

LOTS off attacks, Numainville being very aggressive - gap down to 49s
Reminder: leaders are: Catherine Dessureault, Josee Hepell and Kristine Brynjolfson, gap to peloton 35s
3:11 : Veronqiue Fortin attacked on the climb and the break has been caught. All together now
3:13 pm
Up over the top of the climb and another group is beginning to form ~ 10-15
When they finish the lap they will head back to St Georges
3:22

Jasmin Glaesser (Team TIBCO) is getting some mechanical assistance
3:30 pm
21 riders remain of the 60+ who started at 1 pm
Josee Heppell (Iris) has attacked AGAIN and has 15s gap
3:33

Heppell has 25s now
3:36
30 km to go and gap is 45s
3:42 pm
Heppell has been caught - Numainville, Canuel, Todd, Foreman-Mackey Lex Albrecht and Fortin and they are really moving - Ramsden chasing at ~ 15s. Remainder of peloton at 1m
3:49 pm
Less than 25 km to go
3:50 pm

Josee Heppell has been dropped - great ride today!!!

Ramsden has joined the leaders - 22 km to go
3:54 pm

Peloton chasing hard just 15s back
3:58 pm

Caught less than 20 km to go
4:02
Jasmin Glaesser (Team TIBCO) did all the work to bring the break back
4:04
15 km to go

4:07
They have one obstacle - a section of gravel w. 6 to go. Race will be neutralized
4:19
Numainville flats
4:24
Canuel, Kirchman, Albrecht and Fortin lead with Numainville chasing

4:25
Brown and Todd have joined the leaders w. 2.5 km to go . Numainville chasing at 9s
Peloton at 35s

1 Numainville (Optum),
2. Kirchmann (Optum)
3 Lex Albrecht (Now and Novartis for MS)
Course Profile

Course Map