June 24/13 12:22 pm - 12th Annual Canadian Vintage Bicycle Show at Brantford

Posted by Editoress on 06/24/13

With hot and humid weather forecasted for Sunday many people arrived early at the Canadian Vintage Bicycle Show, us included. Thanks to a nice breeze there were easily a hundred people on hand by 9am to check out the wide variety of bicycles on display. Having attended my first show last year I didn't know what to expect this year. More of the same? To an extent yes, but also very different in some respects.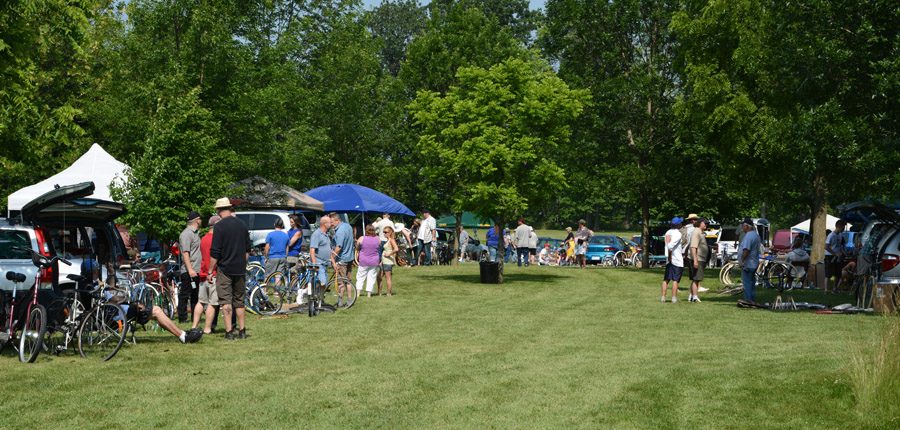 The first category I noticed in a big way were tricycles. The nice thing about collecting them is that they don't take up that much room if you have them in your house. Canadian trikes were well represented with the local brand Sunshine from Waterloo taking a place of pride. Included was one with a very, very rare wagon. These wagons were uncommon in the first place and they often disappeared long before the trike did.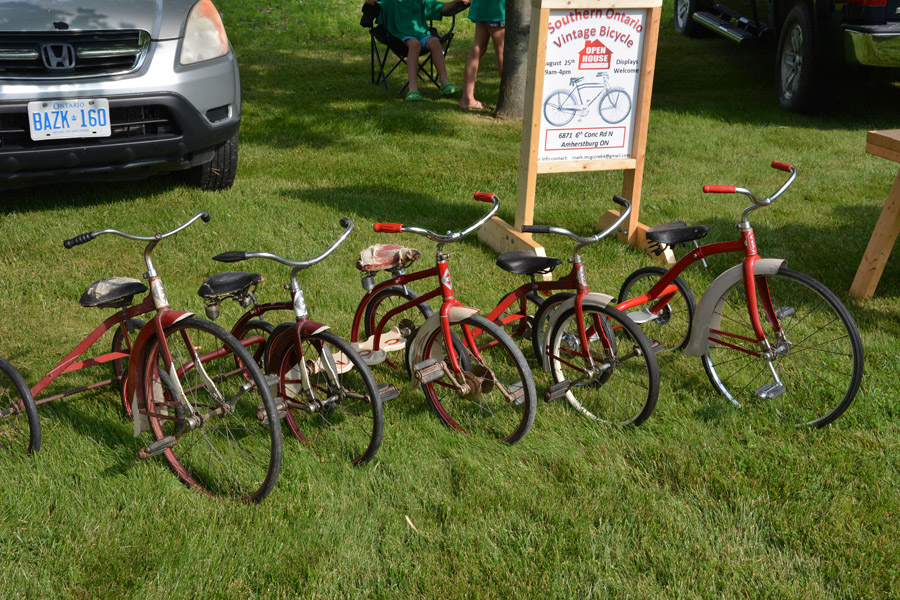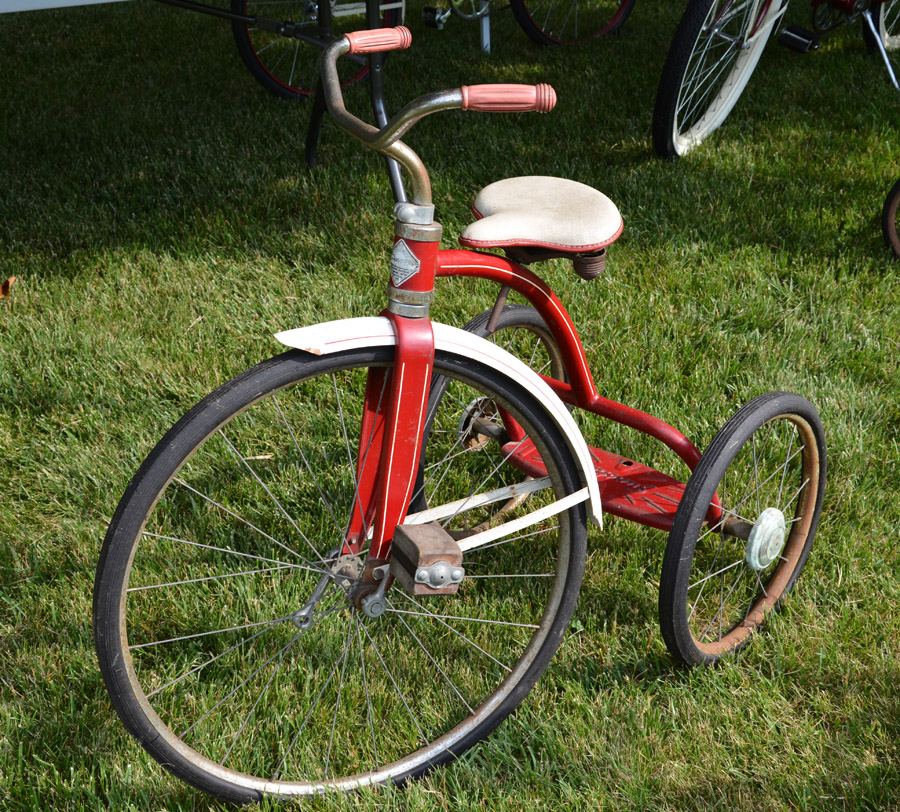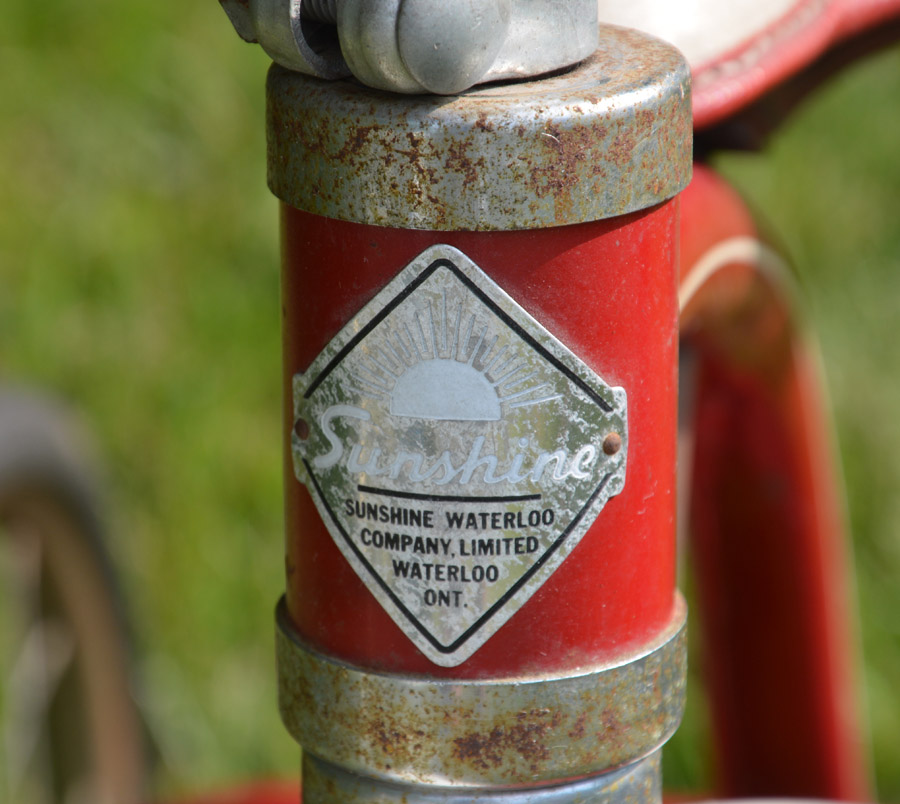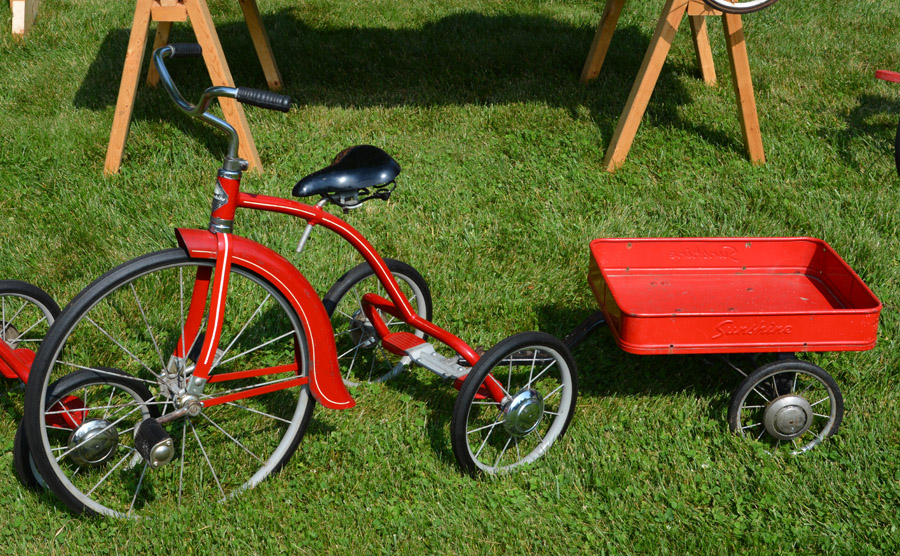 The standout bike for me was an exceedingly rare Cinelli tandem. Even rarer, it was a track tandem. This vintage 1973 bike has been restored and upgraded by the folks at The Bicycle Shop in Brantford. Truly a rare and exceptional bike with Cinelli and Campagnolo components.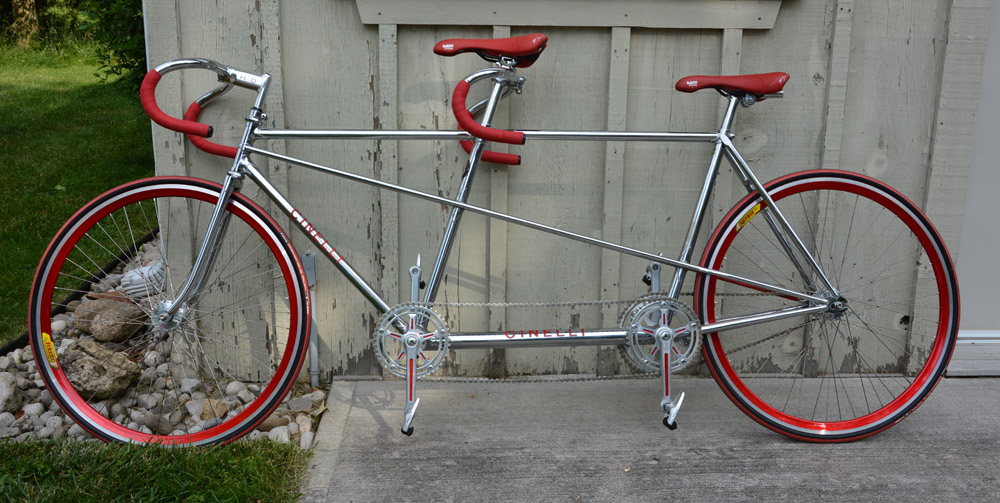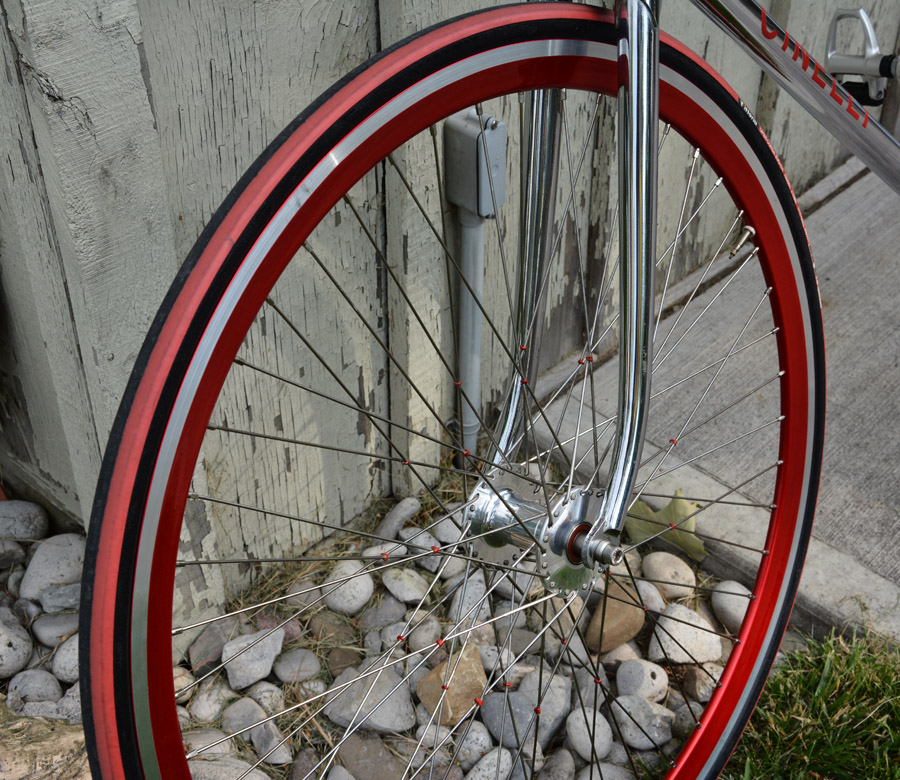 Hard to believe this Raleigh Sprite is now the same vintage (as the author - ed). I remember assembling them in my first ever job. Matching men's and women's and in superb condition.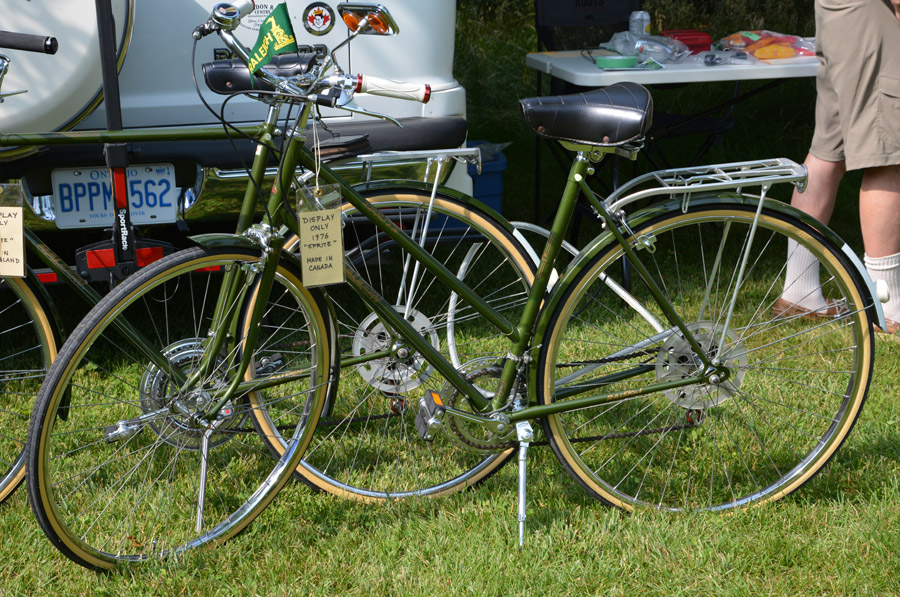 To some people's mind's 1970's isn't that long ago, but it is now 40 years vintage. You can go much older than that. Here's a prime example. A late 1800's Racycle from Berlin (now Kitchener) Ontario. Just a gorgeous bike. Notice that it has rear suspension. Wooden rims too.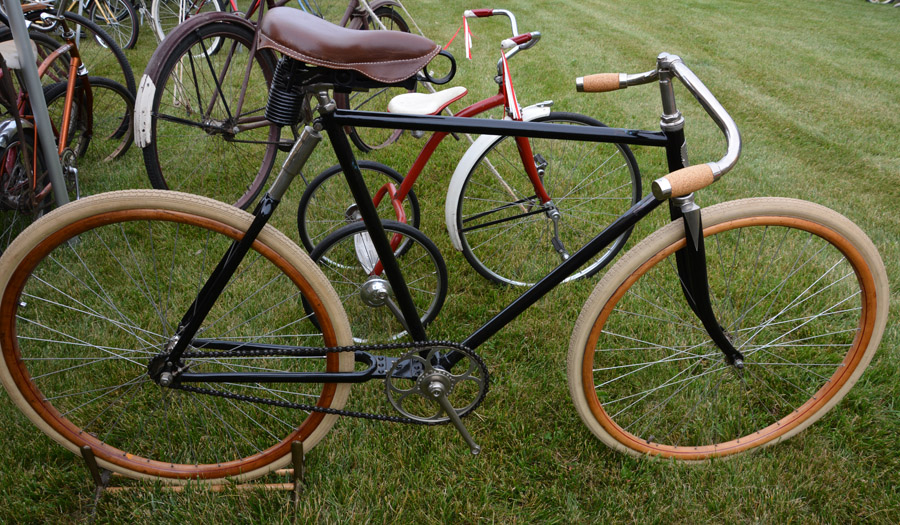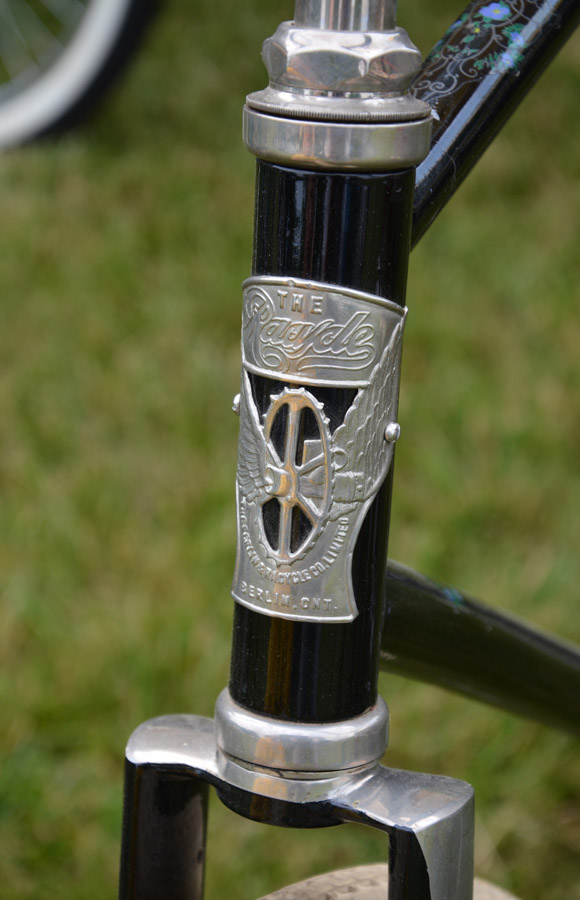 Muscle bikes were again well represented with many CCM bikes under a large tent. The standout in terms of condition was this CCM Marauder. It looks like it was never ridden. Maybe that's a good thing because adding a second brake to the rear wheel wouldn't necessarily mean that it would stop that well.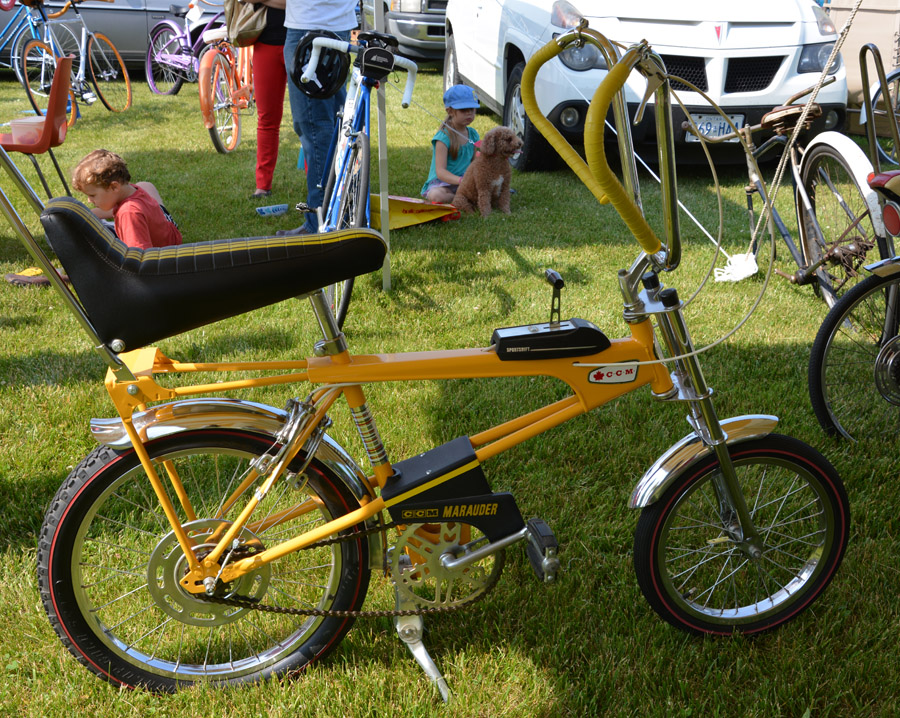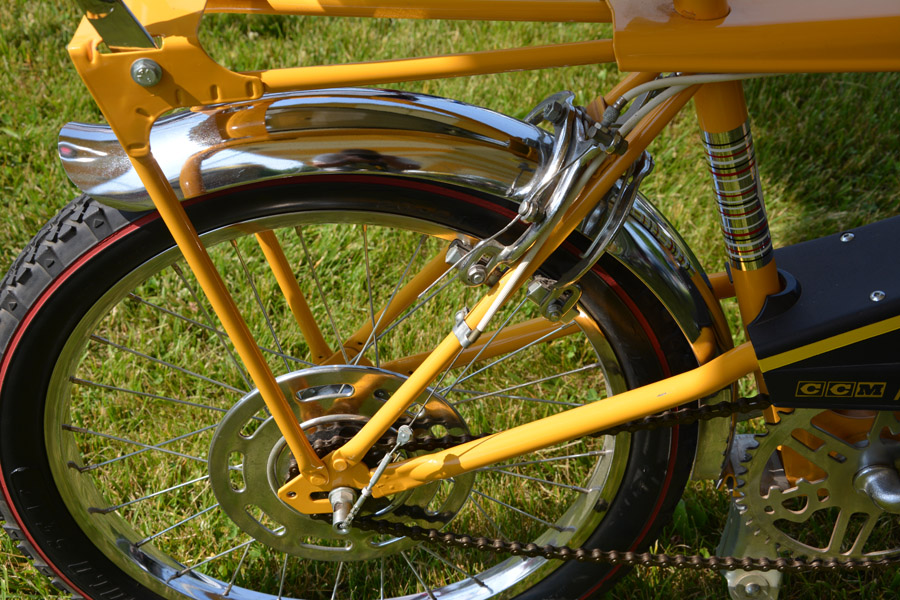 The next bike takes some explanation. Those springs under the top tube aren't for suspension. Take a closer look. There is another fork and headset under the seat. The springs are there to pull the bike back in line after you've made the front and rear go in different directions. This is a Swing Bike. It obviously was never that popular but talk about a collectible.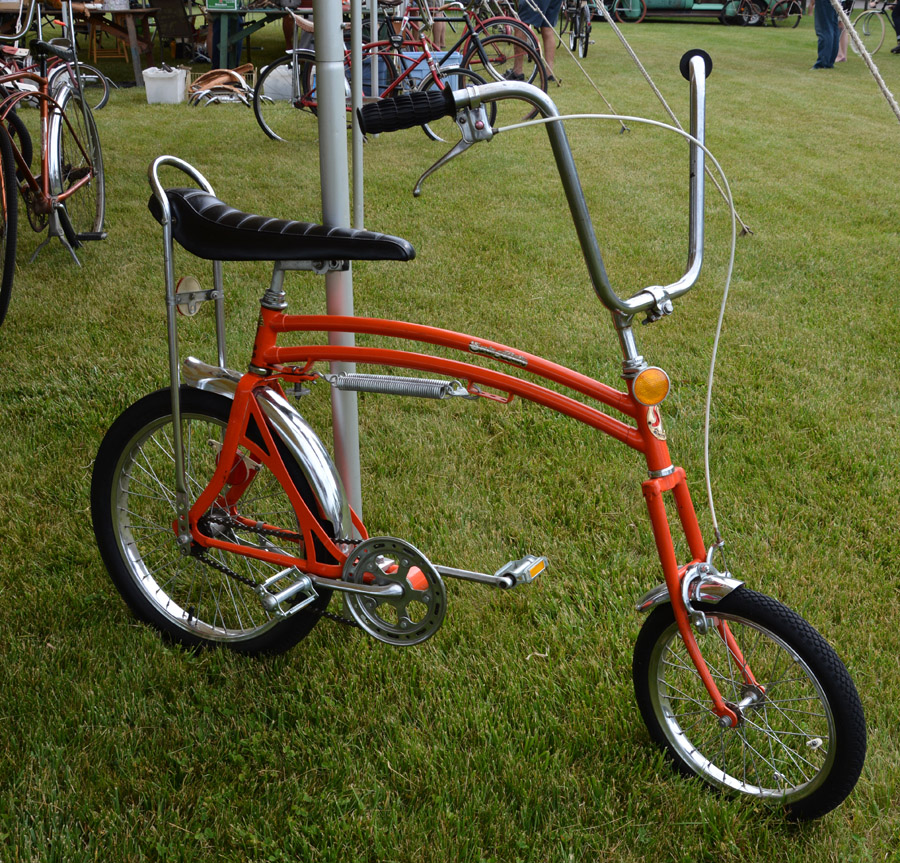 The amazing thing is that we're now getting collectibles at the Vintage Bicycle Show from the 1980's and even the 1990's. More vintage mountain bike equipment was on display and I would expect that it will only increase in the future. If you've got a hoard in boxes at home for all of $10 you can be a vendor at the next show. Keep it in mind. 1980's road on the other hand was well represented.

The first example was a Steve Bauer racing bike. Younger folks might not know that Bauer bikes were very common all across Canada when Steve was at the height of his Tour de France appearances in the 1980's. This one isn't completely original but the paint is in great shape and would make a worthy candidate for a restoration.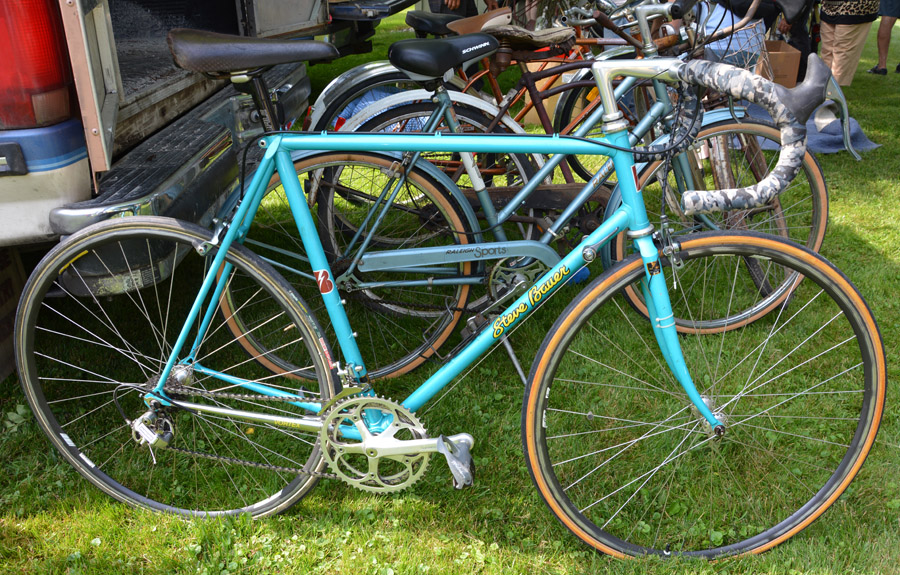 Likely the rarest of the 1980's bikes was this Miele, made in Mississauga. Shimano had brought out this gruppo called Sante to appeal to the fitness market. Suntour, which was a major, but fading company, brought out this gruppo called Ole as a response. It didn't succeed, making it very rare. The Sugino crank even has the equivalent of Biopace called Cycloid. I had largely forgotten about this whole attempt at the fitness market. Neither Sante nor Ole lasted very long making it highly collectible.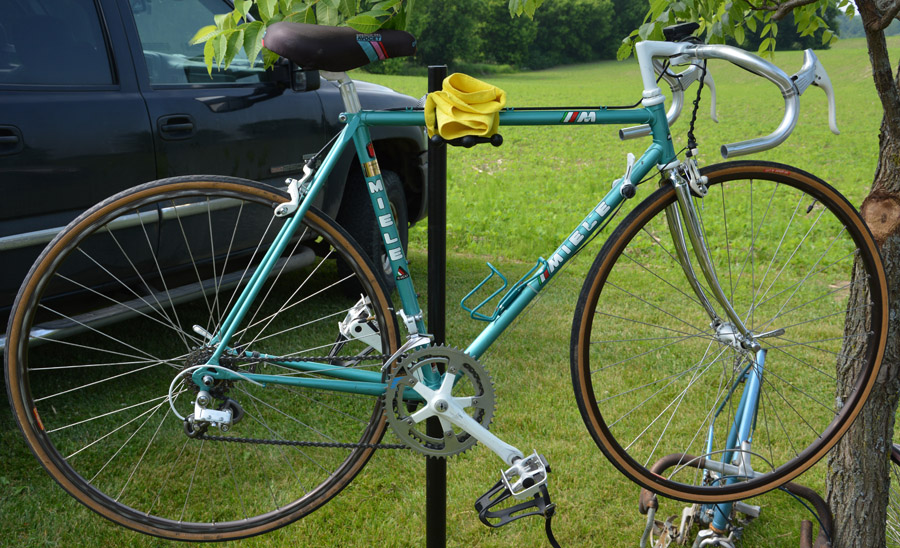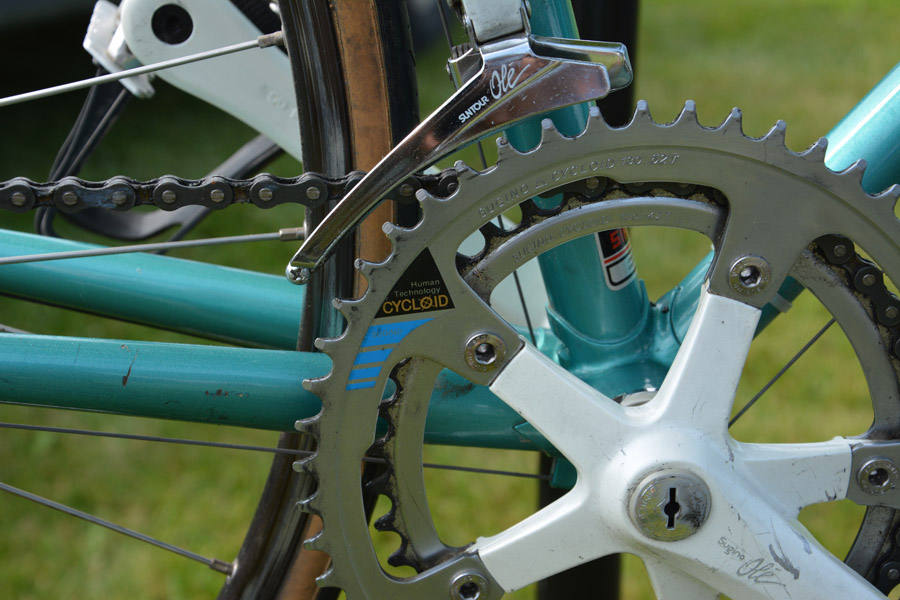 A great show again with a fun atmosphere. Proceeds go to to the Stedman Community Hospice. There are lots of booths, a BBQ, t-shirts and a lovely venue. Put it on your calendar and heck it out next year if you have a chance. The best thing is that you can spend a couple of hours just looking around but be aware that the rare object just might require you to make a purchase. Their website is www.canadianvintagebicycleshow.com
Report and photos by Mike Badyk
All photos, larger versions to get a better look