June 25/13 14:08 pm - 2013 Specialized Rumor 29er - Review

Posted by Editoress on 06/25/13

Although we are well into the 2013 cycling season there are still new bikes being released. One of the newest is the Specialized Rumor. This is the company's first full suspension 29er for women. The Ontario debut was at Albion Hills, the day before the Summer Solstice 24 Hour race. On hand to assist Specialized Canada with the debut was Rebecca Rusch, the Specialized sponsored World Champion Endurance racer from the USA.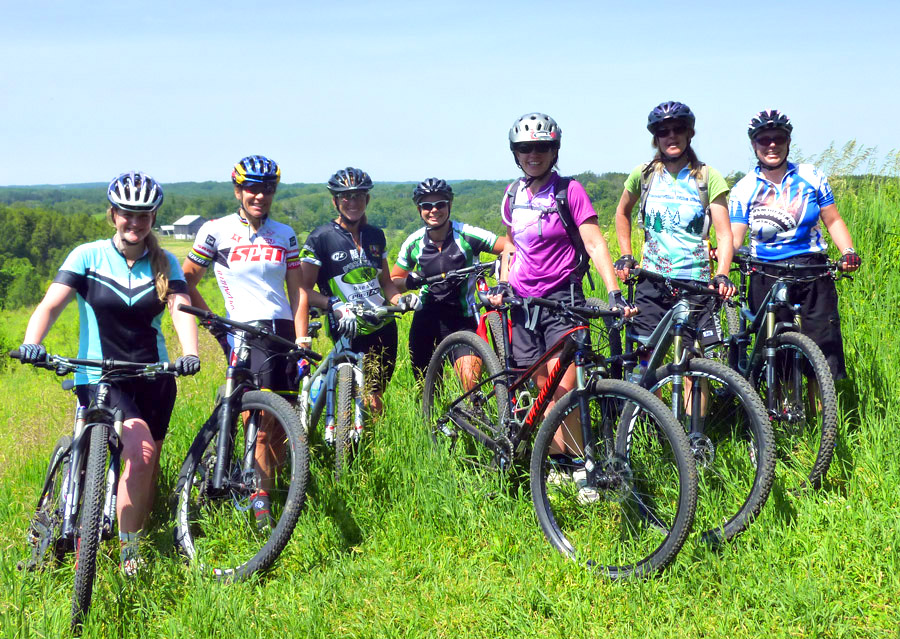 Test pilots
There are two models of Rumor, the Comp and the Expert. Both share the same frame, but the equipment is different. The travel is 110mm both front and rear. Specialized has even created a unique M5 aluminum tubing set just for the Rumor. It is lighter where it can be and the geometry is women specific. As is to be expected, much technology from elsewhere in the Specialized mountain bike line are found on the Rumors.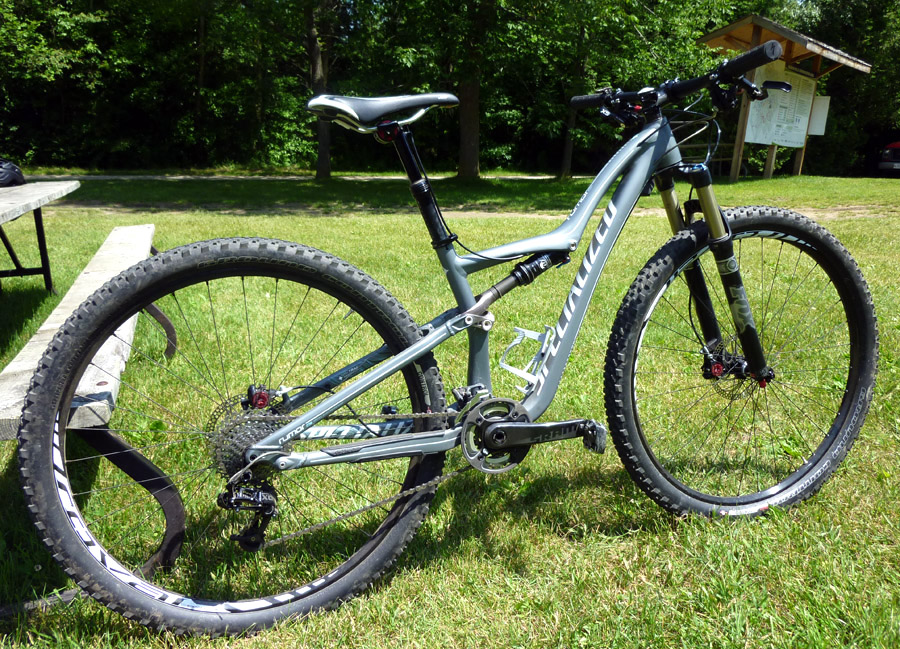 The Rumor
The Rumor Comp is the less expensive of the two with a suggested retail price of $3129 CDN. Components are from Specialized and SRAM. Rear suspension is a Monarch RL with AUTOSAG, rebound adjustment and a lockout. Front suspension is a RockShox Reba RL 29 with rebound adjustment. The drive train is 2x10 with a combo of SRAM X7 an X9. Cranks are the SRAM S-1250, with and integrated bash guard. Crank length changes from 165mm for the small frame up to 175mm for the large frame. Brakes are Avid Elixir 5 SL. Wheels are Specialized's Roval 29 rims with Specialized's sealed cartridge bearing hubs. It uses 142mm rear hub spacing with a 12mm through-axle. Weight of the Rumor Comp is 12.7kg (28 pounds).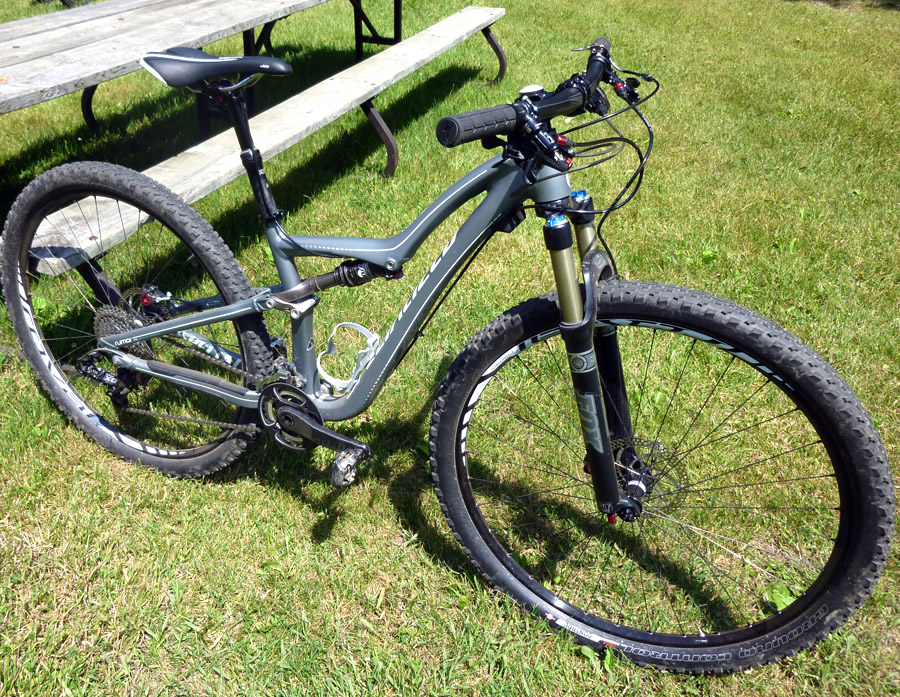 The Rumor Expert was the one I rode. It is lighter thanks to a' tricker' component pick. The rear shock is a Fox Float CTD Evolution, again with AUTOSAG, but with Climb, Trail and Descend settings accessed by a small lever. Front suspension is the Fox Float Performance 29. The biggest difference between the two models is with the wheels. The Rumor Expert has the Roval Control 29 wheels with the 142mm rear hub spacing and a 12mm through axle.

The drivetrain is a mixture of a SRAM XO rear derailleur, X7 front derailleur and X9 shifters. The crank is upgraded to a SRAM carbon S-2200, with again the crank lengths matching the frame sizes. Brakes are the Formula The One S with metallic pads. A significant addition is the Specialized Command Post BlackLite, which is a remote controlled drop seat post. Although this is one of the lighter drop seat posts available a regular post would shave some weight. The end product is a weight for the Expert of 12.45kg (27.4 pounds) with the size medium. Suggested retail of the Rumor Expert is $4499.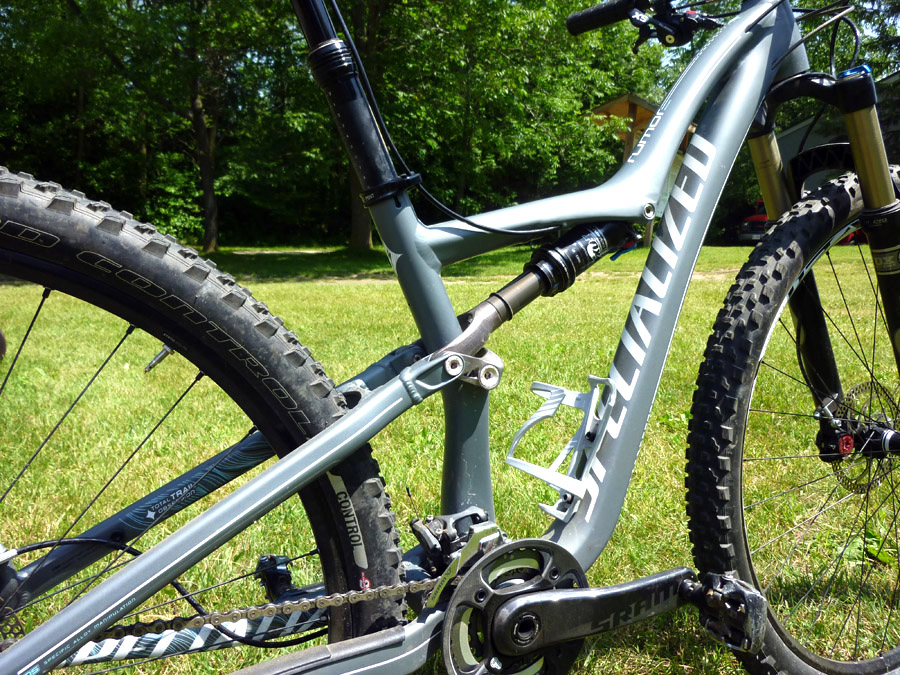 Rumor
Likely the biggest issue to deal with for a 29er for women is that you need to design one that has the correct fit and standover height for smaller riders, while still providing the desired travel. For the Rumor this means that the top tube slopes radically downwards from the head tube. The top tube then makes a considerable bend to meet the seat tube parallel to the ground. When viewed from the side the front of the bike seems rather tall. Low-rise bars and a height adjustable short stem help in the fit department. Although the seat tube is visually angling backwards, it has an effective angle of between 74 and 75° to get you in the correct position.

The remarkable thing is that despite having 29" wheels the 3 sizes of Rumor will fit a wide range of women. The small fits 149-160cm (4'11"- 5'3"), medium 163-170cm (5'4'-5'7") and large is for 173-182cm (5'8"-6'). I have never had a chance to ride a 29er before. It felt quite a bit different than my 26" full suspension bike. I was riding the medium Rumor Expert and felt as if I was a lot higher off the ground than usual. Despite finding a good riding position the impression was that it is harder to reach the ground when on the seat. The high bottom bracket (331mm) likely contributed to that.

Getting it underway was not a problem. The wheels seemed to accelerate well and the Ground Control tires (2.3" front and 2.1" rear) provided good traction. Our test track was the 17 kilometre long 24 Hour race course. I rode roots, a couple of rock gardens and some moderate drop-offs. The overall impression is that it felt good. Only a couple of the tight turns made the increased turning radius noticeable. Trail conditions were variable with loose sand to hard pack and even some gravel. For my first ride on a 29er I was impressed.

Climbing was a pleasant surprise. With the front end sitting rather high it was normal to think that it would lift when climbing. Instead it stayed well planted and the bike felt quite balanced. The rear wheel never broke lose either. Assisting the climbing was the "Climbing mode" on the Fox front suspension. It stiffened the front suspension without locking it out completely.

The only other issue I had was that the inside of my calves kept hitting the rear suspension linkage. I liked the seat a bit further back (my riding style is to be somewhat behind the pedals) than most people. With the seat farther forward it might not be an issue, but with me it was noticeable.

Joining us for the test ride were two women from the US and two from Canada who had won a Specialized Facebook contest to race on a team with Rebecca. One of the questions that they raised was "Will the Rumor be available in a carbon frame?" As always this is the quest for lightness. The answer so far is we don't know. However, Specialized staff on hand did yield that they were asked a lot.

The Rumor isn't intended as an XC race bike but it is close to being light enough. It is more being marketed for the enthusiast. Make that the enthusiast with some money. They are nice bikes but they aren't cheap. On the other hand Specialized Canada is already sold out of the Rumor for this year. If you want one you'll have to look at your local Specialized dealer.

If I had to replace my current ride I wouldn't have considered a 29er before because I thought they were only for tall people. My current bike is 26" carbon full suspension with 120mm of travel. It has the advantage on the Rumor in that it is around 24 pounds. In the end I don't really know if the Rumor handles rough trail better than my own bike. With the Rumor I was pushing it hard through the rougher sections. It rolled over everything that I asked it to. That alone is enough to make it worthy of consideration.

A big thank you for Specialized Canada for setting up the test. To view more details about the Rumor visit www.specialized.com

By Natalie Sahl
Gallery of photos in larger versions