June 27/13 20:20 pm - Svein Tuft Pre-Tour Interview

Posted by Editoress on 06/27/13

A week ago, Orica-GreenEDGE announced their squad for the Tour de France, and on that list was Canadian Svein Tuft.This will be Tuft's first Tour, and at the age of 36 which, according to our research, looks to make him the oldest rookie ever in the Tour [at least post-War, modern era]. We caught up with Svein this week at his European home in Girona, Spain, just before he left for the opening of the Tour in Corsica on Saturday.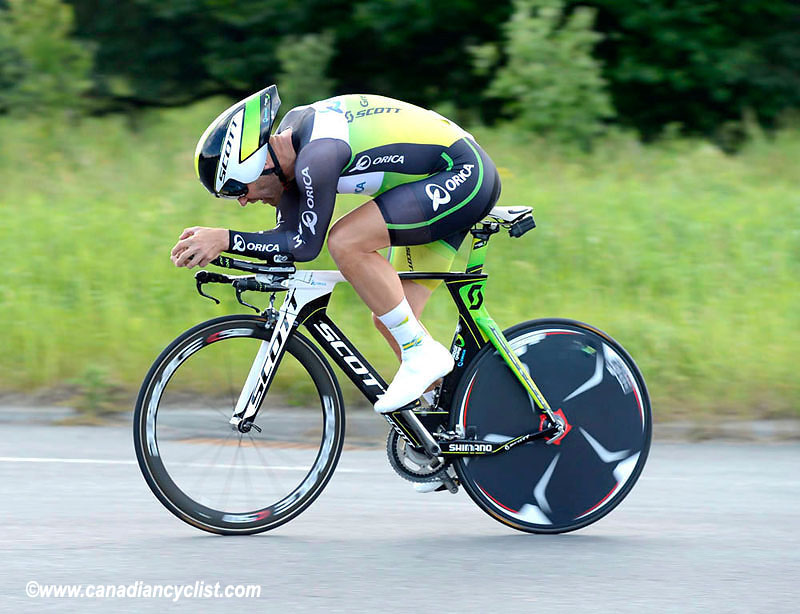 Svein Tuft at 2012 CDN road nationals
Canadian Cyclist: Congratulations on your selection. When did you know that you had been selected for the Tour squad?

Svein Tuft: Well, my plans kind of changed a bit from the early season, when I got sick during the Classics. That allowed me to build up to the Giro and start feeling pretty good for this time of the year. So, talking with the team during the Giro they said we would be working towards that [the Tour]. But you never find out until it's totally decided, and that was about a week ago. You wait around a bit for these things but, yeah, it's official now.

CC: You've done big races before; you've done the Giro. But the Tour is something totally different. It's less than a week away, what's your feelings about getting ready to be in the Tour de France?

ST: Yeah, it's definitely the big show for cycling; for most outsiders to the sport, it's definitely the ONE. Everyone knows about it, for sure. But I think with that notoriety and everyone watching it adds a lot of stress to the race. I think the Giro and the Vuelta are obviously super difficult races and have their moments, but I think with the Tour being such a spectacle, that everyone lined up on the start wants to do something. So you've got guys looking after GC guys, the sprinters ... every day I think it's going to be more stress than the typical Giro or Vuelta.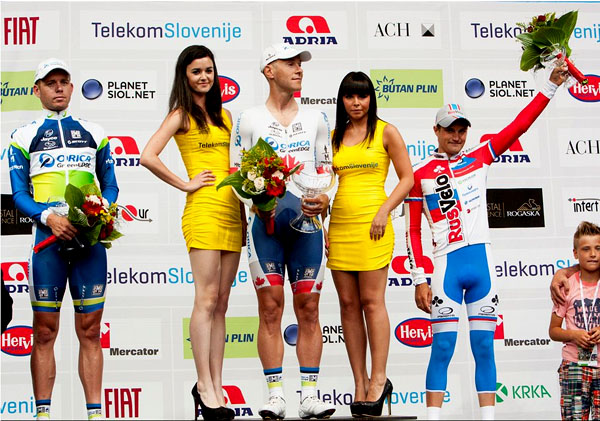 Tuft won stage 1 of the Tour of Slovenia
CC: You've had some pretty good time trials lately, including winning one at the Tour of Slovenia, so is there some thought about you doing a really good time trial, or is your role going to be different than that?

ST: Stage 11 has a really nice little 33 kilometre time trial, and a time trial is just one of those things where you hope you are going well. Obviously, my job is for the team time trial [Stage 4] and then taking care of our sprint train every day. Ideally, you hope to have some good legs for that day, but there's no guarantee because you never know what you are going to have to do in between. And that's my job; I'm there to help the guys as much as I can, and do as much as I can for the team, so I'd definitely like to have good legs on that day, but bike racing has no guarantees.

CC: So what's your schedule now?

ST: We're flying out to Corsica [Wednesday] afternoon and from there we'll have a couple of days training, maybe do some team time trial training, just to get everybody in the boat for Stage 4 in Nice. The first stage starts out not too crazy, not too hilly or anything like that, but the following two other stages are quite difficult, actually, so mentally you have to get ready for a real battle for those first three stages. It's kind of just the calm before the storm right now. But, it's still bike racing, so you just have to get your mind switched on and ready to go.

CC: You missed Nationals this year, the first time in a really long time, so you didn't get to defend your [time trial] jersey. I'm assuming you were following Nationals?

ST: Oh for sure, yeah. It was definitely too bad to miss it, I didn't want to miss out on it, but with the logistics, back and forth [from Europe] it would have been a lot of stress, and I'm coming out of quite a bit of racing already with the Giro and Slovenia, so it was just too much to add onto the plate. But it seems like it was pretty interesting back there. I was really happy for Zach [Bell] to take the Road jersey; it looks like he's on for a great season. I was surprised with [Curtis] Dearden in the time trial; it's always interesting to see a new face up there. He kind of surprised everyone; that's cool.

CC: So, at 36 ... we've been looking into it, and you may be the oldest rookie ever [post-war] in the Tour. Have you had any feedback on that?

ST: [Laughs] Uh, not really ... yeah, some people I've talked to have pointed to it as just a funny thing. But I'm grateful to just do my first Tour. But if you look at how my trajectory's gone in cycling, it's just one of those things. You do your job, and I don't think it matters how old you are. If you're suited for the job you get put into the big bike race. That's kind of how it goes.