July 2/13 17:51 pm - Glasgow Prepares for the Commonwealth Games

Posted by Editoress on 07/2/13

Since I was going to be in Scotland for the Fort William World Cup, I decided to see if I could arrange to visit some of the venues for next year's Commonwealth Games in Glasgow. UCI Cross-country Technical Delegate Simon Burney - who advised during the initial design of the mountain bike circuit - made an introduction to Scottish Cycling's Mountain Bike Director Bob MacFarlane, who graciously made himself available the day after the Fort William Downhill.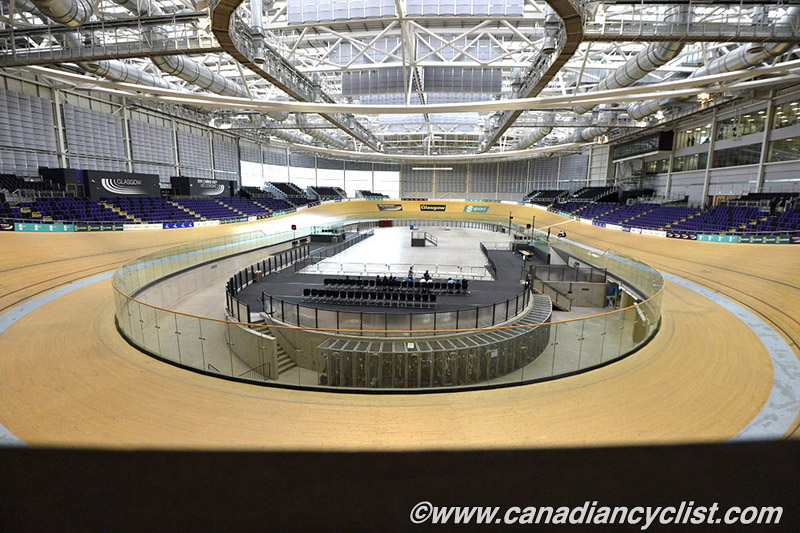 We started at the Sir Chris Hoy Velodrome, which is part of a huge sports complex in the east end of Glasgow, just north of the Clyde River. This is an extremely impressive facility, with a 6000 seat arena on one end and the 4000 seat velodrome at the other. Scottish Cycling has moved in and made it their Association headquarters, and the venue has already had a World Cup event on the 250 metre Siberian Pine track.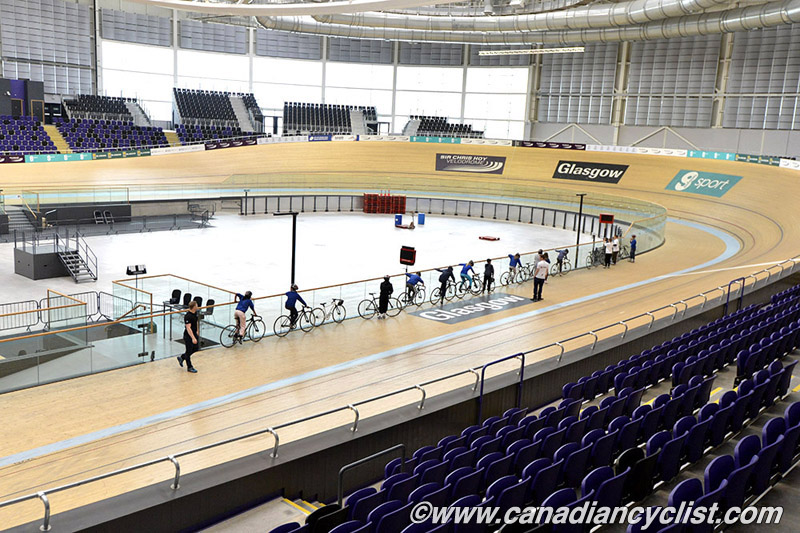 There are actually 2000 permanent seats, with another 2000 as temporary seating; however, Bob said that the temporary seating has never actually been taken down. The facility has, at the base of the track, permanent lockers for track users to store their bikes and a bike shop.

While we were there a group of 10-12 year olds - about 20 of them - were having a track session, and Bob says that the velodrome is booked pretty steadily. If the Milton velodrome is half as busy, it will be a great success.
From there we drove about ten minutes south to the mountain bike venue, at Cathkin Braes. Sitting up above Glasgow, the organization has built a 5.5 kilometre Figure-8 circuit that is certainly more of a mountain bike course than the London Olympic one was. Designed and built for the most part by former UCI 4-cross track builder Phil Saxon, it is very much an all-weather track, with a bed of crushed gravel meaning it will be rideable no matter the weather.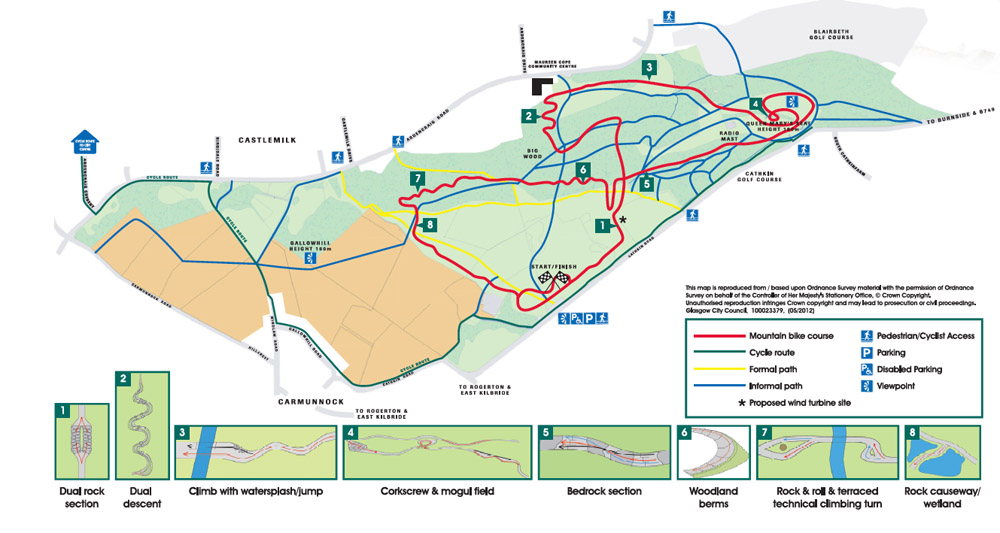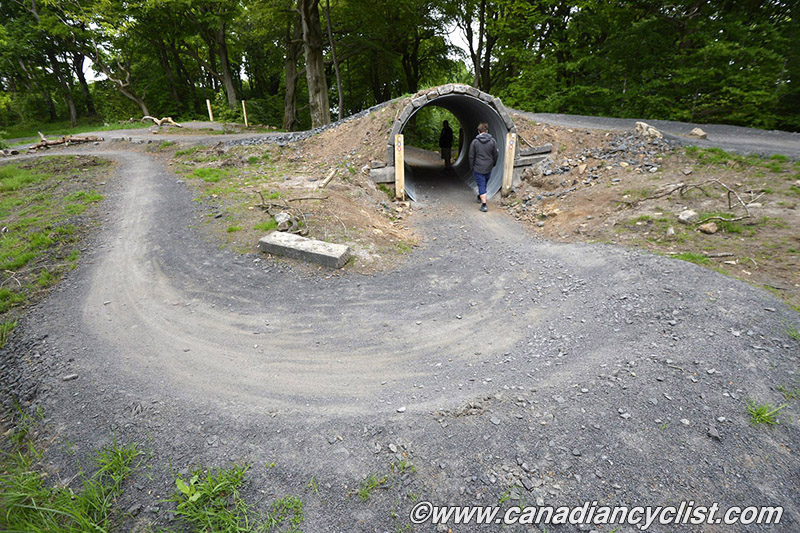 Keeping in mind the track may receive further revisions after the British Nationals and some other test events, here is an outline of the features: The start/finish area is in open grassland. After a 600 metre start loop, the riders head out on a wide gravel bike path section before hitting a few technical rock sections. None of these will prove to be much of an obstacle for World Cup riders. The first real obstacles are when they enter the wooded section, with a triple choice drop into some singletrack (yes, actual singletrack).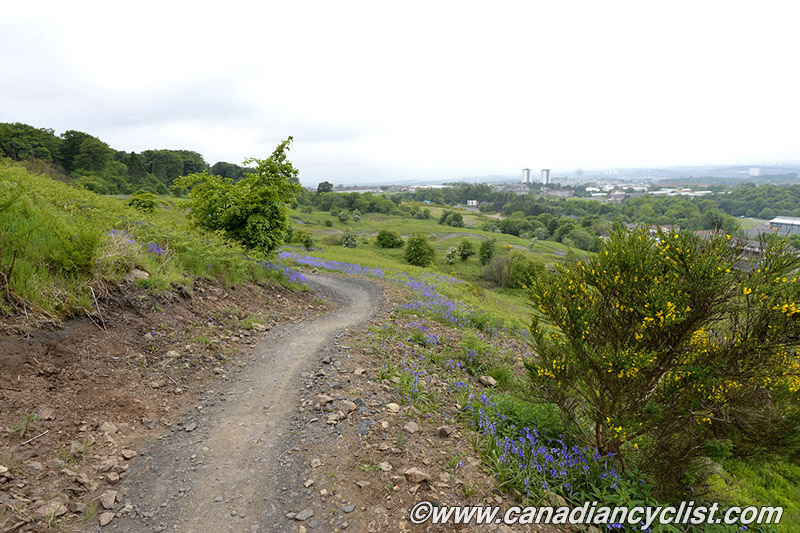 After exiting the woods the riders are presented with a vista showing the whole of Glasgow, but they won't have much time to look as they hit what will likely be the most talked about feature of the course - the snaking downhill 4-cross section. The riders will have two side-by-side tracks of winding berms. When we walked it, it was unclear whether riders would be able to hop from one track to the other - for technically skilled riders this would be a definite opportunity for passing.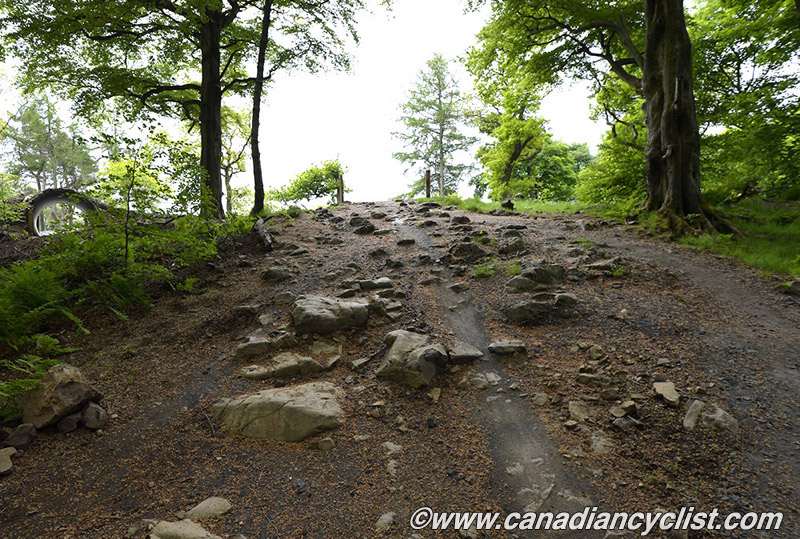 From here there is a longer steady power climb, followed by a steep uphill section, a steep drop and an immediate steep climb again. After this it cuts back into the woods, some singletrack and through a section of rough rock garden (called Broken Biscuits). There may be some added singletrack features to this portion - not adding any real distance, but slowing riders down to negotiate some features.

After passing back through the tech zone (near the crossing of the Figure-8), there are some swooping berms back down through the woods, and then out into the open for a final steady climb back to the start/finish.

Currently, the course is pretty fast, with an estimate lap time for top men of under 12 minutes. For this reason, it looks like some technical features may be added. Talking with some locals who were out, and watching them ride, it looks like a fun circuit with a good rhythm to it.
Photo gallery with many more photos