July 21/13 21:49 pm - Canadian Championship Relay report and results

Posted by Editoress on 07/21/13

There's nothing like a good rivalry to spice up a sporting event. After Team Ontario won the relay last year in St. Félicien, Quebec, the riders from La Belle Province were determined to return the favour and win on Ontario's home turf. Turn the tables they did, but only just.

Open to nationally-affiliated trade teams as well as provincial and territorial teams, the Canadian Championship Team Relay is much like any other in that strategy plays a big role. Do you send your fastest rider out first, or save the best until last? A new team composition points system (see below) probably kept the midnight oil burning for team managers, as various scenarios were run through the computer to determine which would yield the best outcome.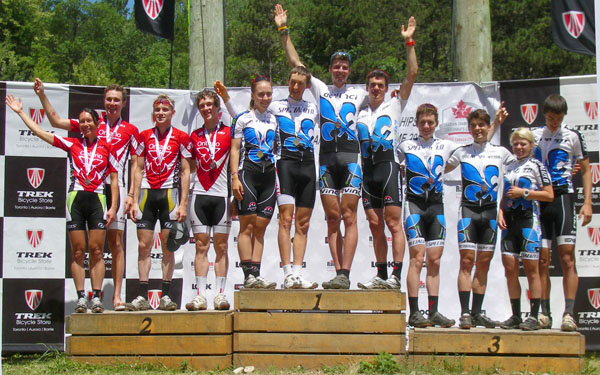 Photo by Rebecca Hilts
A total of ten teams took the start, with no less than four from Québec. Raphaël Gagné, riding the opening leg for Numéro Un QC, led the field off the line, with U23 national champion Mitchell Bailey (Team Ontario) in hot pursuit. Not unexpectedly, the pair blitzed the 4.5 kilometre lap in double-quick time, with Gagné returning first with a scant lead of but two seconds before handing off to Léandre Bouchard, while Bailey relayed to Peter Disera.

In third place was Jérémy Martin (Rocky Mountain Québec), who tagged Charles Faucher-Robert 24 seconds in arrears of the leaders, while Evan McNeely (Norco #1) was a further seven seconds back when he passed off to Evan Guthrie. Hot on their heels were Alexandre Vialle (Deux C'est Mieux QC) and Marc-André Fortier (Young Guns QC). These two passed off to Raphaël Auclair and Félix Belhumeur respectively.

Up front, Disera (third in the Eliminator Championships) managed to catch Bouchard (first in the Eliminator) and it was Ontario and Numéro Un QC neck and neck as the hand offs were made to Amanda Sin and Andréane Lanthier-Nadeau. On paper, the advantage may have gone to Sin, but Lanthier-Nadeau wasn't concerned about reputations and tore off the line to open a very slight gap. Meanwhile, Auclair had caught and passed Guthrie to move Deux C'est Mieux QC into third, with Norco #1 now trying to hold off Young Guns QC for fourth.

Lanthier-Nadeau managed to maintain her lead over Sin, and she gave Antoine Caron, the anchor for Numéro Un QC, an advantage of four seconds. Finishing things off for Team Ontario was Cameron Jette, known for being able to turn a very fast lap. Four seconds did not seem like much of a cushion, and announcer Jack Sasseville was predicting a sprint to the line.

Although Haley Smith clawed back some time for Norco #1, giving them breathing space over Young Guns QC, it wasn't enough to threaten for a step on the podium, and Frédérique Trudel passed off to Patrick Chartrand with Deux C'est Mieux QC in a solid third.

A quiet tension was broken with a roar when Caron appeared first around the final bend. Though Jette was in sight, the gap was enough for the U23 rider from Stoneham, Quebec, to raise his arms in victory and coast across the line, setting the stage for next year's rubber match.

Deux C'est Mieux QC held on to third, adding to the celebratory mood for the vanquishers, with Andrew L'Espérance bringing Norco#1 home in fourth, and Guillaume Larose-Gingras capping off a fine fifth for Young Guns QC.


Club Challenge

Starting five minutes after the Championship Relay, the Club Challenge Relay featured a dozen provincially affiliated clubs. After a false start caused by a rogue whistle, known speedster Kelsey Krushel (Tuf Rack Racing) took the holeshot followed by Tyson Wagler of Two Wheel Racing #1.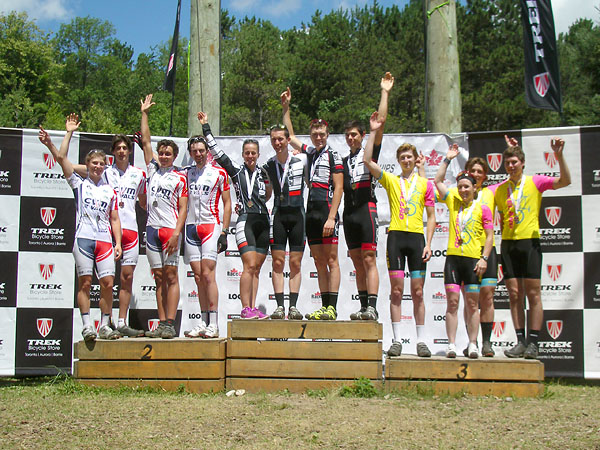 Photo by Rebecca Hilts
It was Mathieu Bélanger-Barrette, however, who returned home first for Opus/OGC, followed by Peter Glassford (Trek Canada) and Luc Boily (CVM 2 VALS "Devestator"), with Wagler and Jon Winfield of Team Bikeland in a tie for fourth.

Fate dealt Krushel a cruel blow, as he rode in on a flat rear tire, leaving Tuf Rack with nowhere to go but up.

The tie for fourth was broken thanks to a strong lap from single-speeder Davis Ross, who moved Team Bikeland into the lead, while Scott Lynch took Two Wheel Racing #1 into second. Andréanne Pichette and Felix Burke kept Opus/OGC and CVM 2VALS "Exterminetor" in the mix.

The third lap saw Neil Symington vault Opus/OGC into the lead, though Rhonda Stickle kept it close for Team Bikeland, and Stephan Boily brought CVM 2VALS "Exterminetor" safely into third.

Steven Noble handily capped off the win for Opus/OGC, while J.P. Thibault came from behind to take second for CVM 2VALS "Exterminetor". Local fans still had something to cheer about as Eric Johnston secured a podium spot for the distinctive jerseys of Team Bikeland, a shop in nearby Barrie.

Report by Emil van Dijk

Race Notes

- Trek Canada teammates Peter Glassford and Mitchell Bailey worked overtime today. Glassford won the singlespeed race before competing in the Club Challenge, while Bailey, in addition to starting the Championship Relay for Team Ontario, finished off the Club Challenge for Trek Canada.

-Here's the official team composition explanation:

Team Composition:

We have developed a simple points system that is used to build a team. Each category of rider is assigned a point value, and all four riders on the team must add up to a maximum of 275 points.
| | | |
| --- | --- | --- |
| | Men | Women |
| Elite | 100 | 50 |
| U23 | 75 | 25 |
| Junior | 50 | 20 |
| Cadet | 30 | 20 |


Each team must include at least one male and one female rider.



Trade/Assn Team Relay

1 Numéro Un QC (Rapháel Gagné/Léandre Bouchard/Andréane Lanthier Nadeau/Antoine Caron)
48:38
2 Team Ontario (Mitch Bailey/Peter Disera/Amanda Sin/Cam Jette)
48:39
3 Deux C`est Mieux QC (Alexandre Vialle/RaphaÎl Auclair/Frédérique Trudel/Patrick Chartrand)
49:51
4 Norco #1 (Evan McNeely/Evan Guthrie/Haley Smith/Andres L`esperance)
50:22
5 Young Guns (QC) (Marc-André Fortier/Félix Belhumeur/Catherine Fleury/Guilliaume Larose-Gingras)
50:35
6 Rocky Mountain Québec (Jérémy Martin/Charles Faucher Robert/Marine Lewis/Patrick Martin)
52:03
7 Team Ontario- Young Guns (Quinton Disera/Soren Meewisse/Tyler Orschel/Jarred Jonker)
52:54
8 Norco Plus 1 (Bretton Matthews/Rachel Pageau/Sue Haviland/Andrew Watson)
54:45
9 Team Manitoba (Willem Boersma/Jared Fawcett/Anna Schappert/Ari Robinson)
56:05
10 Team Manitoba 2 (Jake Allaire/Kristian Skromeda/Drew Romanovych/Siobhan Kelly)
59:43

Club Challenge

1 Opus / OGC (Mathieu Bélanger-Barrette/Andréanne Pichette/Neil Symington/Steve Noble)
51:41
2 CVM 2 VALS `Exterminetor` (Cindy Montambault/Felix Burke/Stephan Boily/J.P. Thibault)
52:15
3 Team Bikeland (Jon Winfield/Davis Ross/Rhonda Stickle/Eric Johnston)
53:05
4 Two Wheel Racing #1 (Tyson Wagler/Scott Lynch/Marie-Pierre Nadon/Preston Wagler)
53:16
5 Trek Canada (Peter Glassford/Cayley Brooks/Karlee Gendron/Mitch Bailey)
53:41
6 Team Squamish (Jean Ann Bikenpass/Sandra Walter/Quinn Moberg/Mahon Lampron)
53:41
7 CSAJCC P/b Norco & LG (Jon Slaughter/Griffin Lambert/Heather Gray/Chris Fruetel)
54:25
8 CVM 2 VALS `Devastator` (Luc Boily/Laurie Arsenault/Colin Chenail/Benjamin Boucher)
54:27
9 Tuf Rack Racing (Kelsey Krushel/Mandy Dreyer/Kaleb Hellreich/Braedyn Kozman)
55:16
10 Two Wheel Racing 2 (Simon Wagler/Samantha Wagler/Laura Bietola/Jamie Wagler)
58:23
11 CVM Subway- Sigma (Cédrick Cantin/Amélie Simard/Anne Lehoux/Jonathan Cantin)
58:45
12 Tuf Rack Racing #2 (Matthew Farquharson/Catherine Harden/Cory Brioschi/Gillian Hague)
1:02:17
Master XC

Master 30-39 Women

1.Linda Shin (Blacksmith Cycle)
1:24:41.7 (Race winner)
2.Carmen Labbé (Quilicot – Rackultra)
1:26:15.6 (Canadian Champion)
3 Lisa Hutson (HBCC)
1:28:32.9
4 Abigail Owsley (Pedal Power Racing)
1:29:57.2

Master 40+Women

1 Lisa Holmgren (Velocity Cycle And Ski)
1:21:44.9
2 Noelle Wansbrough (Kamikaze Racing)
1:26:25.9
3 Lori Davis (Barrie/Simcoe Cycling Club)
1:28:20.7

Master 30-39 Men

1.Danny Souter (KHS Bicycles)
1:33:53.7
2.Eric Batty (Trek Store C.C.)
1:34:47.6
3.Christopher McNeil (Soul Sportif)
1:35:04.0

Master 40-49 Men

1 Robert Holmgren (Velocity Cycle And Ski)
1:32:43.6
2 Jon Barnes (Trek Canada Mountain Bike Team)
1:33:23.1
3 Brian McKeown (Radical Edge)
1:34:35.9

Master 50+ Men

1.Christian Lalancette (Cycle Néron Specialized)
1:38:15.0
2.Robert Sule (ERACE Cancer Cycling Team)
1:41:22.3
3.Alain Beaudry (CVM Procycle)
1:42:05.2