July 22/13 17:29 pm - Svein Tuft: Post-Tour Interview

Posted by Editoress on 07/22/13

Svein Tuft, riding for the Orica-GreenEDGE team, completed his first Tour de France Sunday [July 21st]. He was a member of the squad that won the Team Time Trial stage, as well as an individual stage, and put two riders in the Yellow Jersey. He also finished sixth in the first individual time trial stage, and had the distinction of being the 'Lanterne Rouge' - the final rider to finish to the Tour in the general classification standings.

We spoke with Svein earlier today, when he reflected on the experience.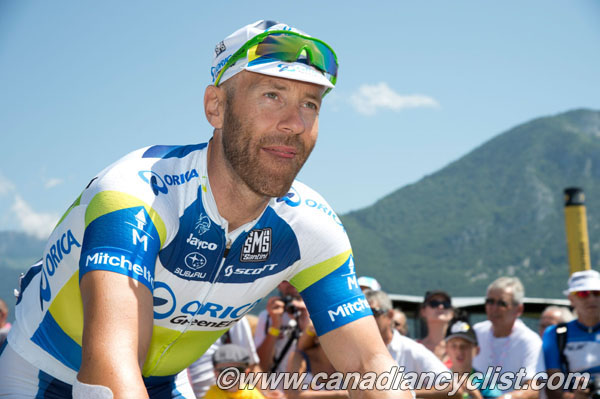 Canadian Cyclist: My first question is pretty straightforward: What's it like having finished the Tour?

Svein Tuft: Well, today I feel like I've been run over by an 18-wheeler. I think it's taken a while for it to really set in, you know, I think it will take a few days through this week before I start getting the comprehension of what's actually happened. But, last night was really special ... I was really out of it, and in a lot of pain, but it was still an amazing moment. Coming down the Champs Élysées at night time ... you've got the full moon coming up one side and the sun setting on the other; it was just amazing ... amazing.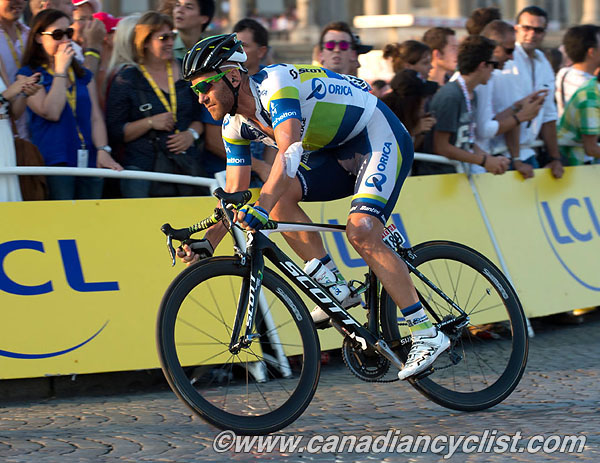 On the Champs Élysées
CC: So let's talk about the high points - looking back, what were the big moments for you?

ST: I would say the high points are ... first of all Gerro [ team mate Simon Gerrans] winning the stage in Corsica. Obviously that gave us great energy and motivation for the Team Time Trial and then defending the jersey. Those were super high moments. I think all of us were pretty amazed at where we were in the Tour at that point, and that was some real highs. I had better expectations for the [Stage 11] time trial, but coming into I knew that a lot of work had been taken out of the legs and it wasn't exactly what I was hoping for, but that's how she goes sometimes.

CC: And the lows...

ST: For me the lows were ... I crashed four times at the Tour, and I haven't crashed in a year, so it's like I had them all saved up for this moment. I was in a lot of pain; I landed a lot of times in the same area, so I had hip contusions and ankle contusions, and my wrists were kind of swollen and inflamed.

So getting through the Alps in the last few days for me was not a great situation. I was pretty much on the limit all the time, whether we were going uphill, downhill, on the flats ... it was a whole new level of struggling and pushing myself.

I guess you could call it a low point, but at the same time I'm really proud of coming out of that and brings me again to a high that I'll probably realize in a few days.

CC: There's two stages I want to ask you about, and get your impressions; first Ventoux, and then Alpe d'Huez.

ST: Ventoux ... that was a stage, man. 240 k's in the heat. Europcar missed the break and they put their guys on the front for most of the day. So it was full gas, crosswind, annoying small roads, super stressful all the time. Then you are ending on a really solid climb. Ventoux is not so difficult when you are riding in the grupetto, but I think the way it was raced this year was so difficult.

There was reported to be a million people up there that day, and for sure that's the most amount of people I've ever seen. Especially around the base of the climb it must have been ten deep at some points. People going crazy, and guys in all kinds of nutty costumes ... it's amazing the amount of people that come out for those big climbs.

Going on to Alpe d'Huez ...that to me was just ... why we had to do two times up there, I don't know, but the descent [between the two climbs] there was talk of the danger by the organization, and if it rained ... and then nothing happened. At the end of the day we got through the dangerous bit, but my situation was different from the GC guys, who had to race on a day like that. Two monstrous climbs at the finish, not to mention a hilly parcours before that ... what a day.

Again, the spectators were amazing. Dutch Corner, I remember we had to unclip at a certain point because there was no way to get through, it got too narrow with all the people. I think people really party on that Alpe d'Huez. All those people come hiking up, and there were some interesting faces, that's for sure.

CC: We talked before the Tour about how you have done other Grand Tours, and whether the Tour de France is different from other races - is it?

ST: Yes, I would say so. After experiencing it, and the way our team did it. We had a pretty heavy first week and that sets you up to really feel it in the last week, especially if you are not a guy who's ridden a lot of Grand Tours, like [team mate] Stuart O'Grady. For him, he's pretty much the same all the time [laughes].

It all goes back to it being in the spotlight of the world. Every country is watching ... I don't know what the viewership is, but it's got to be maybe the biggest sporting event in the world. I mean, that just means every team has a crazy objective. That means that there are no days where it is just a nice transition, you know, you can never guess what's going to happen.

It's nervous and stressful all day until the race just blows apart completely. So, that I can say I've never experienced. You have days at the Giro or Vuelta that, when it goes, it really goes, but up until that point it's almost an agreement of how things are conducted. In the Tour, some of the mornings you can barely hang on, you're just trying to hold a wheel, no matter what your form. Maybe I'm not at the level of some of these guys, but I know from team mates and friends that some of these days are that ridiculous, just full on from Kilometre Zero, and there are days that you truly hope you are going to make it through.

CC: So I'm guessing a little time off, but what's next for you?

ST: I'm probably just going to take the week and not even look at a bike. I'm going to go up to Andorra [where he has a house] and check out the [Mountain Bike] World Cup, see if I can cheer on some Canadians. Then I've got London in two weeks, a one day race, and then the Eneco Tour. So it doesn't really stop.

CC: Are we going to see you in Canada for any races, like Alberta, or Quebec and Montreal?

ST: I'd really love to do Alberta and the Quebec races, but it falls in line with team time trial training. We really want to try and win it this year, it's a good course for us and the team's quite motivated for that. Yeah, I would love to head back to Canada, but I don't think it's going to happen this year.

CC: This is the first year we've had three Canadians in the Tour; did you get much chance to talk with Ryder and David?

ST: Well, the Tour is that crazy, that when you hit Kilometre Zero, there's not a lot of time for chatting. Sometimes even in the grupetto, it's different groups all over the place, split up everywhere. But I got some good moments to catch up with those guys; it always good to see some guys you know quite well out there, your fellow countrymen in the race. I'd like to see that grow.

CC: Last question: Now that you've done it, would you do it again if you were asked?

ST: That's one of those things, that right now is not a good time to ask [laughs]. But I bet you that a week from now I'd say 'Oh yeah, it was the greatest thing ever!' It was truly a phenomenal thing ... but it really taxes you for sure.