July 24/13 8:37 am - Mardis cyclistes de Lachine: Week 8 report

Posted by Editoress on 07/24/13

It was Elliott Doyle (Médique p/b Silber Investment) who won the eighth of 10 weekly stage races of the Mardis cyclistes de Lachine Jean Coutu. Doyle stopped the clock at 1:01:25 in the 50km men's pro-elite race, barely nipping Simon Lambert-Lemay (Garneau Quebecor) at the finish.

"Yes, it was a bit of a surprise," the young cyclist admitted after the ceremonies. Doyle is known as a strong sprinter, but his team had never yet won at the Mardis this season.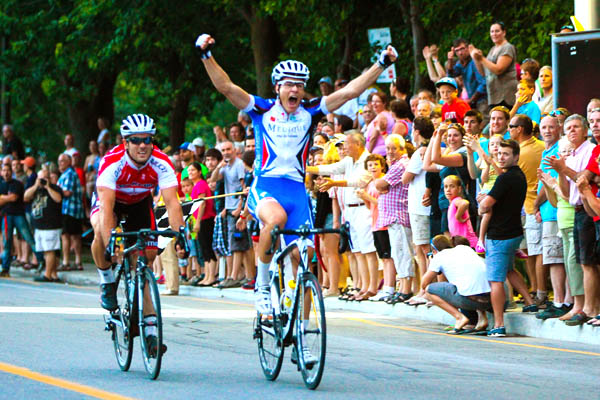 Elliott Doyle crosses the finish ©Marie Ledoux
The third spot went to Stephen Keeping (Steven's Racing) this evening. There were 80 cyclists on the start line in a race apparently marked by three crashes and at least 10 cyclists went down, Lambert-Lemay among them.

Lambert-Lemay, despite his fall, bounced back and now sits in close second in cumulative points (808) behind his team mate, Pierrick Naud, who leads the series at 830 with only two more races to go this season. Keeping now sits in third place in cumulative points with 630. On the podium, former Canadiens player Yvon Lambert stood beside Lambert-Lemay.

Other results

In the women's 24km race, Audrey Bernard (Stevens Racing p/b The Cyclery) won this evening, followed by Élisabeth Albert (Rocky Mountain Lessard Bicycle) in second and Adriane Provost (Stevens Racing p/b The Cyclery) in third. Albert now has 303 cumulative points and will start wearing the yellow leader's jersey next week. Rosalie Cardin-Houde (IAMGOLD-Specialized) follows with 286 points while Catherine Ouellette (André Cycle-Kaycan-RDS) now has 201 points.

In the 24km men's cadet race, Miles Eastwood (Team CHCH) was first, followed by Laurent Gervais (Espoirs Laval Primeau) in second and Marc-Alexandre Delage (VC Métropolitain Cycles ABC) in third. But Thierry Kirouac Marcassa (VCL-André Cycle) still dominates in general classification with 380 points, followed by his team mate, Antoine Côté with 241. Eastwood's win this evening now puts him in thrid spot with 144 points.

In the girl's 16km minime race, it was Laurie Jussaume (Dynamiks de Contrecoeur) winnig this week. Following her was Charlotte Tousignant (Espoirs Laval Primeau Vélo) who nonetheless continues to lead the general classification with 420 points. Jussaume has now picked up 353 points. Naomi DeSousa (Team CHCH) finished third in this evenig's race. Laurie-Anne Grenon (Dynamiks de Contrecoeur), who finished fourth this evening, remains third in general classification with 224 points.

Griffin Schwartz (Indépendant-RP) won the boy's 16km minime race, making it five in a row. Alex Briand (VCL-André Cycle) was a very close second, followed by Guillaume Davidson (Vélo Mauriciein third. Schwartz dominates the general classification with 454 points. Gabriel Drapeau-Zgoralski (VCL-André Cycle), who was absent this evening, follows with 299 points while Tristan Guillemette (Velo Mauricie) has 249 points jusqu'à présent.

The next race is Tuesday, July 30, around LaSalle Park in the Montreal borough of Lachine. The first race starts at 5:30 p.m. and the men's pro-elite race is at 7 p.m. It is free to watch the bike races.
Source: John Symon
Results (brief)
1 Elliott Doyle (Médique p/b Silber Investment)
2 Simon Lambert-Lemay (Garneau-Québécor)
3 Stephen Keeping (Steven's Racing)

Full results all categories