July 27/13 14:35 pm - World Cup Vallnord: XC report and photos

Posted by Editoress on 07/27/13

Round four of the Cross-country UCI Mountain Bike World Cup in Vallnord, Andorra, proved to be harder than anyone expected. Altitude, heat and strong winds all played a factor but, in the end, two of the most experienced riders on the World Cup circuit took very close victories. Sabine Spitz (Sabine Spitz Haibike), in her first race back after injury, took the second World Cup win of her career in the women's race, while World Cup leader Nino Schurter (Scott Swisspower) made a last lap surge to win his third straight World Cup of the season. Schurter extended his lead in the men's standings, while Tanja Zakelj (Unior Tools) held onto the women's overall lead with a fifth place.
Canada's women's national champion, Emily Batty (Trek Factory Racing), did not start, when the cold she has been suffering since last weekend's Nationals continued to bother her at altitude. Scott-3Rox riders Geoff Kabush and national men's champion Derek Zandstra finished 47th and 56th, respectively, with Zandstra suffering a flat early in the race.

Women
Katerina Nash (Luna) set an aggressive pace in the first lap of the women's race, quickly shattering the field. Five riders joined Nash at the front of the race by lap two - Spitz, Eva Lechner (Colnago Sudtirol), Gunn-Rita Dahle Flesjaa (Multivan Merida), Maja Wloszczowska (Giant Pro XC) and Jolanda Neff (Giant Pro XC). Zakelj was just behind, but losing ground.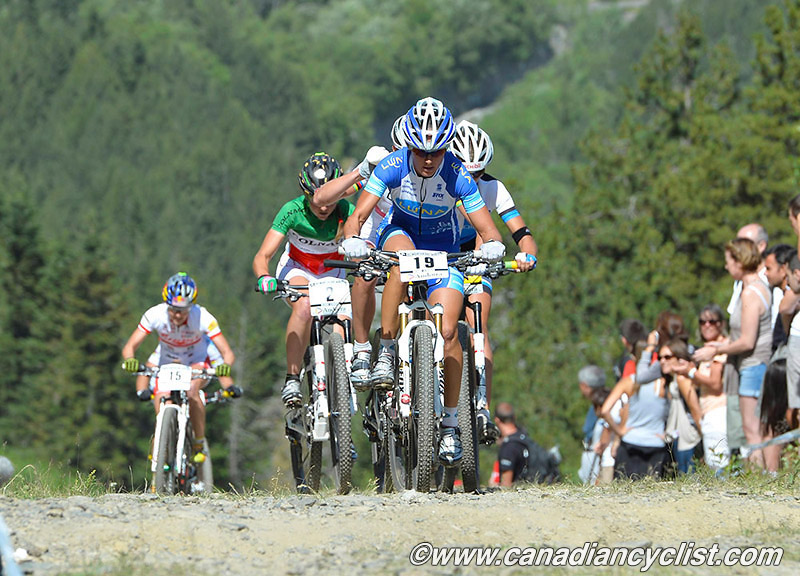 Katerina Nash leading on lap 1
Links to more photos at bottom of page
A lap later both Neff and Wloszczowska were gone, unable to hold the pace. The front four stayed together through most of lap four until Nash attacked, opening a five second gap as she began the final lap. The Luna rider extended her lead to ten seconds by the halfway mark of the lap, as the chase began to fall apart. Spitz, who is just back from shoulder surgery that took her out of action before the start of the World Cup season, began to surge in the final two kilometres, catching Nash in the final 600 metres as the pair entered the last section of singletrack before a short climb to the finish.
Links to more photos at bottom of page
Spitz, the 2008 Olympic champion, put in a last effort over the final 200 metres to take her first World Cup win since 2002, finishing just one second in front of Nash, with Lechner at four seconds and Dahle Flesjaa at nine seconds - one of the closest finishes in recent history.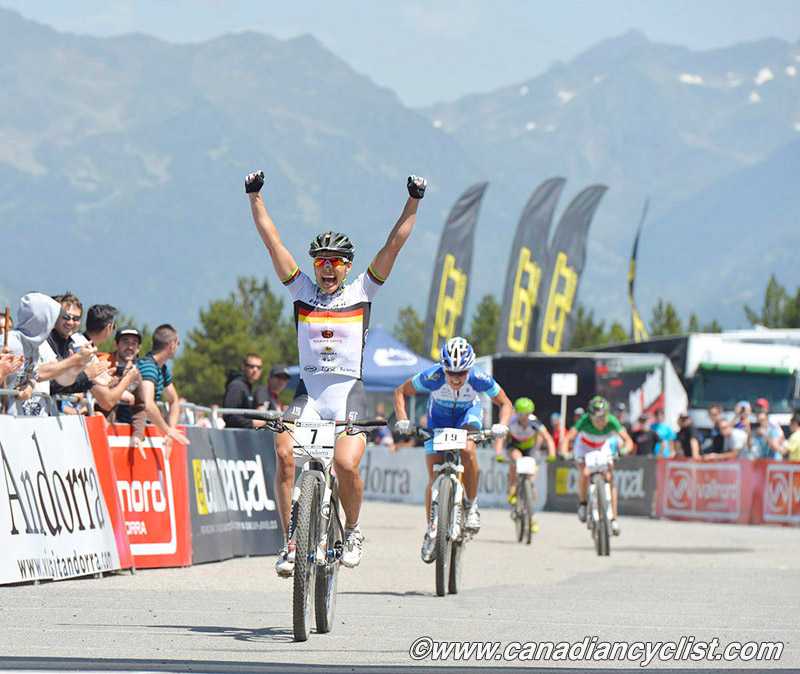 Sabine Spitz wins
"With the headwind, nobody wanted to go into the lead," explained Spitz. "Eight weeks ago I crashed on my home course in Albstadt [before the World Cup], and, yah, it's amazing to win. I never expected to come back like this. I had hoped for a top ten place ... but this win is unbelievable. It [the win] means so much because when you have an accident and have to go out of competition, then you are not sure how your fitness is when you get back to the World Cup circuit. It means so much to me."

Zakelj now leads the women's standings with 790 points, with two races remaining. Lechner moves up from third to second, 160 points back, and Nash moves up a spot to third, a further 15 points in arrears.

Men
The men's six lap race started out explosively fast, with a group of ten riders forming at the front. The pace was being driven by Ondrej Cink (Multivan Merida), the Under 23 world champion, who is now in his first year racing at the Elite level. Schurter was one of the big names that missed the move, and had to claw his way back up after flatting on the first lap. Another was Julien Absalon (BMC), who dropped his chain in the opening 300 metres of the race, falling to last place, and making an impressive effort over the remainder of the race to finally finish eighth; truly a magnificent performance.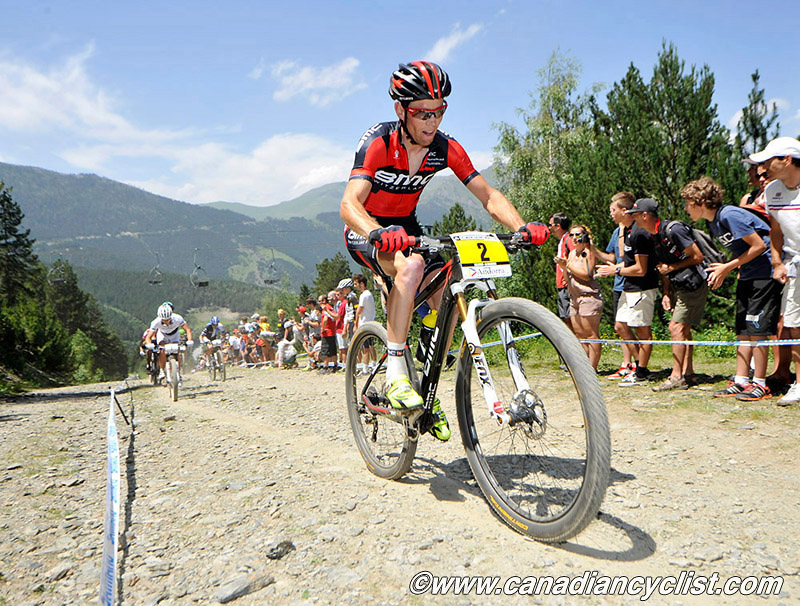 Lukas Fluckiger attacks on the opening lap
Links to more photos at bottom of page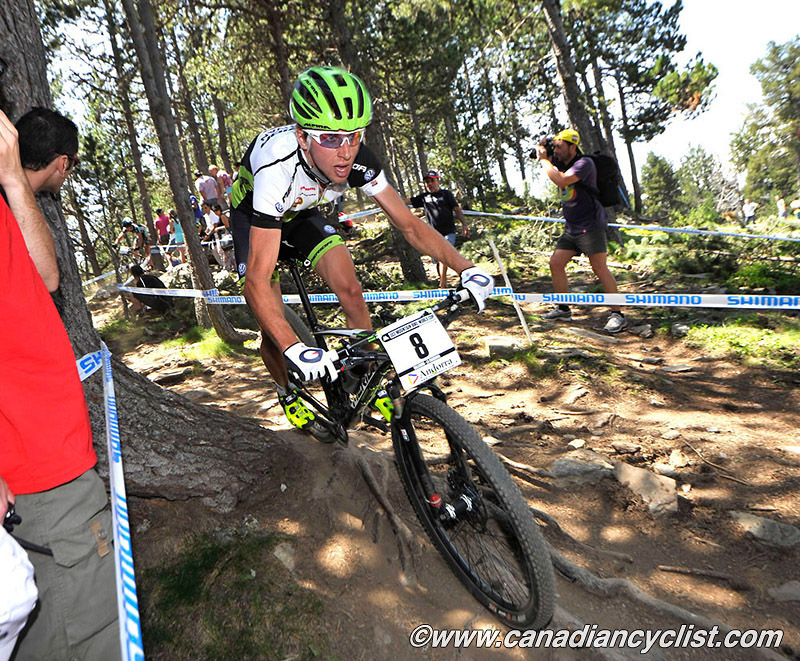 Ondrej Cink (Multivan Merida) away on lap 2
Links to more photos at bottom of page
At the front, Cink wasn't happy with the pace of the front group, and rode away solo on the second lap.

"On the second lap everyone was going slowly," explained Cink, "and no one wanted to take the lead, so I went my own pace and by the top of the climb I had a good gap."

Schurter had finally joined the chase group by the end of the second lap, but Cink was now 20 seconds up on Maxime Marotte (BH-SR Suntour-KMC) and Gerhard Kerschbaumer (TX Active Bianchi), with the Schurter led group a further 14 seconds in arrears. By lap four, the Schurter group was six - Marotte, Kerschbaumer, Stepahne Tempier (BH-SR Suntour-KMC), Fabian Giger (Giant Pro XC), Florian Vogel (Scott Swisspower) and Schurter himself. However, Cink had increased his lead to 40 seconds, and time was running out.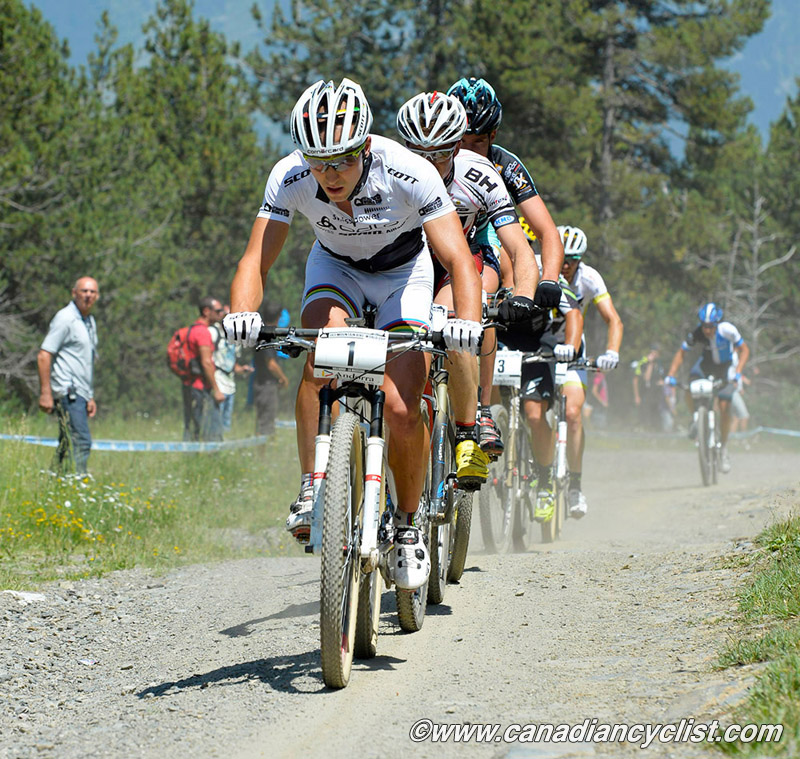 Nino Schurter drives the chase
Links to more photos at bottom of page
In the next lap, the Czech rider began to tire, and Schurter started to up his tempo, pulling to within 29 seconds as they started the final lap. The world champion then turned in the only sub-14 minute lap of the day on the final lap to finally reel in his young rival in the final kilometre. Cink tried an attack, but Schurter covered it, and then broke clear to win by six seconds, with Tempier also close to catching Cink at the line but having to settle for third.

"This is more than I could have hoped for," commented Cink. "I would have been happy with a top-10. By the last lap I was beginning to believe I could win it, but then Nino came up to me. I attacked, but he came back, and got by me in the final singletrack. This result means more to me than winning the [Under 23] world championships last year."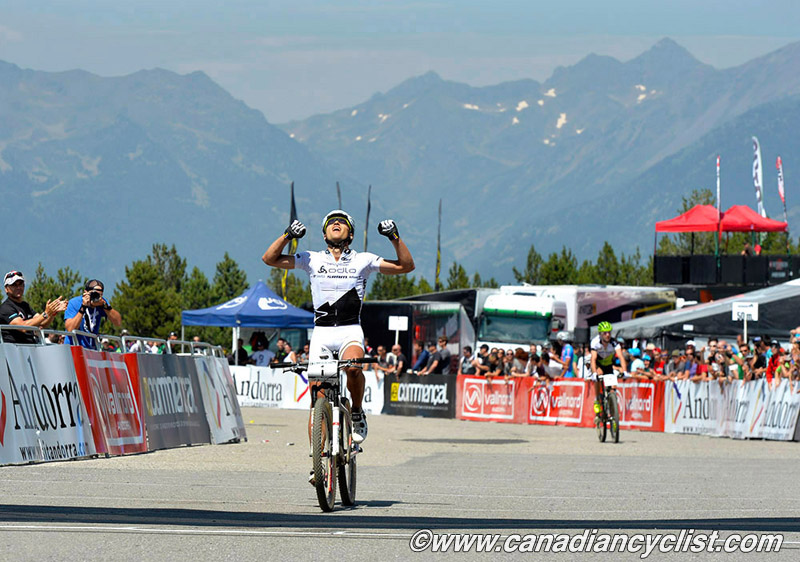 Schurter wins
Links to more photos at bottom of page
"It was a crazy race," said Schurter. "I had a bit of bad luck in the first loop,I flatted in the first descent. I needed quite a lot of power to close that gap to the chase group and then Cink was already 20, 30 seconds in the front of them. Then in the last lap I was able to catch Cink; it was a crazy battle. A really hard last lap."

"On the first lap I focussed on getting back to the top five, then I saw Julien was coming quite strong from the back and I was more focussed on that. Then on the last lap I saw maybe there is a chance to win the race ... and it was unbelievable race today."

"It is really tough for us athletes [the altitude]; if you want to go over your limit, you feel it for the next whole lap. It is different from racing at sea level definitely, and you have to be careful to not go too long in your red zone."

"This is a great victory, my tenth World Cup victory and now a big step to the World Cup win for the season. I am really lucky for this victory."

Schurter extended his lead significantly in the overall standings, since none of the other top contenders made the top five at Vallnord. At 820 points with two races remaining, Schurter leads round one winner Daniel McConnell (Trek Factory Racing) by 280 points, with Absalon another 30 points back, tied with Cink.
Results
Fatal error
: Uncaught Error: Object of class PDO could not be converted to string in /home/canadiancyclistcom/canadiancyclist.com/public/modules/news.php:528 Stack trace: #0 /home/canadiancyclistcom/canadiancyclist.com/public/modules/news.php(517): getrelatedgallery() #1 /home/canadiancyclistcom/canadiancyclist.com/public/dailynews.php(58): getDailyNewsArticle() #2 {main} thrown in
/home/canadiancyclistcom/canadiancyclist.com/public/modules/news.php
on line
528