July 28/13 7:37 am - TransRockies: Day 1 report, results and photos

Posted by Editoress on 07/28/13

The 12th, and final edition, of the TransRockies Challenge kicked off Saturday morning in fantastic Fernie, British Columbia. Almost 300 mountain bikers lined up for the start of the TR3 and TR7 events on what would be an exceptionally fast stage covering 33km and 1600m of elevation gain.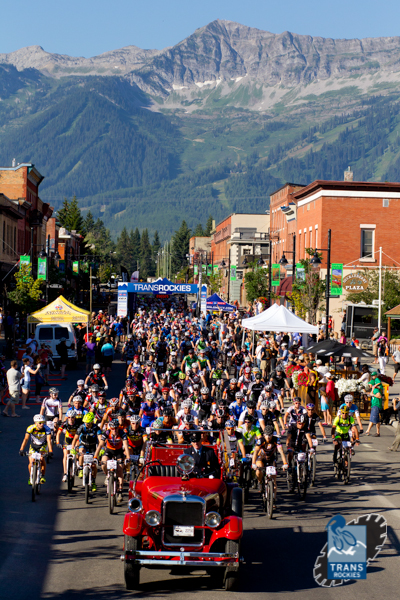 The format of Stage One has traditionally been a time trial. This year organizers decided to 'mix things up' by redesigning this stage and moving to a mass start format. The ride would begin with a road climb before leading the riders onto their first stretch of singletrack, and first of two climbs, up the legendary Hyperventilation trail.

In years past, Stage One often served as an opportunity for the elite in the field to stretch out their legs and size up the competition. The dry and dusty trails set up nicely for a very fast stage and it became apparent early on that there would be no warm-up stage this year. From the starting gun, a strong Euro contingent demonstrated they came to Canada to compete. In the TR7 Solo Men's category, Oliver Zurbruegg of Switzerland set the pace with a time of 1:52:17 followed by Swede Calle Friberg and Paul Remy of France. 2012 TR3 champion Mical Dyck came through as the ladies TR7 Solo leader with a time of 2:16:03. Leighton Poidevin was first across the line in the 40+ Men with Pedro Vieira of Portugal taking the 50+ Men's Stage One win.

As the morning wore on the temperature began to rise and the field was sweating hard as they ground their way up Hyperventilation for a second time. This time, however, they would be bound for a rewarding descent down Southern Comfort and a quick spin back to town. In what may be a first in TransRockies history, a 100+ duo posted the fastest time of the day in the TR7 team event. It should come as no surprise that a team composed of a former world Mountain Bike Champion and a former Xterra World Champion would be quick. Mike Kloser and Michael Tobin posted a time of 2:04:24, one minute in front of the TR7 Open Men's duo of Sebestien Cadieux Duval and Marc-Andre Daigle. The TR7 80+ men were lead by Geoff Clarke and Juancito Garcia Casatti with a dominating 17 minute win in 2:32:11.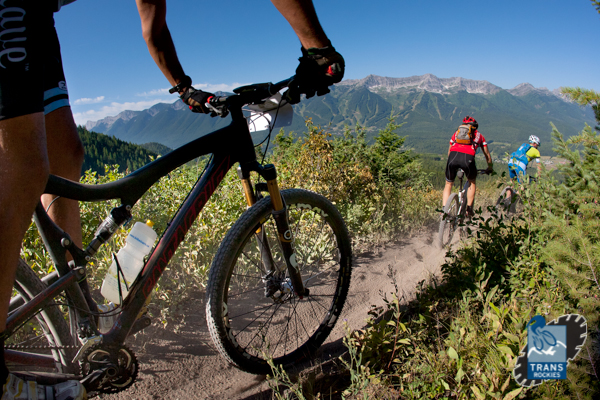 The duo of Jodie Willet and Cathryn Zeglinksi, who met at the Cape Epic and reside in Australia and Canada respectively, put in a solid Stage One effort by clocking 2:37:56 for the win in the Open Women's division of the TR7. Open mixed team of Daniela Storch and Lutz Baumgaertel from Germany recorded a time of 2:21:41 to open up a 9 minute lead over Trish Grajczyk and Steve Walsh of Canmore, Alberta's Deadgoat Racing.

The TR3 solo side of the event is broken down into 4 categories this year: Open Men, Open Women, 40+ Men and 40+ Women. Matt Hadley of Canmore, Alberta took top spot on the Open Men's podium in a time of 1:56:28. Xterra World Champion Melanie McQuaid opened up a one minute and 18 second lead over 2012 TR7 Champion Sandra Walter in the Women's Open category clocking 2 hours, 13 minutes and 13 seconds. The 50+ Men were lead by Tony Routley of Team Whistler in 2:19:14.

In 2012 Jeff Neilson of Calgary placed 2nd behind Ian Auld in the 40+ Men's division. Auld had a challenging day on the trail with a whopping 5 flats. Neilson took the stage by 4 minutes and 49 seconds ahead of Dan Peters with a time of 2:11:43. Time will tell if Auld can make up a 20 minute deficit over the final two stages.

Stage Two will again see the riders start and finish on historicVictoria Ave in Fernie. They'll stick to the east side of Fernie with a 44.5km route featuring 1700m of elevation gain on the Porky Blue Loop.
Results