July 29/13 8:26 am - Ontario Provincial Road Race championships - report

Posted by Editoress on 07/29/13

Ontario Provincial Road Race Championships

Solo breakaways carried Annie Foreman-Mackey (Stevens Racing p/b The Cyclery) and Ryan Roth (Champion System) to victory in their respective elite categories at the Ontario provincial road race championships. Foreman-Mackey just managed to hold off a hard-charging Candice Vermeulen (Invita-FCV), while Roth had a slightly easier time of it, winning by 26 seconds over Michael Aston (Adrenaline Racer/To Wheels) and Jeff Schiller (Jet Fuel Coffee/Norco).

Held on a 12km loop straddling Highway 400 near Bradford, the main challenge facing riders was a three-kilometre long climb that crested approximately 2500 metres before the finish line. Moderate temperatures and dry conditions favoured both organizers and participants, in stark contrast to the heavy rains that caused parts of last year's event to be abbreviated. A southwest breeze was blowing strongly enough that it got the riders attention.
Elite Women
With no teams having more than three riders, the elite women's race saw numerous short-lived attacks, but nothing that managed to survive for very long.

Of the 31 starters, nearly two dozen were still in the main field with two laps to go.

On the penultimate climb, however, Foreman-Mackey launched her bid for victory, and the race blew apart. "I attacked just as we were cresting the hill on the second-last lap," explained the winner. "I figured that was sort of the last chance that I had to get away. I didn't want it to be a sprint finish."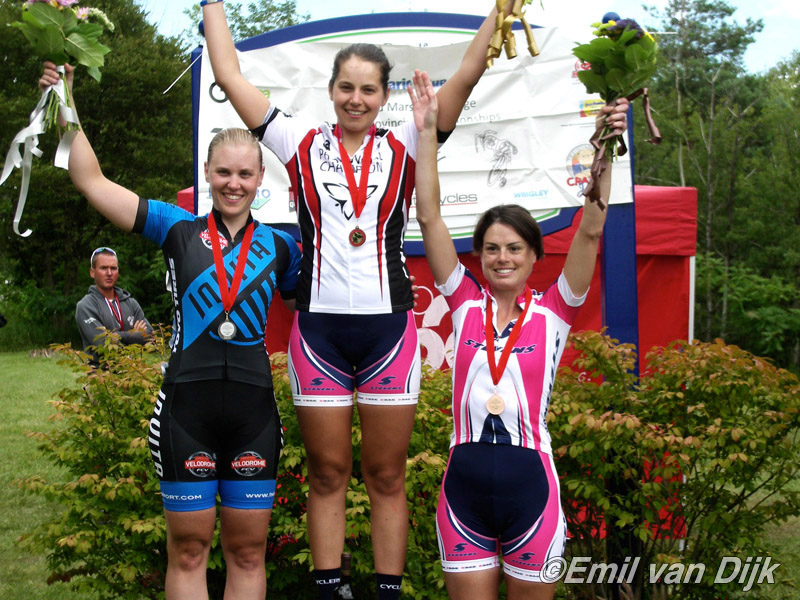 "There were some individual riders working together trying to slowly bring it back," stated Vermeulen. "We got organized, then disorganized, then organized again, but it wasn't until we were coming up the final hill that we could see that the gap was really closing. I knew coming into the final corner it was going to be tight."

"I was starting to fade a little bit into the headwind and up the climb," admitted Foreman-Mackey. "Coming around on the last lap I did look behind me and I saw that people were coming close so I just tried to hold on for dear life right until the finish. It ended up being a little closer than I would have liked, but I'm happy that I hung on."

Despite coming up short, Vermeulen, who won last year's championship, wasn't second-guessing herself. "I don't know that I would do anything differently other than hope we could close the gap a little bit sooner before the final sprint and make it a little bit closer. My strength is in the sprint so I looked for the race to be finishing in a bunch sprint and that's how it worked out for me."

Rounding out the podium was Foreman-Mackey's teammate, Carrie Cartmill. "Third place feels like the extra icing on the cake for us both. The two of us have a hard time being patient. We managed to be patient today. That actually paid off."

Elite/U23 Men
An early breakaway by Brent Aquino (Team TDI/Zuck Bikes) animated the opening laps of the elite men's race. Joining him on the third lap was U23 rider Brian Trafford, who had five Octto-Cervelo teammates back in the bunch. Numerous chase groups attempted to bridge to the breakaway pair, but none was successful. Ultimately, the escapees ran out of gas, and were caught with just over three laps remaining.

"There was a lull in the pace and you get that instinct to just go," said Trafford of his breakaway. "People were messing around. You might as well give 'er a go; you never know what's going to happen. I gave 'er going up over the overpass and rolled up to Brent and we just started working. We gave it everything we had but the wind changed and the legs got tired and the packs' motivation came back. We got swallowed up and that happens when you're off the front for a while. It's a little bit disappointing and frustrating, but it's bike racing."

The catch marked the beginning of a flurry of attacks and counter attacks. Roth's winning move began in response to an attack by Bruce Bird (Wheels of Bloor/Graywood Developments).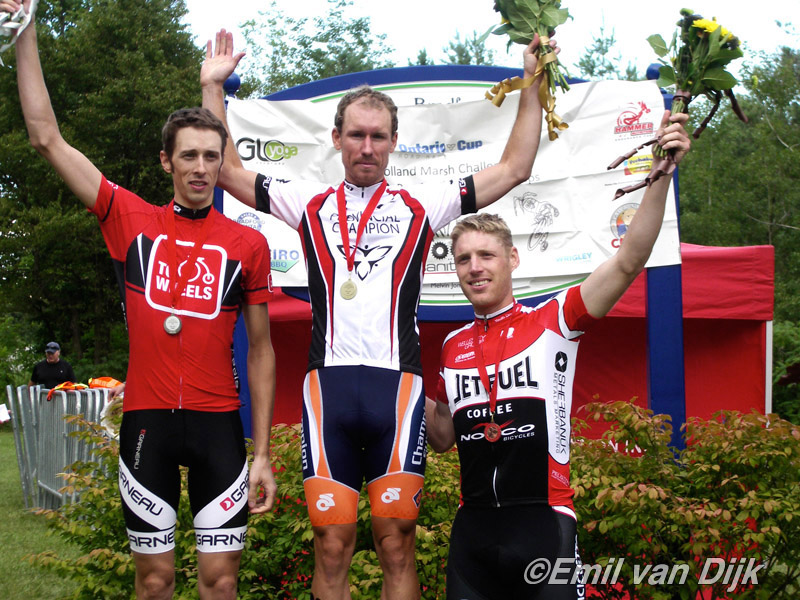 Elite Men
"Coming into the hill on the second-last lap Bruce was off the front and I went hard on the climb to force a bit of a selection. Over the top coming through the start/finish I attacked from that group and bridged up to Bruce. From there we worked together until the backstretch. I could tell he was hurting so I attacked him there and from then on I was solo until the finish."

Second-place Aston managed to escape on the back straight, but was caught by Schiller. "I was on my own and just put my head down and went. (Schiller) caught up to me just before the climb. He managed to stay on my wheel through the uphill and we went to the line from there."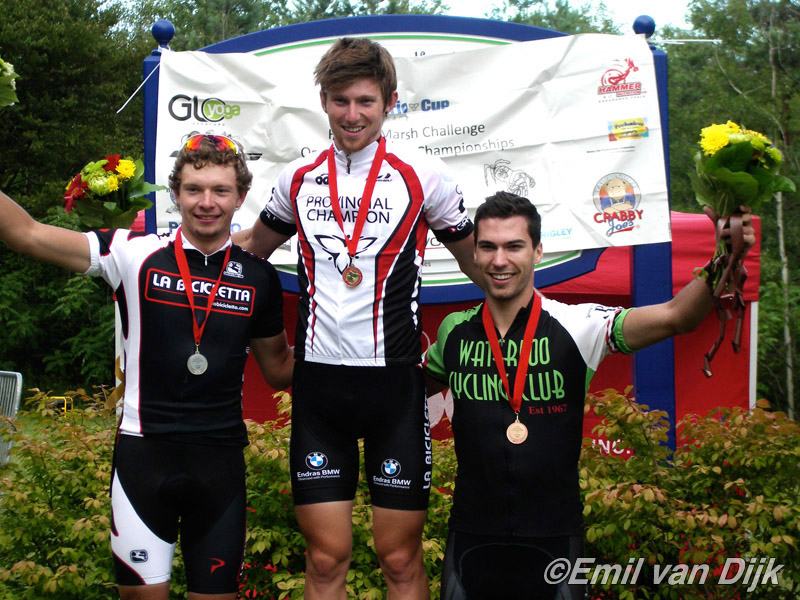 U23 Men
A noted sprinter, Schiller was unable to summon the energy to try for second.

"Roth was away with Bruce Bird and we were chasing hard. Bruce cracked a little bit. Coming into the last climb Mike Aston was up the road with two other guys. I attacked the group and nobody chased me and I bridged to them. Aston put another dig in and I bridged to Mike but it was a big ask for me to go overtop of him going through the finish because I was cooked from trying to bridge and get across. Aston rode really well today and so did Roth."

Junior Men
With three laps to go a group of six formed at the head of the race. In it were Cameron Mason (Invita-FCV), Will Simonds (OCTTO-Cervelo), Miles Eastwood (Team CHCH-NCCH), Peter Disera (Centurion Development Canada/Barrie CC) and Ottawa Bicycle Club teammates Derek Gee and Connor Byway. Eastwood attacked on the final climb but couldn't dislodge Disera or Gee, who both came around him on the final straight.

"We were all strung out behind Myles coming into the final turn," stated Disera. "I was second wheel. I knew if he decided to go there I could either ride his wheel, or I'd have my work cut out for me. I wasn't willing to risk it. I had Derek Gee behind me and I couldn't see where Simonds was 'cause I know he's a good sprinter. Coming into that last turn I decided to kick it really hard. Got a gap and because it's a tailwind you're not getting a crazy draft off of it. He was able to close it a little bit but once we hit the hill coming over the bridge I was gone."

Master A
Charlie Gorman (Nine2FivePro.Com) and Peter Mogg (Team T1C London Honda-Village Cycle) were the class of the field, riding away to an unassailable advantage. Gorman maneuvered Mogg into the leading position approaching the finish, and when he jumped Mogg was unable to respond.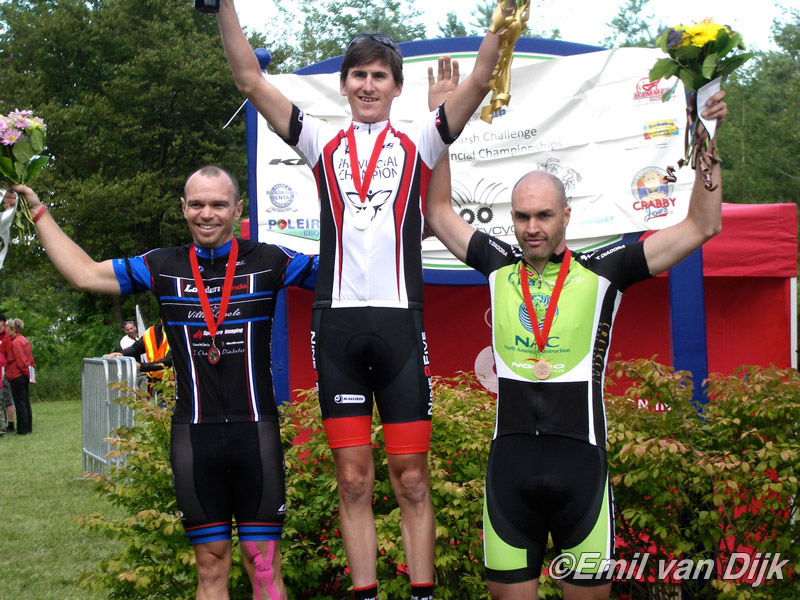 "He put me to the front and I ended up sitting on the front for three-quarters of the climb and the top after the climb," related Mogg. "That's what did me in. I cramped as soon as he opened it up coming over the top of the highway overpass. There was nothing I could do. Both calves just stopped working."

The runner-up wasn't surprised at gaining such a huge lead: "With a small field you play on the fact that things are going to be negative in behind with no big teams to chase."

Master B
Teamwork played an important role in the biggest race of the day, numerically speaking. Almost one hundred riders, 96 to be exact, took to the start. Wheels of Bloor/Graywood Developments and Sound Solutions had 12 and 11 riders respectively, and both teams were well represented in the winning breakaway.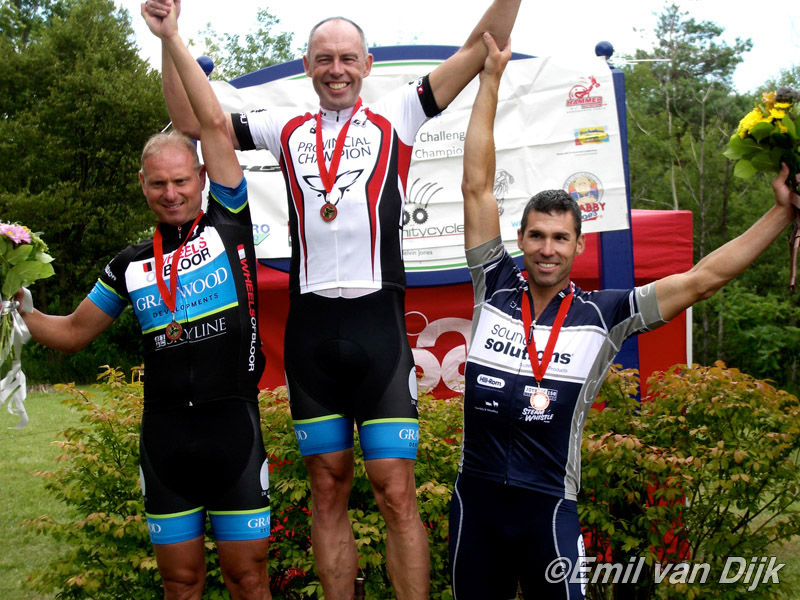 Ian Scott (Wheels of Bloor/Graywood Developments) was able to repeat as provincial champion, but gave full marks to rival Patrick Kings (Sound Solutions) for challenging him for the win. " PJ Kings, who was probably the strongest guy all day, attacked on the climb, and there were only three or four guys who could hold onto his wheel. He attacked again; we got to his wheel. His teammate (Jason MacLaren) went; I went past his teammate full-blast. Rob sat on PJ's wheel, and Rob blew by PJ for second."


Race Notes
- Just as he did prior to winning the Springbank Park road race, Ryan Roth 'warmed up' by riding to the start from his home in Guelph, a distance of about 100 kilometres. "Luckily it was a tailwind most of the way. I cruised here in about three hours without working too hard." Up next for the 30-year old professional cyclist is the Tour of Utah, which begins on August 6th.

- It was a long day for race director Chris Glover and his organizing team. Setup began well before the first race started at 8:30am. At about 6pm, following the final podium ceremony, it was time to commence packing up. Glover, president of Spinsanity Cycles, was pleased with the day's events, noting positive aspects such as strong municipal support, an increase in participants, and good weather.

- Glover handed out cheques totaling nearly $3000 to the local constabulary in return for traffic control.

- The Master B field caught the Junior Men within the first two laps. "The commissaires did a really good job," commented Ian Scott. "They got the juniors out (of the way); we barely slowed down. I think we went by the women as well. There really wasn't any hindrance and in fact, when you're in a break, you actually like that, because as long as we get through unhindered you know the groups are always going to take a bit longer to get through, so that always helps."

- Derrek Ivey was unable to complete the elite men's race due to pain in his left leg. While racing in Holland last year, and only a week after winning an important race, Ivey crashed and hurt his back. Thinking he had recovered, the Toronto resident returned to Holland this spring, but discovered that his injury was still bothering him, as evidenced by an inability to produce the levels of power that he had previously attained. He plans to remain in Canada for the rest of the year and ride for Tower/Cipollini Racing.

- A number of familiar faces were absent from the elite men's field due to an overlap with the five-day Tour de Québec stage race.

Report by Emil van Dijk
Results

Master C & D Men, Master and Junior Women, Sportif Men and Women
Elite Women, Master B and Junior Men