July 29/13 10:10 am - TransRockies: Day 2 report, results and photos

Posted by Editoress on 07/29/13

Day 2: Fernie Loop, 44.5

Day two of the TransRockies Challenge began in similar fashion to the first. Rolling out of bed in the morning riders were once again treated to blue skies and crisp, clean mountain air. A 9 AM start was the order of the day and, once again, the TR3 and TR7 contingent along with the one day TransFondo riders were lead down Victoria Ave by the historic Fernie fire engine. A 44.5 km loop with 1700m of elevation gain would see the riders start and finish in the same location. The 30 km climb from town to the start of the Porky Blue Trail would throw a mixture of gravel road, doubletrack and singletrack at the riders before descending back into town to the finish.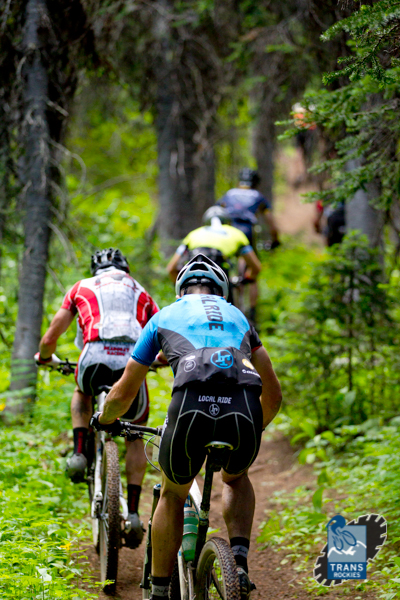 TR7 Solo Recap:
Judging by the level of competition, the addition of the solo category this year has proven to a be solid, and entertaining, decision. Even with the long climb from town, Oliver Zurburegg, Calle Friberg and Cory Wallace reached the summit in a mere 1 hour and 40 minutes. They would maintain that order at the finish line, and provide some excitement, with a strong push by all three riders for the Open Men's stage win. Zurburegg would cross the line in 2:15:11 followed by Friberg at 2:15:12 and Wallace at 2:15:15.

At the end of the day the same three ladies stood atop the Women's Open podium. However, tonight, the order would be different with Czech rider Petra Klamkova improving on a 3rd Place Stage One finish to take top honors, in 2:45:25, over Jean Ann Berkenpas and Mical Dyck. 40+ Men's Stage One victor, Leighton Poidevin would claim a second win in 2:11:23 with Beat Zumstein taking his first 50+ Men's TransRockies stage win in a time of 2:47:44.

TR7 Team Recap:
The Sram XX1 team of Michael Tobin and Mike Kloser continued to dominate the Men's 100+ category with a staggering 35 minute win today. However, team Louis Garneau Quebec riders Sebestian Cadieux Duval and Marc-Andre Daigle posted the best time of the day in 2:24:23, 40 seconds ahead of Tobin and Kloser, for the Men's Open victory. Geoff Clark and Juancito Garcia Casatti rounded out the men's side of the TR7 Team with a two and half minute stage win in 2:54:01 in the 80+.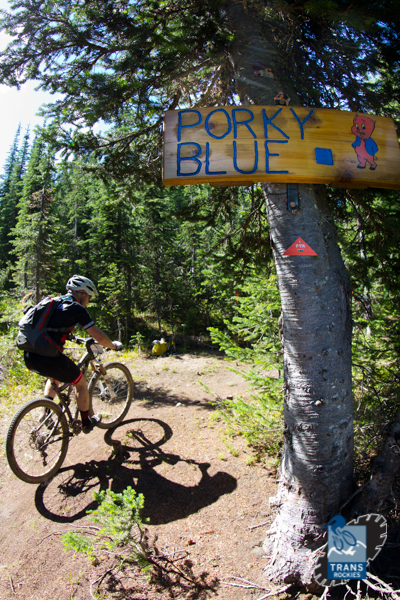 The Open Mixed division has been completely owned by Daniela Storch and Lutz Baumgaertel of Germany. Stage two would see them win by 25 minutes in 2:54:00. Jodie Willet and Cathryn Zeglinksi would also claim a 2nd Open Women stage win in a time of 3:05:09.

TR3 Recap:
With one stage remaining on the TR3 side, the competition is heating up. Melanie McQuaid has ticked off two straight stage wins over Sandra Walter but maintains a slim overall lead of just one minute and 20 seconds after a 2:38:37 effort today. The Men's Open division is seeing similar competition with Mike Vine of Team Planet Foods/Honey Stinger moving up from a third place victory yesterday and taking the win in 2:20:14. Matt Hadley maintains his overall lead in the General Classification by a slim 1:34 over Michiel Van Aelbroeck.

Multiple flats on Stage One left Ian Auld charging hard in the 40+ Men's division. Stage two would see him make up seven of the 20 minutes he lost yesterday while clocking a time of 2:31:17. Tony Routley had his hands full in the 50+ Men's with Tom Ebbern. Only one second separated them today with times of 2:48:56 and 2:48:57, respectively.

Stage three of the TransRockies Challenge will see the event shift from downtown Fernie for a loop from Fernie Alpine Resort. The route will travel 30.5km with 1600 metres of elevation gain and include such trails as Verboten, Project Nine, Hedonism, Megasaurus and Rumplestumpskin.
Press release
Results