August 8/13 0:16 am - Junior Track World Championships: Day 1

Posted by Editoress on 08/8/13

Edmonton's Kinley Gibson won a silver medal for Canada on the opening day of the 2013 UCI Junior Track World Championships in Glascow, Scotland.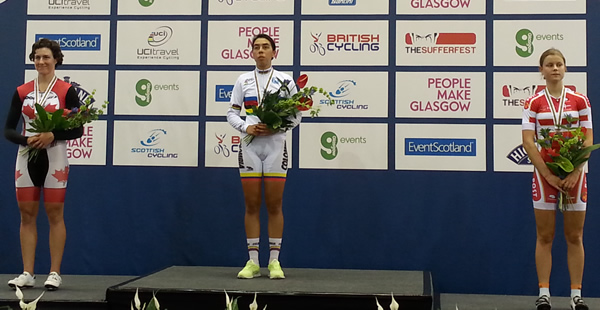 Women's Scratch podium
"Kinley lined up for the scratch race today with no pressure; her focus is firmly fixed on later this week. She knew the Colombian girl was dangerous and once she'd seen her escape the group without any response, she took her chance and settled in for 10 laps of focused effort," said Rob Good, a coach with the Canadian team in Scotland. "This result is testimony to her professional approach and all the work that she has put in throughout the season and especially since mid-June since the Junior track program came together."


The Men's team pursuit finished 12th, posting a qualifying time of 4:21.344.
Report courtesy Cycling Canada
Results from the first day of the Junior Track World Championships in Glasgow, Scotland
Men Team Pursuit

Qualifying
1 Australia
4:09.364
2 New Zealand
4:12.056
3 Russia
4:13.065
4 Great Britain
4:13.824
5 Germany
4:14.768
6 Switzerland
4:17.709
7 Colombia
4:17.815
8 France
4:18.255
9 Italy
4:19.201
10 Denmark
4:19.689
11 Argentina
4:20.447
12 Canada
4:21.344
13 Ireland
4:23.010
14 Belarus
4:23.054
15 Japan
4:23.975
16 South Africa
4:25.717
17 Malaysia
4:26.064
18 United States
4:27.057
19 India
4:52.738
Final
1 Australia
4:06.182
2 New Zealand
4:12.298
3 Russia
4:09.755
4 Great Britain
4:13.371

Men Team Sprint

Qualifying
1 Australia
45.800
2 Russia
45.978
3 Germany
45.980
4 New Zealand
46.419
5 France
46.700
6 Poland
46.940
7 Mexico
47.890
8 Japan
48.040
9 Belgium
49.030
10 United States
50.600
11 India
52.550
T12 Malaysia
REL
T12 Belarus
REL
Final
1 Australia
45.639
2 Russia
45.714
3 Germany
45.581
4 New Zealand
46.363

Women Team Sprint

Qualifying
1 Australia
35.560
2 Russia
35.800
3 Korea
35.810
4 Germany
36.250
5 Mexico
37.070
6 Taipei
37.480
7 United States
38.280
8 Belarus
38.510
9 India
39.080
10 Belgium
REL
Final
1 Australia
35.344
2 Russia
35.656
3 Korea
36.153
4 Germany
36.311

Women Scratch Race

1 Jessica Parra (Colombia)
2 Kinley Gibson (Canada)
-1 lap
3 Amalie Dideriksen (Denmark)
-1 lap
4 Lizbeth Yarely Salazar (Mexico)
-1 lap
5 Lucja Pietrzak (Poland)
-1 lap
6 Claudia Cretti (Italy)/td>
-1 lap
7 Marina Kuchinskaya (Belarus)
-1 lap
8 Soline Lamboley (France)
-1 lap
9 Josie Talbot (Australia)
-1 lap
10 Anastasiia Iakovenko (Russia)
-1 lap
11 Ann-Leonie Wiechmann (Germany)
-1 lap
12 Sarah Huang (United States)
-1 lap
13 Jesse Vandenbulcke (Belgium)
-1 lap
14 Tourangbam Bidyaluxmi Devi (India)
-1 lap
15 Danielle Norman (South Africa)
-1 lap
16 Rachel Kaye Mellor (Ireland)
-1 lap