September 2/13 1:37 am - Mountain Bike World Championships: Elite Downhill and Eliminator

Posted by Editoress on 09/2/13

MTB World Championships Closes with South African Victory

The 2013 UCI Mountain Bike and Trials World Championships concluded on Sunday in the most spectacular way possible, with the first victory of the Championships for host nation South Africa by Downhill star Greg Minnaar in his home town of Pietermaritzburg. Rachel Atherton of Great Britain won the women's Downhill title, while Sweden's Alexandra Engen successfully defended her Eliminator title in the women's race, and Paul van der Ploeg gave Australia their first title of the Championships in the men's Eliminator.

Eliminator

The fastest four qualifiers for the women's Eliminator made it to the final race for the medals, but the real battle for gold was between Engen and Swiss rival Jolanda Neff. Neff got off the start line first in the final, but Engen managed to squeeze by her before the race entered a singletrack section, and the Swede never relinquished the lead. Neff kept the pressure on, but couldn't close a two second gap, having to settle for silver, to go with the gold she won in the Under-23 women's cross-country on Friday. Linda Indergand of Switzerland took the bronze medal.

"This is such a marvelous moment, I am enjoying it right now," said Engen of her successful title defense. This is such a really good track. You have to have a powerful start, but you have to be technical to be able to keep that lead, and then you have the power climb where you have to punch. She (Jolanda) is a really good sprinter and I know that to be able to win over these girls you have to have a perfect day, and I had one."

The men's competition saw none of the top qualifiers make the medal round, with van der Ploeg joined by World Cup series leader Daniel Federspiel (Austria), Andres Soto (Argentina) and Elia Silvestri (Italy). Federspiel, one of the fastest starters in the sport, took the lead in the final start, but van der Ploeg pulled off an amazing dive into the first corner to overtake the Austrian. He immediately opened a gap and was never seriously challenged through the rest of race. Federspiel hung on for second, with Soto claiming the bronze.

"It's unbelievable, I can't believe what just happened. It's a dream come true." said van der Ploeg. "I found a sneaky inside line in the semi finals and thought, 'Well if it worked once,it would probably work again'. I went from second or third to first and then it was just about riding smooth and trying to keep my cool."

"I was watching him (Federspiel) win World Cups from back at home on the couch because I've doing a bit more road racing, and then I had to learn how to ride the mountain bike this week, but it has all come off. I'm stoked."

Canada qualified seven riders for the Eliminator - three women and four men. None of the women made it past the first round of heats, with Andreanne Pichette crashing while in the lead of her heat. Raphael Gagne and canadian Eliminator champion Leandre Bouchard made it through the first round, with Bouchard bowing out in the quarter finals with a mechanical, and Gagne making it to the Small Final to finish seventh overall.


Downhill

The crowd favourite Downhill concluded the championships in the afternoon. Australia's Tracey Hannah, only seven weeks back from a broken clavicle, was fourth down the course for the women, but immediately set a fast time that would hold up until the final two riders came down, thus claiming the bronze. Emmeline Ragot of France, the two-time world champion, finally dislodged Hannah from the top spot with the first sub-4:40 time, but Atherton was still to come, and the British rider has been completely dominant this year. She came through the first time check 1.7 seconds ahead, and continued to build her lead, finishing an impressive 8.632 seconds in front of Ragot.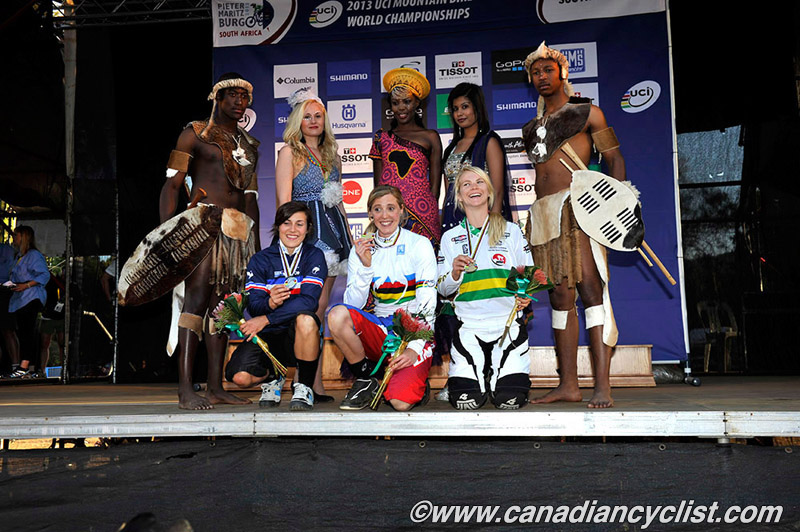 "That was wild," said Atherton. "On the way down I was just ... I have no idea how fast I was going. People on the pedally bit were just yelling so much. I had to dig deep. It was so painful. Awesome. I love South Africa. My first time here. It's a challenge."

"This title has been a long time coming. I won my first in 2008 and it seems like ever since then I've missed World Champs through injury or had a big stack and I was starting to wonder if I would ever win again. It hasn't really sunk in yet. All the girls are so strong It's a hard fight. I wanted the title, I wanted the stripes again."
Men
Australia's Jared Graves, the 2009 4-Cross world champion, came close to pulling off a stunning upset from 24th in the start order, when he flew through the finish with a time of 4:01, while riding an Enduro-style bike rather than a speciality downhill bike. He spent an hour in the Hot Seat, while rider after rider failed to beat his time. Finally, countryman Mic Hannah, with six riders remaining, bumped him into second place by three seconds. However, there were still the highest ranked riders in the world to finish.

Minnaar, third from last to start, was under immense pressure, with cheering fans urging him on all the way down the course. He was ahead by a second at the first split, behind eight-tenths of a second at the next split, before recovering at the end to finish a mere 0.396 seconds in front of Hannah, despite finishing on a slow leaking rear tire. The hill exploded with cheers, but there were still two riders to go. Steve Smith (Canada) crashed out of contention on the first corner, while Gee Atherton (Great Britain), the World Cup leader, could manage no better than seventh.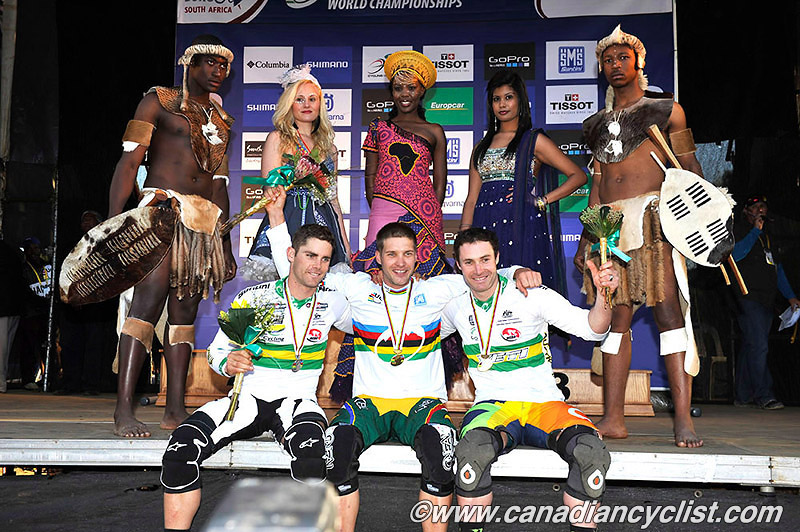 Minnaar brought the first African Mountain Bike and Trials World Championships to a perfect ending.

"I started a bit loose," Minnaar explained. "The track had got blown out up top quite a bit and I tried to get a good rhythm going and I found it up top. I got into a pedaling section and spent myself up top just trying to go as fast as I could."

"The puncture ... I came through that last rock section as hard as I could and went slightly off line and got a leak. It only went down on that last jump. So it didn't slow me down thankfully."

"I could hear the buzz of the crowd below and it just kept me pedaling in the middle section. I feels surreal (winning at home). The whole of South Africa was here backing me for sure. Everyone from the guys who drove us to the top, the marshals, everyone was cheering me on."

In the Downhill, Casey Brown was Canada's top woman, finishing eighth. Top Canadian men's hope Steve Smith, one of the medal favourites, crashed in the first turn, explaining afterwards that he couldn't see the ground due to the sun.

Fatal error
: Uncaught Error: Object of class PDO could not be converted to string in /home/canadiancyclistcom/canadiancyclist.com/public/modules/news.php:544 Stack trace: #0 /home/canadiancyclistcom/canadiancyclist.com/public/modules/news.php(533): getrelatedgallery() #1 /home/canadiancyclistcom/canadiancyclist.com/public/dailynews.php(58): getDailyNewsArticle() #2 {main} thrown in
/home/canadiancyclistcom/canadiancyclist.com/public/modules/news.php
on line
544