September 8/13 1:08 am - Tour of Alberta Stage 4 Report and Photos

Posted by Editor on 09/8/13

There were no changes in the overall standings at the Tour of Alberta on the 170 kilometre fourth stage, with the leading teams content to allow a break of riders who did not threaten the General Classification to ride in nearly ten minutes ahead on a cool and wet day. Cadel Evans gave BMC their first win of the race, his first win in 461 days. Team Canada's Antoine Duchesne had an impressive ride, making the final selection on the last KoM climb and finishing fifth on the stage, as well as earning the Most Aggressive Rider jersey for the stage.

The race started and finished in Black Diamond, a town named after the high-grade coal that once mined there, tucked away in the Rocky Mountain foothills near Okotoks. The race then headed through Turner Valley on a 60 kilometre circuit that bordered Bragg Creek. At the end of the main loop, the riders turned onto a separate circuit of 40 kilometres, which contained the only KoM climb and which they rode twice, before returning to Black Diamond for the finish line.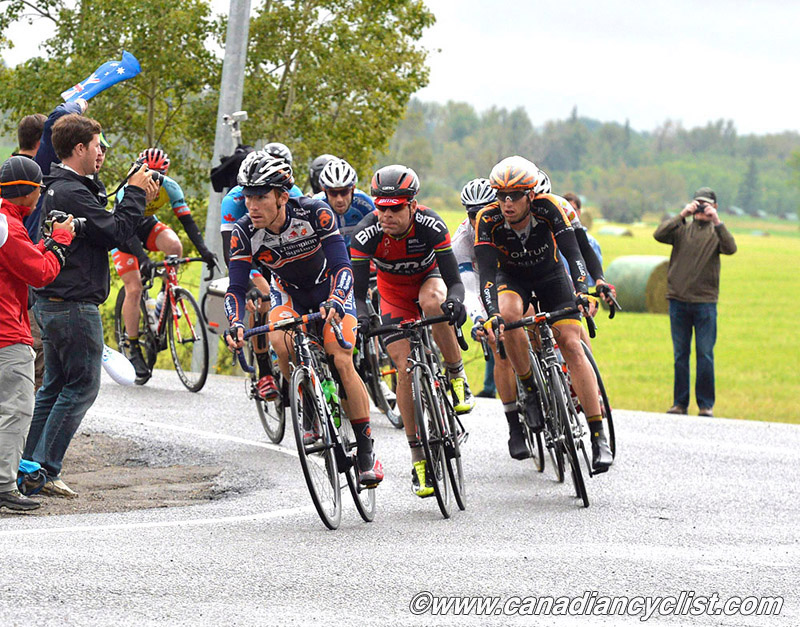 Nine rider break
A group of nine riders emerged from the pack in the early kilometres of the race, including Canadians Duchesne, Calgary-born Nic Hamilton (Jelly Belly) and Ryan Roth (Champion Systems), and quickly gained a gap of 10 minutes. With no danger in the break since the highest placed rider was some 17 minutes down on race leader Rohan Dennis (Garmin-Sharp), the peloton was content to leave the group alone, all to the advantage of the leaders.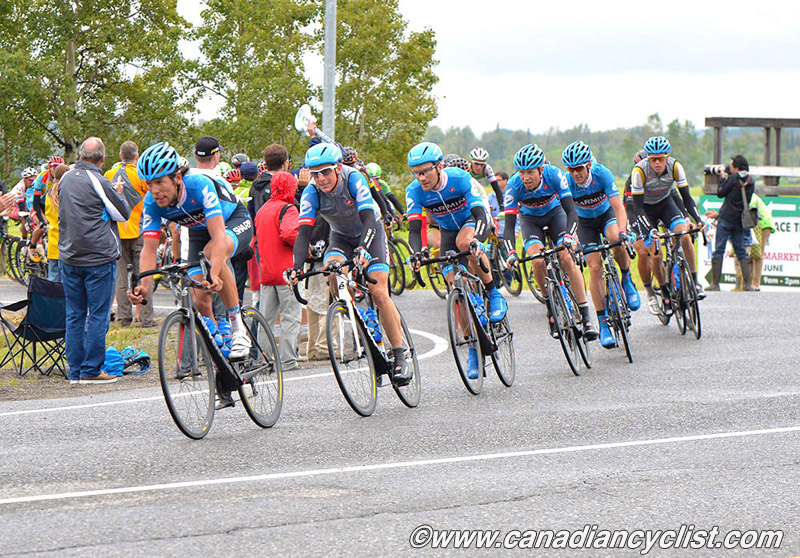 Garmin-Sharp at the front of the peloton
The lead group remained intact until 45 kilometres to go, when Simon Gescke (Argos-Shimano) and Tom Jelte Slatger (Belkin) both attacked at the top of the final KoM climb. Slatger, who won both KoM climbs, secured the polka dot jersey heading into the final stage with a solid 37 points, an insurmountable lead of 12 points over teammate Robert Gesink.

Antoine Duchesne was the only Canadian to be part of the three-man group chasing the Slagter and Gesink after the KoM climb. Duchesne was in great company, with Benjamin Day (United Healthcare) and Cadel Evans. The trio quickly caught the two leaders, and the resulting group of five were able to put nearly two minutes on the remaining four chasers.

Day attacked in the final kilometres, and looked to have the race won with 500 metres to go, but Evans latched onto the wheel of Gescke who chased down the tiring Day, and then came off him in the last 150 metres to take the win.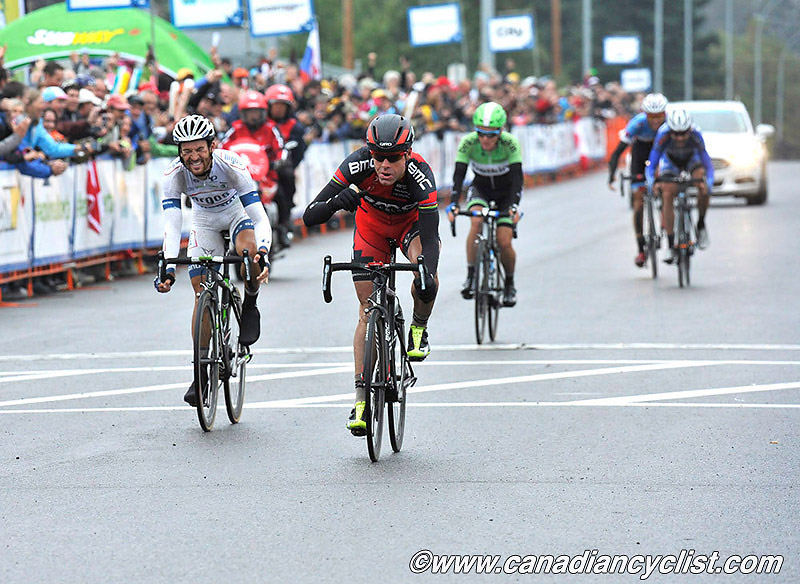 Cadel Evans wins
"My primary focus was to come here to the Tour of Alberta and prepare for the upcoming Pro Tour events and World Championships," said Evans. "But, in the back of my mind, if I could win a stage, that would be a good goal. As someone who usually rides for the general classification, I don't get many chances to get in a breakaway and go for a stage win. So, this is nice."

Duchesne took a bad line in the final corner, losing momentum, and had to settle for fifth, just behind Day.

"I am from a little town in Saguenay," commented Duchesne. "I started to race in a little club in a small town. I kept on working and working, always trying to improve for the last eight years since riding a bike. Every year, it's just getting better and better. Really, everything is possible even if you believe in it, and it's not because you are from a little town that you can't become a top rider. Today, coming from a small town, I was riding with a Tour de France winner [Cadel Evans]. I was able to ride with him."

"I knew there were some pretty big teams here. I was aiming for something like that. When the race started, I had a number on my back just like him [Cadel Evans]. I was trying not to be pressed, and to do my own race, and try to get the best out of it. I tried not to think too much like 'Oh My God, it's Cadel Evans' ... at the end I tried to stay calm, follow the wheel. I was thinking about the win, to do the best I could."

"Canada has never been a 'cycling' country. We have seen in the last few years guys like Ryder winning the Giro, Svein [Tuft] excelling at the WorldTour, and a lot of other Canadian riders doing well in the WorldTour and other big races. Having two continental riders [with Ryan Anderson as Top Canadian overall] from Canada wearing jerseys of a big cycling race, in Canada, on the last stage, shows that we are able to race against some of the best riders in the world," said Duchesne. [Note: we have posted an interview with Antoine Duchesne Here]

Duchesne is graduating this year from the Bontrager Cycling Team program for Under-23 riders, and will be looking for a team to ride with next year. So far, he has an impressive résumé this season, with back-to-back wins in the Under-23 road race at Canadian Championships and a podium at the Tour de Beauce, in the difficult Quebec City fifth stage.

Gord Fraser, Directeur sportif of the Canadian National Team, gave perfect marks for Duchesne in today's race: "It's really great to see him grab the bull by the horn, especially after yesterday. He was really disappointed not to be in that move, and he should have been. It's always hard as a coach to know how to talk to an athlete at the end. I didn't really need to say anything," said Gord Fraser

"Today, he was in a situation to win a big race. The other guys were not under the pressure he was under today. They all have big contracts and years of experience on him. And here is a young guy, thrown in against all these experienced guys, in his home country, in addition to trying to secure a job for next year. There is a lot of pressure on a young guy, and he executed perfectly. He just ran out of legs. 10 out of 10 for his tactics. His racing IQ is very high and it showed."

The young rider from Quebec City was ranked 39th in the GC entering today's stage, and now jumps in 22nd place with this result, with one stage to go.

Rohan Dennis of Team Garmin Sharp kept his overall lead of the General Classification heading into the last stage, with an 18-second lead on second placed Brent Brookwalter (BMC). Dennis will roll into the downtown core of Calgary in the yellow jersey, and most likely win his first race outside of Australia. The short stage from Okotoks to Calgary finishes with three laps in the city center, and is expected to finish in a sprint.

"I'm confident in my team for tomorrow's final stage," said Dennis, who could win his first major professional stage race. "I haven't really thought too far ahead. We had to take care of today. We'll have to see what happens Sunday."

Ryan Anderson kept the Red Jersey as the Best Canadian, and has 7:20 on second-placed Alexander Cataford (Garneau-Quebecor) entering the final stage. Duchesne moves up to third in the Canadian rankings, three seconds behind Cataford.
Fatal error
: Uncaught Error: Object of class PDO could not be converted to string in /home/canadiancyclistcom/canadiancyclist.com/public/modules/news.php:544 Stack trace: #0 /home/canadiancyclistcom/canadiancyclist.com/public/modules/news.php(533): getrelatedgallery() #1 /home/canadiancyclistcom/canadiancyclist.com/public/dailynews.php(58): getDailyNewsArticle() #2 {main} thrown in
/home/canadiancyclistcom/canadiancyclist.com/public/modules/news.php
on line
544