September 11/13 20:01 pm - Bell to Defend Title at Quebec Sprint Challenge

Posted by Editoress on 09/11/13

Zach Bell, the reigning Canadian Road Champion, will race the 2013 Pro Sprint Challenge in Quebec City as a member of the Canadian National Team.

Bell won the Sprint event in 2012 while he was racing for Team SpiderTech powered by C10, against some of the top sprinters in the world. But Bell, who has focussed his training and racing on long distances since the Olympic Games, is unsure of what the outcome may be on Thursday.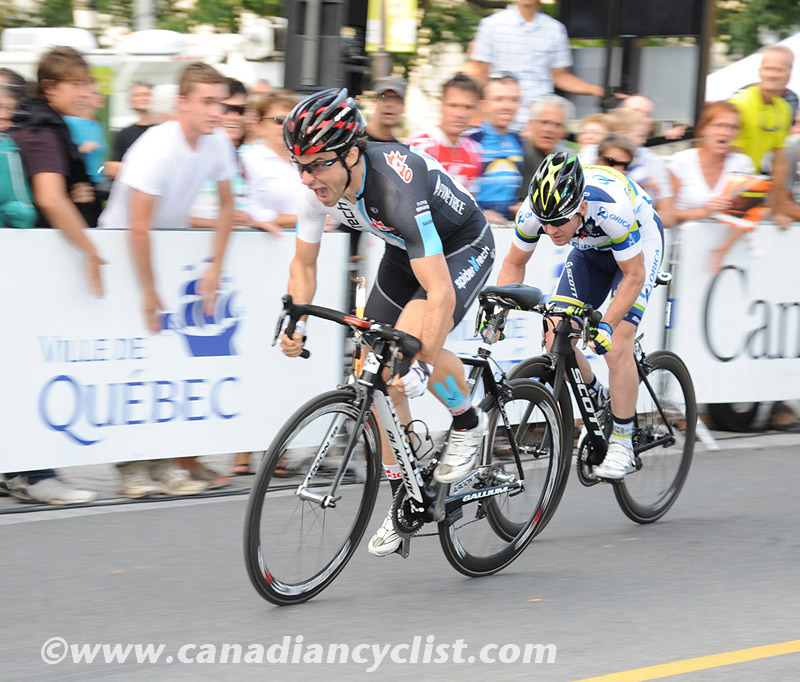 Zach Bell sprints against Matt Goss to win in the final
"I can't go into this race with too much expectations. I am a different athlete than I was last year. I am not sure how that will materialize in a short event like that. Last year, heading into this event, I was riding and training for track. This year, the shortest race I've won is 189 kilometres. I made the transition to old-man strength pretty quick. That being said, I think I still have some speed. Having the experience and knowing how to win that drag is gonna be useful. Hopefully I"ll be able to replicate results from last year."

Sprinters from each UCI WorldTour team will tackle a one-kilometre course, starting and finishing on La Grande Allée at the Parc de la Francophonie. The event is a single elimination format, with the top two winners of each heat moving on to the next round until the big final, when a winner will be declared.

Seven additional Canadians will be part of the spectator-friendly event: Guillaume Boivin for Cannondale Pro Cycling, Dominique Rollin of FDJ.fr, Hugo Houle with AG2R La Mondiale, David Veilleux of Team Europcar, as well as three members from the Garneau-Quebecor cycling team: Remi Pelletier-Roy, Canadian Criterium Champion Pierrick Naud, plus Geoffroy Dusseault as the Canadian Sprint Challenge winner.