September 12/13 21:10 pm - Grand Prix Cycliste: Challenge Sprint report

Posted by Editoress on 09/12/13

Coquard wins Challenge Sprint Pro

France's Bryan Coquard (Europcar) confirmed his status as one of the world's leading sprinters when he won the 4th edition of the Challenge Sprint Pro in great style on Quebec City's Grande Allée on Thursday.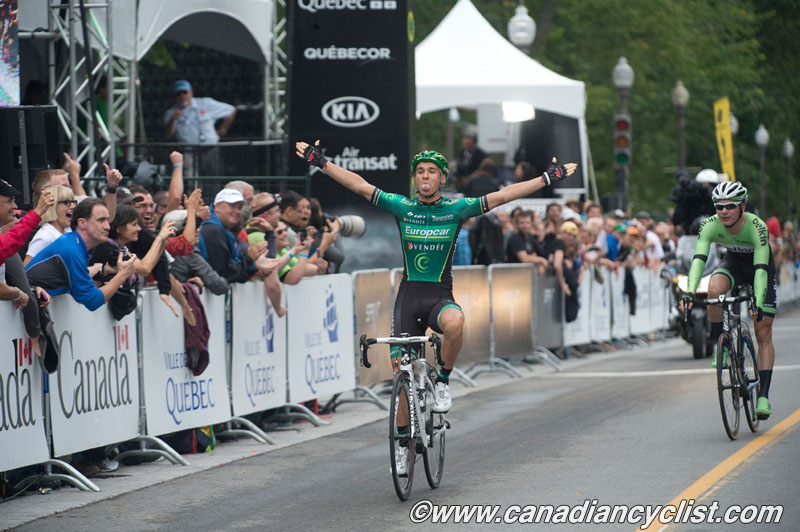 Bryan Coquard (Europcar) wins
The final was a real showdown between four prominent members of the new generation of sprinters. It turned into a real track battle when the four finalists, Coquard, Dutchman Moreno Hofland (Belkin), Italy's Giaccomo Nizzolo (RadioShack) and Kazakh Alexey Lutsenko (Astana) played cat and mouse until the turn at the halfway mark. It seemed as though Coquard, arguably the most impressive rider in the heats, had ruined his chances when Hofland surged and caught him off his guard. But with nearly a 100 metre gap to bridge, the Frenchman was strong enough to make it back and win the 2013 edition of the GPCQM curtain raiser.

Nizzolo was second, just ahead of Hofland. "It was a close call as Hofland really caught me off guard. But I managed to pull it back. I love this event because I come from the track and I have my marks. I also sprint pretty well on the road. There are more races ahead of us starting with tomorrow but I'm really glad I won today," said Coquard, an Olympic silver medallist on the track in London a year ago. "I had a great year in my first pro season but I don't know if it will be better than last year with my medal in London," he added.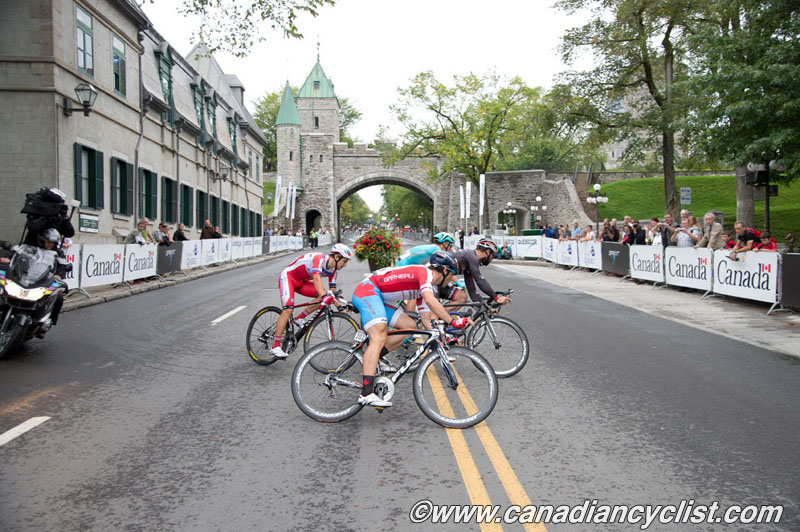 Rounding the corner at the half-way point
Hofland said he had attacked early thinking it was the best way to upset Coquard: "But unfortunately, it was not enough. In any case it's a great even and I'll be delighted to do it again if I come back next year." Much - maybe too much - was expected of the Canadians after Zach Bell's victory a year ago but the local riders had to be content with having two men in the semi--finals, Bell and Remy Pelletier-Roy. But they could not do anything against the up-and-coming generation of world sprint, which chose the Grande Allee as an ideal stage to come of age. Asked about his chances for the Grand Prix Cycliste de Québec on Thursday, Coquard said: "I hope the course suits me. There are lots of climbs but they are short and steep the way I like them. One thing is sure. If I'm in the front in the last kilometre, I'll have an edge for I know the last 500 metres like the palm of my hand now."
GPCQM press release
Fatal error
: Uncaught Error: Object of class PDO could not be converted to string in /home/canadiancyclistcom/canadiancyclist.com/public/modules/news.php:544 Stack trace: #0 /home/canadiancyclistcom/canadiancyclist.com/public/modules/news.php(533): getrelatedgallery() #1 /home/canadiancyclistcom/canadiancyclist.com/public/dailynews.php(58): getDailyNewsArticle() #2 {main} thrown in
/home/canadiancyclistcom/canadiancyclist.com/public/modules/news.php
on line
544