September 13/13 10:46 am - Pat McQuaid Interview

Posted by Editoress on 09/13/13

Pat McQuaid is the President of the UCI, the international cycling federation that regulates bicycle racing around the world. The position of President is up for election on September 27th during the UCI Congress, and Mr McQuaid is one of two candidates for the position, as he tries for a third four year term. Brian Cookson of British Cycling is the other candidate.

Mr McQuaid has overseen cycling through some its most turbulent times in the history of the sport, including the Lance Armstrong doping revelations and battles with major organizations such as Tour de France organizer ASO. He has faced accusations of fraud and cover ups (none of which, to date, have ever been verified).

We managed to spend 20 minutes with Mr McQuaid in Pietermaritzburg, while he was attending the Mountain Bike World Championships. [Note: We also interviewed Brian Cookson, who is running for the Presidency as well. That interview will be published next week]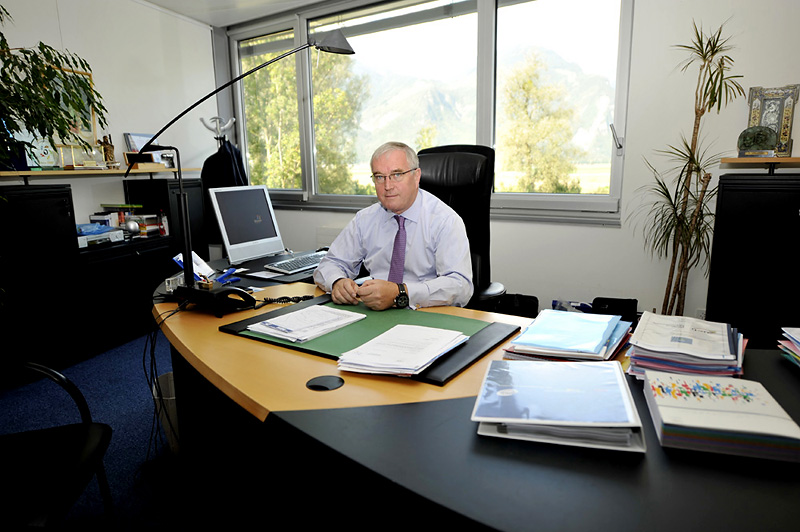 Pat McQuaid at his desk at the UCI HQ in Aigle, Switzerland
Canadian Cyclist: Your candidacy has been quite polarizing in this election. One of the arguments is that because of the doping scandals the sport needs to replace the people at the top before it can move on. What's your response to that?

Pat McQuaid: My response is that people are looking for reasons to go forward against me, and this is a very weak reason. You only have to look at what I have done over the past eight years in the fight against doping; the measures which I've introduced into the peloton, and the fact that riders can now race clean and win clean. The attitude in the peloton is changing towards dopers, how they comment on dopers, and how they Tweet when someone is caught doping.

My attitude would be like someone who recently said to me in a letter of support 'you never change the helmsman when the ship is going in the right direction'. And I think the UCI is going in the right direction now. So, that isn't a reason for change.

On a personal level, looking at my own objectives, I set out, eight years ago, with two main of objectives. One being to change the culture of doping in the sport - not just to stop doping or tackle doping, but to change the culture of doping in the sport. And in relation to that I feel that I have done a lot. We have gone a long way in that [area]. But we are not all the way there yet, and that is why I would like another four years to finish it off. Because, whilst we have very strong anti-doping measures with the biological passport, the no needles policy, the corticoid steriod rules ... that tackles the activity. The culture - we need to do more.

We are working with Lausanne University, for instance, we did a pilot project last year on a couple of teams, where they interviewed them and studied the way they operated. They presented it to all of the teams at the beginning of this year, and it was very positively received, and everybody agreed that it is going in the right direction. They are now have agreed with us to do a full project over the next two years, and I would hope that at the end of that project they will produce a report that will be very valuable to the future of cycling, and that will be aimed at changing the culture of doping in the sport.

CC: There have been accusations that you have delayed or fought against things such as the USADA report and other actions that have gone on. That you defended Armstrong too long, that you should have jumped in earlier on problems that have now been revealed.

PM: I don't necessarily agree with it. In relation to Armstrong ... his era was prior to my era [Mr McQuaid became President in 2005, the year Armstrong first retired]. Albeit he did come back for a year, a year and half after that.

We didn't know he was doping; he had fooled us, he had fooled everybody. We tested him 200 times; those results were always negative. Likewise, if everybody knew so much then as they are saying now, what did they do about it? What did USADA do about it? How many times did USADA test Armstrong? To the best of my knowledge, it was only a handful.

How many times did WADA test him? They were doing out of competition testing during that period, before the UCI, how many times? So a lot of people are saying things now, but hindsight is 20-20 vision, and hindsight is an exact science.

In relation to what has happened since the report, I immediately did act, with the Independent Commission. That Independent Commission was set up and was running, and was closed down because WADA and USADA refused to collaborate with it. They could have collaborated with it, but they refused to do so. We had to close it down because it was costing too much money.

I have said since, and I still maintain, that I am committed to an independent audit of the UCI, of the allegations against the UCI during the Armstrong era. That is something that I am working on currently, and I'm also committed to a ... I don't like the name 'Truth and Reconciliation' ... but whatever we do, has to be done within the WADA Code. But I'm committed to a process which will examine and allow athletes to confess or whatever they want to do, and allow us to draw a line in the sand. That's something I'm working on currently.

CC: In relation to that last point - there is constantly stuff coming out now, with riders saying 'yes, I doped' from the 80s or 90s. Do we need to draw a line, or do we keep going back - what about the 70s or the 60s? Do we need to draw a line and say this is where we are going to stop this self-recrimination and move forward? And if so, do you have any ideas of when that line should be?

PM: I think it should probably be the end of last year. It should go up to recent times, and allow anyone who is currently in the peloton, plus those who have left the peloton but are still working in cycling ... guys who have left the sport but who want to do something for the sport and themselves, I think they should be given the opportunity [to confess]. When that process has to be set up, and has to have a time frame - I don't know exactly what it is - at the end of that process it would be the time to say, 'right, from now on, let's look forwards instead of looking backwards'.

CC: There has been an ongoing argument and discussion about the legitimacy of your candidacy for President, because you were nominated by the Irish Federation which was rescinded and then the Swiss nomination was withdrawn ... can you talk to this legitimacy and the resolution that is going to be voted on for the UCI constitution regarding being nominated outside of your home federation. [Mr McQuaid has been nominated by the Malaysian and Moroccan federations]

PM: First of all, there is nothing in the UCI rules that says anything about 'home' federation. So, you can be a member of any number of federations and any one of those federations can nominate you for the Presidency. So, there is no problem with the legitimacy of my nomination. I have a valid nomination going into this Congress.

But I think people are starting to realize, starting to see, that there has been a lot of money invested by some people in trying to ensure that I don't get to the Congress in Florence. That for some reason or other I am eliminated before that.

They have their own reasons for doing that ... there were people from outside of cycling invested money in the Irish campaign against me, and invested a lot of money in the Swiss campaign against me. Now there are rules in the UCI that state that that shouldn't happen, but it has happened. I think there are people now starting to realize that it has been a completely unfair process in my case, and that I should be allowed to stand for election. Particularly as an incumbent President it would be a very bad sign for democracy if I was blocked from getting there [the election] by people from outside the sport.

CC: Who are you talking about, is it Igor Makarov from Russia, the owner of Katusha?

PM: No, I'm talking in relation to Ireland and Switzerland, Jamie Fuller. [The owner of Skins, the compression clothing company, who is one of the people behind the Change Cycling Now group]

CC: Last question: Why should you be President? What are you going to bring to the job that is going to make you the best choice as we go forward?

PM: I think cycling needs a leader, a strong leader. I have proven over the last eight years that I am a strong leader. I proven that I can take decisions, I've proven that I can face adversity. I've had lots of adversity to face, and I've done that and represented the cycling family, and represented the UCI and cycling, and defended cycling's interests against attack right from the very beginning, going back to the three Grand Tours in 2006, 2007 and 2008, and onwards. [Note: this was regarding team access to the events and the ProTour/WorldTour program]

Likewise, the work I have done globalizing the sport over the last eight years, is something which has been to my credit, and the sport is now becoming a global sport.

So I think on the two fronts going forward, the fact that riders can now race clean and win clean, and there's a lot of evidence and acceptance that the peloton is a lot cleaner now then it was eight years ago when I came into the Presidency, that means that the globalization can even go further and quicker now. Because of the credibility that the sport is getting back.

I think I can lead both of those [issues] in the next four years. At the end of that time, when I've tackled that culture, and it has changed completely, and I feel that it has changed, and have it recognized that the culture has changed, then I can walk away and say that I have done something for the sport.

So those are the main reasons, and I feel that the federations are looking for that, they are looking for leadership and they are looking for a strong leader, and that is something that they have in me.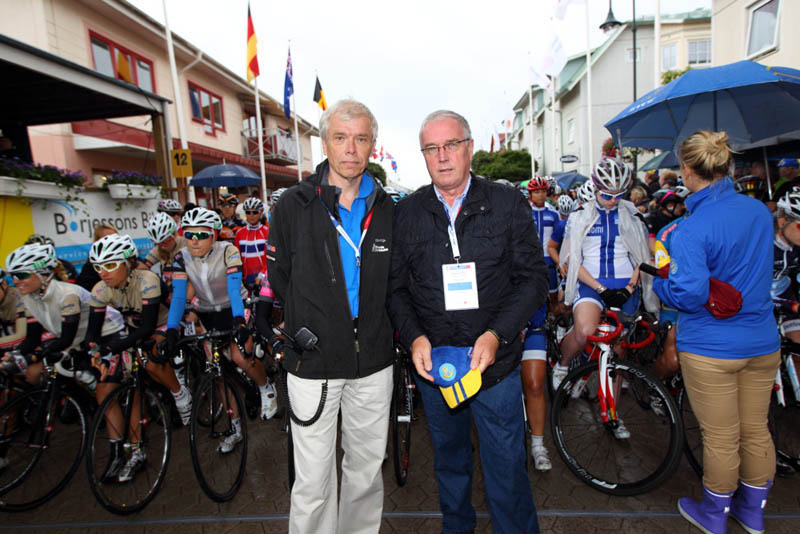 Vårgårda Women's World Cup Race manager, Michael Andersen with UCI President, Pat McQuaid