The Cross-country series of the UCI Mountain Bike World Cup presented by Shimano concluded with round six in Hafjell, Norway, with the Elite titles awarded to Tanja Zakelj (Unior Tools) and Nino Schurter (Scott-Swisspower). Neither of the overall leaders won the final round, which went to Irina Kalentieva (Topeak Ergon) and Jaroslav Kulhavy (Specialized XC).
The short 3.8 kilometre course proved to be very tough, with many riders underestimating the constant climbing and rough, rocky descents. Four riders went to the front on the first lap of the six lap women's race, and attrition gradually whittled their numbers down. Kalentieva was joined at the front by round one winner Eva Lechner (Colnago Sudtirol), world champion Julie Bresset (BH-SR Suntour-KMC) and Lea Davison (Specialized XC). Behind, local favourite Gunn-Rita Dahle Flesjaa (Multivan Merida) rode her own pace for the entire race to stay in fifth, while the lead was constantly shuffled at the front.
Leaders

Davison was the first to get dropped, on lap three, while Kalentieva, Lechner and Bresset took turns pushing each other. Lechner made a strong attack with a lap and a half to go, dropping Bresset for good, but Kalentieva clawed her way back up and then broke clear on the one of the final climbs, to solo in by 20 seconds ahead of Lechner.
"It is unbelievable," said Kalentieva. "This year I had many times bad luck, and at the World Championship again fourth like in Olympic Games. This is the last race for me this year and I won this final World Cup. I knew in this race I have to be in the beginning on the front, because many times I try this year and it doesn't work, because it is so fast. Today I did it, in the front. I was in the third or fourth position, so today I was thinking I can win, and I try, and give everything. It is an unbelievable feeling I know this feeling because earlier I won many times World Cups and World Championships, I am so happy."
Behind, Zakelj rode back in eighth place for the first half of the race before starting to move forward to eventually finish sixth, cementing her overall World Cup title, and becoming the first Slovenian to win both an individual World Cup (rounds two and three), as well as an overall title. Lechner's second place moved her into second overall from fourth, leapfrogging Katerina Nash (Luna), who dropped from second to third.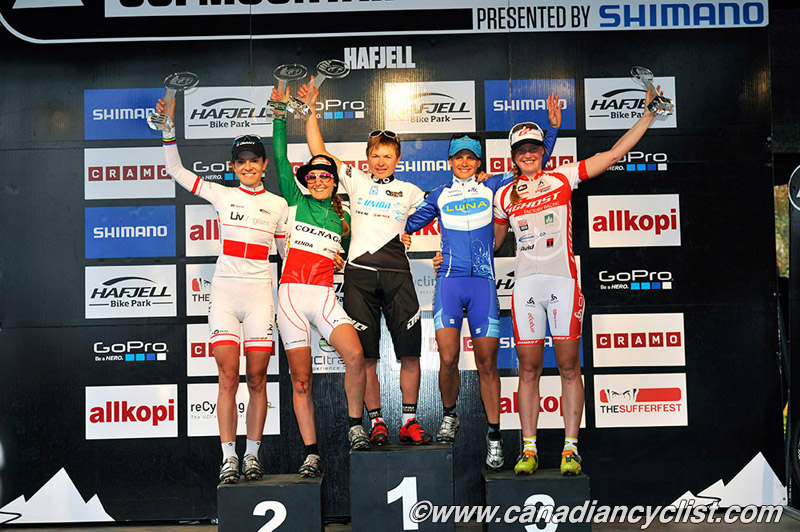 "It is so amazing," said the new World Cup champion. "I never expected before the season something this awesome to happen to me. This race was so tough, so tough, the toughest in my whole career. I felt a lot of pressure, but I wanted to keep focussed on my ride. What I achieved today is simply amazing."
"All the pressure that I felt (made the race hard) and the conditions were not perfect for me. I like it more warm and more sunny, but the conditions were the same for everybody. And I think it was normal that the other girls to be at the front that were not so strong at the beginning of the season, because it is very tough to keep so high every race,. This day I still managed to be very close to the podium and I am very happy about it."
"It is so important (to win) that I don't even think about it yet. I hope I will continue on that pace, I hope to be able to do races like that in my future. I am still young and I have many opportunities in front of me, I am looking forward to next season."
Catharine Pendrel (Luna) is showing a return to form after her mid-season injury, challenging for fifth early in the race before finishing seventh. Her result moved her up to seventh overall in the final standings. Mikaela Kofman (Scott-3Rox) finished her first year of Elite competition strongly with 18th; her first top-20 result in the Elite field. [Note: We have interviews with both Catharine and Mikaela]
Men

The men's race was absent Schurter's usual rival, Julien Absalon (BMC), who did not start after breaking his ribs at the world championships. Schurter had already won the World Cup mathematically, with the absence of Absalon, but Kulhavy, the Olympic champion and 2011 World Cup champion, who has struggled this season, stepped up in this last race of the year to show the form that previously made him unstoppable.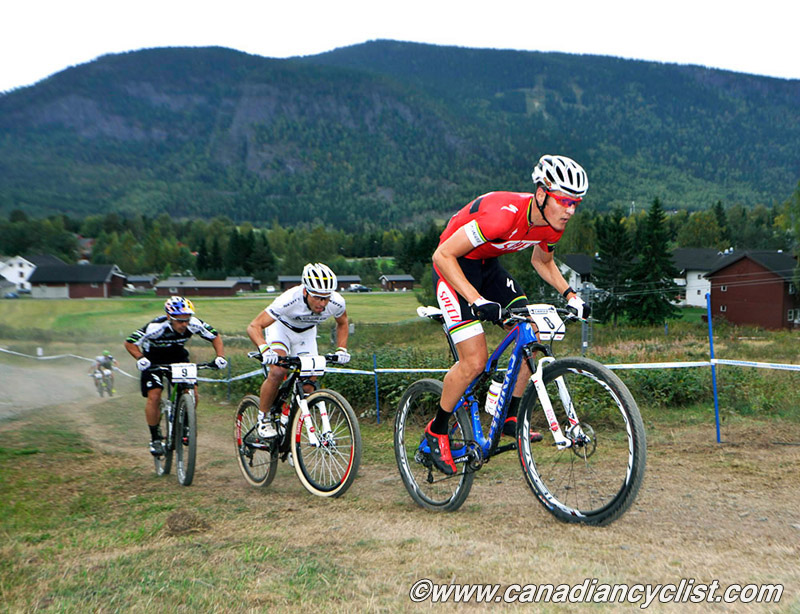 Kulhavy,
Schurter, Fontana
Schurter and Kulhavy were joined at the front in the opening laps by Ondrej Cink (Multivan Merida) and Marco Fontana (Cannondale Factory), with Manuel Fumic (Cannondale Factory) and Mathias Fluckiger (Stockli Pro Team) chasing up through the field to join the leaders by the halfway mark.
Cink was the first dropped as Schurter and Kulhavy increased the pace on lap five, with the rest gone a lap later. However, neither of the leaders could crack the other, with Schurter stronger in the technical sections, and Kulhavy showing power on the climbs. It wasn't until the last half lap that Kulhavy managed to get a slight gap on his rival going into the final technical sections, and that was enough, as the Czech rider came into the finish seven seconds ahead for his first win of the season. Fumic dropped Fluckiger in the last lap to take third.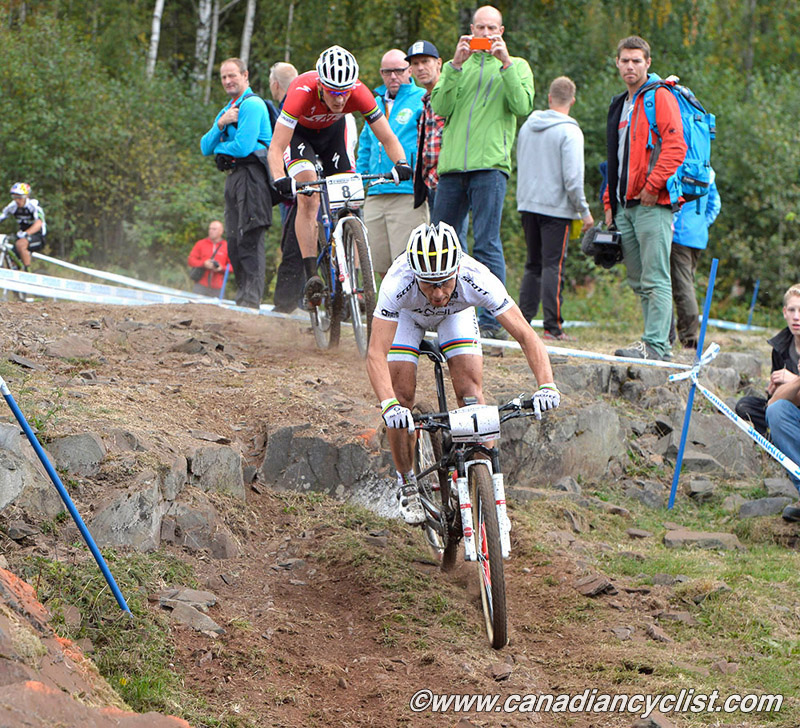 Schurter and Kulhavy

"I had such a crazy season," admitted Kulhavy. "It's amazing. This is the last race and I am really happy. I am back in my old shape and it is very important for me for the winter time. And yes, I am very satisfied. The race was amazing. Nice fight with Nino, and I am really happy."
"It was a really hard course, very bumpy, and rocky , a lot of sharp stones, a really big chance of a flat tire. But a really good course for full suspension. I look forward to next year and the World Championships that will be here."
While Schurter had locked up the title prior to the race, there was a battle for the remaining top spots, with round one winner Daniel McConnell (Trek Factory) finishing seventh and taking second place overall from the absent Absalon, who dropped to third, while Kulhavy climbed from seventh to fourth with his win.
It is an awesome feeling, winning the World Champs and winning the World Cup; it's a perfect season for me, I am super happy," said Schurter.
"The World Championship is probably the bigger victory, I get to wear the whole year the World Champs jersey, but the World Cup shows that you are constant for the whole season. I am super happy about both titles."
"After Worlds it is hard to stay focussed and to work hard again, so I am happy about the second place, it was a nice battle with Jaro, and I had a little flashback from last year at the Olympics." (when he finished second to Kulhavy)
"I was a bit sad that Absalon was not here. I always really enjoy to compete with him. He's a great athlete and it was sad he was not here."
Rebecca Henderson (Trek Factory) hung on to take the women's Under-23 title, despite suffering a puncture and crashing, finishing fourth behind Andrea Waldis (Colnago Sudtirol). Henderson took the title with 440 points, 30 ahead of rival Yana Belomoyna (Superior Brentjens). In the Men's Under-23 category, Jordan Sarrou (Focus/Rotor/Coaching-System.fr) took the win in Hafjell, while Markus Schulte-Luenzum (Focus XC) easily held on for the overall title.
U23 Men

: Uncaught Error: Object of class PDO could not be converted to string in /home/canadiancyclistcom/canadiancyclist.com/public/modules/news.php:528 Stack trace: #0 /home/canadiancyclistcom/canadiancyclist.com/public/modules/news.php(517): getrelatedgallery() #1 /home/canadiancyclistcom/canadiancyclist.com/public/dailynews.php(58): getDailyNewsArticle() #2 {main} thrown in