September 15/13 20:06 pm - MTB World Cup Hafjell: Downhill report

Posted by Editoress on 09/15/13

The UCI Mountain Bike World Cup concluded with the penultimate fifth round of the Downhill which, as always, kept spectators guessing as to who would be the champion until the final rider. Rachel Atherton (GT Factory) took her fourth victory of the season to extend her lead in the women's overall standings, while Canada's Steve Smith (Devinci Global Racing) took his second win in the men's category, and closed the gap on overall leader Gee Atherton (GT Factory) to a mere 17 points. Canada put a second rider on the podium, in the Junior men's competition, with Mark Wallace (Devinci Global Racing) taking third.
In fact, Canada had three Junior men in the first nine riders, with Mckay Vezina (Team Canada) finishing sixth and Jack Iles (Team Canada) ninth.
[Note: We have interviews with Steve and Mark]

After sunny weather and dry, dusty conditions in the week leading up to the races, the weather turned overnight to cold, wet and windy, with intermittent rain throughout the day. The slippery, muddy course meant that no one had a clean run, and caused more than a few crashes.

2012 world champion Morgane Charre (MS Mondraker) was the first to go under four and a half minutes for the women, and her time held up until the final four riders started. Manon Carpenter (Madison Saracen) finally knocked eight-tenths of a second off the leading time, and neither Myriam Nicole (Commencal/Riding Addiction) nor round four winner Emmeline Ragot (Lapierre Gravity Republic) could beat her. However, there was still one rider remaining; Rachel Atherton, who, except for round four, has been unbeaten this season. Atherton once again showed why she is the best in the world, with a four second advantage over Carpenter at the first split, and over seven and a half seconds at the finish line.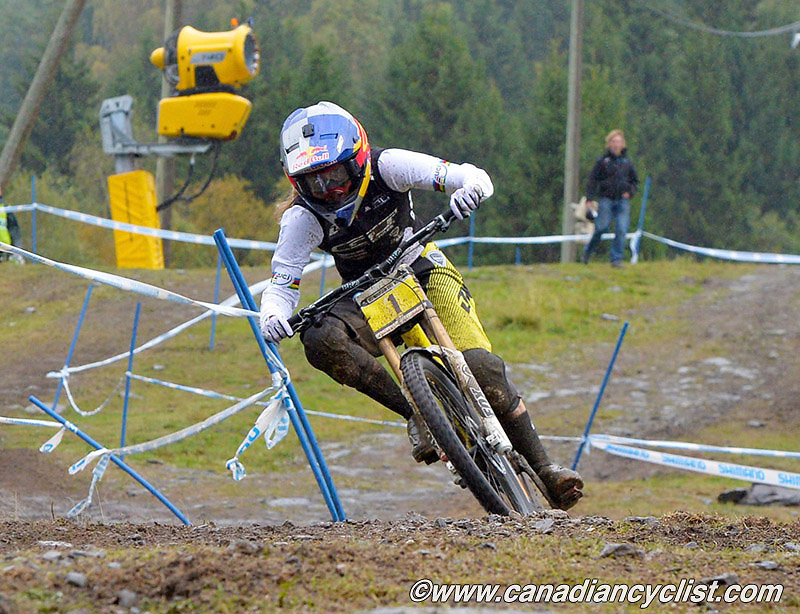 Rachel Atherton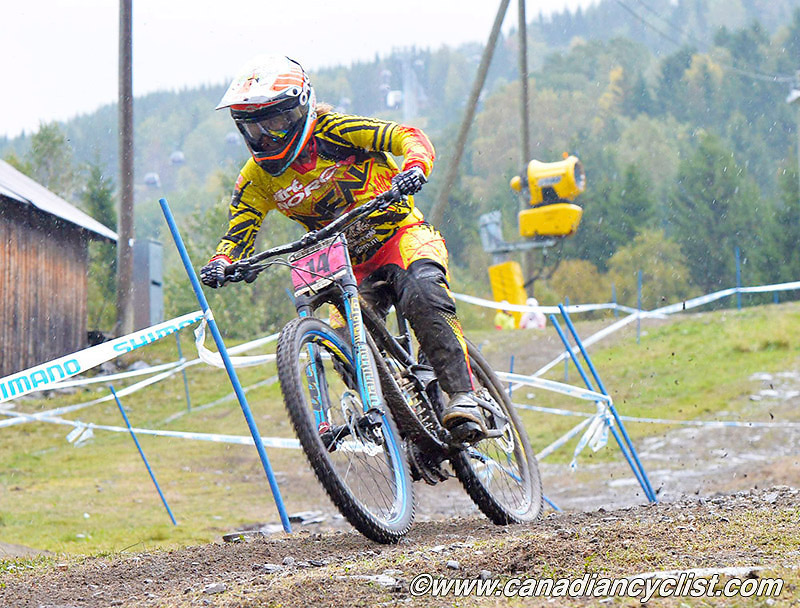 Casey Brown
"I was so nervous before the race," admitted Atherton. "We had two runs this morning in the rain and it was lethal, so sketchy. You've got no idea how fast to hit stuff. I don't know if anyone saw, but I had a few moments up there, a few wild moments, where I thought I was going down. I didn't know how fast I was gonna go, so I just held on. The crowd was amazing all the way down through the rocks, it really gives you confidence hearing your name. I just want to thank all the guys on the track. The rain's pouring and it definitely made me dig deep on the rocks."

Casey Brown (Dirt Norco) was the top Canadian woman, finishing in eighth place, one spot ahead of Miranda Miller.

Atherton has now built a significant lead going into the final round, with 1085 points to second placed Ragot's 925. Carpenter remains in third, but has closed the gap to Ragot, only 45 points back.

"I am not sure if the overall is sown up yet. Emmaline is right behind me. She gets faster and faster as the year goes on. That's scary but it is also amazing. The girls are pushing, going hard. It makes me dig deep. I watch them riding in practice and they've got skills, they can handle it. This last round, everyone wants to win, so it will be fast."
The men's race took place in even worse conditions than the women, with heavier rain and gusting wind. Andrew Neethling (Giant Factory) was only the 15th rider down the course, but set a stellar time that would hold up for 56 riders and 90 minutes before his team mate Danny Hart would finally knock 1.1 seconds off of it. Once Hart took the lead, it was four riders later that defending Hafjell champion Steve Smith came in 1.6 seconds faster.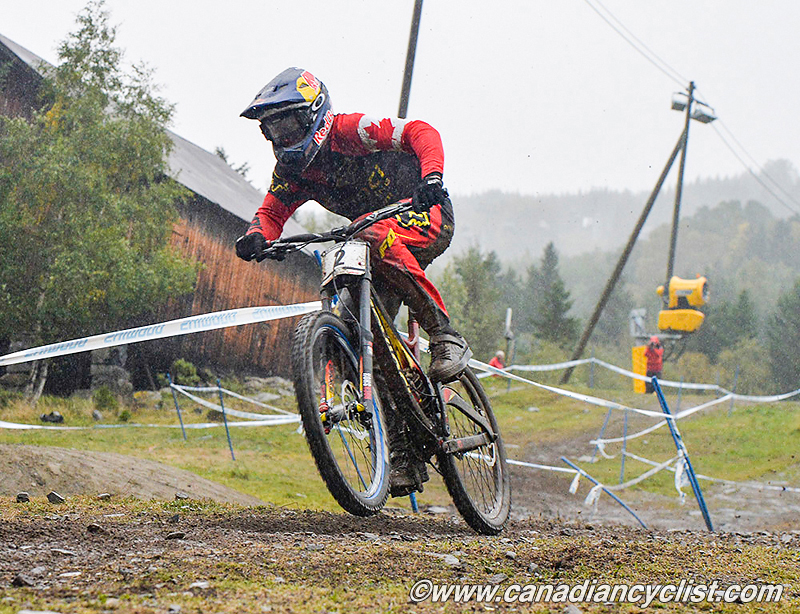 Steve Smith
However, there were still four riders to go, including world champion Greg Minnaar (Santa Cruz Syndicate), who could only manage fifth, and the final rider, Gee Atherton, the World Cup leader. Atherton came through the first split only half a second back, so he was in the hunt, but then slid into a tree, managing to avoid serious problems but slowing him enough that he could only finish 12th.

"It was a trippy day," commented Smith. "We practiced all week in the sun, complete dust, and today was miserable. Practice was actually quite good. It just rained all day and it just kept getting worse and worse. Coming into some of those corners that I was not braking for in practice, I just shit my pants, there was so much mud and ruts. I slid around quite a bit and definitely pushed it. I am so stoked to get this."

"The wind tripped me out. It was warming up at the top and I could see from the first straight, and I could see everyone doing nose dives off the jump because of the wind. Mentally I should not have been watching everybody, it tripped me out, but once I got going it was fun."

Atherton continues to lead the standings going into the final round next weekend in Leogang, Austria, but his lead has shrunk from a substantial 120 points to only 17, so this title will be decided at the final race of the season.

"I definitely closed some room," agreed Smith, "I am so stoked right now. I had a great year here in Norway last year and to back it up ... I am really happy right now, this is great."
Results
Fatal error
: Uncaught Error: Object of class PDO could not be converted to string in /home/canadiancyclistcom/canadiancyclist.com/public/modules/news.php:544 Stack trace: #0 /home/canadiancyclistcom/canadiancyclist.com/public/modules/news.php(533): getrelatedgallery() #1 /home/canadiancyclistcom/canadiancyclist.com/public/dailynews.php(58): getDailyNewsArticle() #2 {main} thrown in
/home/canadiancyclistcom/canadiancyclist.com/public/modules/news.php
on line
544