September 22/13 20:05 pm - MTB World Cup Leogang: DH Final report and photos

Posted by Editoress on 09/22/13

The 2013 Mountain Bike World Cup concluded on Sunday with the sixth and final round of the Downhill, in Leogang, Austria. Rachel Atherton (GT Factory), despite finishing second in Leogang to Emmeline Ragot (Lapierre Gravity Republic), easily took the overall title in the women's competition. In the men's competition there was an upset, with Canada's Steve Smith (Devinci Global Racing) scoring his third straight World Cup victory to wrest the title away from Gee Atherton (GT Factory), who has worn the leader's jersey since the first round.

After raining in the days preceding the World Cup, it cleared for the Final, however, the course was now very different from both training and qualifying, which threw many of the riders off balance.
Women
The women's race saw a steady turnover in riders on the Hot Seat, as the leading time was chipped away. Manon Carpenter (Saracen Madison), fourth from last to start was the first to go under four minutes. However, her time in the lead was short lived, as Ragot came through two riders later, knocking nearly five seconds off the top time. The only rider left was Atherton, who has been dominant on the circuit this season, with four World Cup wins and the world title. The British rider was four-tenths of a second ahead at the first split, but lost it all by the second section and fell behind by half a second at the finish.
Emmeline Ragot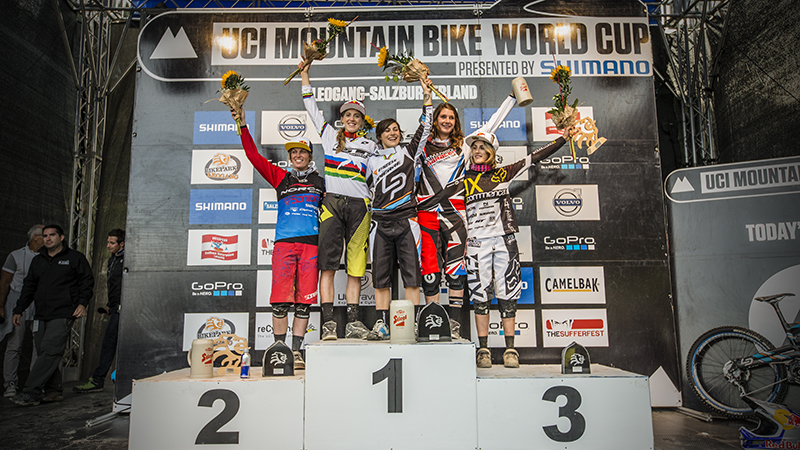 Podium: Jill Kintner, Rachel Atherton, Emmeline Ragot, Manon Carpenter, Myriam Nicole
"It is good to finish the season with another win," agreed Ragot. "I can't expect more. I was gunning to win, I know I made a couple mistakes at the end and messed up the last part. I took a couple risks, (today) but not too much, I didn't want to crash and lose my second overall. I was mellow but still pushing it a bit. But it was okay finally. I am really happy. We won the team overall. All good."

Atherton wasn't sure where she lost the time, "I don't know ... a win, a World Cup win is a World Cup win, and I wanted to win this for sure. I knew that Ragot wanted to win so bad. A little bit of me knows its good to go outta the season with someone else winning. It's good for the sponsors. Dare I say if the same person wins all the time it gets kinda boring. It is definitely going to motivate me this winter. If you win everything its hard to train in the winter. Now I have half a second to find this winter."

Micayla Gatto was the top Canadian in tenth place, one spot ahead of Miranda Miller, with Vaea Verbeeck in 14th. Casey Brown did not start after injuring herself in practice.

Atherton took the women's overall title with 1295 points to Ragot's 1165, followed by Carpenter at 1045. Tahnee Seagrave (FMD Racing/Intense Cycles) won the Junior title, in ninth place overall. Micayla Gatto was the top Canadian, finishing 13th in the overall standings, followed by Brown in 15th, Miller 16th and Verbeeck in 17th place.
Men
The men's title race was down to the wire. After Smith won last week at round five in Hafjell, Norway, he closed the gap to Gee Atherton to a mere 17 points going into Leogang. In Qualifying, Smith was first and Atherton third, giving Smith the virtual lead by three points. The overall title would come down to whichever rider finished in front of the other in the Final.

George Brannigan (Trek World Racing) was the early leader, until round three winner Remi Thirion (Commencal/Riding Addiction) bumped him, and then it was a steady progression of faster times. Loic Bruni (Lapierre Gravity Republic), fourth from last, took the lead with the first sub 3:26 time, and neither Atherton nor the second fastest qualifier, Mic Hannah (Hutchinson UR) could match him, leaving only Smith. The Canadian only needed to beat Atherton to take the title, and he did it decisively, knocking 1.311 seconds off Bruni's time for his third win of the season, and the overall title.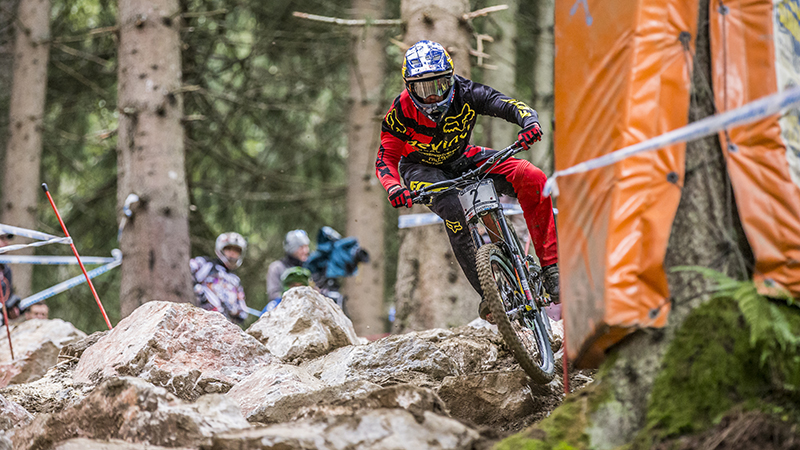 Steve Smith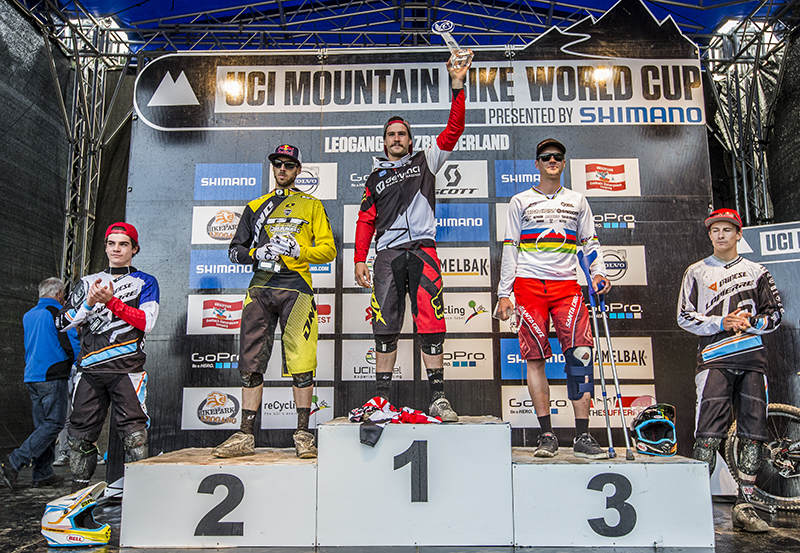 World Cup Final Overall : Loic Bruni, Gee Atherton, Steve Smith, Greg Minnaar, Samuel Blenkinsop
"It is indescribable, a dream come true," stated Smith. "This has been the most pressure I have ever had in my entire life. I knew the World Cup overall was in contention and I am just so pumped to come away with a win. I knew was having a good run, so I just went for it. Before and my run I was really quite, relaxed and my run went great."

"The run was good, but it was hard to know how good. The course was so dry and so fast compared to practice and qualifier. I knew I was going faster, but it is always hard to know about the other guys. You never know until you cross the line. At World Cups things are so tight, you never think you are going to win until you cross. So when I crossed and saw the reactions it was good."

Smith won the title with 1199 points to Atherton's 1121. World champion Greg Minnaar (Santa Cruz Syndicate), who did not race after injuring his knee in training, managed to hang onto third overall with 673 points, just two ahead of Loic. Mic Hannah was sixth overall.

Loris Vergier (Lapierre Gravity Republic) took the Junior men's overall title after finishing second in the final round to Noel Niederberger (Gstaad-Scott), and one spot ahead of the World Cup leader coming into the race, Michael Jones (FMD Racing/Intense Cycles). Mark Wallace (Devinci Global Racing) was the top Canadian in the final race in eighth, followed one spot further back by Mckay Vezina. Vergier retook the lead with 210 points, four ahead of Jones, with Niederberger third at 185 points. Wallace finished seventh in the overall standings, followed by Vezina in 14th and Jack Iles in 15th.
Results
Fatal error
: Uncaught Error: Object of class PDO could not be converted to string in /home/canadiancyclistcom/canadiancyclist.com/public/modules/news.php:544 Stack trace: #0 /home/canadiancyclistcom/canadiancyclist.com/public/modules/news.php(533): getrelatedgallery() #1 /home/canadiancyclistcom/canadiancyclist.com/public/dailynews.php(58): getDailyNewsArticle() #2 {main} thrown in
/home/canadiancyclistcom/canadiancyclist.com/public/modules/news.php
on line
544