September 22/13 20:08 pm - Road World Championships - Men and Women TTT report and photos

Posted by Editoress on 09/22/13

The 2013 Road Worlds opened with the new Team Time Trial for trade teams that was introduced last year, with both the men's and women's champions repeating in Florence, Italy, on Sunday. Canada's Svein Tuft, a member of the Orica-GreenEDGE men's team, came within eight-tenths of a second of winning the gold, but had to settle for silver behind Omega Pharma-Quick Step. In the women's race, Specialized-lululemon were the champions.

Both the men's and women's races started east of Florence and headed down a long, straight and almost entirely flat course to the center of the city, where huge crowds waited to greet the riders. The men covered 57.2 kilometres and the women 42.79 kilometres.
Women
Specialized-lululemon consisted of Lisa Brennauer, Katie Cloclough, Carmen Small, Evelyn Stevens, Eleonoravan Dijk and Trixi Worrack. The team was never seriously pushed, finishing 1:11.09 ahead of the Marianne Vos led Rabo squad. Orica-AIS was third, 23 seconds behind Rabo. The only team with Canadian riders was Optum p/b Kelly Benefit Strategies, with Joelle Numainville, Denise Ramsden and Leah Kirchmann. Optum finished eighth, in the middle of the 16-team field.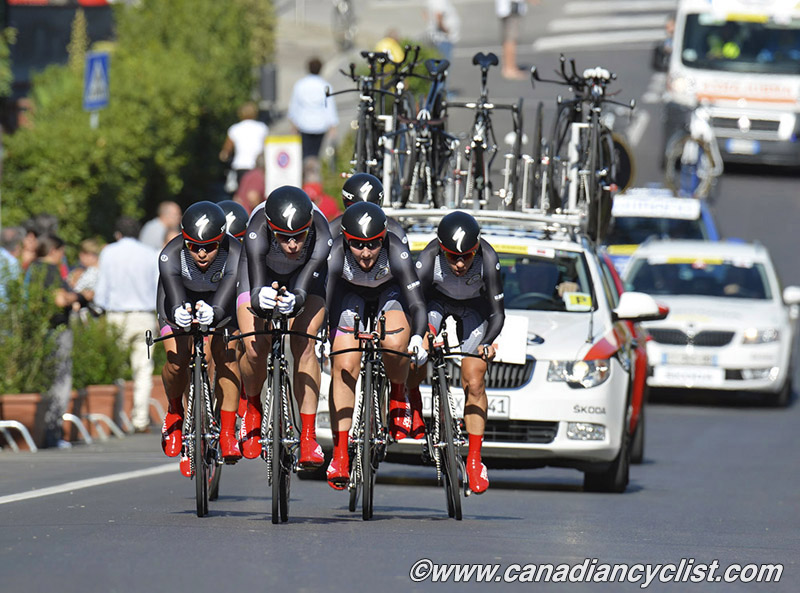 Specialized-lululemon
Evelyn Stevens, on winning two years in a row: "Now we have a double rainbow, it is amazing! This was a huge goal for the team. Specialized put a lot of effort into all of us, we all went to the track and worked on our positions. It is a really special way for us to end our season".

Lisa Brennauer, on the pressure of being the favorites: "We knew that other (teams) were working (on the TTT) so hard, and we saw in Sweden that Rabobank and Orica were pretty close so we always knew we had to work harder and harder to get the title again, and I think that we did that pretty well".

Evelyn Stevens: "We were definitely nervous coming in to today's TTT. When you are the ones who are supposed to win, we could definitely feel it. If anyone was in the tent before the TTT you could definitely feel it - the pressure was palpable".

Evelyn Stevens on Ellen Van Dijk's TT strengths: "We have nicknamed Ellen 'The Animal' on our team and she has lived up to that all year long. She proved today to be super strong. We are all rooting for her to do well on Tuesday (in the ITT)".

Katie Colclough on the race tactics and finishing with six riders: "We separated it out and we had the first 30km with the straight main road and we had practised a lot together with longer pulls from the stronger riders and maintaining the speed the whole way. We knew we had an advantage coming into the town, so it was all about not taking any risks and staying together and getting to the finish".

Ellen Van Dijk on being The Animal and on the race tactics: "I guess so (that The Animal is a compliment). It is nice when they think you are riding strong but I have to say that everyone was riding strong. Of course I am not the only one who does long pulls, we all do it together and we just had a great day. We had the perfect technique going into the city, we used a different plan and it all worked out really well. It was just a great team effort".

Carmen Small, on the different race tactics used by the team in the technical section in town: "We decided to lead three people in town, so only three people were changing instead of all six of us. So this was a lot different compared to other teams but because it was so technical, we could take the corners a lot faster. It was hard for the three girls because it was a longer section, but it also meant Evie and myself were rested for the final 3km into the finish".

Ronny (Lauke, the Team Manager) decided on this after seeing the circuit. He decides on all the tactics and is brilliant at it.

Evelyn Stevens, on the lack of live TV coverage and the difficulty in viewing the race, even from the Press room: "It is disappointing. We averaged 50.1km/h. I think today was a demonstration of the beauty of women's cycling. Hopefully there is some coverage, then people will see it and then next year there will be full coverage. I think women's cycling is on the up, and today's race was a demonstration of just how dedicated and strong and powerful we are".

Carmen Small, on her first World Championship title: "It is unbelievable. I haven't actually thought about the other TT or the road race; all I have been focused on was this. It is really sad to leave my teammates now. It has been a long season over here (in Europe) and this is the last race with them. I have really loved being a part of the team this year".
Men
The men's race was between two teams: Omega Pharma - Quick Step (OPQS) and Orica-GreenEDGE. Orica had the previous win, from the TTT at the Tour de France. OPQS pulled out to a substantial lead of 14 seconds over the first to time checks at 7.3 and 24.5 kilometres, but Orica reeled them back in, to take a 1.45 second lead at 42.8 kilometres. Orica, who had started third from last, was in the Hot Seat as their rivals came down the final straightaway, to win by an infinitesimal 0.81 seconds after nearly 60 kilometres.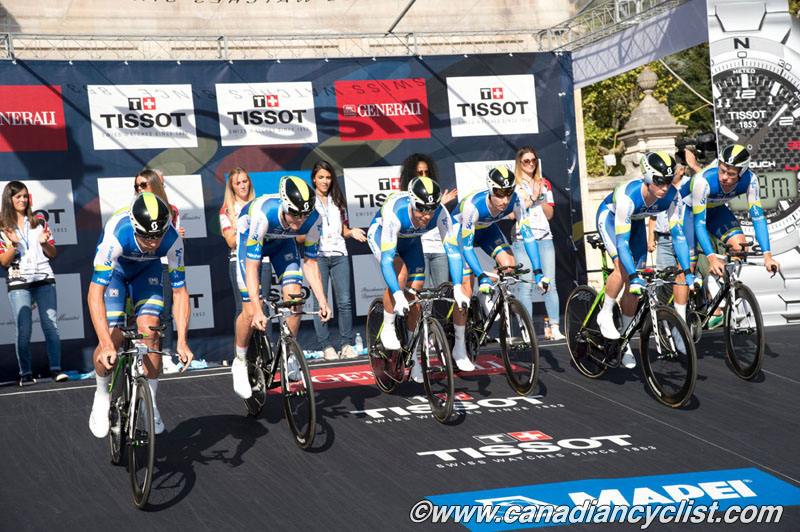 Orica-GreenEDGE starts
"I can't complain about how things went today," said Team Director Matt White. "We can't fault anyone. If we had gone nine-hundredths of a second faster, we would be world champions today. To be so close to winning a world title over an hour effort is a little disappointing. Sometimes it's easier to swallow when it's a bigger margin. We know what it's like to win by such a small margin, too. We just edged out Quick-Step at the Tour. Today they turned the tables on us."

[Note: We have an interview with Svein Tuft Here]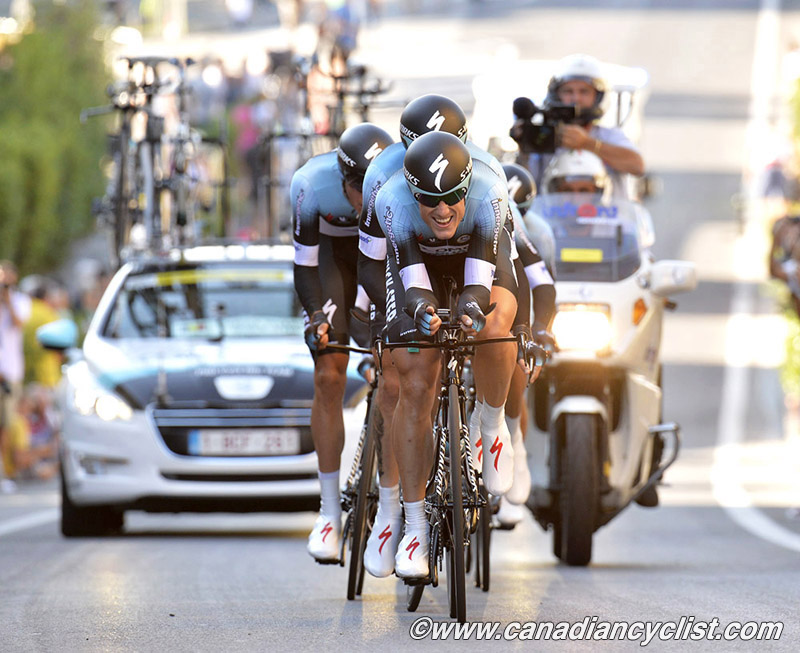 Omega Pharma-Quick Step
"It was really a one hour block," Martin said. "Especially in the final 10 kilometres. We took a few risks, sped it up because we knew we were a few seconds behind. We took the risk that we could either blow up or gain some time and we held the speed until the finish. We also took some risks in the corners. We were a second down in the last intermediate and we knew one corner can be the difference. So we just took the risk. We knew the corners perfectly. We made good preparation going into today, so we can also say it's really a win for the whole team. The sport directors who prepared us for the race today are included in this, especially in the last kilometres. The last intermediate time gap killed our morale a little bit, seeing the first gaps and then being down on ORICA-GreenEDGE going into the final kilometres, but we had sport directors in the car who built up our motivation again. Then we just gave everything, full risks in the last 10 kilometres. At the end, it was enough. I think we won it with the big morale in the final. I think it is the same for the other riders on the team. In the last few hundred meters Tom Steels said 'go go go, take everything, you can be world champion' and I think that gave us the last percentage of motivation to put all our power into the pedals. Sometimes one sentence can make the difference."

"Like Tony said, if you go with the good lead and then you come back, you know you have to gain four to five seconds," Sport Director Tom Steels said. "You know it will be very close. So, you have to push the guys. But with this team you have six exceptional riders. To bring it back after such a long team tine trial, I don't think you will see something like this that often again. I think Niki, Tony, Chava and Peter gave it all in the final kilometres. Kristof did what he had to do before, and Michal was also very important before the final kilometers. Going into Firenze it was really fast, and the last few guys just kept on going. The last five kilometres was more about character than just a result of physics. They went full gas and they pushed it to the line to win this. For these six guys and all the guys that were behind us going into this, this was one good experience we will take with us for the rest of our lives."

Canada also had Dom Rollin (FDJ.fr) finishing eighth, Ryan Anderson (Optum p/b Kelly Benefit Strategies) 23rd and Hugo Houle on AG2R la Mondiale (24th).

With reports from Monique Hanley
Results
Fatal error
: Uncaught Error: Object of class PDO could not be converted to string in /home/canadiancyclistcom/canadiancyclist.com/public/modules/news.php:544 Stack trace: #0 /home/canadiancyclistcom/canadiancyclist.com/public/modules/news.php(533): getrelatedgallery() #1 /home/canadiancyclistcom/canadiancyclist.com/public/dailynews.php(58): getDailyNewsArticle() #2 {main} thrown in
/home/canadiancyclistcom/canadiancyclist.com/public/modules/news.php
on line
544