September 23/13 14:22 pm - Road World Championships - Day 2 Report and Photos: Jr Women, U23 Men ITT

Posted by Editoress on 09/23/13

Day Two of the Road Worlds in Florence, Italy, saw the first of the individual time trial events take place, with the Junior Women and Under-23 Men competing. Favourite Severine Eraud (France) took the Junior Women's title and Damien Howson (Australia) the Under-23 Men's. Canada had one entry in each event, with Junior Women's national champion Kinley Gibson finishing a strong ninth and Alex Cataford taking 33rd place in the Under-23 men.

The Junior Women raced a 16.19 kilometre route all within the city limits of Florence. The surprise of the day was Australia's Alexandria Nicholls - even to herself and her team. Starting second in the 48 rider field, she set a time that would hold up through the entire race until the last rider - Eraud - finally beat her by a scant 2.69 seconds. Australian champion Alexandra Manly took third.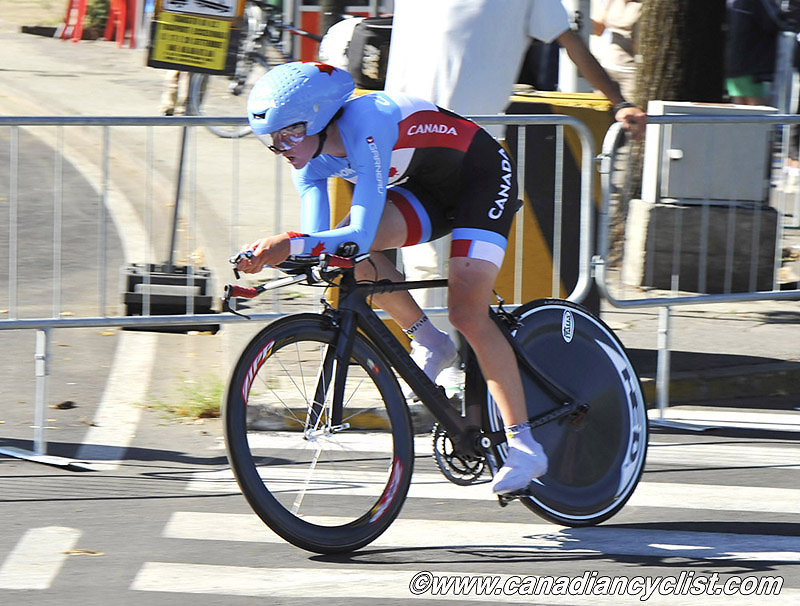 Kinley Gibson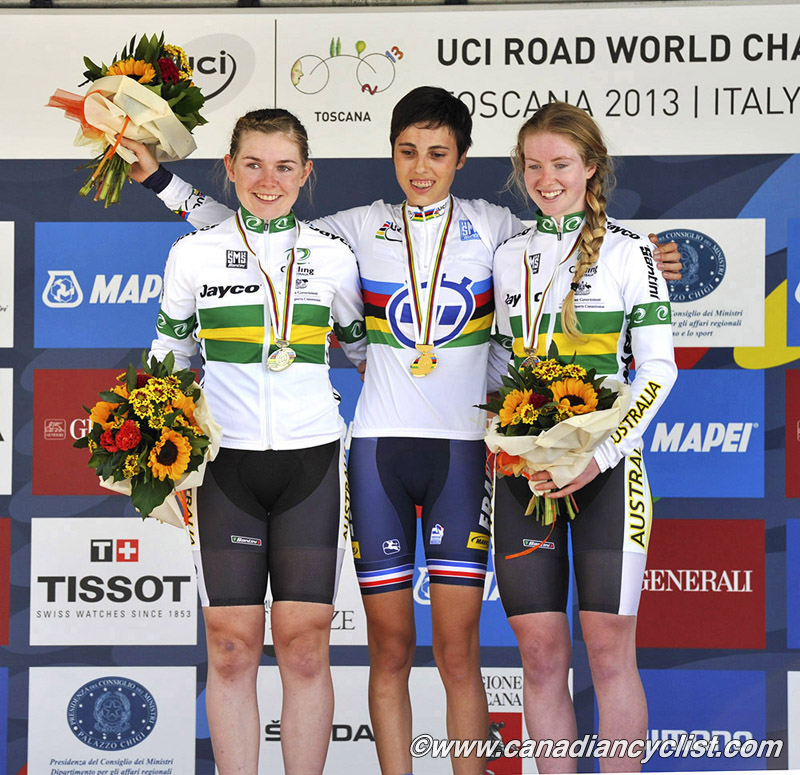 Alexandria Nicholls, Severine Eraud, Alexandra Manly
Kinley Gibson said about her ride: "It was a really fun course and I was pretty happy with my ride. I knew I didn't want to go out too fast, I wanted to just bring it back a little bit at the start, kind of settle in and then open it up after the first couple of turns. Once I got into Florence and into the twisty bits, I was able to get out of my seat, and hit the corners really hard. Overall, I was really happy with how I rode it."

[Note: We posted an interview with Kinley HERE]

The Under-23 Men followed almost the same route as yesterday's Women's Team Time Trial in their 43.46 kilometre race. Yoann Paillot (France) set the first sub-51 minute time with 22 riders remaining, and his time held up through the field until Howson, the second from last rider, blazed through, catching his 90 second rider and breaking the 50 minute mark. Pre-race favourite Lasse Hansen (Denmark) started last, but could only manage third. one of the most impressive rides was American Lawson Craddock, who slid out in a roundabout, taking skin off his calf and hip, but still managing to finish fifth.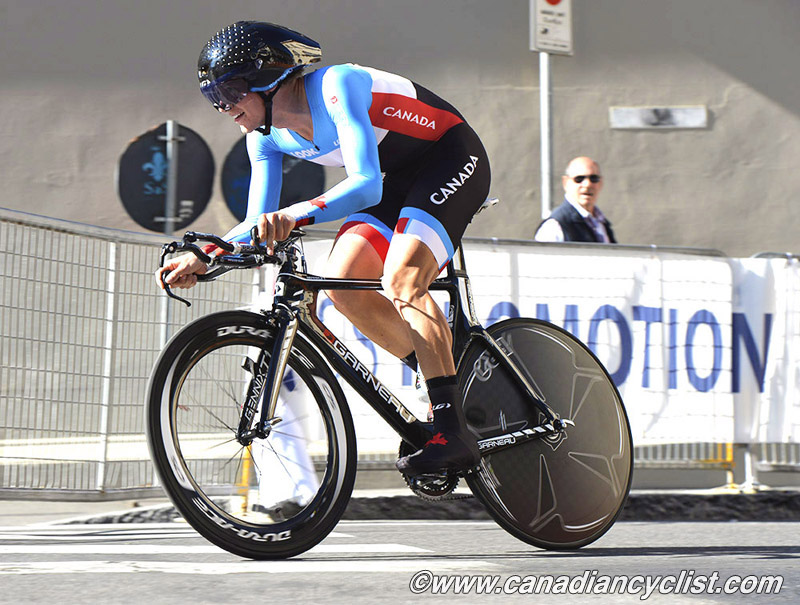 Alex Cataford
"I gave it my all. I was maybe hoping for a better result but it was good to be able to gauge myself. I have two more years in this category and now I know what I have to work towards," reflected Cataford.
Race Notes:

- Svein Tuft will definitely not be doing the Elite Men's time trial on Wednesday. He told us yesterday in our interview after his Orica-GreenEDGE team won the silver medal in the Team Time Trial that he was considering not racing because all of his training had been focussed on the TTT. Now, the official start list has been released, and his name is not it. Canadian head coach Jacques Landry confirmed to us yesterday that team Canada would not be making a substitution.

- So far, the weather has been incredible - low 30s C and sunny. However, long term forecasts call for rain on Sunday for the Elite Men's road race. That should have no effect on crowds - in the city centre it has been packed, despite the fact that today was a work day.

- There has been considerable speculation about Canada only naming two riders for the Elite Men's road race despite having three spots. The stated reason was that the team did not want to send someone just to fill a spot. With Veilleux retiring, Tuft scheduled to race in another event with his team and Hesjedal declining, there weren't many options open. We contacted some riders to see if they had been asked. Some said yes and had declined, others said no, they had not been contacted - most were riders that did not have recent experience racing a 250 kilometre plus race. So, the decision seems reasonable.

- Tomorrow, the Junior Men and Elite Women race their time trials. Both race 22 kilometres; an embarrassingly short distance for elite women. This does not seem to follow with the stated goals of both UCI Presidential nominees to improve women's cycling ... however, it does seem to fit with the second-class treatment women's cycling has received every step of the way at these Italian championships...
Results
Fatal error
: Uncaught Error: Object of class PDO could not be converted to string in /home/canadiancyclistcom/canadiancyclist.com/public/modules/news.php:544 Stack trace: #0 /home/canadiancyclistcom/canadiancyclist.com/public/modules/news.php(533): getrelatedgallery() #1 /home/canadiancyclistcom/canadiancyclist.com/public/dailynews.php(58): getDailyNewsArticle() #2 {main} thrown in
/home/canadiancyclistcom/canadiancyclist.com/public/modules/news.php
on line
544