September 25/13 15:03 pm - Road World Championships - Day 4 Report and Photos: Elite Men ITT

Posted by Editoress on 09/25/13

The time trials events at the 2013 Road World Championships in Florence, Italy, concluded on Wednesday with the Elite men's individual event, where Germany's Tony Martin convincingly won his third consecutive title. Sir Bradley Wiggins (Great Britain) was second and Fabian Cancellara (Switzerland) was third. Canada did not have an entry in the race.

The 57.9 kilometre race started in Montecatini, west of Florence, and headed straight to the city, with only one sizable climb early in the race. Once the riders reached the city they were faced with twisting narrow streets through the old city - the race wouldn't be won here, but it could be lost.

There were three co-favourites: Martin, Cancellara and Wiggins, who were the final three to start. Cancellara had the fastest split at the first time check (7.3 kilometres), by over 15 seconds, but after that it was all Martin. The German was 37 seconds faster at the second split (24.5 kilometres), 41 seconds ahead at the third (42.8 kilometres) and 46 seconds in front on the finish line. However, Cancellara faded in the final kilometres, as Wiggins got stronger, with the Brit overtaking the Swiss rider for second place, finishing two seconds ahead.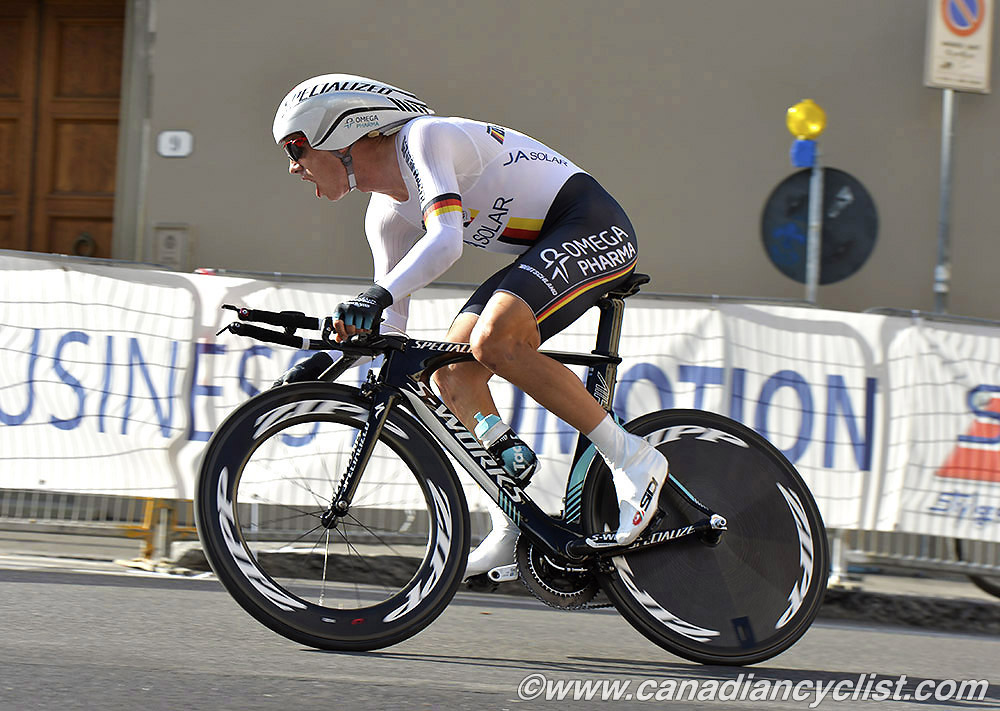 Tony Martin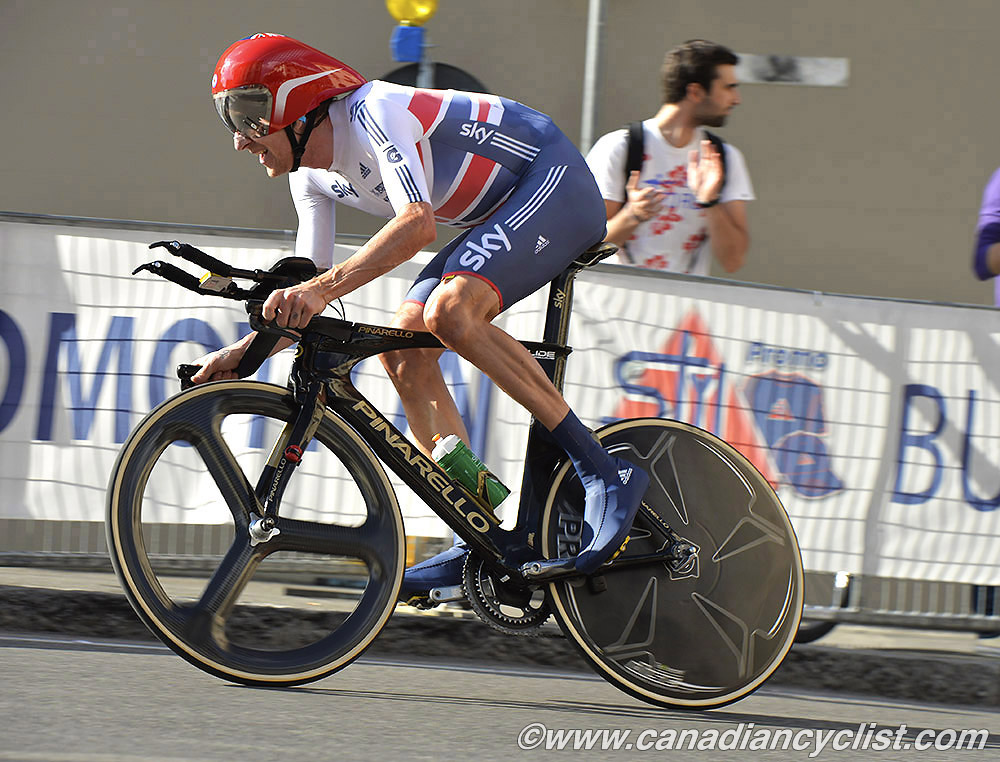 Bradley Wiggins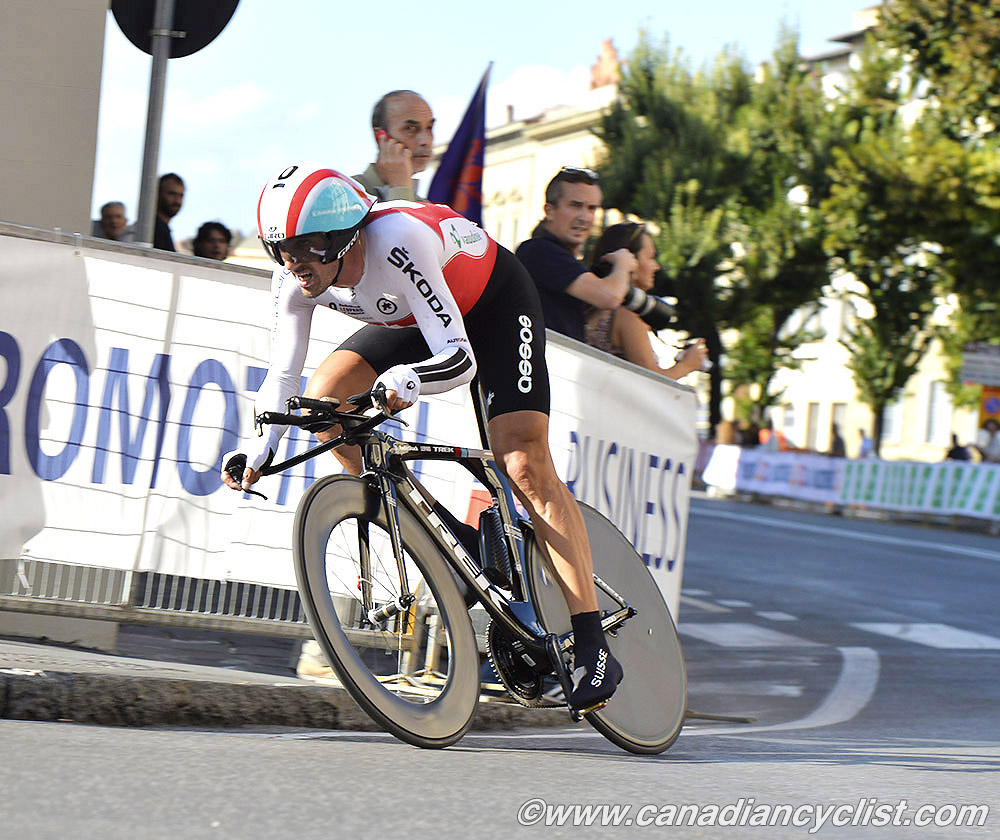 Fabian Cancellara
The gap to Vasil Kiryienka (Belarus) in fourth was a sizable 1:26, with Taylor Phinney (USA) fifth at 2:08.

Monique Hanley reports rider comments:

Tony Martin
On whether this win was the most beautiful:
"The first time is always the nicest, but for sure this comes really close. I think there was a lot of pressure on me, I said before I want this title. I want to win it again, and I think second place would have been disappointing for me. Now a lot of pressure falls off my shoulders and it is really emotional for me."

Silver: Bradley Wiggins
"I feel pretty relieved now it is all over. I'm satisfied I won the silver medal. I was pretty strong throughout, I was pretty consistent, and I didn't really die off at the end. I think I got the effort right for the distance and at the end of it really you can't control what the others are going to do and I was just beaten by a better bike rider today, really. When it is like that there is not a lot you can do, you have to be satisfied with your ride."

"I didn't die off, and I didn't speed up, I just held the same speed. A bit like Carl Lewis used to run the 100 metres. I had no idea of the time checks, I couldn't hear the radio with the crowds. I rode to power, so I was pretty constant the whole way through, really."

"It (the ITT) was a unique one, we rarely have a time trial of this length, it was a good 10-15 minutes longer than most of the World Championships. I knew that there are not many people that can sustain that type of effort for that length of time. I was pretty confident that in the last 15-20 minutes guys that started early would start to come back. I did hear the first split over the climb at the start and I knew I was 16 seconds down but I knew there was a long way to go from there."

"I was riding around 450 watts the whole way, and at the end I was touching 500 watts over the last 5 kilometres."


Bronze: Fabian Cancellara
"It was actually really tough towards the end. I knew it was going to be a really big hard battle, I didn't know I was so close to Bradley, I didn't even know the situation of the race. The biggest battle was after 5 kilometres when the communication was lost. The only situation I want to have was the motorbike to tell me 'you are the fastest' but you don't have this. On a parcours like this you go into Florence, and out of Florence you need to stay on this but there was nothing really left, when you know towards the end that I was so close to Bradley. It was probably the same what you saw on Sunday on the Team Time Trial with Omega and GreenEDGE: if you know more from the car you could probably push more, but I am more than happy with what I got for my result and this is what is nice for me."

Cancellara was also asked about Sunday's road race, and he refused to answer, deferring questions to team staff and a Swiss press conference later in the week.

"I just want to enjoy my medal now, because I accepted this battle, this battle against the clock. I knew there was a lot of talk before about with Tony and Bradley and how it goes, and this and that. When I look back on this race and how I was today, I said to myself, 'of course I can go into this race with less pressure', and that is what I did. I was quiet, I was calm, I was just looking ahead of an hour of pleasure, but on the other hand, an hour of pain. And it was definitely big pain. I think this pain is something that you need. I just want to go back to my family, to the hotel, to my team and have a great night and enjoy the medal. When you win the four time Worlds, the Olympics, and all those other major races in Time Trials, I can say I accepted the battle and I won the bronze medal even though I was so close to Bradley on a not perfectly suited parcour like this, that is nice. With this satisfaction is something that can push me and give me more for Sunday."


On the UCI Presidential election:

Wiggins:
To be honest, it is not something I have really followed. From what I understand it's a done deal. The man, Cookson, is already in. That's from what I hear from people talking on the bus and stuff. Like with most of these things the riders are the last ones to even be asked what we think. We are just pawns in everyone's game. What goes on, goes on, and the next President will be in your ear. The person who gets in is probably only going to be in for a year before this French fella takes over. I don't know, as I said we are just the riders. You probably know more about it than I do."

Cancellara:
"I think I have more important things to do than follow what is going on. In my opinion to use the World Championships to find a new President, for us riders it is not in our minds. We have more important things to do than to follow this."

"For me, what is really, really important [is] that for whoever will come that we have the right President that goes for the right direction for cycling for the goodness of this sport and that we - all together - we are going to be strong in the world of sport and politics. Because cycling is the best and most beautiful sport in the world, with so much passion behind it, but so many things go wrong because we have too many people there (that are) egoists. That is why that whoever becomes the new President, McQuaid or Cookson, I think that is what counts. I don't want to be involved in any situation of politics in this because the riders are always on the end of it. Like Bradley said, we never get asked, but when we get asked we get pushed in a corner, then we get used, and that is definitely not what we want to get involved in. It is important that everything is on the legal, the right direction."

Taylor Phinney (via Twitter) (@taylorphinney):
Not overjoyed w/5th. Not heartbroken either. I prepared well for this w/the time that I had and I left it all out there...
He also earlier commented: That was a really long time trial. #captainobvious

Results