September 28/13 5:58 am - UCI Presidential Election - What Happened

Posted by Editoress on 09/28/13

Yesterday's UCI Congress was likely the most exciting and controversial in recent history, taking place in the historic Piazza Vecchio under frescoes by Leonardo de Vinci and Michelangelo. Brian Cookson, the President of British Cycling, replaced UCI Presidential incumbent Pat McQuaid after a hard fought, and at times nasty, campaign. The issue came down to whether it was time for a fresh start after the Lance Armstrong doping scandal, and accusations of conspiracy and coverup by McQuaid and previous UCI President Hein Verbruggen, or whether to stay the course with the current President who has introduced reforms such as the biological passport program and increased globalisation of cycling.

McQuaid had to first fight to get on the ballot, after his initial nomination through Irish Cycling was rescinded, and then the same thing happened with his Swiss nomination, with McQuaid alleging he was the victim of an organized conspiracy to keep him off the ballot. Both sides showed up with lawyers, and there was considerable speculation that the issue would end up in the courts.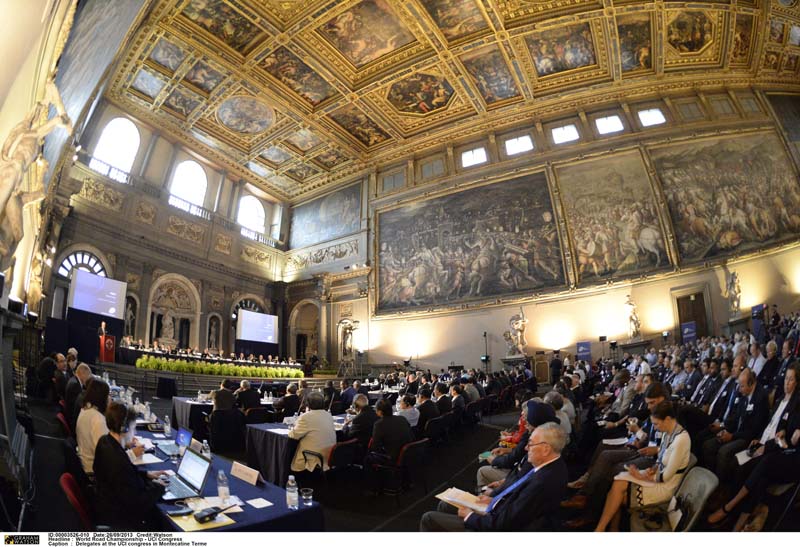 Above and below - Delegates at the UCI congress in Montecatine Terme - Graham Watson photo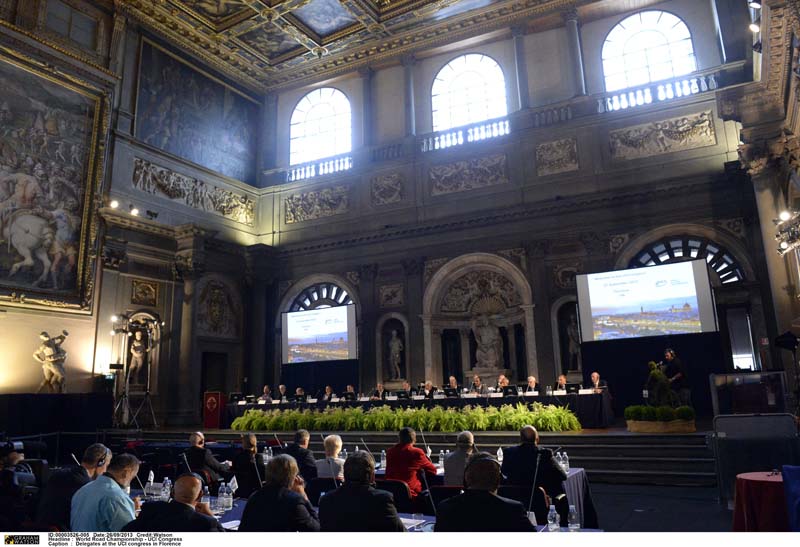 The two-term President then sought to be nominated by two other federations - Morocco and Thailand. A number of amendments were put forth to allow this, and to automatically allow an incumbent President to run, but the Congress was split on the amedments, and none passed. It should be noted that there was considerable support for an eventual change to the UCI constitution that would automatically allow an incumbent to run.

At this point, the Congress was at in impasse, until Cookson abruptly reversed his position on the legality of McQuaid's nomination, standing up and saying that they should just vote between the two men.

So, after all the fighting, accusations and, at times, truly vicious attacks of the past few months, it came down to 42 voting delegates, divided into continental regions. Cookson won 24-18, and it was done. In what was a relief to almost everyone, McQuaid at that point said he would not contest the result, avoiding potential lengthy and costly legal proceedings.

Speaking after the result had been announced, Mr Cookson said: "I would like to thank-you for all of the trust that you have placed in me today. The real work starts now. I would call on the global cycling community to unite."

Mr Cookson also paid tribute to Mr McQuaid, saying: "I would like to thank Pat sincerely for the contribution he has made both to cycling and to the UCI in his long career."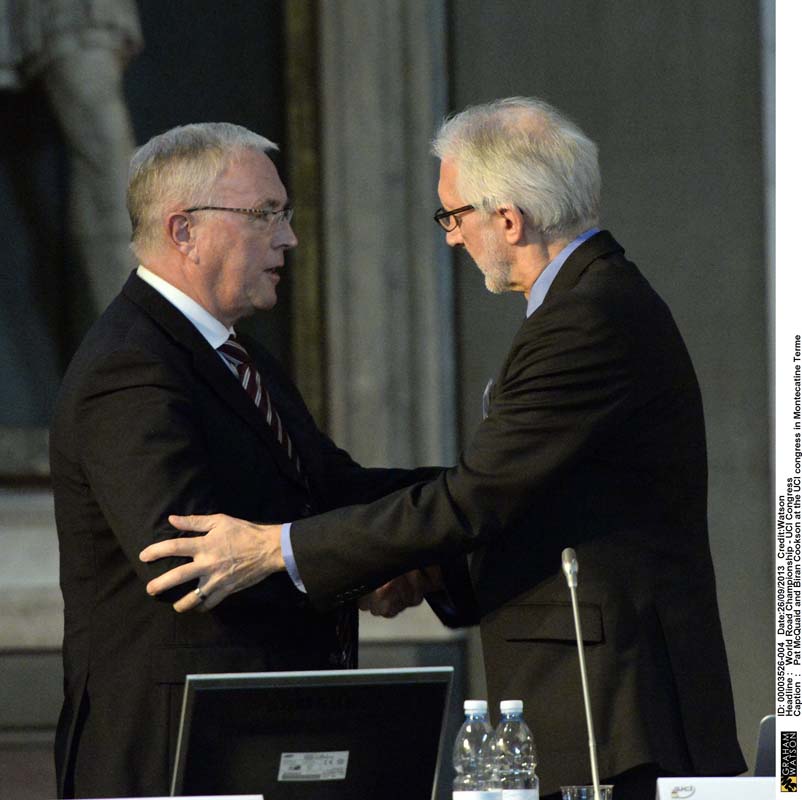 Pat McQuaid and Biran Cookson at the UCI congress in Montecatine Terme - Graham Watson photo
Pat McQuaid, speaking after the vote, said: "I would like to extend my congratulations to Brian on his success in being elected UCI President. Being elected UCI President was one of the proudest moments in my life and I know that it is also a proud occasion for Brian, his family and his supporters."

"It has been a huge privilege to serve the sport that I love as UCI President for eight years and I enjoyed every day that I spent working with all of our federations to improve and develop cycling worldwide."

"Brian has set out what he intends to achieve over the next four years and I would encourage all cycling federations to support his efforts to work for the good of the sport."

McQuaid will automatically lose his IOC seat after losing the Presidency. He said in a brief statement to the media that he planned to stay involved in cycling.