September 28/13 15:23 pm - Road Worlds: Elite Women RR report and photos

Posted by Editoress on 09/28/13

Vos Defends World Championship Title

Report by Monique Hanley

It would be unfair to describe today's Women's Road Race as yet another example of Marianne Vos' dominance in women's cycling. The stunning battle on the hilly road circuit through Florence and Fiesole was dominated by power nations Italy, the Netherlands and the United States. In a final lap full of attacks and counter moves, Vos waited until the final climb to launch a blistering attack to ride clear, finishing solo and 15 seconds ahead of Sweden's Emma Johansson and Italy's Rossella Ratto - just like her countryman Mathieu van der Poel did earlier in the day in the Junior men's race. The brutal course and aggressive racing forced the early retirement of 95 riders, with Karol-ann Canuel the only Canadian finisher in 33rd (+7:40).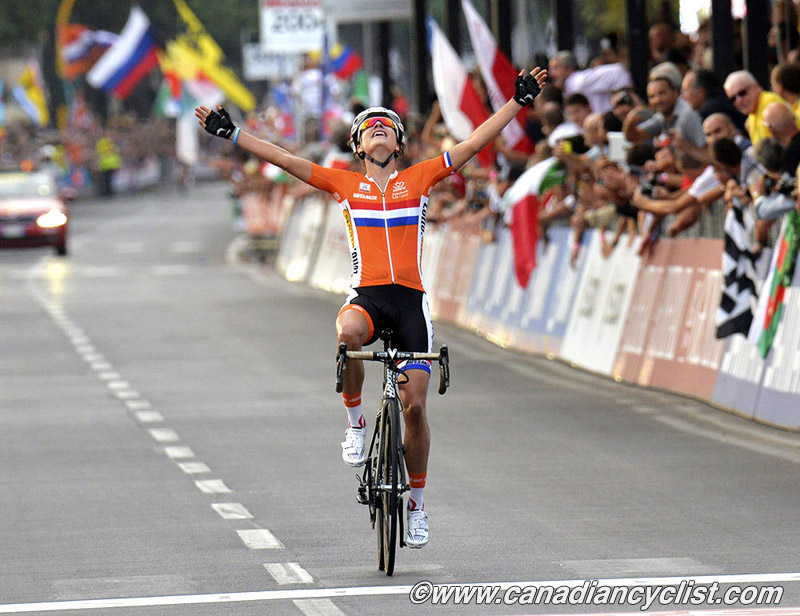 Marianne Vos wins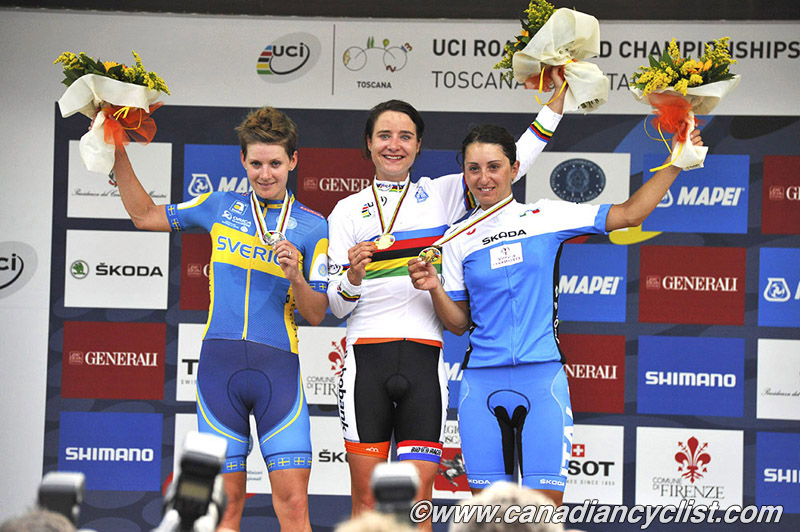 Emma Johansson, Marianne Vos, Rossella Ratto
"Of course it is great to defend the title", said Vos. "They always say it is hard to win one, of course I won one before, but to win two times in a row that is even more difficult, especially with such strong competitors from today."

"The Italian team were really strong today, and they made it a tough race. Oh, the Americans too - they started at the beginning when we arrived at the circuit, and at that moment we knew this is going to be hard, five laps! But it was a really good race from the team, they gave me the opportunity to keep as quiet as possible until the last lap and in the breakaway it was great to have Anna Van Der Breggen to react to the attacks and then I knew I had a chance on the last climb."

One hundred and forty women lined up in the 'health and beauty restoring' thermal bath township of Montecatini, some fifty kilometres west of Florence. From Montecatini the course was mostly flat until the arrival into Florence, and the peloton stayed together; thanks to Russia and the USA, the pace was high enough to discourage early breakaway attempts.
Team USA took to the front on the technical approach into and through historic Florence, and continued to set a scorching pace on the first 4.3km climb to Fiesole. The pace forced many riders to lose contact, and as the peloton crested Fiesole a bunch of forty riders remained.

With Team USA setting the pace again on the second climb of Fiesole, many riders were forced to expend energy chasing back on through the technical 5km descent. Notably, the reduced peloton included the full Italian squad of eight riders, four from the Netherlands and four from the USA.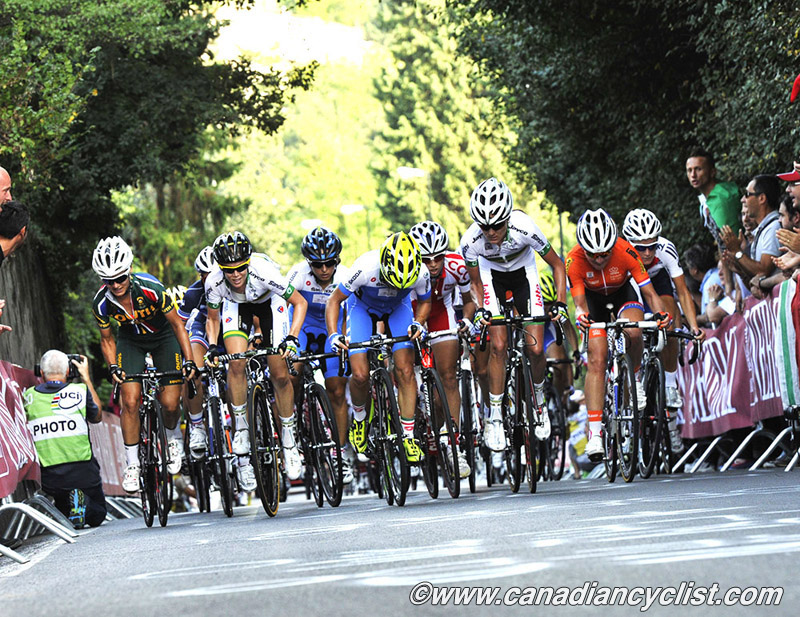 Italy dictating the pace
No breakaways were established until lap three, when young French rider Francesca Cauz initiated two attacks on the Fiesole climb. Her second attempt was successful, bringing Dutch rider Lucinda Brand with her. Australian Tiffany Cromwell displayed the first of many daring descents by bridging across to the break on the downhill, but by the top of the short steep pitch on Salviati, only Brand remained, joined by Italian rider Rossella Ratto. Canada's Canuel and Joelle Numainville were the only Canadians left at the front group, and they came off the next lap.

A break with representation from the Netherlands and Italy was too dangerous for Team USA who quickly went to the front to control matters. At the start of lap four, the danger was reduced but a counterattack by Russian rider Tatiana Antoshina completely shattered the field. By the top of Fiesole, the first real selection was made with seven riders: Anna Van der Breggan, Marianne Vos (NED), Emma Johansson (SWE), Evelyn Stevens (USA), and Tatiana Guderzo, Rossella Ratto and Elisa Longo Borghini (ITA). Cromwell once again produced an amazing descent to bridge the 12 second gap and join the lead group. By the start of the final lap, three other riders had also managed to bridge across: Linda Villumsen (NZL), Tatiana Antoshina (RUS) and Claudia Hausler (GER).

The final ascent of Fiesole was again punctuated by attacks, this time led by Evelyn Stevens and Van Der Breggan. These were successful in isolating the Italian squad. By the top of the climb only five women remained: Van Der Breggan, Stevens, Johansson, Ratto and Vos.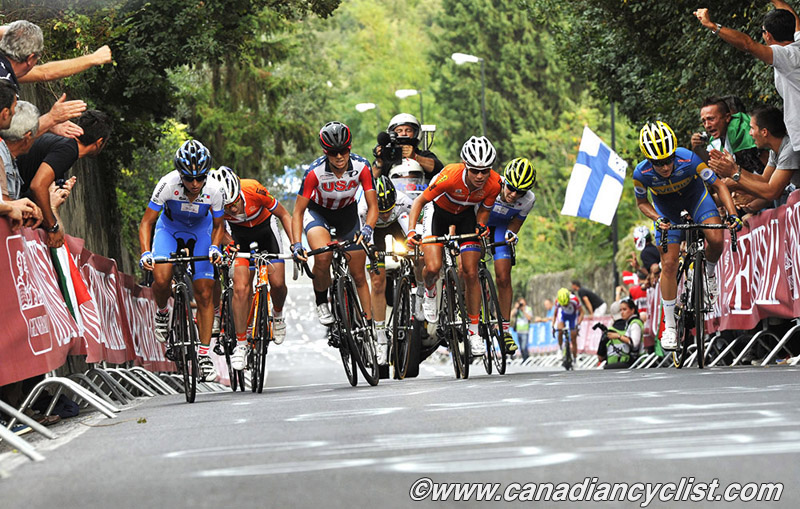 The final selection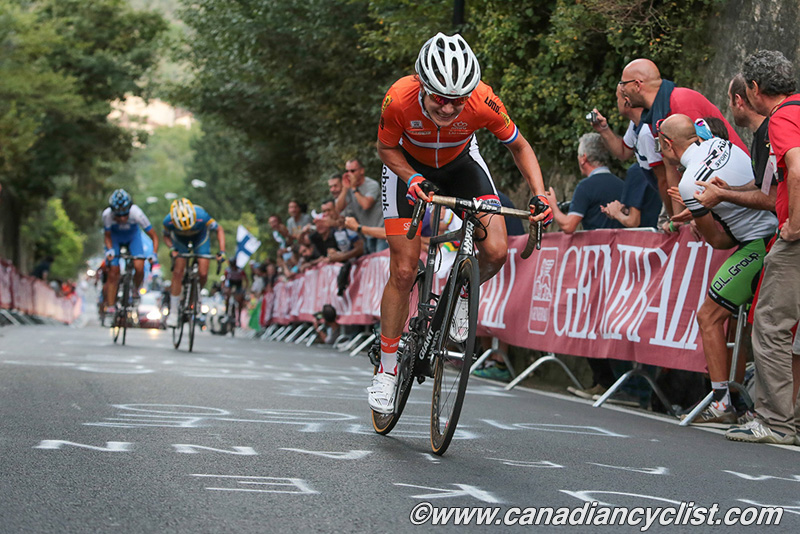 Vos attacks
Guderzo, Longo Borghini and Villumsen chased and had almost regained contact at the start of Salviati, but it was too late. Vos initiated a scorching attack through the steepest part of the climb, immediately establishing a five second gap. She powered on through the descent with Johansson and Ratto in pursuit. Continuing to increase her lead, she was able to give herself enough time to sit up and start celebrations with 200 meters to go. Johansson outsprinted Ratto to claim silver.

Emma Johansson (Sweden), on Silver
"Obviously I want that Rainbow Jersey, that's no secret, I think everybody would like to have that one, one day. But (Vos) is an amazing rider and she is very hard to beat. I've done it a few times this year but today she was just stronger. And the way (the Netherlands) played it with Anna (Van Der Breggan), they were strong today and I knew it was going to be hard to beat her. When she is better, you can't say anything else but 'Congratulations'. I am still happy."

Rossella Ratto (Italy), on Bronze
"It was a fantastic day. At the start I saw a lot of people for me and in Florence, and it was really amazing. When I was in the breakaway with Lucinda Brand, I heard my name a lot, and I knew I needed to do something and keep on Marianne's wheel for as long as I could. I still have a shiver, so I still have to understand what I did."

Denise Kelly, Team Manager for Canada
"We had a good plan coming in. We had pretty good expectations for Karol-Ann and Joelle, they have raced very well in the past month. Karol-Ann in particular with fifth at the Plouay World Cup where all the top riders were, she also rode extremely well at l'Ardèche as did Joelle. So we were hoping, even with the severe difficulty of the course, that one of the two of them would maybe in the top group. But we knew where it was going to get faster and start sorting itself out (at around 40km) hit the city (at 47km) and then have 10km to the circuit, and we had it all planned and knew our spots. But it kinda got a bit more strung out than anticipated, some riders were holding their spot but Karol-Ann had to do a bunch of work to get back up to the front on the first lap which really took a lot out of her. Joelle said her legs were not feeling that great. That first lap was extremely fast and they really felt that."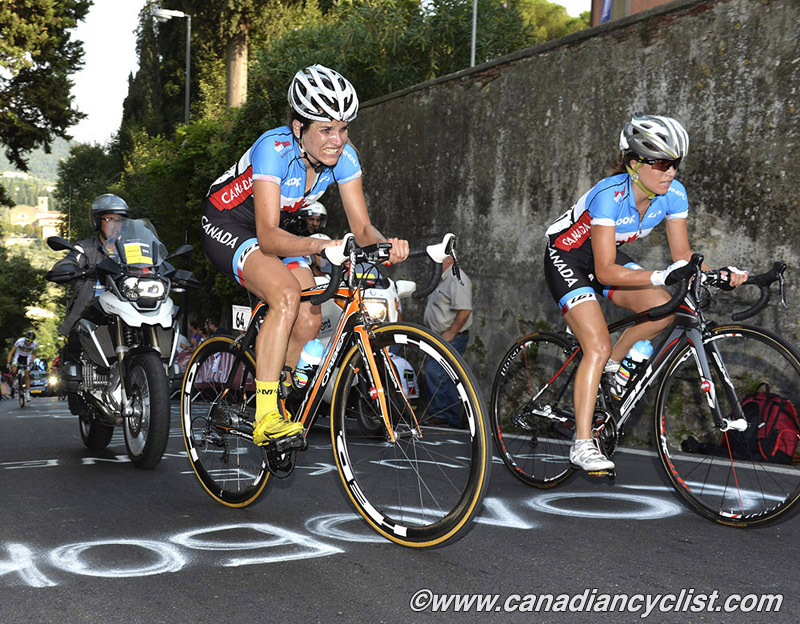 Numainville & Canuel come over the top of Via Salviati with the leaders on lap 3
"I would say the biggest sentiment would be disappointment. We have a great team and really good symmetry with this group. Everyone was willing to do their job but their legs just weren't there."

On moving forward for the team:
"I think one would be to try to get a bit more on top of what the riders are doing. If they are not doing much with the National Team, maybe some of them are doing too much, maybe some peaked early. It was quite a full program before Worlds (for some riders), and it is always a difficult part of the season to do Worlds after a hard last part. But there is certainly a will here and we will find a way."

Note: We have posted an interview with Karol-Ann Canuel
Fatal error
: Uncaught Error: Object of class PDO could not be converted to string in /home/canadiancyclistcom/canadiancyclist.com/public/modules/news.php:544 Stack trace: #0 /home/canadiancyclistcom/canadiancyclist.com/public/modules/news.php(533): getrelatedgallery() #1 /home/canadiancyclistcom/canadiancyclist.com/public/dailynews.php(58): getDailyNewsArticle() #2 {main} thrown in
/home/canadiancyclistcom/canadiancyclist.com/public/modules/news.php
on line
544