September 29/13 9:25 am - Road Worlds: Elite Men's RR UPDATES

Posted by Editoress on 09/29/13

The race started in Lucca and traveled eastwards for 106 km into Florence, where the riders began the first of 10 laps of th circuit with 2 climbs, one the dreaded Fiesole.

The Fiesole climb, is rated category three which the riders hit in the first half of the circuit, lasts 4.5 kilometres and has an average gradient of 5.1%, with its steepest ramps reaching 10%. Then, just a few kilometres from the circuit's end, the riders meet another brief uphill that, though uncategorised, includes a ramp of 16% - the highest on the circuit.

The weather all week has been warm and sunny with fans and riders alike enjoyed some of the best racing in many years.

BUT, then today came teh rain, and it has been rainging hard and steady. Thunderstorms are also moving through the area

The temperature is also falling and the combination has made the course tricky (dangerous) in some sections as as soon as they completed the first lap the circuit riders started to retire.
We are doing live updates on Twitter
Since Canada is under internet blackout, IF you can get Sportsnet one on your TV you can watch live now check schedule(8 am -11 am ET)
If you cannot get it on TV there are a couple internet sites
Climb Profile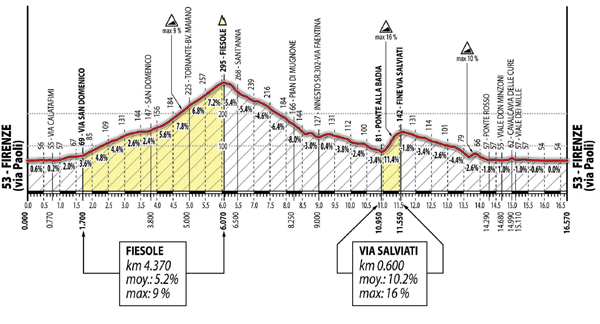 Course