November 27/13 13:23 pm - Team Lampre-Merida Asks for Help After Robbery

Posted by Editor on 11/27/13

Team Lampre-Merida's headquarters located close to Milano had some highly unwelcome visitors the past weekend. Thieves carried away a number of characteristically painted team bikes, assorted parts and even two of the team's cars. Now the team is asking for help to find the stolen goods.

A lot of equipment was stolen when thieves broke in at Team Lampre-Merida's headquarters last weekend: A number of team bikes from Merida's "Warp TT", "Scultura SL", "Reacto EVO" and "Ride Pro" series, painted in the team's characteristic colours, have disappeared (see photos and the list of the stolen bikes including the frame sizes and frame codes for details).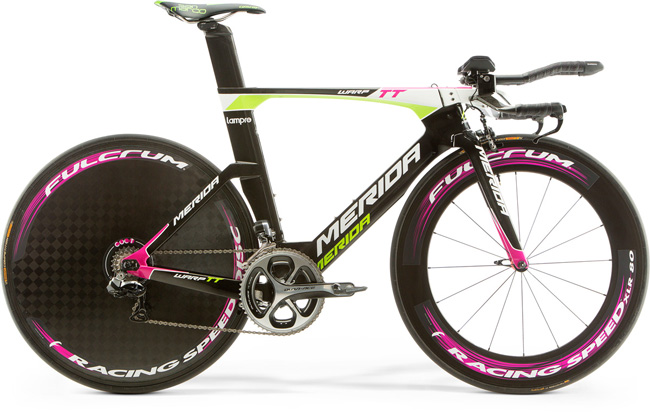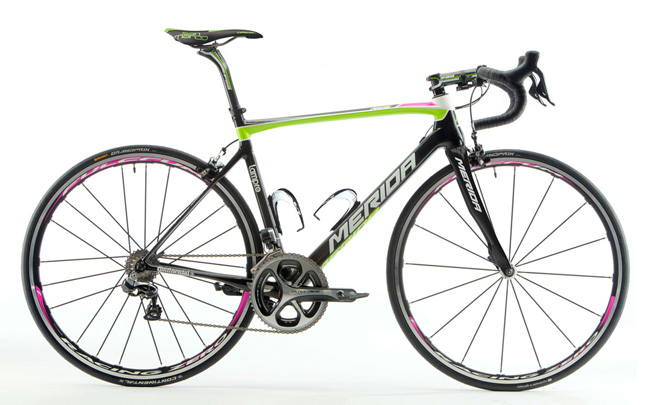 Apart from the complete team bikes, the thieves also stole various Fulcrum carbon wheels in team colours, electronic Dura Ace Di2 groups from Shimano, saddles from Selle San Marco, various carbon parts from FSA and power meters from SRM, Rotor and Garmin. Apart from that, some office equipment and two of Team Lampre-Merida's cars were stolen as well,

This is quite a blow for the team both in terms of money and logistics, as the preparations for the next season are in full swing already. Merida and the team are asking for help in the search for the stolen bikes. These team-issue bikes can easily and unambiguously get identified using the frame numbers that are listed below.

Whoever has got information about the whereabouts of the stolen goods is being asked to get in touch with Team Lampre-Merida as soon as possible: You can do so either by sending a mail to team@teamlampremerida.com or by giving a phone call to +39 335-6217725.
| | | |
| --- | --- | --- |
| Model | Serial Number | Size |
| Warp TT Team | WC897577H | M |
| Warp TT Team | WC897553H | S |
| Warp TT Team | WC880062J | L |
| Warp TT Team | WC897541H | M |
| Warp TT Team | WC897427H | S |
| Warp TT Team | WC897404H | S |
| Warp TT Team | WC897422H | M |
| Warp TT Team | WC897428H | S |
| Warp TT Team | WC897529H | S |
| Warp TT Team | WC897412H | S |
| Warp TT Team | WC897536H | L |
| Warp TT Team | WC897579H | S |
| Warp TT Team | WC880085J | L |
| Warp TT Team | WC880069J | L |
| Warp TT Team | WC897545H | S |
| Warp TT Team | WC890165H | L |
| Warp TT Team | WC897571H | S |
| Warp TT Team | WC897572H | S |
| Warp TT Team | WC897531H | L |
| Warp TT Team | WC897561H | M |
| Warp TT Team | WC897359H | S |
| Warp TT Team | WC897445H | M |
| Warp TT Team | WC897560H | S |
| Warp TT Team | WC881486J | S |
| Warp TT Team | WC897423H | S |
| Warp TT Team | WC897408H | S |
| Warp TT Team | WC897548H | S |
| Warp TT Team | WC897558H | S |
| Warp TT Team | WC897557H | M |
| Warp TT Team | WC897550H | M |
| Warp TT Team | WC880063J | L |
| | | |
| Scultura SL Team | WC898189H | S |
| Scultura SL Team | WC898200H | S |
| Scultura SL Team | WC898160H | M-L |
| Scultura SL Team | WC898170H | XSC |
| Scultura SL Team | WC897433H | S |
| Scultura SL Team | WC898174H | XSC |
| Scultura SL Team | WC897407H | M-L |
| Scultura SL Team | WC897552H | S-M |
| Scultura SL Team | WC897465H | S |
| Scultura SL Team | WC897547H | S-M |
| Scultura SL Team | WC880369J | S-M |
| Scultura SL Team | WC897421H | S |
| Scultura SL Team | WC880264J | S |
| Scultura SL Team | WC898201H | S |
| Scultura SL Team | WC898192H | S |
| Scultura SL Team | WC897928H | L |
| Scultura SL Team | WC898198H | M-L |
| Scultura SL Team | WC898163H | S |
| Scultura SL Team | WC880241J | XS |
| Scultura SL Team | WC897410H | S-M |
| Scultura SL Team | WC897551H | S |
| Scultura SL Team | WC897556H | S |
| Scultura SL Team | WC880244J | L |
| Scultura SL Team | WC897539H | S-M |
| Scultura SL Team | WC880348J | S-M |
| Scultura SL Team | WC897417H | L |
| Scultura SL Team | WC897559H | S-M |
| Scultura SL Team | WC898106H | XSC |
| Scultura SL Team | WC897920H | L |
| Scultura SL Team | WC897409H | L |
| Scultura SL Team | WC897392H | M-L |
| Scultura SL Team | WC880365J | S |
| Scultura SL Team | WC897558H | S |
| Scultura SL Team | WC880002J | L |
| | | |
| Reacto EVO Team | WC880071J | S |
| Reacto EVO Team | WC880093J | S-M |
| Reacto EVO Team | WC880192J | M-L |
| Reacto EVO Team | WC880079J | S |
| Reacto EVO Team | WC880058J | S |
| Reacto EVO Team | WC880139J | M-L |
| Reacto EVO Team | WC880102J | S |
| Reacto EVO Team | WC880181J | M-L |
| Reacto EVO Team | WC880129J | M-L |
| Reacto EVO Team | WC880128J | S-M |
| Reacto EVO Team | WC880077J | S |
| Reacto EVO Team | WC880123J | M |
| Reacto EVO Team | WC898316H | M |
| Reacto EVO Team | WC880072J | S |
| Reacto EVO Team | WC880204J | S |
| Reacto EVO Team | WC880089J | S |
| Reacto EVO Team | WC880196J | XS |
| Reacto EVO Team | WC880239J | XS |
| Reacto EVO Team | WC880153J | L |
| Reacto EVO Team | WC880066J | L |
| Reacto EVO Team | WC880307J | M-L |
| Reacto EVO Team | WC880084J | S |
| Reacto EVO Team | WC880115J | M-L |
| Reacto EVO Team | WC880106J | M-L |
| Reacto EVO Team | WC880203J | XS |
| Reacto EVO Team | WC880402J | L |
| Reacto EVO Team | WC880180J | XS |
| Reacto EVO Team | ? | XS |
| Reacto EVO Team | ? | M-L |
| Reacto EVO Team | ? | S-M |
| | | |
| Ride Pro Team | WC880050J | S |
| Ride Pro Team | WC880021J | S |
| Ride Pro Team | WC880034J | L |
| Ride Pro Team | WC880117J | L |
| Ride Pro Team | WC880118J | S-M |
| Ride Pro Team | WC880225J | L |
| Ride Pro Team | WC880024J | L |
| Ride Pro Team | WC880021J | S |
| Ride Pro Team | WC880049J | S-M |
| Ride Pro Team | WC880011J | M |
| Ride Pro Team | WC880013J | M |
| Ride Pro Team | WC880026J | S-M |
| Ride Pro Team | WC880010J | S-M |
| Ride Pro Team | WC880025J | L |