December 10/13 14:57 pm - Antoine Duchesne Joins Team Europcar - Official Release

Posted by Editoress on 12/10/13

It's official, Antoine Duchesne is now a member of French cycling team Europcar. The team just received confirmation that it will be moving up from Continental Pro level to World Tour, the highest level in the world of cycling. Antoine will join the team starting tomorrow for their first training camp, in Spain.

"I am truly happy to have been able to sign with Europcar, especially in a year like this one with so many teams leaving. It's almost a dream to reach the top level like this; I've been working at this goal since forever! I'm very happy to be coming back to work with the people at Louis Garneau. Two years ago, I was amateur in their team and now I'm coming back as a pro. I can't wait to start my season!" declared Duchesne.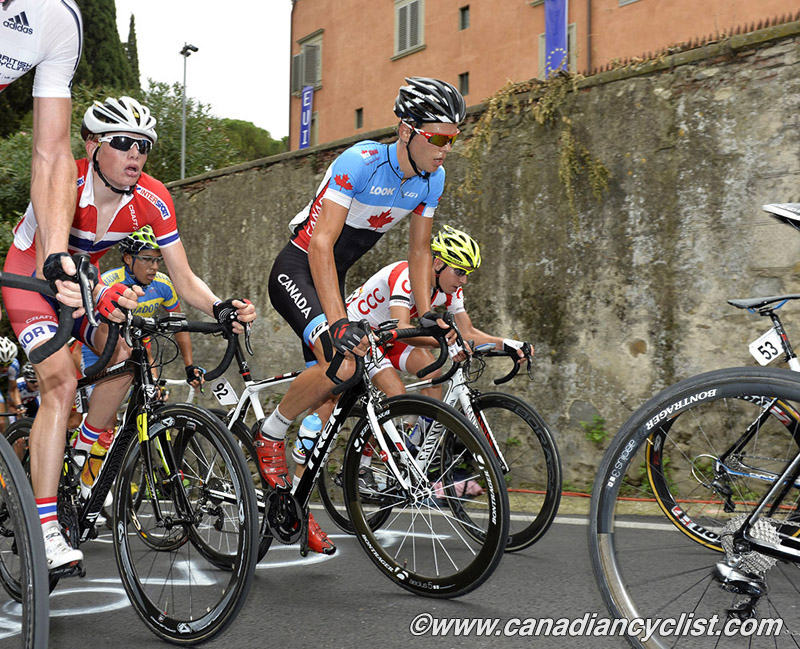 Antoine Duchesne at 2013 Road Worlds in Italy
Louis Garneau, for his part, is proud to continue having his products tested among the Quebec elite: "For years we have been designing products among the most technical on the market and it is athletes like Antoine who help us push our limits back. Antoine Duchesne's participation in Team Europcar allows us to keep the feel of our products' performance and what's more, it allows us to continue showcasing what great cyclists we have, in Quebec."

With his National U23 Road Champion title, as well as obtaining the Most Aggressive Rider jersey at the 2013 Tour of Alberta, Antoine Duchesne proved that he has everything it takes to become a high-level cyclist.

"We are happy to welcome Antoine to our team for 2014 and 2015. We had heard about him several times over the past two years and began more serious negotiations with him during our visit in Quebec last September for the Quebec and Montreal Grand Prix Cyclistes. Louis Garneau and Serge Arsenault had nothing but praise for this young Quebec cyclist, whom they qualify as one of the most promising Canadian cyclists of the year. Antoine is a versatile rider and will be an asset to the team," explained Jean-René Bernaudeau, Team Europcar's Sports Director.

The presentation of Team Europcar will take place on February 25th, 2014 and the team will debut its season at the Tour of Gabon on January 13th.