December 18/13 17:27 pm - Canadian Cyclist Best Bike Shops - Mikes Bikes

Posted by Editoress on 12/18/13

At the beginning of the month we announced the bike shops that you, our readers chose as the Canadian Cyclist Best Bike Shops of 2013 [see Daily News - The Winners]. We wanted to visit a few of our winners to give you an opportunity to see what made them favourites, and we have begun with Mike's Bikes in Dieppe, New Brunswick.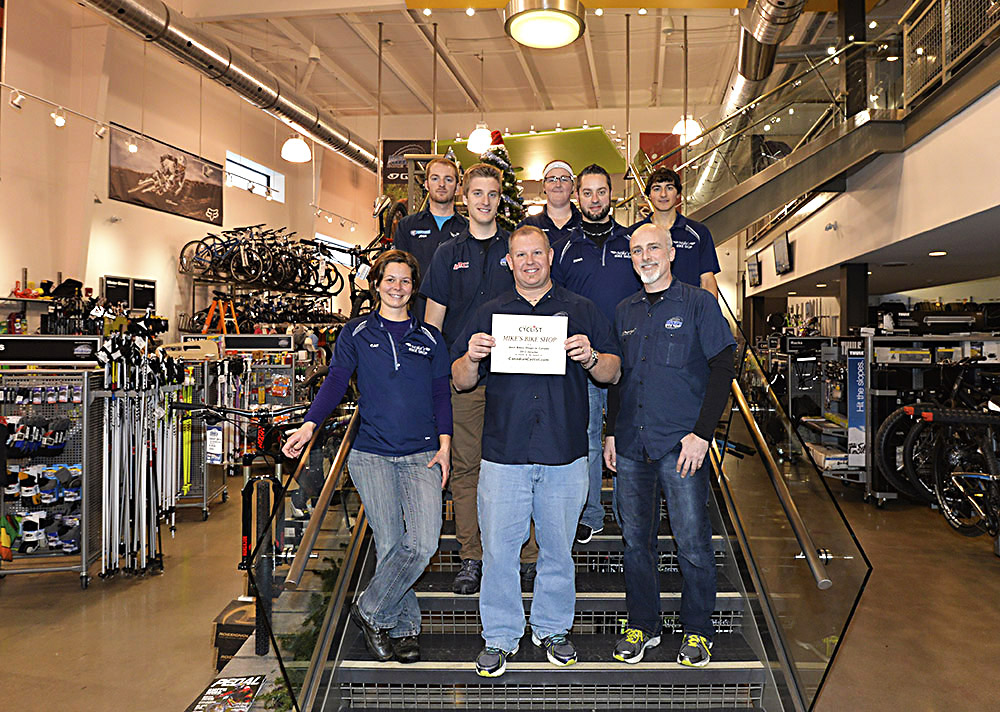 Rick Snyder with some of the staff at Mikes Bikes, a 2013 Canadian Cyclist Best Bike Shop
Mike's Bikes has been an institution in eastern New Brunswick for three decades, but it really began to take off nine years ago, when Rick Snyder took over (the original Mike was Mike Fougere, with Rick the second owner since Fougere). Rick has been involved in the bike retail world for over 30 years, and he made an impressive expansion of the shop this year with the opening of a new custom built site in February. The new 16,000 square foot building is approximately four times the size of the original store, with 9000 square feet devoted to a two storey showroom.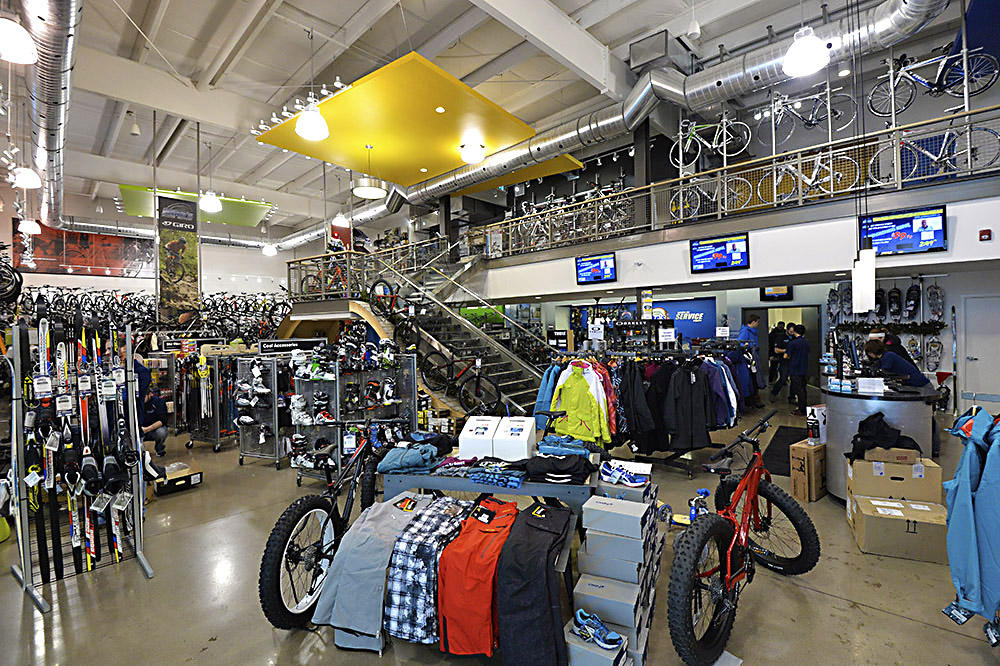 Mikes Bikes has 9000 sq ft of showroom
When you first walk in, the openness of the space hits you. This time of year, a proportion of the floorspace is devoted to skiis and snowboards, but bicycles are still the primary focus (85%), with a big wall of bikes at the far end of the building, and rows of bikes in front of it. A separate clothing area with change rooms is to the right of the entrance, accessories and specials in the center, and the service department to the back. On the second level are the higher end road bikes and the fitting centre.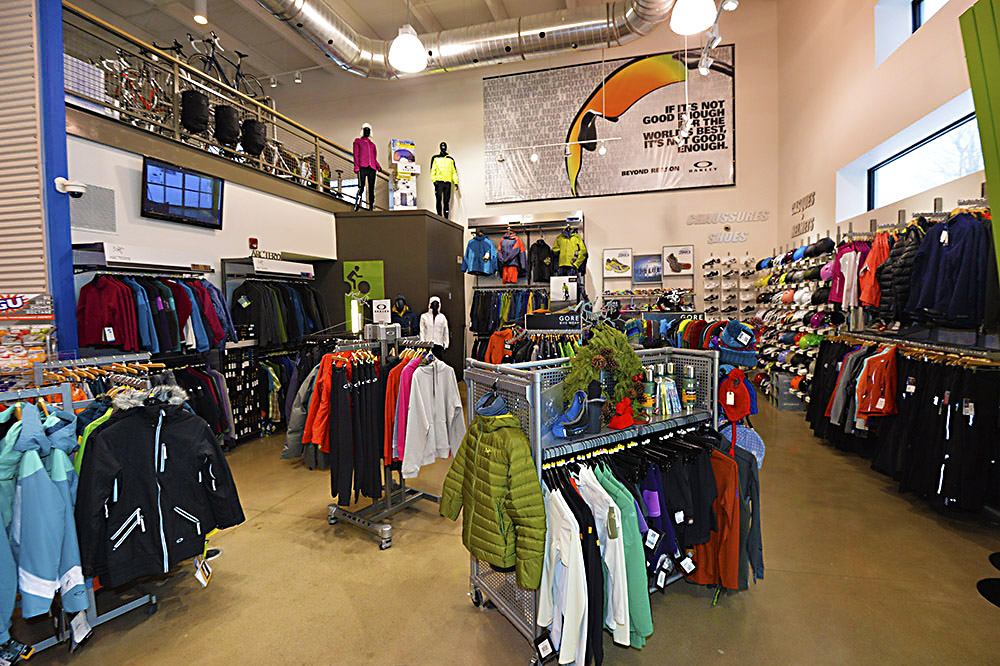 The large clothing area is mostly devoted to winter wear at this time of year
Even though it is the off-season, there are still ten people working full time at Mike's Bikes, a number that expands to 30 in the high season. Bikes are also still rolling out the door, with a $4000 carbon Salsa fat bike being built up in the back for a regular customer. The main brands of bikes are Giant, Trek, Cervelo, BMC, Guru and Opus.

Despite moving further out of the center of the Dieppe-Moncton downtown, Rick says the new store is on track to do $1 million extra business from last year. The new space allows them to carry more inventory, it is less cramped to display product, the larger service area allows faster turn arounds, plus there is more parking and a quiet street for test rides.

In our balloting, we received a tremendous number of comments from Mike's Bikes customers, mostly referencing the professionalism, knowledge and enthusiasm of the staff. Some of the comments:

• Exceptional service and a staff that is second to none in their knowledge of all types of bikes and cycling.

• The best customer service!

• The people are great and they really care about getting you the proper equipment.

• The owner is awesome and really values his customers.

• Mike's Bike Shop is like my second home. Staff treat their customers like family. Their customer service is outstanding; they go above and beyond. And to top it all off, they sell the best brands and products in the industry.

• Best service and inventory! One stop shop! I love it! :)

• They have always supported clubs and races. They were even one of my sponsors when I used to race. I crashed in a BMX event and lost a kidney. Mike's Bike Shop came to see me in the hospital and also help out financially twice during the 8 months I had to be off work because of the accident. Rick came to the door and handed out a check.

• Amazing staff, manager down to sales and everyone in between (seriously).

This is type of loyalty is a testament to Rick and his team.

Congratulations to Mike's Bikes, one of our Canadian Cyclist Best Bike Shops of 2013!

mikesbikeshop.ca/