December 22/13 18:45 pm - Canadian Cyclist Best Bike Shops - Rock & Road Cycle

Posted by Editor on 12/22/13

At the beginning of the month we announced the bike shops that you, our readers chose as the Canadian Cyclist Best Bike Shops of 2013 [see Daily News - The Winners]. We wanted to visit a few of our winners to give you an opportunity to see what made them favourites, and on Friday we stopped by Rock and Road Cycle in Burlington, Ontario.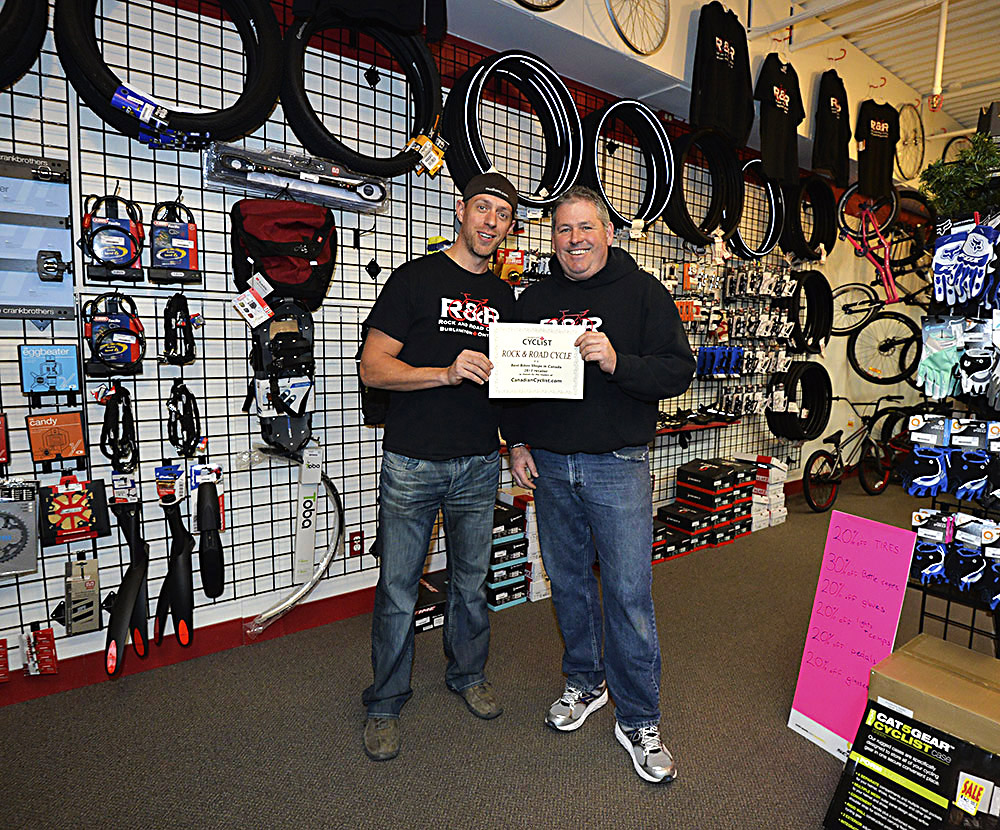 Racing team member Blaine (left) & shop owner Scott Dennis
Rock and Road Cycle owner Scott Dennis took up mountain biking after a knee injury, becoming an enthusiast and weekend warrior racer. After becoming a victim of the manufacturing layoffs that have hit southern Ontario, he made the very gutsy move of deciding to open his own business, despite having no background in either retailing or the bike industry.

Two years and five months after he opened the doors of his 1539 square foot shop in a residential area strip mall, it can certainly be deemed a success, with Rock and Road Cycle beating out many long established shops to be named one of two Canadian Cyclist Best Bike Shops in the GTA (Greater Toronto Area) for 2013 (D'Ornellas Bike Shop in Scarborough was the other GTA winner).
Rock and Road Cycle's main brands are Scott, Rocky Mountain and Devinci and, while Scott's background is off-road, the shop carries both road and mountain bikes. Besides Scott, the shop has a full time mechanic, Derrick Roach. There is also a 12 rider racing team (off-road), and Scott works with local triathletes, including one who went to the world championships this year.

In voter comments we were struck by the number of people who said that Rock and Road Cycle went out of their way to make sure that customers received the best service and advice:

• Scott and his team are always willing to help with any query, problem or advice. They look after our ladies triathlon team, Mommy's and Babe's in Motion and use their own time to mentor the group.

• Like going to a friend's house. Talk about bikes, trails, races - while shopping for accessories and getting your bike serviced.

• Scott goes out of his way to make me feel welcome, and helps me in every way. He even came to a triathlon that some friends and I was in, and helped pump up our bikes and made sure they were safe and in optimal shape before the race.

• Because they have amazing customer service and treat their patrons exceptionally well!

• At 6'7" they were determined that I got a bike that fit properly.

• Great service, very personal and friendly. Scott is always willing to listen and help. I've recommended him to friends and neighbours and they all have been highly pleased with his service.

• The dedication and love for the sport the guys have, very personal feeling when walking into the shop!!

• Great service and prices. The people there care about you getting the right bike for you, not about upselling or getting you something you don't need.

Some of his customers are so supportive that they made a point of dropping by with a bottle of bubbly while we were visiting! That is a truly impressive level of customer loyalty.

Congratulations to Rock and Road Cycle, one of our Canadian Cyclist Best Bike Shops of 2013!

www.rockandroadcycle.com