January 1/14 15:58 pm - Team TIBCO Announces 2014 Roster

Posted by Editoress on 01/1/14

Team TIBCO/To the Top, the number one team in the 2013 USA Cycling NRC rankings, returns with a re-loaded roster for 2014.

"2014 marks our 10th year of racing," said Team founder and manager Linda Jackson. "I believe we are now the longest running women's cycling team. We're proud to have had the support of TIBCO and SVB throughout this period. Our longevity and success is because of their continued support of women and cycling."

For its tenth season, the Team has re-loaded its roster with an eye on developing riders for future Olympic Games, including the 2016 Games in Rio.

"Our Team's mission has always been to identify emerging female cyclists and develop them into top international competitors," Jackson said. "The additions we're making create a roster that is packed with potential, not just to win the NRC again, but to develop into the next generation of female Olympians."

Top U.S. stage racer Andrea Dvorak, who has raced since 2006, brings a wealth of experience both domestically and internationally to the team, and adds another strong all-around threat to the squad. Dvorak represented the United States at the road World Championships in 2012 and 2013, and has raced with the U.S. National Team internationally, earning a stage win in the 2012 Route de France. She also finished second in the 2011 U.S. National Road Race Championship, and has finished in the top five overall in the Tour of the Gila and Redlands Classic.

"Andrea adds a lot of depth, particularly to our stage race squad," said Jackson. "She'll also bring more leadership to the team, both domestically and in Europe."

Team TIBCO also signed another promising young Canadian to the squad, 20-year-old Alizee Brien. She joins recent signing Anika Todd (23) and returning rider and 2012 Canadian Olympic bronze medalist Jasmin Glaesser (20) in the Canadian youth movement for Team TIBCO.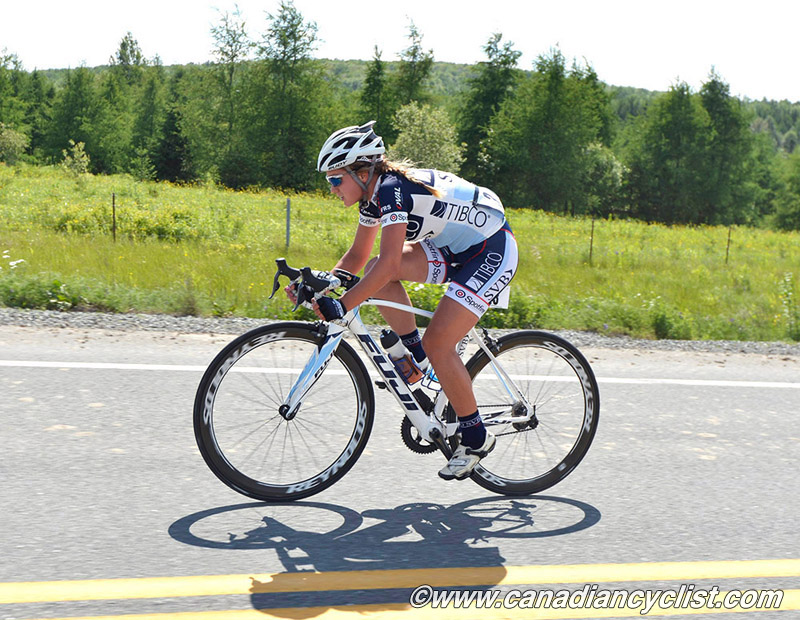 Jasmin Glaesser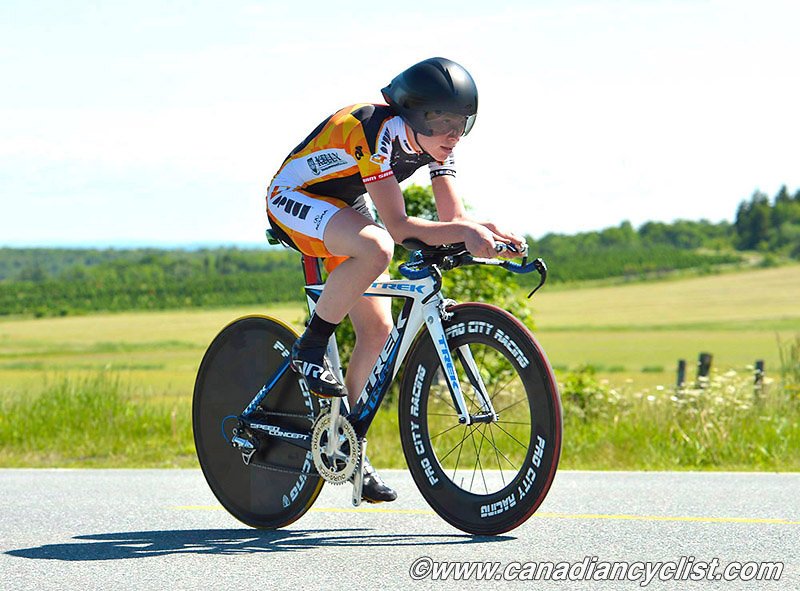 Anika Todd at the 2013 Road Nationals in Beauce


Alizee Brien at the 2013 Road Nationals in Beauce
Brien is a strong time trialist, having placed in the top 10 in both the Canadian National Time Trial Championship and at the Pan American Games in 2013. She also spent time with the Canadian National Team racing in Europe in 2012 and 2013.

"Brien and Todd both reached the elite level with support from the Global Relay/Bridge the Gap Fund in Canada," Jackson continued. "This organization is doing a terrific job supporting new Canadian talent, and we're happy to partner with them to help these riders reach their potential."

22-year-old Emma Grant of Great Britain brings both youth and experience to Team TIBCO. She will enter her fourth year of racing in 2014, after splitting time between the U.S. and Europe in 2013. She started making a name for herself with strong results in only her second season of racing, including winning the first day of the Air Force Classic in 2012.

"Emma is another all-around talent who is still developing her ability," Jackson said. "We're looking forward to giving her some opportunities and seeing her further her development."

Team TIBCO has also added more horsepower to the Team in the form of two-time and current Swiss Time Trial Champion Patricia Schwager. The 30-year-old from Zurich has raced almost exclusively in Europe since turning pro in 2006, including time with top teams such as Cervelo and Nederland Bloeit.

"Patricia has a tremendous engine and great all-around ability," Jackson said. "She also has vast experience racing with and against the best women in the world the past six years. That kind of experience will be important when the Team races in Europe next season."

Sara Clafferty Headley joins the Team for her first pro season. Clafferty Headley moved to Northern California in 2013 and made a name for herself by winning numerous NorCal races, including the Berkeley Hills, San Ardo and Winters road races en route to earning the overall NCNCA Cal Cup title.

Dvorak, Brien, Schwager, Grant and Clafferty Headley join previously announced riders Anika Todd, Scotti Wilborne, Joanne Kiesanowski, Amanda Miller, Jasmin Glaesser, Samantha Schneider, Lauren Stephens and Kristabel Doebel-Hickok to complete the roster.

Team TIBCO/To the Top Roster for 2014

Alizee Brien (CAN)
Sara Clafferty Headley (USA)
Kristabel Doebel-Hickok (USA)
Andrea Dvorak (USA)
Jasmin Glaesser (CAN)
Emma Grant (GBR)
Joanne Kiesanowski (NZL)
Amanda Miller (USA)
Samantha Schneider (USA)
Patricia Schwager (SUI)
Lauren Stephens (USA)
Anika Todd (CAN)
Scotti Wilborne (USA)
Press release