January 11/14 10:07 am - Forest City Velodrome Announces 2014 Teams

Posted by Editoress on 01/11/14

After a very exciting 2013 season the development teams from the Forest City Velodrome are changing their name, adding sponsors and expanding their rosters for 2014. There will be three strong road and track teams racing in 2014 under the new name, Kallisto-FCV.

The members of the InVita-FCV cycling team wish to thank Dave and Helen at InVita Sport (Mississauga) for their support over the last 4+ years. During this time the cycling team was able to expand the number of riders and consistently reach the podium in Regional and National events.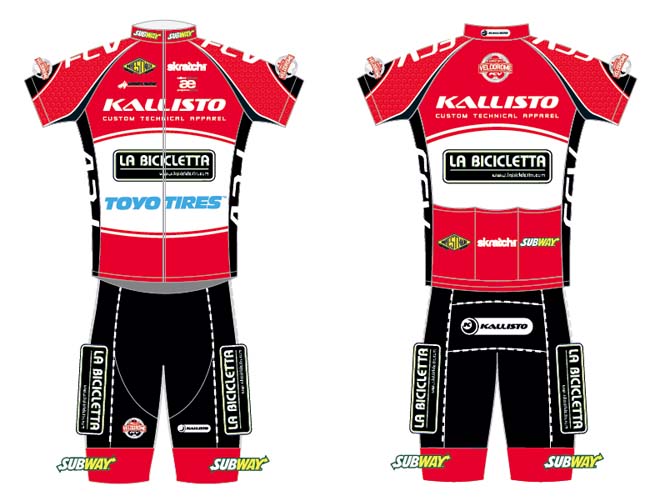 2014 Kallisto-FCV team kit
The Kallisto-FCV squad will have the backing of the following sponsors for the 2014 season:

Kallisto Custom Technical Apparel
Forest City Velodrome
La Bicicletta (Toronto)
Toyo Tires (Canada)
Focus Bicycles
Skratch Labs
Domestique Cafe'
SpeedPro Signs (London)
Aylmer Express Graphics Group
Subway Restaurants

Junior/Senior 3 Men's Team:
Christian Ricci
Tyler Lee
Cam Mason
Bayley Simpson
Brady Lee
Brian Simpson
Brian Lee
Dave Jack,
Logan McIntyre**
Kevin Wattier**
Lucas Taylor**
Ian Currie**
** New members of the team have graduated from the Team Attack-FCV youth team.

Junior Women's Team:
Claudia Newdick
Clare Holton
Charlotte Creswick
Sarah Mason
Farleigh Creswick
Ali van Yzendoorn

Elite Women's Team:
Antje Thamm
Sara Byers
Kael Deverell?*
Candice Vermeulen
* New member of the team

The Kallisto-FCV team would also like to welcome Lisa Perlmutter. Lisa has been associated with the FCV for the last seven years, as an Athlete, Coach and Mentor. Lisa P is a Mental Performance Consultant and operates, hyPERFORMANCEcoaching. Lisa is a professional member of the Canadian Sport Psychology Association.

For additional information about the Teams and Programs at the FCV, please visit the website at www.ForestCityVelodrome.ca.