January 24/14 11:16 am - Sport Canada to Fund 72 Cyclists - Pendrel Donates Her Funding

Posted by Editoress on 01/24/14

Cycling Canada has announced that Sport Canada will fund 72 cyclist this year; the program traditionally known as carding. World Cup mountain bike professional Catharine Pendrel (Luna) was one of the athletes elibible for funding, but directed that her carding money be reallocated to other athletes that do not have a professional contract.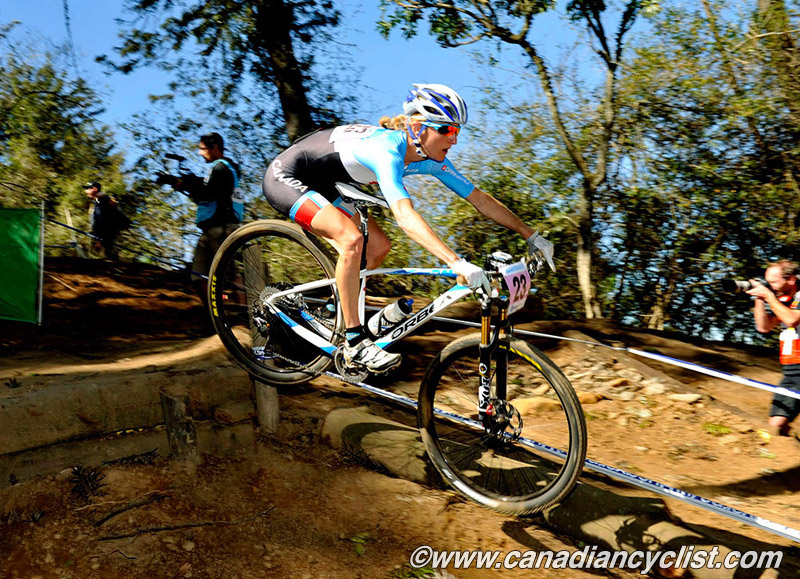 Catharine Pendrel competing at the 2013 MTB World Championships in Pietermaritzburg, South Africa

The Cycling Canada release:

For Canadian cyclists pursuing an international career, every dollar counts. Housing, travelling, training and racing all add up to a heavy financial burden on athletes and their families.

Our athletes are fortunate to have the Sport Canada Athlete Assistance Program - also known as carding - which provides direct financial support to athletes who have achieved international results.

For 2014, 72 cycling athletes will receive this support. A total of $270,000 will go to 17 Para-cyclists, while $684,000 will be shared among 55 track, road, mountain bike and BMX cyclists. These athletes are also eligible for other support including deferred tuition support and access to Canadian Sport Institute services.

Although there aren't enough cards to support every worthy athlete, the AAP program has a huge impact on Canadian cyclists, particularly younger ones who do not have professional contracts. That's what prompted 2010 mountain bike world champion Catharine Pendrel to decline her carding for 2014 so that other athletes could benefit from the support. Her funding was reallocated to three athletes who would otherwise not have been carded.

"Canadian athletes are lucky," says Pendrel. "We have a program, not many nations do. This program not only enabled me to train better with less financial stress, but it gave me the confidence and sense of achievement that comes from having your country and sport recognize your potential and be willing to invest in that. This funding enabled me to rise to a level where I could be noticed by a professional team, Luna, and eventually support myself without reliance on Sport Canada. The Sport Canada financial support that once enabled me to rise to the top at an international level now goes into developing the next generation of Canadian Cycling hopefuls."

"I commend Catharine for deciding to make available her well-earned carding support to other athletes having demonstrated the potential to reach the highest step on the international podium in the next few years," says Cycling Canada High Performance Director Jacques Landry. "By her actions Catharine is contributing to blazing the trails that lead to a stronger Canadian cycling team."

Cycling Canada would like to thank Pendrel for her generosity and wish her, along with all Canadian cyclists, a successful 2014.
Explanation of codes: SR1 is the highest, with SR2 being the second year of SR1 funding. SR is below SR1 and SR2. C cards are the next level down, for a first year senior athlete, out of the Development (D card) level. SR cards provide $1500/month ($18,000/year), and C and D cards provide $900/month ($10,800/year).
The full list of athletes funded: