January 27/14 10:04 am - Seenite Announces 2014 Cycling Bursary Winners

Posted by Editoress on 01/27/14

Making it as an athlete is tough. It takes hard work, patience, dedication and, above all, money.

For aspiring cyclists, it isn't a matter of big bucks for a personal coach and specialized training sessions. For many, it's a challenge to raise enough money to get to the races that help them progress.

That's why the National Capital Region bursary has been raising funds to help up-and-coming cyclists overcome some of these basic hurdles for the last 15 years.

The bursary, run by Ross Knight of Seenite Sports, provides funding to young cyclists who display both outstanding athletic ability and the desire to achieve greater goals. Since its conception in 2000 the bursary has granted more than $36,000 to 39 athletes.

Continued success of the bursary is only possible thanks to the support of our contributors, including The Cyclery Tour de France Pool, the Ride with Rendall Gatineau Challenge, the Ontario Cycling Association, Bike Race Ottawa, the Ottawa Bicycle Club, and more than 50 smaller groups and participants of the Seenite Sports weekly criterium series who contribute anything from $10 to more than $100 each year.

Seenite Sports is proud to announce the 2014 bursary recipients:

• Mike Woods (27 years old, Gatineau) - $1500
• Emily Flynn (20, Ottawa) - $750
• Braydon Bourne (24, Ottawa) - $750

Additional information about the recipients is available below.

Quotes from the recipients:

Emily Flynn: "I would like to thank the Ottawa cycling community so much for this bursary. It means so much to a working student to be able to not have to worry as much and be able to continue to pursue my passion for cycling."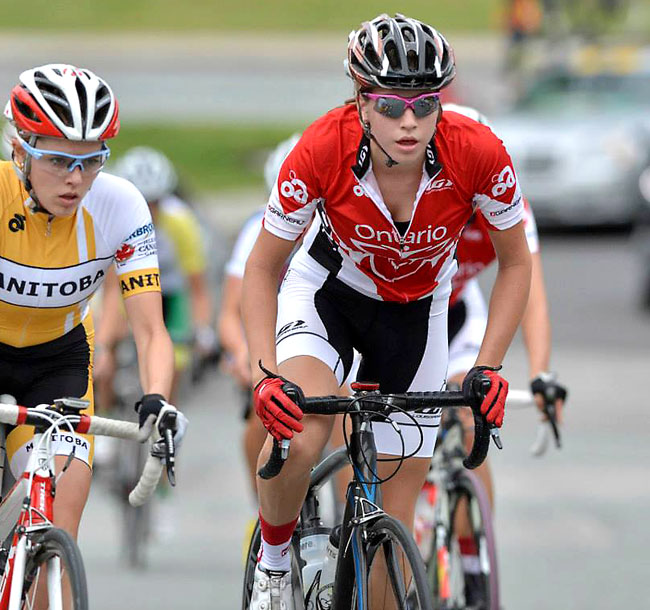 Emily Flynn riding for Team Ontario at the 2013 Canada Summer Games
Mike Woods: I'm so grateful to the Ottawa cycling community for all the support and help I have received over the course of my career, and I feel so lucky and honoured to be the recipient of the bursary. A big thanks to Ross and all else involved."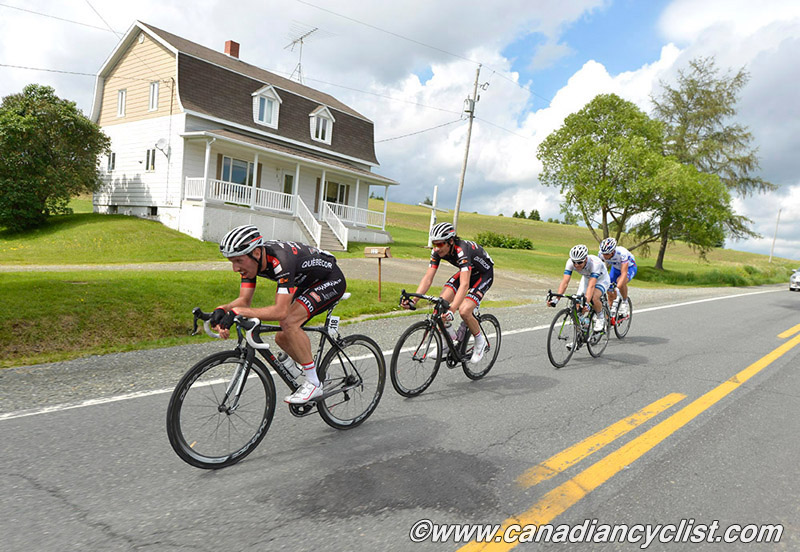 Mike Woods leading the chase at the 2013 Road Nationals
Braydon Bourne: "I'm very proud to have been selected as a recipient of the 2014 NCR bursary. Ottawa has a great cycling community, and I have learned a lot from many people within it. I am currently devoting my winter to a 3 month training camp in Tucson before kicking off my race season overseas. Thanks to everyone, see you soon!"

The Bursary committee would like to thank all the sponsors for their generous contributions that give these athletes the financial means to compete in events beyond the local area and, more importantly, the knowledge that they have the backing of their local cycling community.

For more information on the bursary visit the Seenite Sports web site at seenite.org/bursary.htm

The Bursary committee is composed of Ross Knight, Doug Corner and Kris Westwood.

Bursary Recipients:

Emily Flynn
With 11 years of cycling under her belt, Emily Flynn is still just 20 years old. After getting her start as a mountain biker she has switched her focus to road racing with the West Quebec Wheelers, earning selection to the Ontario Canada Summer Games team. For 2014, she will race for Stevens-The Cyclery and is gunning for selection to the national team to earn some European racing experience.

Mike Woods
At 27, Mike Woods is a little older than the usual bursary recipient. But as a former National Team runner he's still making a transition to cycling. The talented climber's big chance in 2013 was selection to the national team for the WorldTour races in Quebec and Montreal, but a broken collarbone put an early end to his season. For 2014, Woods will be racing for the Italian Amore e Vita team and is aiming to win the Tour de Beauce.

Braydon Bourne
After two seasons with the Stevens-The Cyclery team, Braydon Bourne is ready to move up from being a support rider. The powerful 24-year-old was an important part of the team's biggest wins in 2013 and will be broadening his horizons in 2014 with some international experience thanks to a trip to the Tour of Morocco with the Echelon Project. He's also aiming for strong results at nationals and BC Super Week.
Press release