January 28/14 16:59 pm - Specialized S-Works Camber 29 Review

Posted by Editor on 01/28/14

Two things come to top-of-mind with the new 2014 Specialized S-Works Camber:

1. It may be the best all-round mountain bike I have ever ridden.

2. It costs $9679.

Quite possibly the two are related...

The Camber line of full suspension bikes has been around for a few years at Specialized, and it slots in somewhere between the Epic series of cross-country race bikes and the Stumpjumper FSR, which has evolved into a bigger hit, long travel trail bike.

The Camber tries to provide the best of both worlds - light weight, quicker handling and better climbing from the Epic, and more travel, better descending skills from the Stumpjumper. This sort of attempt can often result in bastardized outcomes that offer the worst of both (the Pontiac Aztec and Light Beer come to mind...) but, occasionally, it all comes together perfectly.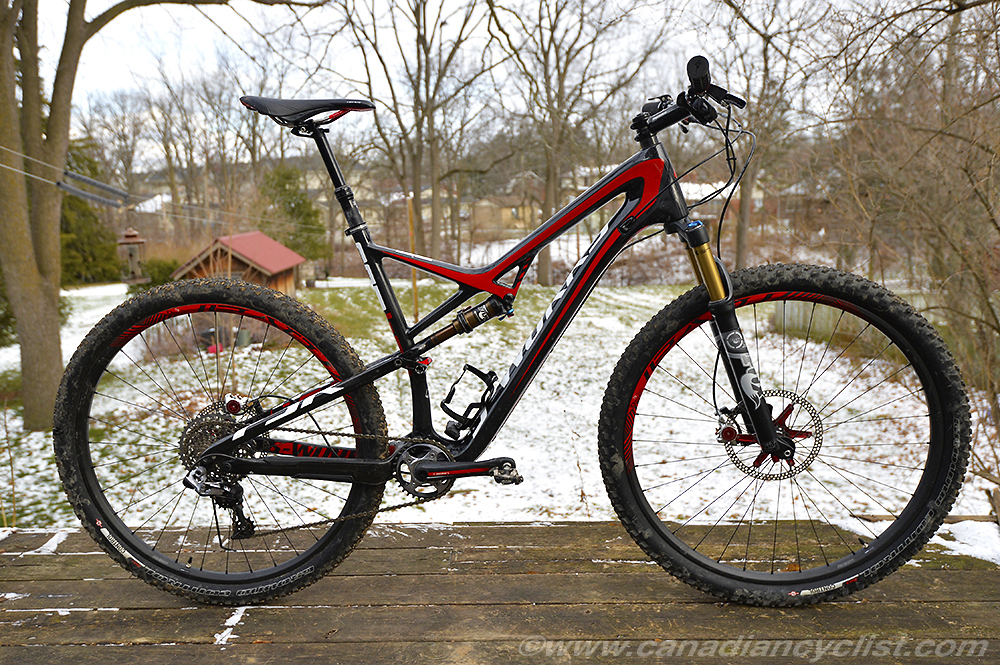 The S-Works Camber is more than the sum of its parts
The S-Works version of the Camber is the ultra high end of a line that contains seven models; five FSR and two EVO. The EVO is a longer travel version. All come with 29" wheels, and the series start with the alloy framed Camber FSR 29 at $1989, a higher spec'd Comp version at $2749, the Comp Carbon ($4009), Expert Carbon ($6329) and the S-Works machine at the aforementioned nearly 10-large. The EVO comes in an alloy version ($3059) or Expert Carbon ($6539).

My first ride on the S-Works Camber was a few months ago, at the 2014 Specialized Press launch in Copper Mountain, Colorado. This was a strictly downhill run after a gondola ride to a lung-busting 12,500' (3800 metres).

Having the chance to descend 2000' (600m) of vertical gave me the opportunity to experience the control and handling of the bike, which is superb. Although it 'only' offers 110mm of travel, courtesy of custom Fox Float CTD Factory suspension, the Camber felt completely balanced on that long and at times rough descent. However, if all you were doing was descending ski hills or bike park type runs, then there are other and better choices more suited to big hits.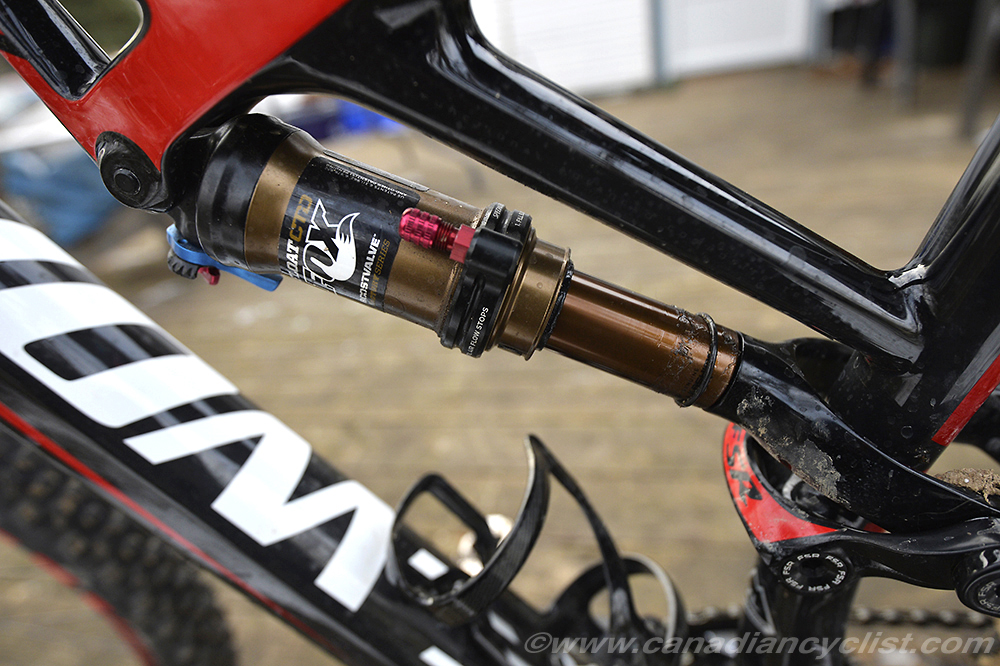 A custom Fox shock connects the front & rear carbon frame triangles
I was looking forward to getting a sample for longer term testing, which I was able to do through October, November and December. We have typical Eastern riding - lots of twisty singletrack, shorter, steep climbs, and everything from gravel, to hardpacked dirt, to sandy terrain. The S-Works Camber performed extremely well on all of it.

It is balanced and reasonably quick steering - although the larger 29" wheels are noticeable in tight and twisty stuff. For me, riding on an XL bike, it wasn't such a big deal, but I wonder about smaller riders. However, the pro Canadian women mountain bikers I have questioned about this in the past all say that they love their 29ers, so I guess it comes down to personal preference.

The component spec is beyond reproach, starting with the SRAM XX1 drivetrain. This 1 by 11 system has rapidly become the favourite of pro riders, both because of the light weight and simplicity of having just a rear derailleur to deal with. I had no concerns with gearing range, and shifting performance was excellent.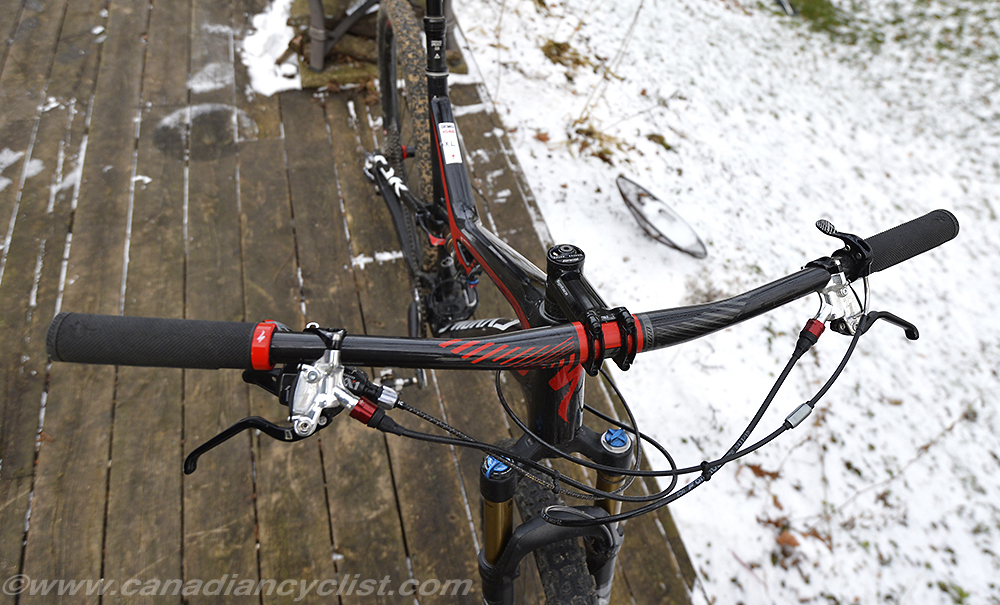 Just one shifter on the carbon bars with SRAM 1x11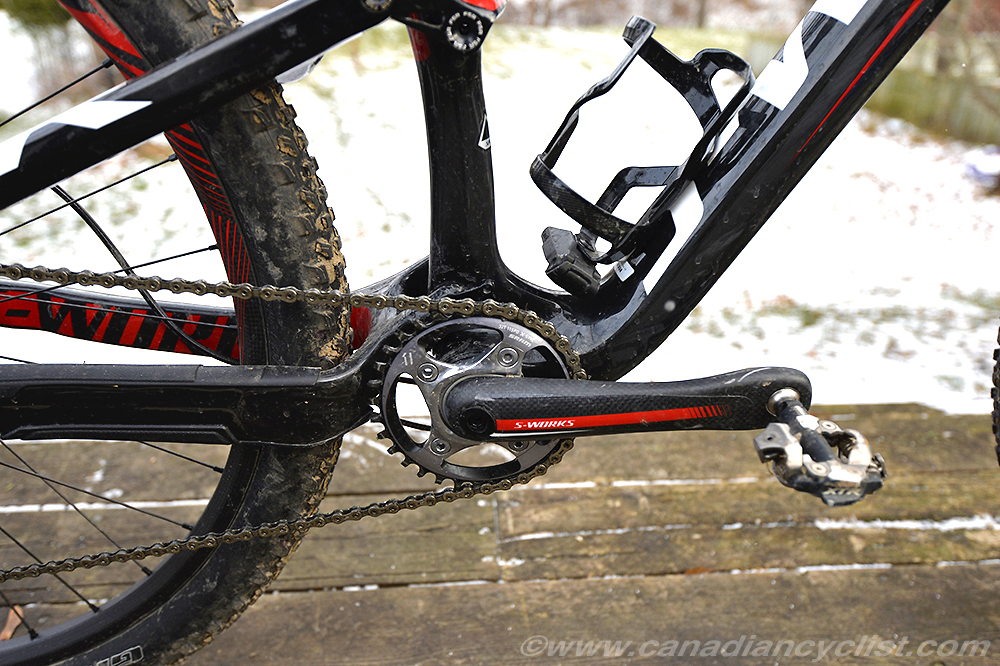 S-Works Carbon cranks with SRAM XX1 ring
Braking was handled by Formula T1 hydraulic discs, with carbon fibre levers. Personally, I'm a big fan of Shimano XTR and XT brakes, but the Formulas held up just fine for the prolonged downhill run in Colorado, without a hint of fade, and with good modulation.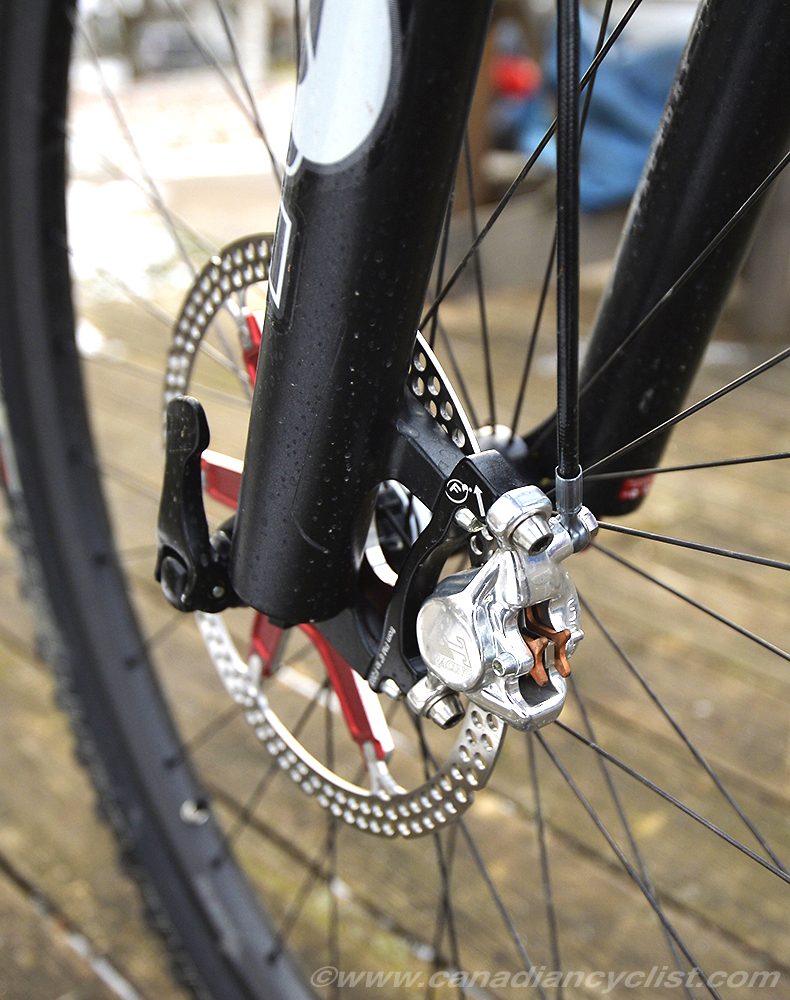 Formula T1 hydraulic brakes
The wheelset is Specialized's in-house brand, Roval; in this case the carbon Control SL 29 with 15mm thru-axle front hub and 142+ rear thru-axle. These were shod with the latest version of one of my favourite all around tires - the Specialized Ground Control with 2.3" on the front and 2.1" on the back.

The cockpit consists of a carbon riser handlebar (a little wide for my personal liking, but easy enough to chop down a bit) with the new Sip Grip from Specialized that has a lock on clamp and a tacky diamond mesh surface which I particularly liked. At the rear is a Henge saddle and the latest version of Specialized's suspension seatpost, the Command Post. The Command Post is air actuated from a handlebar trigger and has very smooth movement between three positions.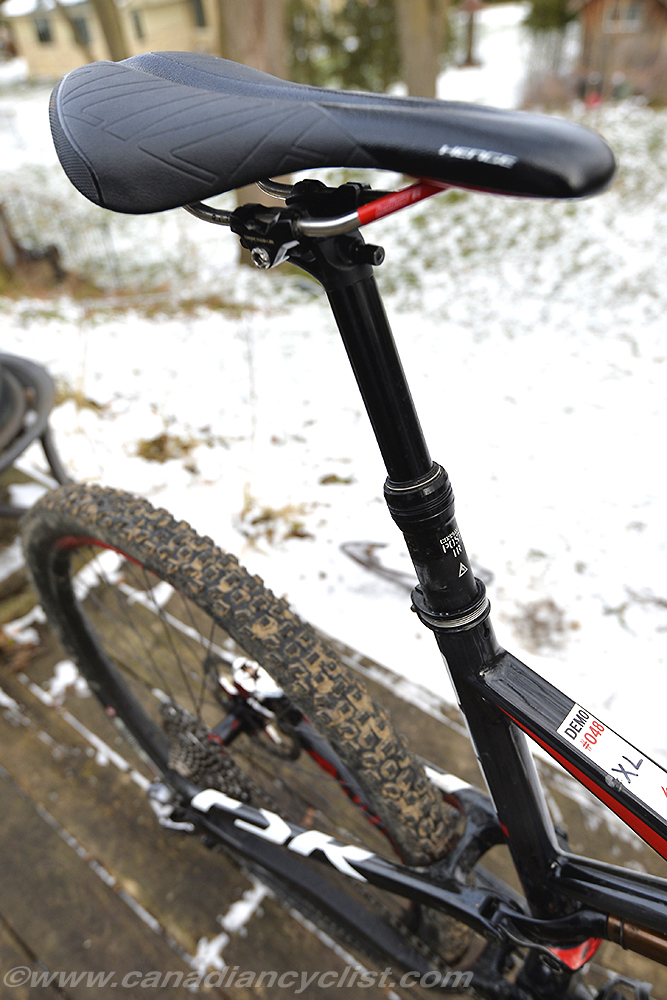 Now the guts of the bike - the frame. Specialized has a tremendous amount of experience working with carbon and it shows. Both the main frame and the rear triangle are constructed of Specialized's top FACT 11r carbon, with internal cable routing for gears, brakes and seat post. The full bike comes in at an impressive 10.65 kgs (23.48 lbs) for size Medium.

I spoke earlier about the riding capabilities of the S-Works Camber, and I want to return to that, because all of the best components in the world will still not result in a bike that you love unless it all fits together as a whole. I can honestly say that this bike made me a better rider - I was tackling obstacles that normally I would hesitate to try, and riding sections faster and cleaner than usual.

I wasn't alone in this observation, with our Editoress - who is a bit more kamikaze than me and who tends to crash more - also reporting this experience. There is a word for this - Gestalt - which can be thought of as the whole being greater than the sum of its parts, and it fits in this instance.

So, this is a fantastic bike, no question. The only problem is coming up with 10-large (after taxes)... which is unfortunately not in my budget, nor that of most of us. However, it does provide an example of what is possible with almost unlimited funds.

Fortunately, this is not just one of those dream bikes - like the exotic sports car that most of us will never own. The Camber line starts at under $2000 for an aluminum version, and $4000 for a carbon one. These are more reasonable prices, and you will still get the geometry and riding characteristics of the S-Works model, albeit at a higher weight. While the componentry on the lesser models may not be as trick as the S-Works, it works just fine. And the tires are the same on every model...

It seems that mountain bike design is turning full circle; from the early days when the mountain bike was seen as a go anywhere bike, through the specialization of race, trail, enduro, big hit, downhill, freeride, front or full suspension, 26", 650b and 29", and now right back to a single bike for all terrains. If you are looking for that one mountain bike, then the Camber should be on your short list. Even if your bank account doesn't run to five figures.