February 2/14 10:37 am - Cyclo-cross World Championships: Elite Men report and results

Posted by Editoress on 02/2/14

Belgium took four of the top five spots in the Elite men's race that concluded the Cyclo-cross World Championships in Hoogerheide, Netherlands, but not the one that mattered - first place. Two time world champion Zdenek Stybar of the Czech Republic, who has moved to the road, came back to cyclo-cross to win his third title after a race long battle with defending champion Sven Nys (Belgium). Kevin Pauwels gave Belgium the bronze medal as well. Canada had two riders in the race - Mike Garrigan, who finished 49th, and Aaron Schooler in 54th.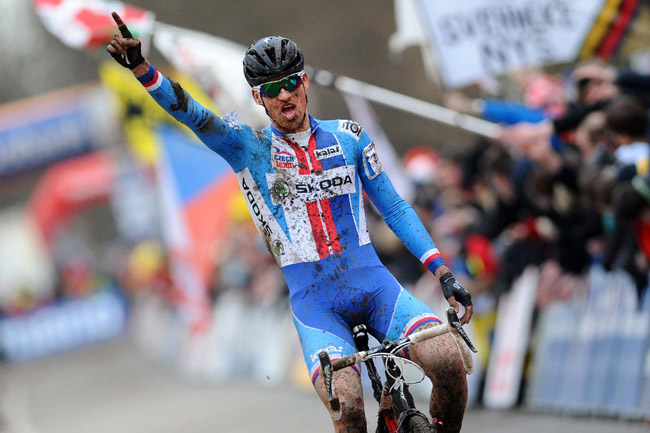 Zdenek Stybar wins - photo: www.tdwsport.com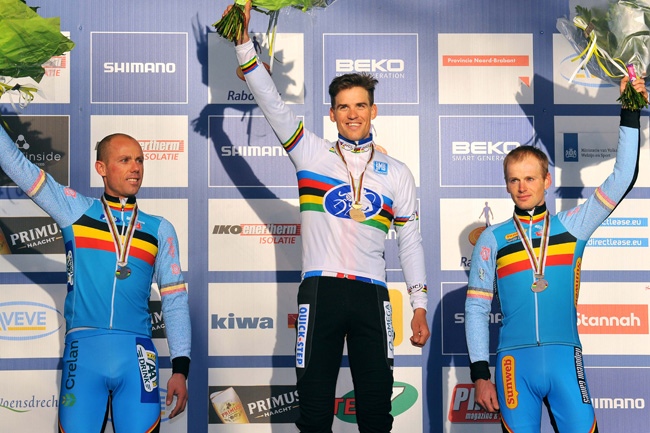 Podium - photo: www.tdwsport.com
Nys came into the race as the favourite, but when Stybar announced on Thursday after trying out the course that he was going to race the Worlds, Nys immediately said that the Czech rider was the one he was most worried about.

The rain which had made Saturday's races so muddy was long gone, and the sun and wind had started to dry the circuit, plus organizers had spread sand on the worst sections. However, as the ground warmed up, many of the off-camber corners and the depressions became filled with thick, sticky mud, which clogged pedals and cleats, and caused many crashes.

Francis Mourey (France) got the holeshot off the start section pavement into the mud, closely followed by World Cup champion Lars van der Haar (Netherlands). However, van der Haar took the first of many tumbles, allowing Mourey to get clear. Nys and Stybar led the chase up to the Frenchman, whom a group of five caught before the end of the first lap.

Stybar immediately attacked, with Nys responding. Mourey and van der Haar were also able to make their way across to the leaders, but van der Haar then crashed again in the pit when getting a bike change. He managed to get back on to the other three, who then rode together for the remainder of the lap, but Mourey and van der Haar were constantly getting gapped by Nys and Stybar.

On the fourth lap, Sybar and Nys dropped the other two for good, and the race was down to two. The duo then took turns testing each other, with Stybar launching massive efforts and Nys responding quickly. Nys looked to have the technical edge, but couldn't capitalize on it - Stybar crashed in a corner but was in the lead, so Nys couldn't get around him.

Nys finally did manage to break clear on the penultimate seventh lap, putting a slight gap on Stybar, but then crashed himself, which allowed the Czech rider to get back to him. Going into the final lap it was still open for either rider to take the title, but then Nys picked the wrong moment to make an uncharacteristic error. Stybar tried another attack, Nys was coming back, but bobbled on a muddy, rutted off-camber corner. This was all it took, as the Belgian had to get off and run, losing a few valuable seconds in the process.

Stybar didn't make any errors in the final half lap, and Nys couldn't make up any ground, eventually conceding the title in the final 500 metres when he stopped chasing, shaking his head in disappointment.

Behind, Belgians Kevin Pauwels, Klass Vantornout and Tom Meeusen all caught van der Haar over the final three laps to fill the rest of the top five; an impressive showing for Belgium, but not the one they were hoping for.

"It was a really, really hard race," commented Stybar. "I had to start from far back in the fifth row, so I had to give it full gas to get to the front. I crashed one time and thought it was over ... I just wanted to make it hard, because I had nothing to lose. When we were four I thought 'now I have to go'. I gave it everything, and then we were three, and then we were two, and then I knew we [Nys and himself] were going to fight for the podium."

"It's different when you have pressure, when you are a full time cyclo-crosser, but for me, I am in preparation for the road season, so to come to the cyclo-cross to do one race ... it didn't feel like the world championship, I was just enjoying the race. I have only done six races in cyclo-cross this season, but this was a circuit that really suited me. I decided I was just going to try and see where I ended up. I really didn't expect that I was going to be world champion."

Mike Garrigan spoke with us after the race and said he was satisfied with his result. "It was amazing. As you would expect, there were tons of fans, the vibe was really good, the weather was great; the sun even came out a bit. There were some mud bogs, so it was real cyclo-cross."

"There was some really heavy winds this morning and some sun, so it was much less muddy than the last few days. There was actually a chance to do some recovery going into the descents. This morning I was considering not using mud tires because it was so fast, but in the end we decided to go with the mud treads. The course was much faster then when the younger guys were dealing with it yesterday."

"It's interesting ... I've been doing this for a while, and just kind of feeling that I've been getting a little bit slower each year as I take on more responsibilities in the summers [Garrigan was Ontario provincial mountain bike coach until this Fall], but I'm pretty happy with that result. I had a really good start and the guy in front of me ended up finishing on the last lap [Garrigan was pulled] and I was the last guy to get pulled; i had a crash before I got to the area where they pull you."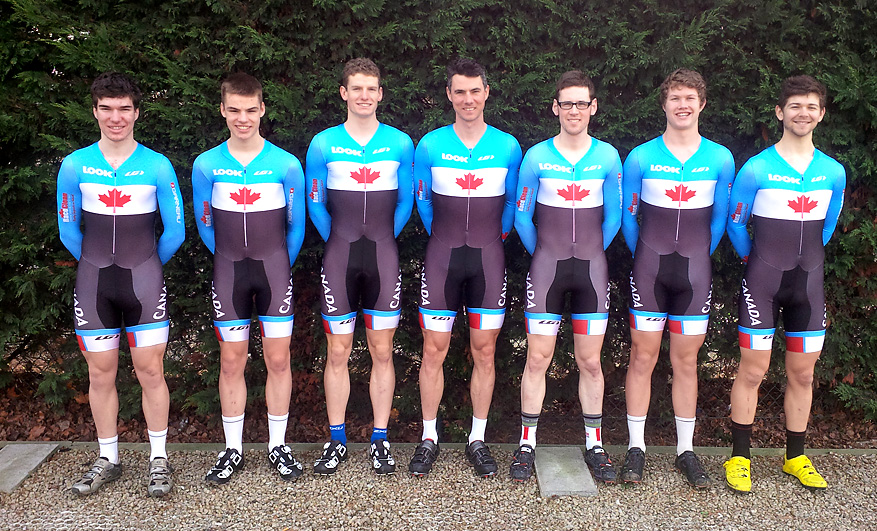 Team Canada
"I was pissed with myself for having that bobble before the finish line and not making to the last lap. But, overall, I'm happy with how it went. I'm really happy with the service team we had here - the mechanics were amazing; I couldn't have been happier with the way my bikes were running. So I'm content with 49th, but I'm still hungry, I want more."

Race Notes:

- Aaron Schooler broke a shifter and had to run one bike for most of the race.

- We also spoke with Team Manager Ian Hughes (National MTB Development Coach) about the project, which included racing the final World Cup in Nommay, France, last weekend.

"We had some pretty inexperienced athletes, as far as European racing goes. So for them it was a great experience and a great learning opportunity. First and foremost we had a discussion about the national team and expectations, about being a high performance athlete, and all the little things that matter. Like how to work with the mechanics when you get full service."

"We worked on goal setting and did some skill building. Those were the two things I wanted to really focus on. Our goal coming into the world championships was to better our [results] from Nommay. Nommay was pretty much a dry run on how we do a project, the logisitics of it. So Worlds was to better our positions and show some improvements, and I think we have."

"The highlight of the trip was all the learning experience that the athletes got. It was about team building, skill building and goal setting, all that good stuff. For results, two of the high points were Michael van den Hamm [40th, Under-23] and Willem Boersma [28th - Junior Men]."

- Belgium was clearly the most dominant country, with two golds, three silvers and two bronze medals. However, the Belgian newspapers tomorrow will likely spend most of their time analyzing the loss of the Elite men's gold...
Results from today's Cyclocross World Championships in Hoogerheide, Netherlands
Elite Men, 26.944 km (8 laps)

1 Zdenek Stybar (Czech Republic)
1:05:29
2 Sven Nys (Belgium)
at 0:12
3 Kevin Pauwels (Belgium)
0:40
4 Klaas Vantornout (Belgium)
0:59
5 Tom Meeusen (Belgium)
1:07
6 Lars van der Haar (Netherlands)
1:22
7 Rob Peeters (Belgium)
1:43
8 Francis Mourey (France)
1:53
9 Radomir Simunek (Czech Republic)
2:04
10 Wietse Bosmans (Belgium)
2:11
11 Philipp Walsleben (Germany)
2:27
12 Corne van Kessel (Netherlands)
2:29
13 Enrico Franzoi (Italy)
2:29
14 Julien Taramarcaz (Switzerland)
2:29
15 Nicolas Bazin (France)
2:42
16 Thijs van Amerongen (Netherlands)
2:45
17 Marcel Wildhaber (Switzerland)
2:50
18 Jonathan Page (United States of America)
2:55
19 Eddy van Ijzendoorn (Netherlands)
3:03
20 Niels Albert (Belgium)
3:06
21 Steve Chainel (France)
3:19
22 Sascha Weber (Germany)
3:35
23 Niels Wubben (Netherlands)
3:52
24 Jeremy Powers (United States of America)
4:06
25 Arnaud Grand (Switzerland)
4:15
26 Thijs Al (Netherlands)
4:15
27 Fabien Canal (France)
4:36
28 Simon Zahner (Switzerland)
4:36
29 Ian Field (Great Britain)
4:38
30 Bryan Falaschi (Italy)
4:45
31 Ryan Trebon (United States of America)
4:56
32 Marcel Meisen (Germany)
5:11
33 Javier Ruiz De Larrinaga Ibanez (Spain)
5:35
34 Guillaume Perrot (France)
5:45
35 Michael Schweizer (Germany)
5:51
36 Lubomir Petrus (Czech Republic)
5:53
37 Yu Takenouchi (Japan)
5:54
38 Martin Haring (Slovakia)
5:59
39 Aitor Hernandez Gutierrez (Spain)
6:13
40 Calle Friberg (Sweden)
6:17
41 Mariusz Gil (Poland)
6:31
42 Vladimir Kyzivat (Czech Republic)
7:02
43 Martin Loo (Estonia)
-1 Lap
44 Kenneth Hansen (Denmark)
-1 Lap
45 Christian Helmig (Luxembourg)
-1 Lap
46 David Fletcher (Great Britain)
-1 Lap
47 Robert Gavenda (Slovakia)
-1 Lap
48 Allen Krughoff (United States of America)
-1 Lap
49 Mike Garrigan (Canada)
-2 Laps
50 Magnus Darvell (Sweden)
-2 Laps
51 Hikaru Kosaka (Japan)
-2 Laps
52 Alexander Revell (New Zealand)
-2 Laps
53 Angus Edmond (New Zealand)
-3 Laps
54 Aaron Schooler (Canada)
-3 Laps
55 Nick Both (Australia)
-3 Laps
56 Morten Vaeng (Norway)
-4 Laps
57 David Quist (Norway)
-5 Laps
DNF Timothy Johnson (United States of America)
DNF Zach McDonald (United States of America)
DNF Martin Bina (Czech Republic)
DNF Ondrej Bambula (Czech Republic)