February 4/14 16:23 pm - Shimano Launches Sports Video Camera

Posted by Editoress on 02/4/14

Shimano has just announced the introduction of a new sports video camera, their first foray into the audio-visual market. It will be called the CM-1000 Sport Camera, and is expected to be in the North American market by late May of this year. Shimano says it is aimed at both the cycling and fishing markets.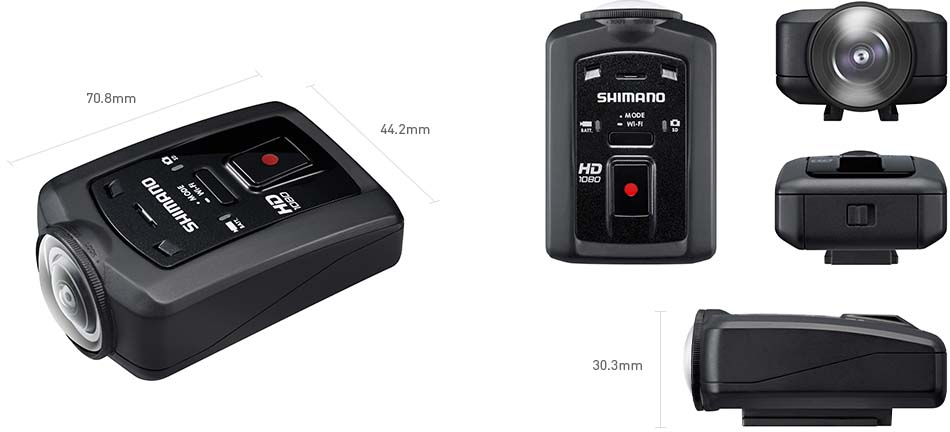 Features:

• Powerful, brilliant image-capturing camera - The lens and image sensor technologies in the CM-1000 combine to enable brilliant HD movies and high quality images in all conditions. Its F2.0 bright lens boasts incredible low-light performance while its 16MP back illuminated CMOS image sensor enables stunning 1080p HD video. The camera offers dual, standard angle 135 degree and super wide 180 degree modes, while a 90 degree increment auto image rotation allows users to flip the camera in multiple directions and maintain a horizontal image plane.

• Light, compact form factor - At 86 grams including the battery and lens cover and with dimensions of 44x70x30mm, its pocket size, streamlined design is smaller than a standard deck of cards.

• Exceptional waterproof rating - Out of the box and without the need for an external case, CM-1000 is waterproof up to 10 meters. This depth meets the IPX-8 Waterproof Standard - the best rating for electronics experiencing continuous underwater use.

• Advanced connectivity and intelligent integration - The CM-1000 utilizes WiFi connectivity and custom iOS and Android apps for mobile devices to allow live views, video playback, remote adjustments to camera settings and shot framing. Unique to the CM-1000, the device also uses ANT+ and ANT private wireless connections to transmit data from bicycle computers and accessories and the new Shimano D-Fly wireless Di2 transmitter to show performance cycling data in its captured videos.

The CM-1000 Sport Camera comes standard with the camera and lens cover, an adhesive mount and vented helmet mount, a USB cable and start up manual. The CM-1000 Sport Camera utilizes an iOS 6.0 and Android 4.2 app for use as a remote controller, angle monitor, a tool to change settings and video preview. Software for Windows 7 and Mac OS enables more comprehensive video editing, fish-eye view compensation, the display and integration of video and ANT+/ANT information to videos.

Additional accessories for the CM-1000 include the following mounts that all offer tool-free installation and adjustment: CM-MT01 Handlebar mount; CM-MT02 Flexible mount; CM-MT03 Chest mount; and the CM-MT04 Cap mount.
Availability ~ end of May 2014
Press release