February 12/14 11:16 am - Rob Britton Interview

Posted by Editoress on 02/12/14

Canadian road pro Rob Britton has joined U.S. Continental squad Team SmartStop for 2014, and the team has sent an interview with Rob from their training camp.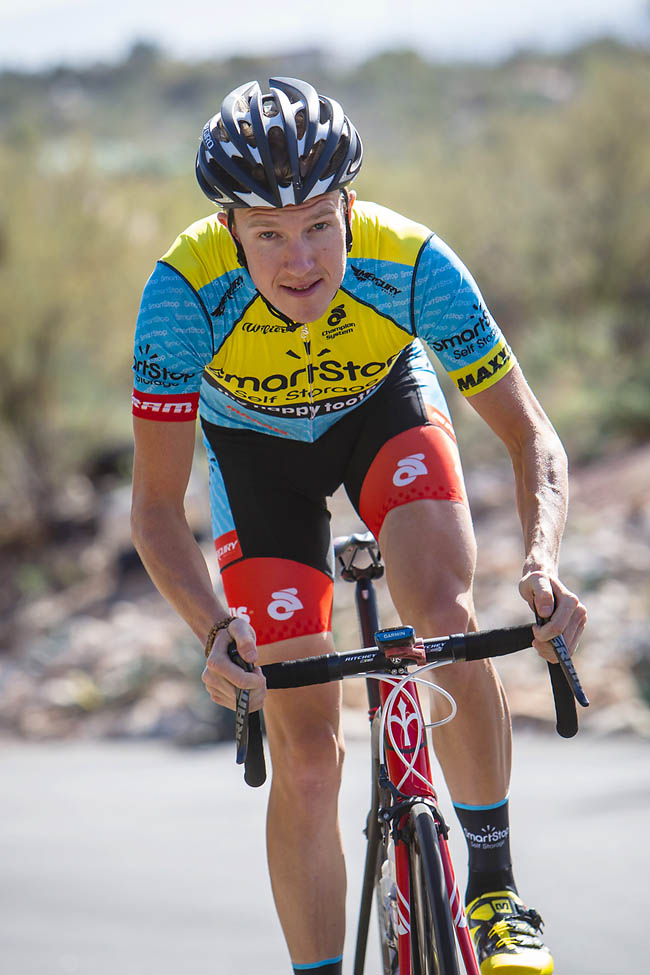 Rob Britton in his Team SmartStop kit - Jonathan Devich/epicimages.us
Rob Britton is a Canadian journeyman looking to have a big year and make his mark. He is an experienced rider who has been on several pro teams since 2010 and has been a representative of Canada internationally multiple times. Team SmartStop Pro Cycling is pleased to have him join us this year and we are looking for big things from him.

His talents were sought out very early in the off-season and he was clearly a target for Directeur Sportif Michael Creed. When asked why he chose to sign Rob, Mike was very clear with what he was looking for. "When the race gets hard, I expect to see Rob at the front. He will be there with a calm enough head that he can bring the level of the team up with him. We have a young team and I needed a guy who could lead by example."

We sat down with Rob before the race season ramps up and discussed his goals for the upcoming season, stereotypes of Canadian culture, and the Winter Olympics.

Question: In 2013 you spent time racing in England with the Continental Team Raleigh. You've mentioned in several places that that was a pretty amazing time. What made it so?

Answer: 2013 was such a huge change for me in just about every aspect of my life: new team, teammates, country (continent), races, and just about everything off the bike too. To say the adjustment was a bit of a challenge would be an understatement. Because of this, it was kind of like my first time pro all over again. To start the season, we're training in Mallorca on the same roads as the best guys in the world! Team Sky was just down the road and some of these races we did at the beginning were incredible. Unfortunately, as the season wore on we ended up more and more in Britain and racing less and less. By mid-season, I wasn't sure what the rest of the season would hold for me. Thankfully the national team stepped in and took me to the Tour of Alberta and the two World Tour races in Quebec. That really saved my season and capped off for better or worse a pretty incredible nine months...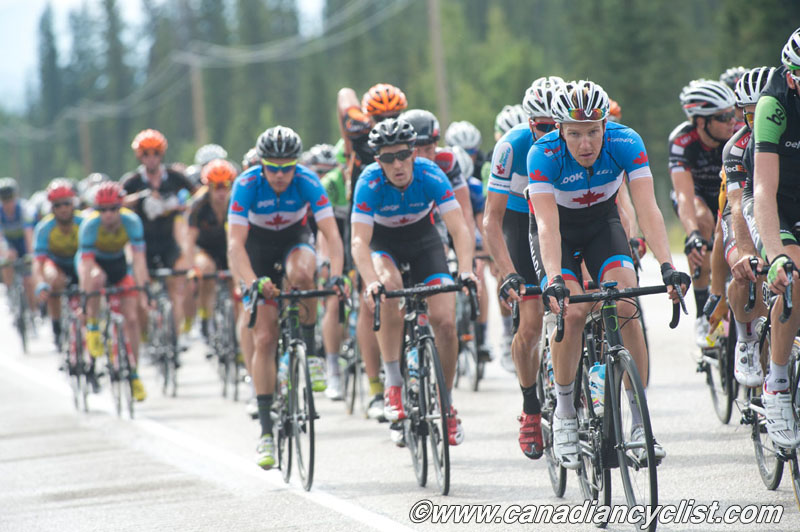 2013 Tour of Alberta with Team Canada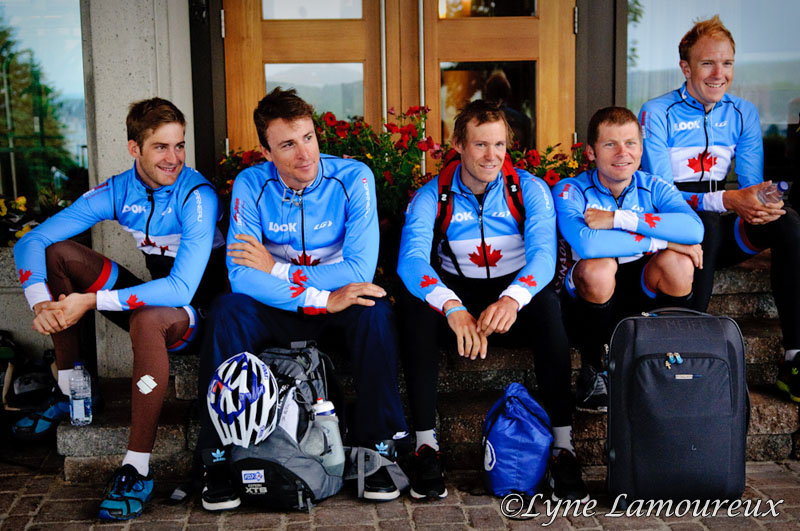 With Team Canada at 2013 Tour de Beauce (far right)
Q: How did you come to ride for Team SmartStop Pro Cycling? Was that a team you had even heard of before this year?

A: As I mentioned, in the mid-summer I didn't know what I'd be doing in 2014, but I knew I wouldn't be in the UK. I had heard Michael Creed was stepping in as Directeur Sportif of Team SmartStop. Through conversations with a mutual friend, who then put the two of us in contact with each other, I think from the first meeting we had in Alberta (before the race even started) it was a done deal. I knew that the team would be something fresh from what I heard talking with others and then speaking with Jamie [Bennett] and Mike really confirmed that.

Q: Michael Creed is certainly a strong believer in you and your potential for a real breakout year. What are the your goals for this year? Everyone says, "I want to do well and I want my team to do well," but give us some insight into your personal goals.

A: I think Mike and I are on the same page when we look at 2014. The preparation is where it needs to be so a little luck might be all we need! As far as 2014 goes, everyone always says they want to be first in this or top five in that, King of the Mountain here, sprints there. I'm not really that kind of guy, in that I don't have specific goals for specific races. I guess to be more specific, I will be starting bike races this year to win, not to "go for the early break" or "I hope I make the split." So I guess my goal is to win...

Q: You have been able to race the two World Tour events in Canada - Montreal and Quebec - the last two years. How does racing at that level compare to any other experience? Is that a level you think you be competitive at?

A: Having the opportunity to race the World Tour events has been something I am incredibly proud of and it has given me a glimpse of what the "big leagues" are like. I do believe it isn't above me to perform in those races, but to be totally honest winning those is for a select few. It's funny because those are always the last couple races of the season. You kind of forget just how hard they were and you forget the lessons learned. I suppose positioning is huge and that's something that is etched into your brain. "Out of position = death by oxygen debt."

Q: Best race results or biggest personal accomplishments for you so far in your career? Where do you see yourself in three years?

A: Winning the Queen stage of the Mt. Hood Cycling Classic ahead of Chris Baldwin and Paul Mach (both of whom would later become teammates) was huge. Actually, that whole season on Trek Red Truck was full of moments like that. I have no idea where I'll be in a few years. This sport is so fragile right now you can't simply rely on it to be your future, so I don't know. I would like to say that I'll still be making a living doing what I love. Ask me again in three years!

Q: You have been on a variety of teams, so let's leverage that experience. How do the riders on Team SmartStop and the interpersonal relationships relate to other teams? Are these guys more or less serious, driven, knowledgeable about diet, training, etc? I know it is early, but do you feel you are coming together as a team?

A: It's been a really unique experience so far with the team. Maybe I'm getting older and just know a lot more of these guys, but I think Mike and the crew did an amazing job of hand-picking guys with personalities that really work well together. It's a great environment because we have clear leaders on the road but they're able to lead without ego or potentially being the "lead" guy, which this early in the year bodes extremely well for the rest of the year and when things really start kicking off.

Q: Teammate least likely to walk by a mirror without stopping and looking?

A: Zach Bell...without question.

Q: What about Team SmartStop as an organization? With Michael Creed at the helm, how can that be compared to other teams and organizations you have ridden with?

A: Well for one, he seems to understand bike racing. Mike also does a good job of articulating his thoughts. Also being so recently retired, he knows pretty much every other team out there and how they race which is a huge advantage. In some ways...er a lot of ways, we're the underdogs heading into this season and I really thrive on that.

Q: What is one thing about Canada that most Americans may not realize or you think is misinterpreted by them?

A: It's inhabited? It doesn't snow year round. We're not all super friendly...except for Kris Dahl and Zach Bell. They're pretty nice guys, eh.

Q: What's your favorite cycling memory from your youth?

A: Winning the Saskatchewan Cycling Association Junior Provincial Mountain Bike Championship. This was probably the first race I realized I didn't suck.

Q: What did you enjoy most from the off-season?

A: Good food and wine in abundance. Mountain biking for the first time in probably ten years! Also spending some real time with my girlfriend after being apart for the better part of nine months.

Q: What is your favorite Winter Olympic sport and why?

A: Alpine Sniper, hands down! I think they call it Biathlon at the Games, but whatever you call it these guys skate around at world class XC pace with a sniper rifle on their back then stop, hold their breath, take a couple perfect kill shots, then shoulder the rifle and take off again. Pretty impressive if you ask me.