March 2/14 11:35 am - Track World Championships Day 4 report

Posted by Editoress on 03/2/14

Canada took its second medal of the Track worlds on Saturday night, with a bronze medal performance by Jasmin Glaesser in the Points Race. In other Canadian action, Laura Brown sits seventh in the Women's Omnium after three of six events, and Hugo Barrette had a disappointing qualification ride in the Men's Sprint, not making it into the final 24 riders for racing.

The key moment in the race was when Glaesser and a small group of other riders managed to gain a lap on the rest of the field, earning them 20 points. Glaesser also went for a couple of intermediate sprint points, but went into the final laps only a few points ahead of the British rider. So, for insurance, she attacked on the final lap, taking maximum points in the final sprint to lock up the bronze medal.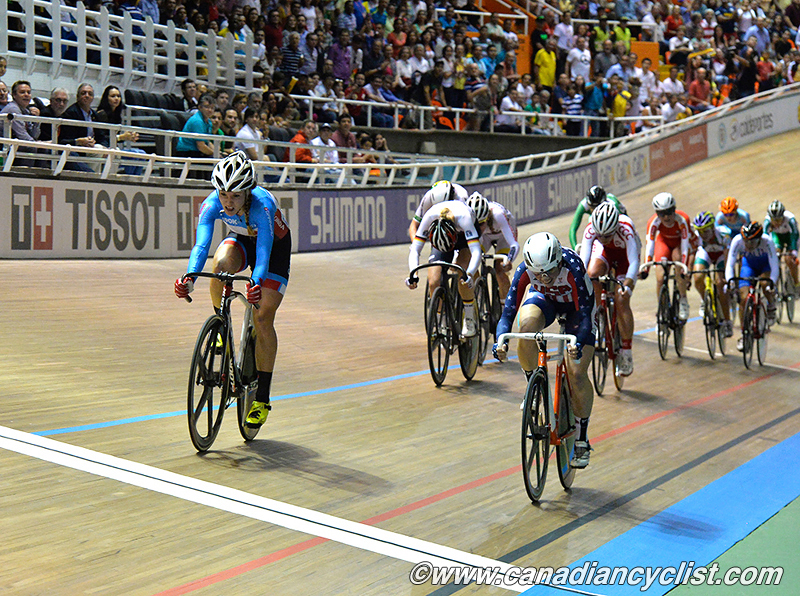 Glaesser takes the final sprint to lock down bronze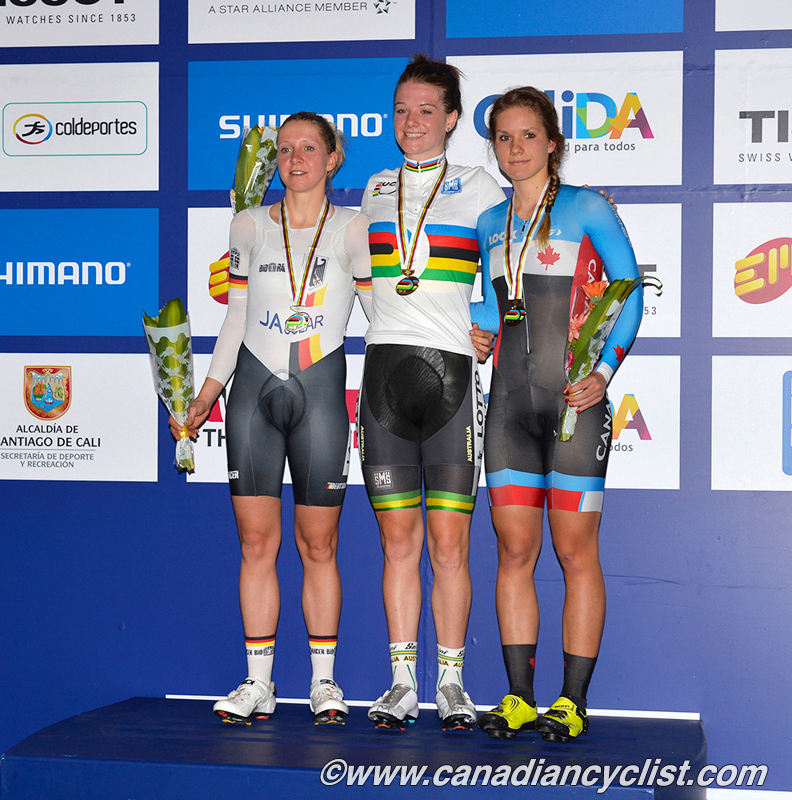 Stephanie Pohl, Amy Cure, Jasmin Glaesser
"It was a tough race. Getting the win would definitely have been better but I'm happy nonetheless," said Jasmin Glaesser. "I was able to get some early points, but Craig [national coach] and I thought that it was going to need a lap [taken] to be in the medals. Mid race was a bit tougher for me, but I was watching the scoreboard and knew that the British girl was only a couple of points behind. I was able to get my legs back at the end to grab those few extra points to secure the bronze."
The first three rounds of the Women's Omnium were held over the two sessions, with Brown finishing ninth in each of the Flying Lap and Points Race events, and seventh in the Elimination Race, leaving her in in seventh at the halfway mark of the competition. Brown was consistent all day, but a top three finish in at least half the races is needed to challenge for the medals. However, Sunday has two events that Brown should do well at - the Individual Pursuit and 500m Time Trial, so she still has the possibility to move up.

Hugo Barrette had a disappointing end to his season on Saturday, when he missed qualifying for the Sprint.

"This is the biggest disappointment I've had in my career so far," said Barrett to Sportcom, after finishing 29th in the Flying 200 metre qualifying time trial. Barrette's time was 10.359 seconds. The top-24 qualified, and Barrette missed by 0.178 seconds .

World record holder François Pervis (France) was the fastest qualifier with a time of 9.742 seconds . He beat two German riders - Stefan Botticher and Robert Förstemann.

"But I was really confident. Everything was great in training and I had times that made me believe that I could have a good result. I was expecting a top-10. That did not happen today, and I do not know why,"said Barrette.

"We'll have to analyze what happened and maybe see my preparation. There certainly was something that went wrong. The Keirin (Thursday), I was very quick and competitive. In principle, it would have resulted in a good performance in the sprint."

"This is truly the worst performance I've done in my career. I had a better time than that are three and a half years while I am greatly improved since . It's like a return to square one."

"I'm still proud of my season, it was very, very good summer. I had good results. But this performance gives me doubts. It makes me consider the idea of abandoning the Sprint to concentrate solely on the Keirin."


Day 4 results
Day 3 results
Day 2 results
Day 1 results
Fatal error
: Uncaught Error: Object of class PDO could not be converted to string in /home/canadiancyclistcom/canadiancyclist.com/public/modules/news.php:528 Stack trace: #0 /home/canadiancyclistcom/canadiancyclist.com/public/modules/news.php(517): getrelatedgallery() #1 /home/canadiancyclistcom/canadiancyclist.com/public/dailynews.php(58): getDailyNewsArticle() #2 {main} thrown in
/home/canadiancyclistcom/canadiancyclist.com/public/modules/news.php
on line
528