March 27/14 15:51 pm - Garneau-Quebecor 2014 Roster Announced

Posted by Editoress on 03/27/14

Mr. Louis Garneau, President of Louis Garneau Sports, and Mrs. Sylvie Cordeau, Vice-President of Philanthropy and Donations at Quebecor Media, are pleased to present the 2014 edition of Garneau-Quebecor UCI Continental Pro Cycling Team.

The team is composed of Team Captain Remi Pelletier-Roy, Canadian Criterium Champion Pierrick Naud, Quebecers Simon Lambert-Lemay, Simon-Pierre Gauthier and Geoffroy Dussault and, for a second consecutive year, American Adam Farabaugh. Joining them this year are Canadian Benjamin Chaddock and Australians Luke Ockerby and Jacob Kauffmann.

"The season got off to a very good start with a training camp in North Carolina. This allowed us to get in some good kilometers outside, in the Blue Ridge Parkway Mountains, to live together as a team and to welcome the new members from Australia and Western Canada. It didn't take long to build good team cohesion, as demonstrated during our latest performance and victory at Delray Beach last weekend. There's a great atmosphere and I think that's a token of a great 2014 season. To be continued!," declared Team Captain Remi Pelletier-Roy, who was able to break away from the peloton in the first minutes of the race and maintain his position until the end. By winning the Delray Twilight Criterium, a race that is part of the USA Crit Championship series, Team Garneau-Québecor seized the Series Leader jersey.

"Our mission is to help young talents evolve and grow in cycling and to make their dream come true: become a Pro Team member ... we want to find the next David Veilleux! The cycling solution we have developed is not limited to products. By creating events and supporting professional athletes, we contribute to the promotion of cycling. I am proud to have been able to help such great cyclists as David Veilleux and Antoine Duchesne (Europcar), Hugo Houle (AG2R La Mondiale) and Bruno Langlois, who is now competing in the USA this year," said Louis Garneau.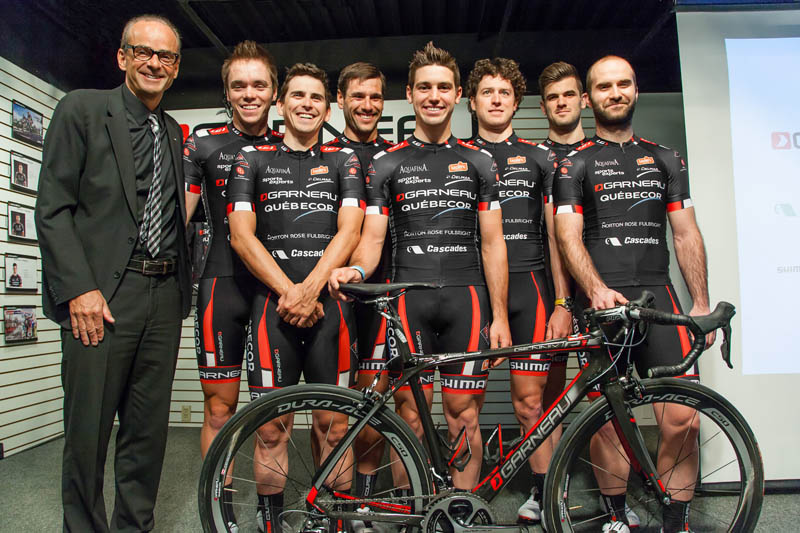 2014 Team
Remi Pelletier-Roy (Can)
Pierrick Naud (Can)
Simon Lambert-Lemay, (Can)
Simon-Pierre Gauthier (Can)
Geoffroy Dussault (Can)
Adam Farabaugh (USA)
Benjamin Chaddock (Can)
Luke Ockerby (Aus)
Jacob Kauffmann (Aus)