May 1/14 15:22 pm - 1st Tour of British Columbia in August

Posted by Editoress on 05/1/14

Perry Stone, C.E.O. Ride Canada.ca is pleased to report that first annual edition of the Tour of British Columbia (TourdeBC) will begin as scheduled at 12:00 pm local time August 3rd, 2014. The 5,300 + kilometre non-stop ultra-endurance race is designed to test elite and developing ultra-cyclists alike.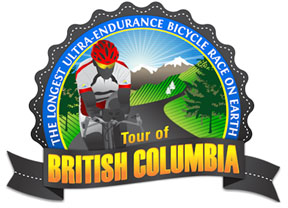 The TourdeBC route starts and finishes in White Rock, BC, and features over 64,000 meters of climbing as riders make their way through British Columbia, Jasper and Banff National parks in the neighbouring province of Alberta. Cyclists will ride over 1,000 kilometres of the famed Alaska Highway before briefly crossing into Canada's remote Yukon visiting the Town of Watson Lake at the route's most Northern Point before heading south through extremely remote and rarely visited sections of Northern British Columbia. On their way back to White Rock racers will pass through Smithers, Prince George and Whistler, British Columbia.

The Tour of British Columbia is one of the world's greatest cycling challenges, almost 2,000 kilometres longer then the Tour de France and its 21 stages (including 2 rest days), while competitors in the Tour of British Columbia compete in a single stage format. There are no scheduled rests, no days off and riders may ride as much of each 24 hour day as they can, as they vie to complete the course in less than 16 days, or 5 days less than the duration of the Tour de France.

The Tour of British Columbia is part of the UMCA's (Ultra Marathon Cycling Association) racing calendar, the UltraCycling Cup and the World Cup of UltraCycling Championship Series.

The competition is led by two extremely experienced and accomplished European ultra-endurance cyclists: Multiple world record holder Chris (Hoppo) Hopkinson of the United Kingdom and Italy's own "Man of Steel", Alessandro Colo, a two time category winner of the Race Across America. These two veteran riders will vie to take their part in ultra-endurance cycling history and further their legacy by becoming the first ever overall winner of what some are already saying is to be known as the world's toughest bicycle race.

While the Tour of British Columbia course is intensely demanding it is also spectacular traveling through the habits of more than 400 species of wild animals, remote Canadian wilderness, rain forests, past glaciers and glacier fed lakes and rivers, over mountain after mountain, through rolling hills and wide open spaces and riders (and their support crews) may even catch a glimpse of Canada's Northern lights or the Aurora Borealis.

Registration is still open at www.tourdebc.com for soloists, 2 and 4 person relay teams. For those cyclists who cannot afford the time or meet the demands of the Tour of British Columbia, event organizers offer two shorter routes following as much of the Tour of British Columbia Course as possible. The 1,600 kilometre PowerCranks Contender and the 2,800 kilometre BC Explorer. For the truly "hard-core" Ride Canada has also opened the race routes up to randonneuring type racing in their "Naked Cycling" series of challenges sharing the same race routes. Details and event registration for these exciting new ultra-endurance adventure races can be found at www.nakedcycling.com

Sponsors, event volunteers, citizen media, route supervisors and fans alike located anywhere on near these spectacular race routes are urged to contact Ride Canada at race-director@ridecanada.ca to learn how they can participate and help create one of the world's most demanding endurance cycling challenges.