May 6/14 11:24 am - Sprinkbank Road Race report - Senior 1-2 Men

Posted by Editoress on 05/6/14

Elite 1-2 Men, from Grahame Rivers (RealDeal)

The good news was that there were very few geese and only a couple leisure walkers in the middle of the course this year. The forecasted rain held off, but there was a strong headwind, on the north side of the course, that was definitely going to be a factor after 30 laps of the 2.2km course.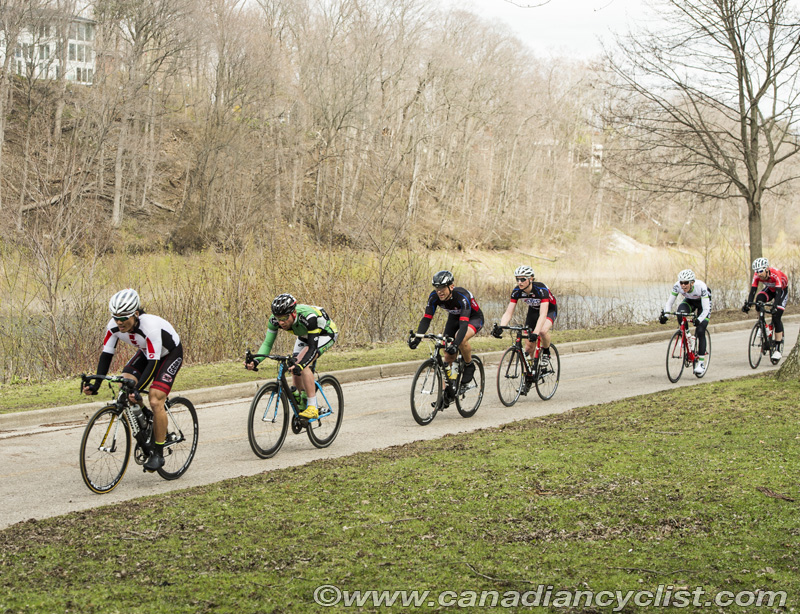 Strong headwind on the north side of the course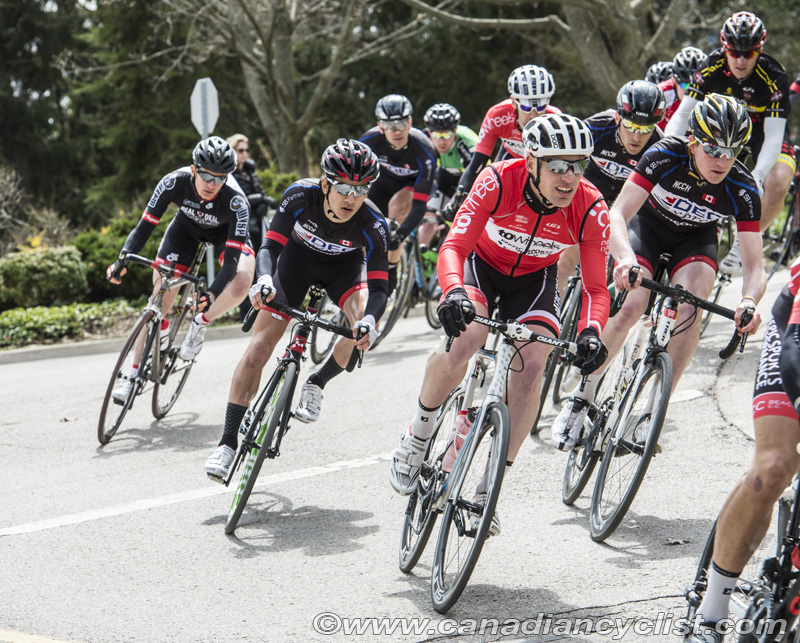 Jeff Shiller (TO Wheels) in the bunch before attacking
Off the gun, I tried to get in a couple early moves but my legs just weren't feeling that great and nothing stuck. Springbank is Jeff Shiller's (To Wheels) hometown race and he was going to be tough to beat (or even stay with apparently). He got away solo and was never seen again.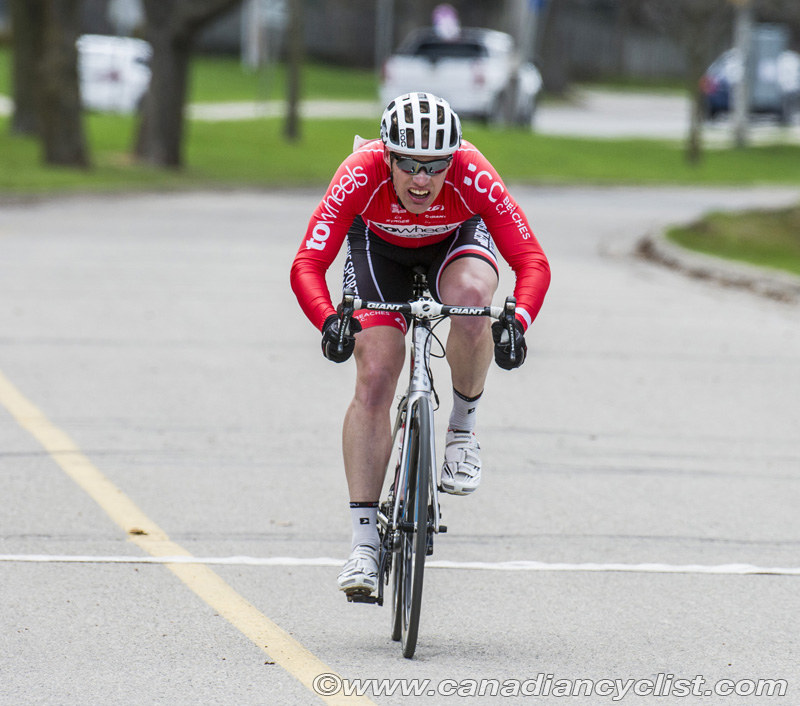 Jeff Shiller away on solo, race winning break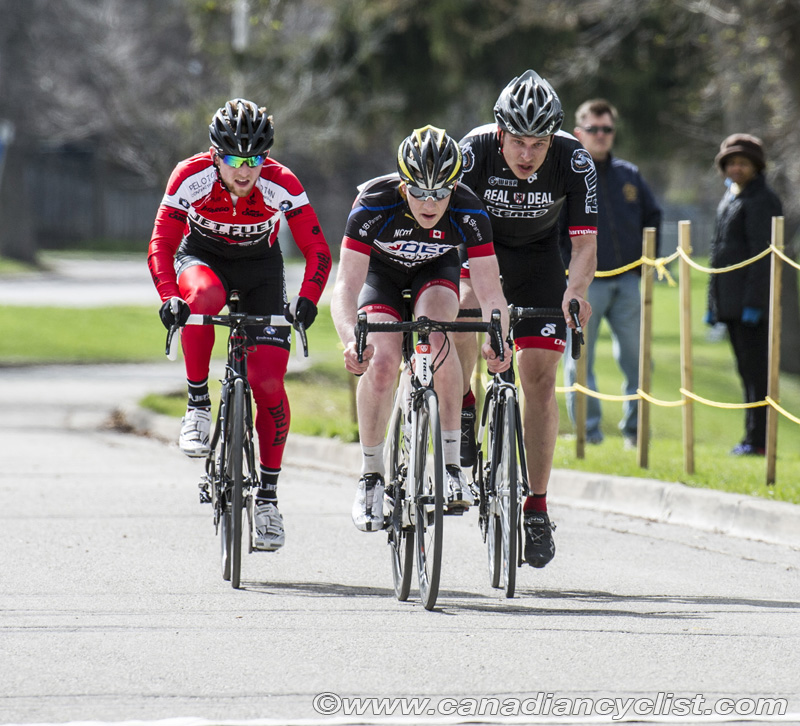 The chase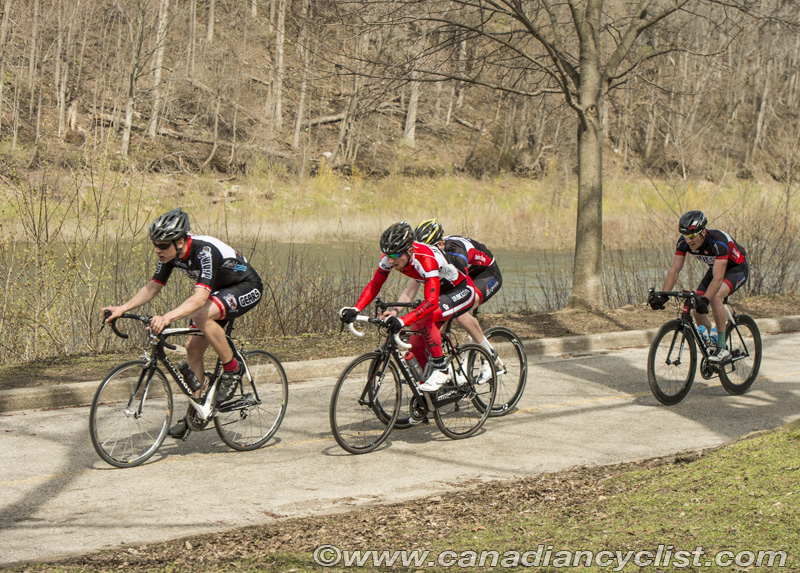 The chasers after being joined by Burke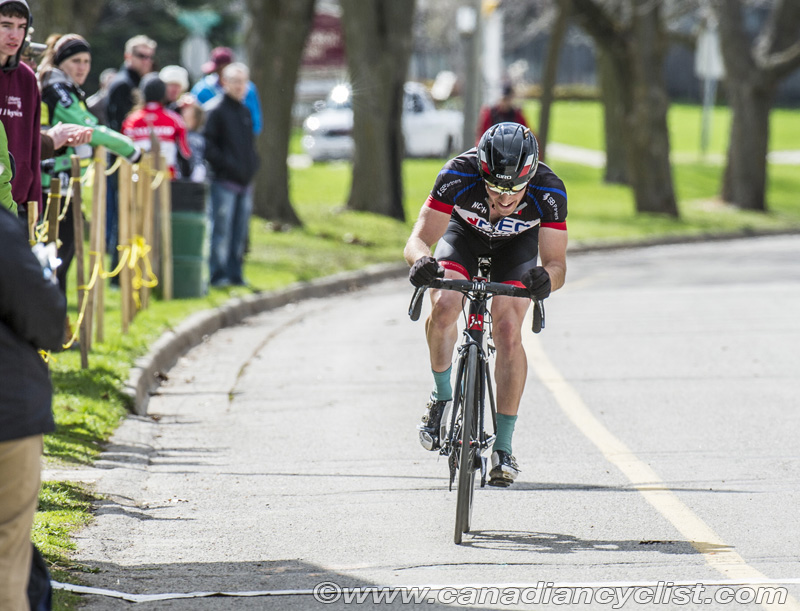 Jack Burke
My RealDeal teammate Niles Vaivars was able to get into a chase group and this is how he describes it: "Around lap 3 or 4 a Jet Fuel rider, NCCH rider and myself got away from the peloton with Schiller insight. We started working well together but eventually Schiller was gone. Jack Burke of NCCH joined us, at some point mid-race, and I knew he would attack and use his teammate to stay away. Eventually it happened."

While Niles was in the break I was proud to be able to work with my teammates Nick Di Cristofaro and Biran Falk-Dotan to covered some of the early moves and saw other teams covering moves as well including ToWheels and NCCH.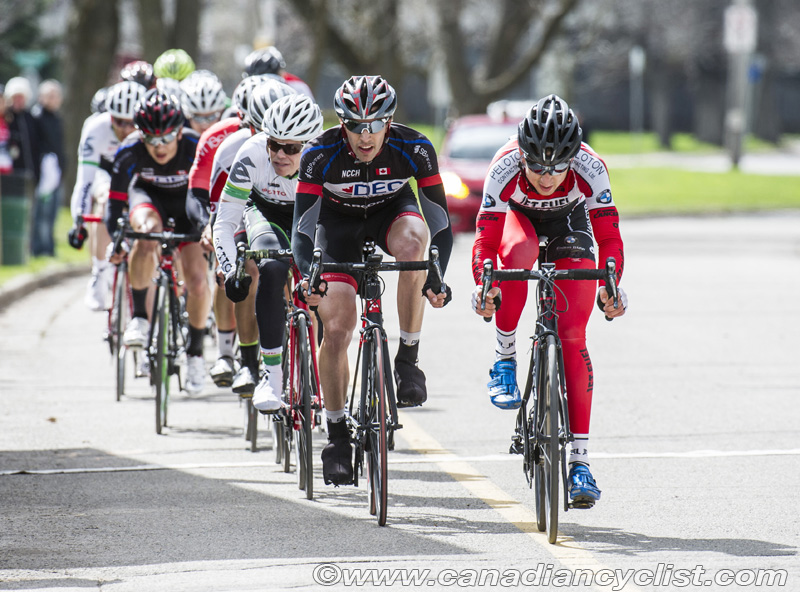 Anton Varabei, full gas on the front
As we neared the end of the race Jet Fuel and Octto-Cervelo came to the front and started drilling the pace. With riders like Anton Varabei, full gas on the front, the entire peleton was strung out. Many times I was worried I might become detached. More than once I could see Anton looking back at the group and making angry gestures to get other riders to do work. It was nice to have a man in the break and be free of the obligation.

Anton's pace setting was hard but it couldn't last forever. Attacks started and I was able to get free of the peleton with a small group riders including THE Steve Bauer, Bayden Pritchard, Andrew House, Isaac Smith, Brandon Etzl and Martin Rupes.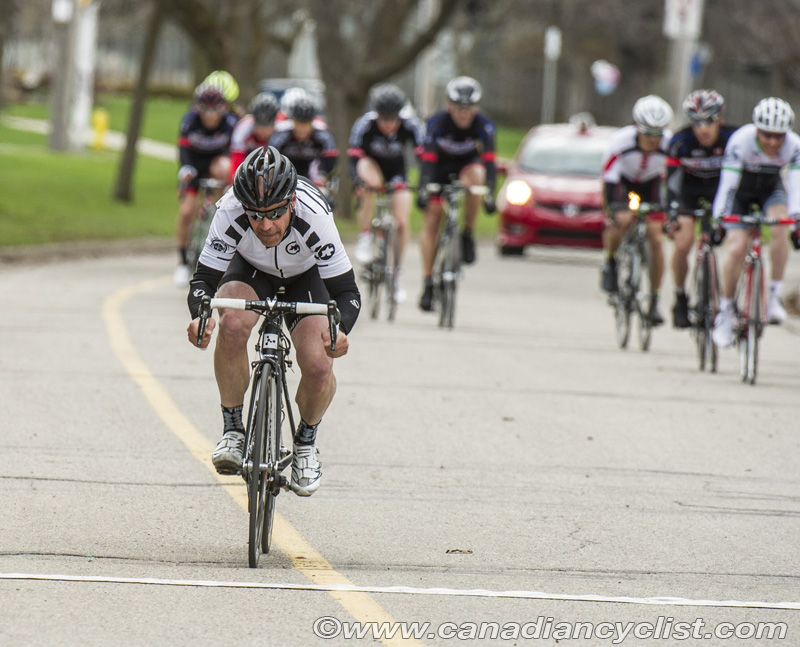 Steve Bauer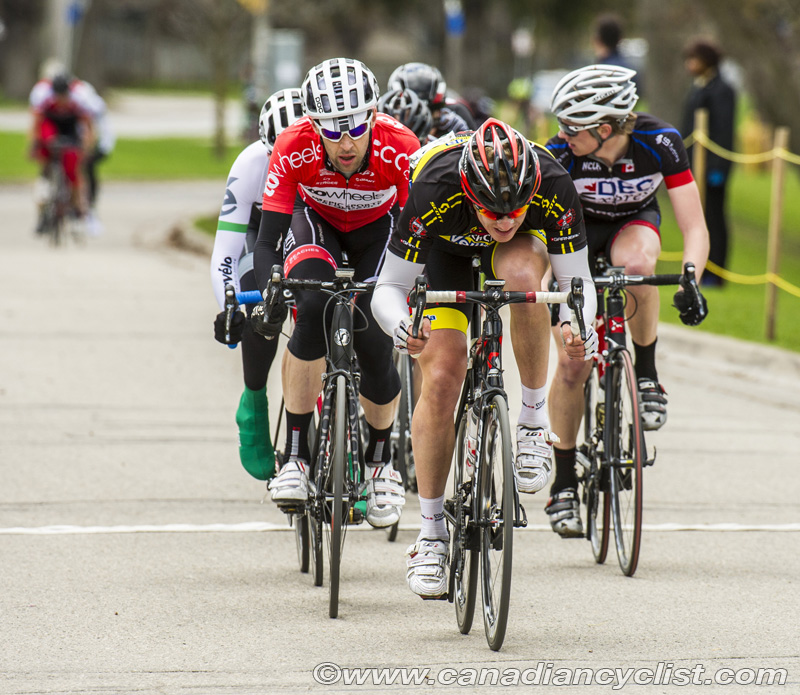 Andrew House (Coachchris.Ca/Tedvelikonja)
Once our break was well established I started to do significantly less work. I had a teammate up the road and was actually starting to feel cooked. I could see Bauer missing his turns (while yelling at the group to ride faster!) and thought "if it's good enough for a former Olympian and Tour de France rider, it's good enough for me." I sat on Bauer's wheel and did as little work as possible - a guilty pleasure I must admit.

I'll let Niles describe, in his words, what happened from here: "With under 10 laps to go I contemplated attacking and going on my own, but I was unsure if I could catch up to Burke or last until the end. We started seeing a group not far behind us and that made the decision easy. Grahame's group caught us around the 3rd last lap. I sat in near the front and let others try make moves. Some moves were made by different riders, one or two by Grahame. Nothing that was going to get away. On the last lap, I was on Grahame's wheel coming into the final corner with two guys ahead of us trying to go for it - but going nowhere. I came around Grahame and got on another wheel that quickly died. I went for it at maybe 500 metres to go. A bit early. All I was thinking was "push your pedals hard." Bauer came around me with Bayden on his wheel in the last 50 or so metres."
Shiller took the win solo by over a minute and a half. Burke took second. Bauer sprinted it out for third. Niles took 5th and I took 7th.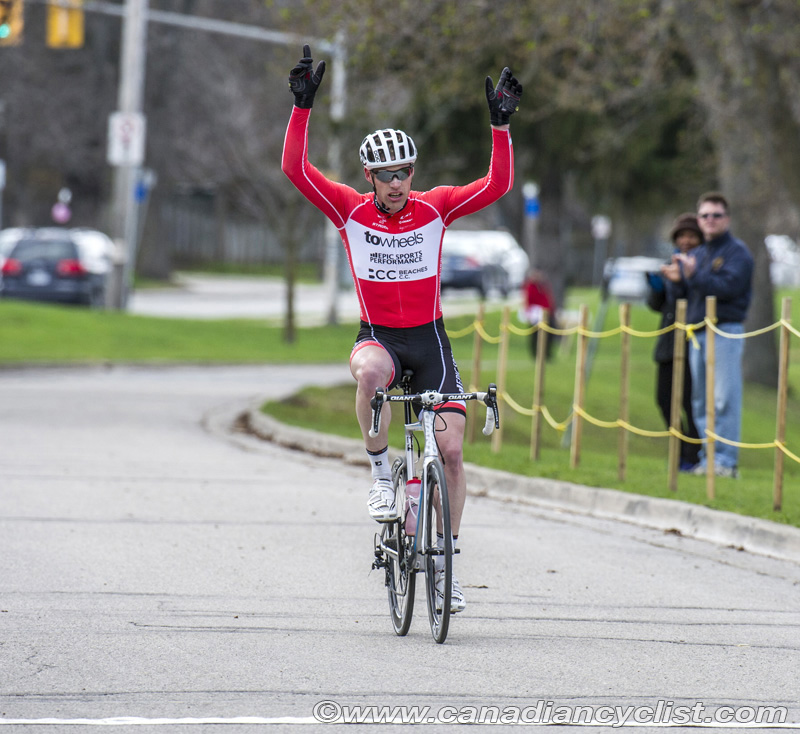 Jeff Shiller takes the win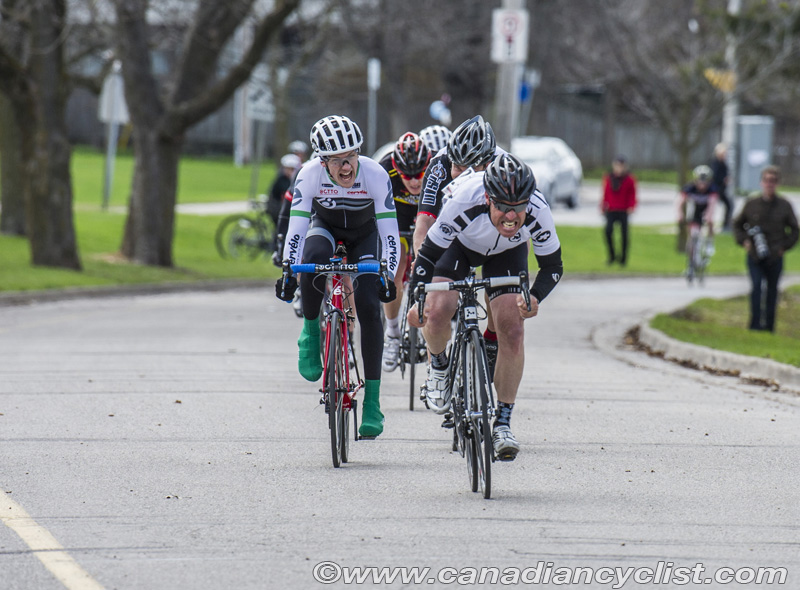 Bauer leading sprint for 3rd
Fatal error
: Uncaught Error: Object of class PDO could not be converted to string in /home/canadiancyclistcom/canadiancyclist.com/public/modules/news.php:528 Stack trace: #0 /home/canadiancyclistcom/canadiancyclist.com/public/modules/news.php(517): getrelatedgallery() #1 /home/canadiancyclistcom/canadiancyclist.com/public/dailynews.php(58): getDailyNewsArticle() #2 {main} thrown in
/home/canadiancyclistcom/canadiancyclist.com/public/modules/news.php
on line
528