May 6/14 23:25 pm - Alberta Cyclists Create Sponsorship for Teens

Posted by Editoress on 05/6/14

Some of Alberta's finest road cyclists have joined together with a group of community-minded sponsors with the goal of getting more young people racing bikes. They have set up a sponsorship program that will be funded in part by the team's race winnings.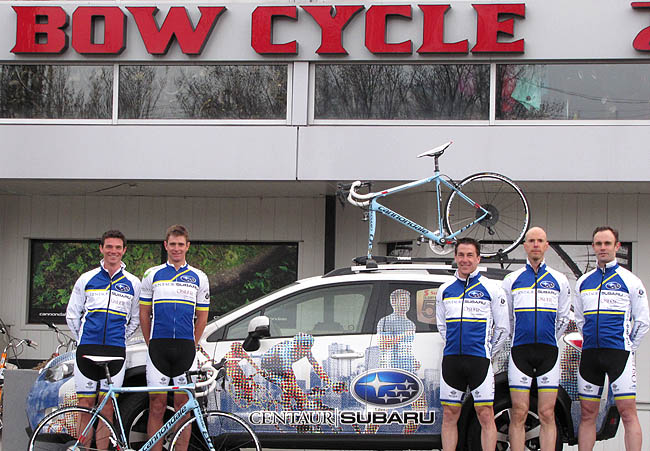 "Our aim is to foster a life long interest in cycle sport and competitive cycling," says Dave Holmes, director of The Lead Out Project. "We want to develop a passion for cycling in the young people who are already keen on the sport. We will judge our success not just on how our athletes perform when they start racing, but whether they continue to enjoy racing over the course of their lives.".

Applicants must be Alberta residents between the ages of 13 to 18 and will be asked to design a project that helps promote racing within their community. "The team's goal is to have enough funding to set up at least 2 athletes with Cannondale race bikes. We will even help set them up with coaching and a team in their area."

Centaur Subaru, Olser and Bow Cycle lead a group of Alberta companies that have agreed to help support both the team, along with Alta West Capital, Canada Diagnostic Centres and Tridata Services.

"With their support we have been able to assemble a top team and we plan on winning, a lot" Holmes says with a smile.

2013 Alberta points champion Marc Enter continues, saying; "Cycling is at an all time high in Alberta, what with the Tour of Alberta being such a success
"There has never been a better time for young people to start racing and we want to help make that happen."

Along with Enter and Holmes the team has 2013's provincial time trial and road race champion Evan Bayer as well as Tyson Smith and Fraser Mill-Connery. A group who has experience mentoring youth, Bayer is a junior high-school teacher while Smith and Mills-Connery are ski coaches.

Program details can be found on the team's website - www.theleadoutproject.com.