May 9/14 19:29 pm - Stage 1 Giro Reports from Orica-GreenEdge & Garmin-Sharp

Posted by Editoress on 05/9/14

Orica-GreenEDGE won the team time trial on the opening stage of the 2014 Giro d'Italia on Friday. Svein Tuft led the Australian outfit across the finish line, stopping the clock at 24:42 over the 21.7 kilometre course. The Canadian celebrated his 37th birthday by pulling on the maglia rosa in Belfast.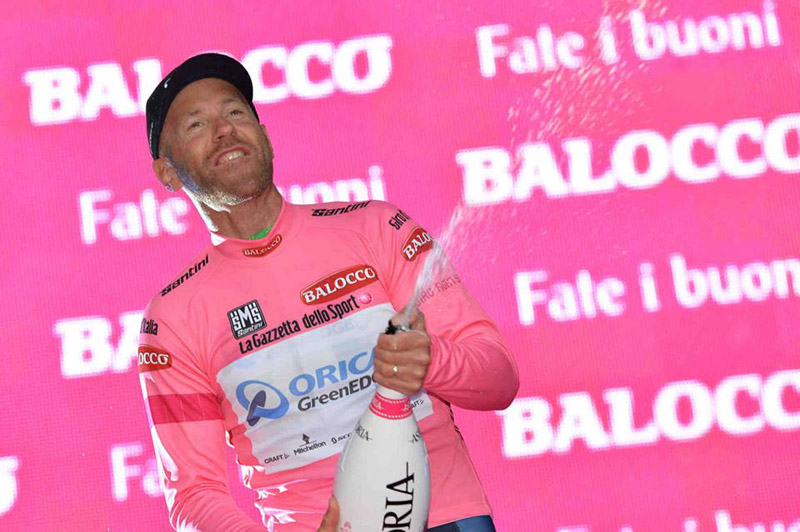 "I'm completely overwhelmed by this," said Tuft. "It was an incredible thing for the team to give me this chance. I'm so proud to ride for a team where something like this can happen. These guys are all like brothers to me. We came in with big expectations, and we were able to deliver. It hasn't really sunk in yet, but being up there on the podium with the guys was something I'll never forget."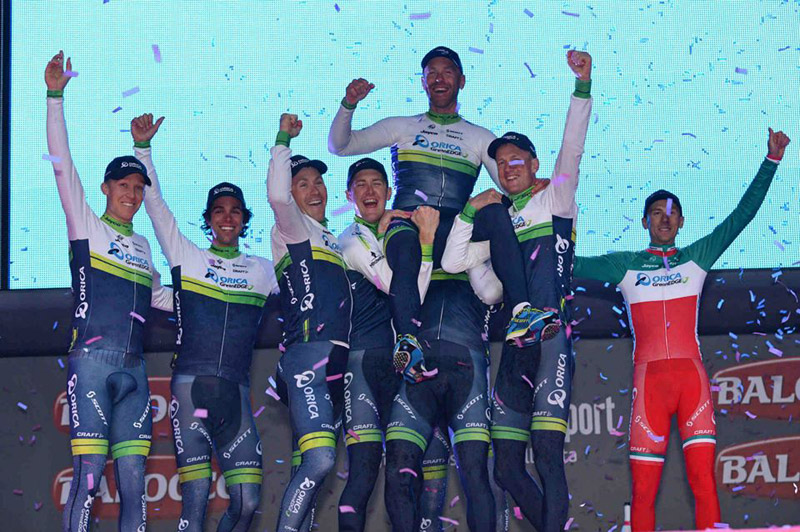 "We've had some big victories over the last two weeks," said Sport Director Matt White. "This is one we called a long way out. This was our big goal at the Giro. I think a lot of teams are scared to call it because they're scared of failing. That's not how we roll. We're honest. We called it. We went for it. We got it. This is a very proud moment."

The flat route made for fast racing, and the team handled the technical sections with ease of course, carving their way through the tunnel of noise created by the spectators decked out in pink. The team clocked the winning time with an average speed of 52.7 kilometres per hour. The second team to race, Orica-GreenEDGE endured a two hour wait in the hot seat before receiving confirmation that their ride was good for the win. Five seconds slower than the Australian outfit, BMC had come closest to challenging for the jersey. At seven seconds, Omega Pharma - Quick-Step rounded out the stage podium.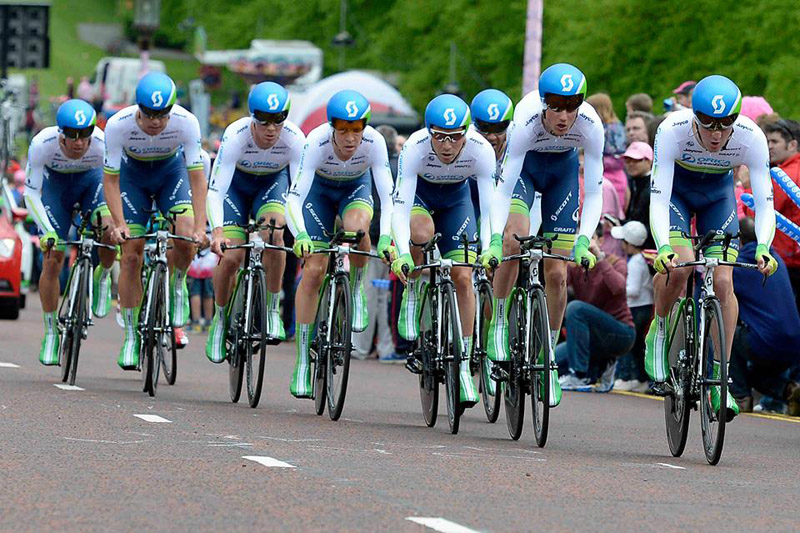 "A lot of work certainly went into our participation," said White. "The selection of the team and the race programmes of these riders here - it was all very intentional. We've used a core group of guys many times in the team time trial in the past, so it's about adapting the guys who aren't as familiar with our regime into the team time trial programme. That all went every smoothly."

"We were definitely the favourites coming into the stage," White added. "Hats off to the guys. It's a lot harder to win when you're the favourites for a race like this. They handled the pressure well. I'm really proud of them all."

Part of the team since its maiden season, Tuft has been an integral part of each of the Australian outfit's important team time trial results. During his tenure with the team, the eight time Canadian National Champion has helped deliver victory in the collective race against the clock at Tirreno-Adriatco, Eneco Tour and at the Tour de France. The win at the Tour put Simon Gerrans in the yellow jersey.

Tuft teamed up with Luke Durbridge to twice win Duo Normand, sending a record-breaking time last year. He also was part of the team's medal winning rides in the team time trial at the World Championships - bronze in 2012, silver last year. The second Canadian to pull on the pink jersey, Tuft follows in the footsteps of Giro d'Italia winner Ryder Hesjedal (Garmin-Sharp).

"I didn't want to say anything about it before the race, but Svein was always our guy," said White. "The ethos of this team is you get what you give. Svein has been part of all our great time trial results, and I think it's only fitting that the guy who's been the lynch pin of so many big moments gets the limelight for at least one day."

"The team told me at the meeting this morning that they wanted me to lead the team across the line," Tuft said. "It really meant a lot to me. I give everything on days like today, and I would have been just as proud if one of the others guys got to wear the jersey."

The Giro d'Italia continues over the weekend with two road stages in Ireland earmarked for the sprinters. Orica-GreenEDGE plans to work for Michael Matthews in the fast finales. The 23-year-old made his Grand Tour debut at the Vuelta a España last year, winning two stages.

"Having the maglia rosa is a very coveted jersey," said White. "We want to keep it as long as possible. We ticked this box today, but we're still chasing stage wins. The next two stages, we'll support Michael Matthews in the sprints. This works with our plan to keep the jersey. Petacchi (Omega Pharma - Quick-Step) is the only sprinter within striking distance. Our main rivals in the sprints are a little bit further down. Even if they win stages, they can't take the jersey from us."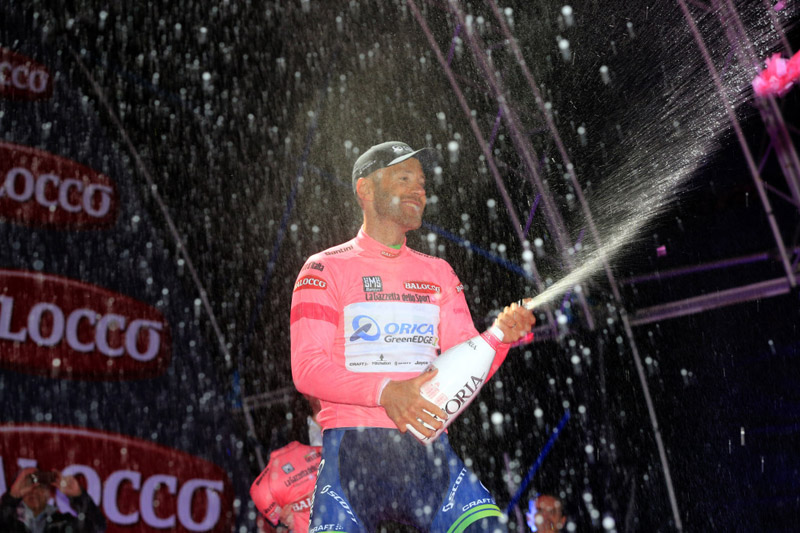 More from Svein Tuft:
We came into this stage with huge expectations. Our line-up is designed around the team time trial with Durbridge, Hepburn, Lancaster, Meyer, and so on. Our director sportif Matt White said that, if we're on a good one, Svein goes across the line first. It's a dream come true for a guy like me, a once in a lifetime experience, and I'm thankful to the team.

The wind was never coming from one area. It was always blustering, so it made for a difficult time for a 9-man group on narrow roads. You could never be overlapping wheels. As we saw with Garmin, one little mistake and you really pay. We are well drilled for this kind of stage, but anyone who was on a good time today also had some luck.

It was truly impressive [in Belfast]. I never expected to see that kind of crowd, 4 or 5 deep along the entire course, screaming and shouting. I never thought people would be so into it. Anytime you have crowds on a climb and you can feel that kind of energy, it's really special. It pushes you to the next level. There are some difficult stages coming with the wind and the exposure on the coast. We have a super-fast man in Michael Matthews, so our objective is to look after him and continue the success of the past weeks.

Garmin-Sharp Giro Stage 1 Update

A crash in stage 1 of the Giro d'Italia today saw four Garmin-Sharp riders hit the ground.

Andre Cardoso, Koldo Fernandez, Nathan Haas, and team co-leader Dan Martin all sustained injuries of varying degrees.

Dan Martin was transported immediately from the site of the crash to a local hospital for evaluation where doctors confirmed a broken clavicle. He continues to be evaluated for additional injuries. Koldo Fernandez fought to the finish but was transported to a local hospital where doctors confirmed a broken clavicle.

Andre Cardoso and Nathan Haas suffered contusions and abrasions and will be evaluated further tonight by team medical staff.

Charly Wegelius, Director Sportif:
Today was a tough day and means a change in strategy for the team. We came in with two leaders, Dan and Ryder, and a strong team built to support them and give us options through out the race. We still have a strong team and we have Ryder, who's already won here. It's heartbreak for Dan in particular, we all know how much this meant to him, but that gives us motivation. We'll keep fighting forward. These guys are not just teammates, they are good friends and we'll all use this as motivation for the next three weeks to shake up the race and create opportunities for ourselves. For the team to wait for Dan, for the whole team and the injured who were able to do so - to pick themselves up and press on - shows true courage and character and that's what we will continue to do here.

Ryder Hesjedal:
You never want to see something like this happen. Right now, I'm just concerned for my teammates, Koldo and Dan, and I'm especially sad for Dan. I know how much it meant to him to be racing here, and how much this race meant to him. But with that comes motivation for the rest of the guys here. We will regroup and refocus - we have a strong team here and we're fighters. We will look for opportunities for the rest of the race and do everything we can to make Dan and Koldo proud. We may be down, but don't count us out. These are moments that we will use as motivation to push us forward.