May 16/14 12:34 pm - Product Launch - Specialized Introduces Re-engineered Tarmac

Posted by Editoress on 05/16/14

The 2015 Specialized Tarmac represents a revolution in bicycle design that begins and ends with the rider. Dubbed "Rider-First Engineered" the new approach was inspired by Specialized partner McLaren, the leaders in Formula 1 development. The result is a significant advancement in every aspect of road riding: acceleration, cornering, and sprinting in every frame size, from 49 to 56 to 61 and everything in between.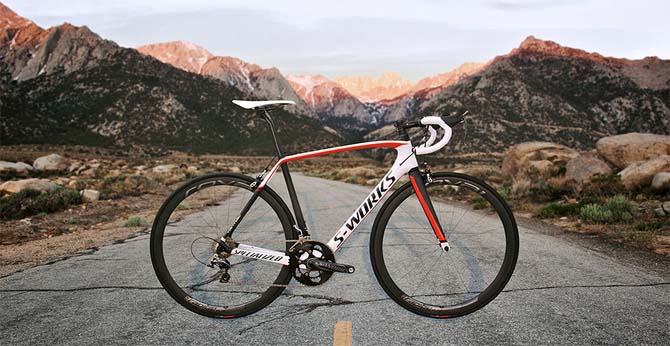 "Previous Tarmacs had been ridden to victory at The Tour De France as well as countless other wins, but when we started development of its replacement we knew that the existing developmental approach would deliver only incremental performance gains" said Chris D'Aluisio, Advanced R&D at Specialized. "We needed a new approach that didn't simply make bikes lighter and stiffer, but truly made them better."

Learning from McLaren's advanced testing approach, Specialized developed industry-first simulation models and dynamic testing protocols that gave engineers an unprecedented ability to understand exactly how various sized bicycles respond to rider input. This data allowed Specialized to engineer frames that don't just simply perform well in the test lab, but that take into account the most important element on a bike - the rider.

As a result of this new understanding, Specialized Engineers were able to identify specific performance targets for each of the seven frame sizes. Once the targets were established, each frame size was engineered independently, including proprietary carbon layups, specific tube shapes and size-specific headset bearing sizes.

A Rider-First Engineered 49cm frame handles just as perfectly as a 56cm frame and a 61cm frame. It's a real-world sizeable advantage that ensures the complete Tarmac performance - climbing, sprinting and cornering - is now available for everyone.

Alberto Contador, winner of all three Grand Tours, proclaimed, "Testing the new Tarmac on different types of climbs has proven it's very fast, especially when standing on the pedals. Going downhill, it's a very good handling bike that goes where you want it to. It's an unbeatable feeling."

Six models of this groundbreaking Tarmac were launched on May 9th. To set the highest bar for complete performance, there will be an S-Works + McLaren Tarmac model which is in the final development stages. As might be expected for a bicycle at this level, the S-Works + McLaren Tarmac will be handmade in extremely limited quantities and cost approximately 3X the price of the S-Works Tarmac. More details will be communicated at the reveal during the 2014 Tour De France.
Note: Specialized Canada says that a few units have already been shipped to dealers, and will continue to trickle in over the next few months, with greater availability by September.
Tarmac launch webcast

Pro's feedback on the new bike

Rider-First Engineered in a nutshell