May 20/14 0:15 am - Niagara Classic: Report, Results and Photos

Posted by Editoress on 05/20/14

The 2014 Edition of the Niagara Classic saw another year of great weather and great racing take place on the roads of Pelham.

The Master 3 and Elite 4 Men's races did not see any significant breakaway attempts, with bunch sprints in both. Mark Brouwer (Neworld Cycle) won the Master 3 race while Patrick Gostovic (Morning Glory CC) took the M3 race with his teammates taking places second through fourth as well.

The winners of the Elite 3 Women and Junior Women, Joyce Spruyt (Coachchris.ca/TedVelikonja/TrudellMedical) and Ruby West (Team NCCH P/B DEC Express) finished just seconds ahead of the charging bunch behind.

Many attempts were made by small groups to get clear of the Elite 3/U19 Men's field, but it was a late race escape by Kallisto-FCV teammates Christian Ricci and Bayley Simpson that saw them finish ahead of the bunch first and second respectively, while Jaques Cormier (Bikes on Wheels) took the bunch sprint and Elite 3 win behind.

Chris Monette of Morning Glory CC won the Master 2 race, showing the depth of this team across the masters categories.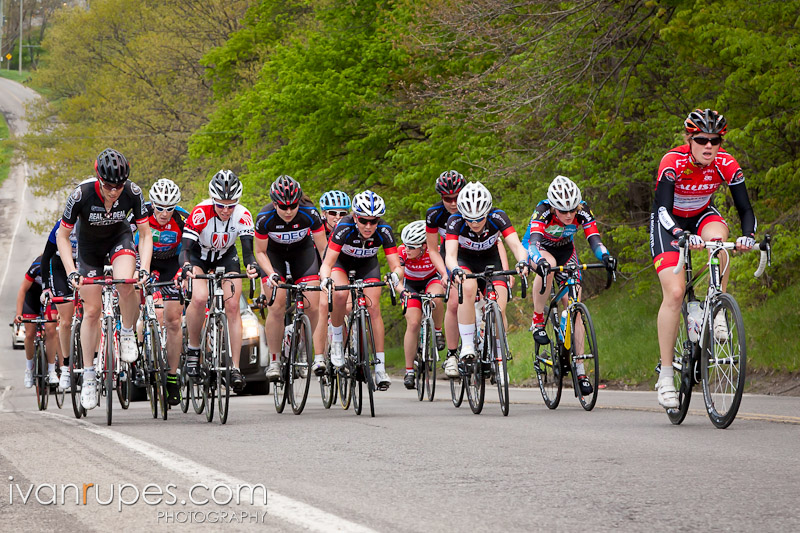 Women's peloton on the climb
Photos by Ivan Rupes (ivanrupes.com)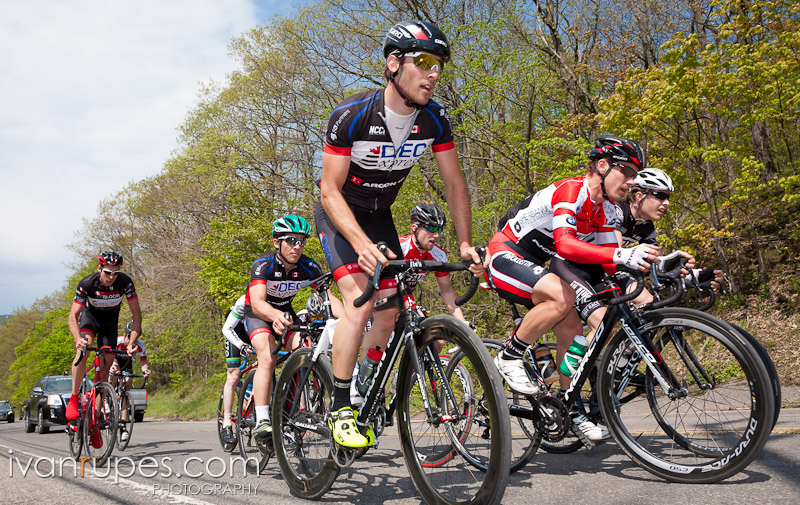 Winner Ryan Roth, in a group with Andrew Bradbury, Brandon Etzl, David Drouin, Derrek Ivey, and Jack Burke
In the Elite 1/2 Women's race the bunch came to the line together with Sarah Anne Rasmussen (RealDeal/Gears P/B WASPCam) taking the win, followed by Jessica Allen (Team NCCH P/B DEC Express) in second and Suzie Brown (Holiday Inn (Calgary Airport)/P-K Express) third.

The final races of the day had some aggressive racing from the start. A breakaway in the Master 1 race grew both its numbers and its lead over the pack, with four riders separating themselves from this group of nine to sprint for the win. Kevin Davis (NACSWORLD.COM/Norco) took the win with Matthew DiSilvestro (Euro-Sports) and Shannon Hunt (Morning Glory CC) rounding out the podium.

The Elite 1/2 men's race split early into four groups on the road, with an early break containing Robert Gutgesell (Jet Fuel Coffee/Norco Bicycles) and William Elliott (Team NCCH P/B DEC Express) out front for most of the day. Jet Fuel was represented in every group, giving eventual winner Ryan Roth a free ride in the main group, who were at times more than three minutes down. As the final few laps passed, the chase groups came together and Roth picked his moment to launch an attack, bridging to the two leaders and then past them to finish solo, 1:36 ahead. Roth's teammate and last year's Niagara Classic winner Anton Varabei took the group sprint for second with David Drouin (Team NCCH P/B DEC Express) rounding out the podium.

Thanks to all who helped make this event possible: the members and families of the SCCC, Town of Pelham and Mayor Dave Augustyn, Steve Bauer, Bissells Hideaway, Johnbear Chevrolet Cadillac Buick GMC, Inception Cyclery, Luchetta Homes and many others who work behind the scenes.

Courtesy of SCCC

Results
Fatal error
: Uncaught Error: Object of class PDO could not be converted to string in /home/canadiancyclistcom/canadiancyclist.com/public/modules/news.php:528 Stack trace: #0 /home/canadiancyclistcom/canadiancyclist.com/public/modules/news.php(517): getrelatedgallery() #1 /home/canadiancyclistcom/canadiancyclist.com/public/dailynews.php(58): getDailyNewsArticle() #2 {main} thrown in
/home/canadiancyclistcom/canadiancyclist.com/public/modules/news.php
on line
528